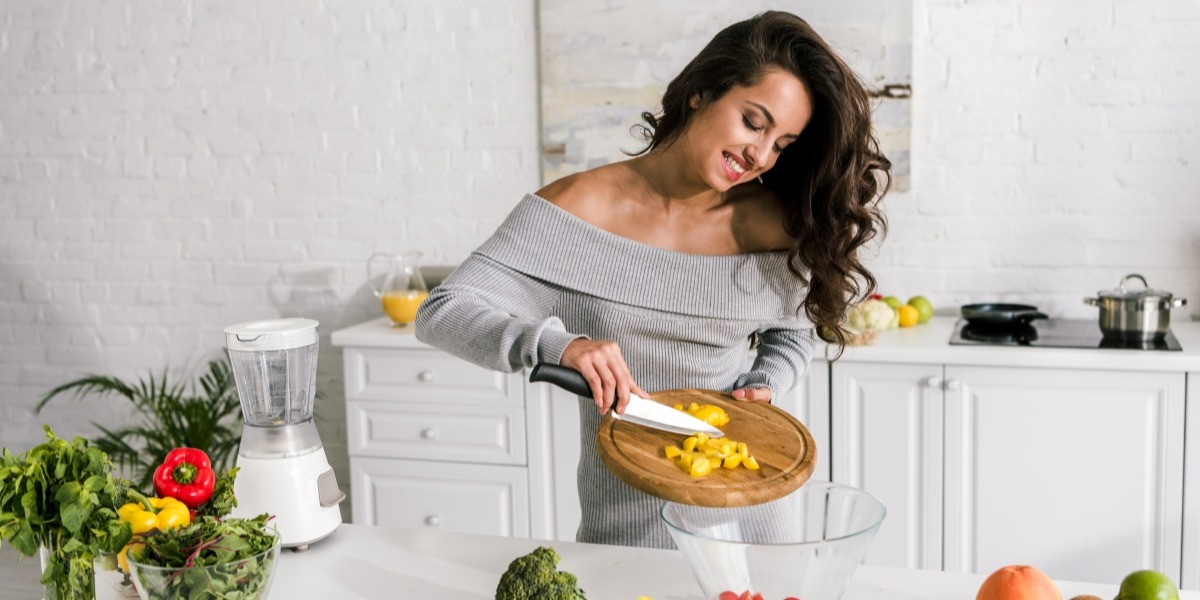 So you've just been handed a weight loss meal plan from your trainer and you're feeling completely overwhelmed. You are not alone. Buying a ton of food all at once, spending hours cooking and cleaning can feel like a serious undertaking - not to mention the guilt of food waste when you inevitably don't use everything you bought. Breathe, there is a light at the end of the tunnel and you don't have to live off freezer meals just to have your lunch meal prep on lock.
We're kind of meal prep gurus here at Trifecta and we got your back. Here are our favorite tried and true hacks for saving a ton of time and money each week.
How Much Should I Spend on Food a Month?
Doing a full week's grocery haul at once can give you quite the sticker shock! On average, most people spend roughly $173 a week on groceries - and you spend even more than that if you are eating out often. That adds up to an average of $692 per month (1).
By far the easiest way to set a more personalized food budget is to track your current spending and see where you can cut back. For example, if you are spending $40 a day on takeout lunches and gourmet coffee, that is a great place to start.
5 Tips to Save Money
Contrary to popular opinion, it is possible to eat healthy on a budget.
Cost effective food prep takes a bit of strategy and can feel overwhelming at first, but with a little practice you will get more efficient and better at fine-tuning your breakfast, lunch, and dinner menu to meet your fitness and wallet needs.
Buying in bulk and looking for sales are no-brainers, so here are some other tips to help you manage your meal prep budget:
1. Skip the pricey health food trends.
Regardless of what you've seen or heard on the internet, all nutrient dense foods, aka fruits, vegetables, lean proteins, healthy fats, and whole grains, can be considered "superfoods". You don't need goji berries or bee pollen to transform your life - affordable health foods like cranberries and sesame seeds work just as well!
Plus, nothing will rack up costs as quickly as a $12 bag of berries or an exotic health food ingredient. Instead of being guilted into these luxury purchases, rest assured you are still getting high amounts of nutrition from simple whole foods.
2. Make your sauces and seasoning blends from scratch.
Packaged ingredients like sauces and seasoning blends can eat up your meal prep budget quickly, especially if you are trying to get a different sauce for each dish.
Instead of buying multiple jars of sauces you'll never finish, grab some mason jars and learn how to make your own. Salad dressings are really just a blend of oil, acid, and seasoning - most of which you probably already have in your kitchen.
Or just keep your menu simple - a little cilantro, lime and salt can get you far. You can still add a ton of flavor and variety just by mixing and matching seasoning and toppings.
3. Cut down on food waste with better portioning.
It's time to stop throwing out that weekly bag of salad greens bought with the best intentions. Buy only what you need by calculating out your portions before you hit the store. I promise this gets easier the more times you do it.
You can also get creative with substitutions and reuse simple ingredients in place of less common ones. For example, if the recipe calls for tahini but you won't need a whole jar of it, use peanut butter or almond butter instead. Or if one recipe uses kale and the other uses swiss chard, just pick one and use it in both.
4. Use staple ingredients for multiple recipes.
Find your basics and stick to them. You don't have to eat seven different types of proteins and grains to get good nutrition from your weekly meal prep. Plus, you can always switch it up from one week to the next.
Make sheet pan chicken breast seasoned three ways, turn sweet potatoes into mashed, roasted, and baked, and use your veggies raw and cooked to add variety. Or turn your fajita chicken into a taco salad or burrito bowl.
5. Grow your own herbs.
Fresh herbs can add a ton of fresh flavor to your meals, but they can get costly and often go bad unless you use them in multiple recipes. Keep them fresh and cheap with a simple herb garden at home.
How Much Time Should I Spend Meal Prepping?
30 minute recipes sound great, but all that cooking time really adds up!
The United States Department of Agriculture conducted a study to gather information regarding how much time Americans spend on grocery shopping and the process of meal preparation and clean-up. According to the USDA, people spend an average of 44 minutes a day on grocery shopping (averaging about 1 trip a week) and 62 minutes a day on food/drink preparation and kitchen and food clean-up (2).
If you grocery shop once a week and cook at home 5 days a week, you're spending an estimated 6 hours (354 minutes) on this food prep per week.
Planning a menu in advance and cooking most of your meals at once is one of the easiest ways to cut back on the time you are spending. You can meal prep a week's worth of lunches in one day and get more time to yourself throughout the week.
5 Tips to Save Time
At first it probably feels impossible to achieve quick meal prep - as even the best of us still spend hours planning, shopping, cooking, and cleaning dishes. But have no fear, it does get easier and you do get better at finding simple solutions that fit your needs.
Here are five ways to get more of your Sunday back:
1. Eat more foods you don't have to cook.
Pretty much all plant based foods can be eaten raw, and there are many affordable, quick cook varieties for grains and proteins on the shelves.
Save a ton of time by swapping roasted veggies for side salads and fresh fruit, and grilled fish for canned tuna. Bonus points if you can eat it room temp or cold - as this saves even more time.
2. Make more one-pot dishes.
Spend less time cleaning dishes with one-pot meals like chili, stews, soups, lasagna, pasta, pilafs and stir-fry. You eliminate multiple cooking methods by sticking to just one, and everything is one and done at the same time! Plus, these types of cuisine tend to freeze well to save for future meal prep weeks.
Soups and stews can be paired with various starches like noodles, rice or quinoa. And you can top a simple pilaf with alternating protein options to still keep your dishes feeling interesting.
3. Learn to batch cook staple ingredients.
Don't just prep one ingredient or dish at a time.
Dust off the old crock-pot or slow cooker and get familiar with sheet pan recipes to prep veggies and grains for multiple dishes. Many proteins and veggies can be cooked at the same temp, helping you kill multiple birds with one stone.
You can also make the same meal six different ways just by altering seasonings, sauces, and toppings. Such as chicken meal prep seasoned with taco seasoning, Mediterranean, lemon garlic, Italian herb, buffalo sauce, and low sugar BBQ sauce.
4. Use some pre-cooked or semi-prepped ingredients.
Reach for pre-chopped veggies, frozen fruit, and canned beans for recipes that are easier to toss together but won't demolish your budget. I am a huge fan of shredded rice, black beans, carrots, and frozen corn in just about everything.
To get the most out of this tactic, be sure to choose the ingredients that save you the most time. For example, it only takes a couple minutes to wash and roughly chop salad greens, so that pricey bagged lettuce mix may not be worth it. Whereas cooking beans from scratch may cost next to nothing, but it takes up a ton of your time!
5. Stop waiting in line at the store and get it delivered.
Food delivery is a great way to plan your healthy meal prep recipes online and get everything you need for the week without having to step foot in a store. While there is usually a small additional cost associated with this, the amount of time you'll save is often worth it.
You can pinpoint exactly how much of everything you need and how much you are spending all from your phone or laptop.
Moreover, you are less likely to get distracted by impulse buys and treat foods - especially if you go to the store hungry!
Why Try Meal Prep Delivery?
You could also build healthy meals for as little as $6 a meal using pre-cooked and ready-to-eat ingredients. Yes, you heard that right... almost zero cooking required.
Trifecta's a la carte menu is a meal preppers dream - allowing you to plug and play with the exact proteins, carbs, and veggies you like to match your taste preferences and lifestyle. And the food is the highest quality possible:
Organic ingredients
Grass-fed and sustainably caught proteins
Minimal seasonings (almost no oil or salt used)
No added sugar
No added preservatives or artificial ingredients

Delivered Fresh

Vacuumed sealed to last up to two weeks in your fridge
We do all the hard work and give you the tools you need to crush your meal prep - all while getting most of your time and money back, so you can spend it on what matters most to you.
Ready to hit the easy button on your meal prep routine?