Eating high-quality organic foods without spending a fortune is easier than you'd think. If you find yourself falling short on your diet and wondering how you spent half of your paycheck on Postmates, becoming a master of healthy meal prep on a budget is the solution for you.
If you're new to meal prep or cooking in general, you may think it's hard to eat healthy food every day affordably and practically impossible to do it with organic ingredients. We've been there too. You walk into Whole Foods to get things for a salad and end up spending $50.
But knowing which ingredients to shop for and how can make your organic meal prep delicious and debt free.
Learn how you can build organic, healthy meals each week using Trifecta Meal Prep.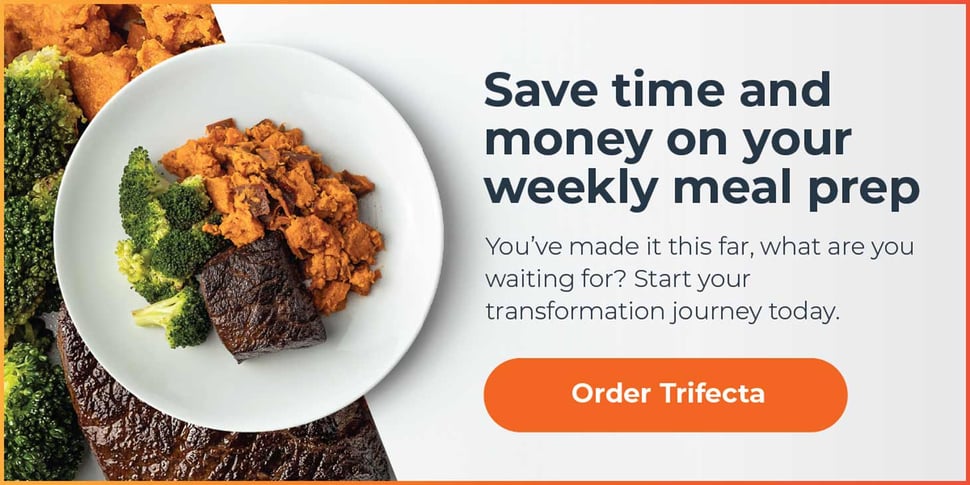 How to Meal Prep on a Budget in 3 Easy Steps
Like any goal, meal prep requires a careful plan you can execute on. Figuring out your route to success ahead of time will save money and make your meal prep easy and effective.
Planning your weekly meal plan without breaking the bank requires you to:
Assess your personal finance and build your budget
Curate a menu for the week that fits your nutrition goals
Build a detailed shopping list before you hit the store
Step 1: How much should you be spending on food?
The average American household spends about 10% of its income on food (1). To see where you should line up, divide your household income by ten and then divide that number by the people in your household. That's about what you should shoot for when budgeting your meal prep.
Keep in mind that nearly half of the average American food budget is spent on food outside of the house. So with smart meal prep, you can save even more by avoiding expensive restaurant food.
Also, remember that these are averages. What's most important is setting a budget that is both within your means and something you can stick to.
Step 2: Choosing Meal Prep Recipes That Fit Your Lifestyle
Buying a bunch of ingredients for one dish is expensive and will lead you to throw away excess food. Choose recipes that use a collection of the same ingredients. Picture a Venn diagram of all the dishes you're in the mood for and then try to get those circles to overlap as much as possible.
This is how restaurants control their food costs and turn a profit. You can use the same methodology to craft your menu and save a ton of money.
It's also key to choose recipes that you'll enjoy eating! Hitting your daily macros is one thing, but if you don't like the taste of the food, you'll likely end up wasting it - along with the money and time you invested.
Find out which meal prep plan works best for you!
How Many Recipes to Meal Prep Each Week
Remember, uniformity and simplicity are key to meal prep. If you're prepping ten meals, it doesn't make sense to make five or six recipes. Choose a couple of recipes to start so you can limit the number of ingredients you need to purchase and take advantage of bulk pricing. On the other hand, pick more than one recipe, since sticking with meal prep is important and you don't want to burn out on the same food all week.
Researching Your Ingredients and Your Macros
Before you order your Trifecta Meal Prep ingredients or go to the grocery store, make sure you know what you're shopping for.
Figure out how many macros you need to meet your diet using Trifecta's free online calculator.
Then research the cost and nutritional value of your ingredients. Develop recipes that hit your macros, satisfy you, and stay within budget. Logging your macros with Trifecta's mobile app is an easy way to make sure your meal prep recipes and grocery list are where they need to be.
Step 3: Costing your Recipes
Costing out your recipes is key to staying on budget. You need to be sure that what you spend your budget on is enough to make the number of meals you want to prep.
If you give yourself $75 for ten meals, each meal should budget out to $7.50 on average. Understanding the cost per meal is even more critical when you're preparing more than one dish, as some recipes are pricier than others.
How to Build Low-Cost Meals with Trifecta Meal Prep
Trifecta Meal Prep is meal prep without cooking. Pick and choose from grass-fed, free-range, and sustainably-caught proteins and organic grains and veggies to build whatever meals your diet and lifestyle crave. Starting at under $6 a meal!
Plus, all ingredients are pre-cooked and pre-portioned so you'll also save time and energy in the process.
Here's the cost breakdown per 4-ounce portion for our most popular items.
Proteins:
| | | |
| --- | --- | --- |
| Protein | Bulk (16 ounces) | Portion (4 ounces) |
| Chicken | $24.99 | $3.12 |
| Beef | $26.59 | $3.32 |
| Salmon | $42.99 | $5.37 |
| Steak | $48.99 | $6.12 |
Vegetables:
| | | |
| --- | --- | --- |
| Vegetable | Bulk (4 cups) | Portion (1 cup) |
| Broccoli | $14.99 | $1.87 |
| Mixed Vegetable | $15.99 | $1.99 |
Carbohydrates:
| | | |
| --- | --- | --- |
| Grain | Bulk (16 ounces) | Portion (4 ounces) |
| Brown Rice | $12.99 | $1.62 |
| Sweet Potato | $16.99 | $2.12 |
What About Other Ingredients?
Trifecta ingredients like organic broccoli, brown rice, and salmon are minimally seasoned (most ingredients contain no oils or salt for precise tracking) and work with dozens of different flavor profiles. You can enjoy them plain, add a favorite sauce or seasoning, or use them in any of your favorite recipes to save time.
Once you've calculated your cost for Trifecta ingredients per meal, figure out the cost of other ingredients you may be using like leafy greens, spices, or dressings (2). Organic corn tortillas are affordable and can turn any Trifecta protein into tasty tacos with some onion and cilantro.
Divide the servings in a container by what you spent on the container for your per serving cost. A 5 oz. container of organic arugula costs $3.00 and contains two servings, so the cost per serving would be $1.50. Paired with a $3.12 portion of Trifecta organic chicken breast and you've got the start of a great organic salad for under $5.00.
Don't forget snacks! Plan for high protein, nutritious snacks that you can grab and go like greek yogurt mason jar parfaits with fresh fruit and peanut butter.

Budget-Friendly Meal Prep Ideas and Recipes
Using just a few of Trifecta's organic, prepared Meal Prep ingredients you can create incredible meal prep dishes to enjoy all week - starting at less than $6. Smart shopping and dedication can give you the choice to eat healthy organic food every day for less than fast food or take-out. Here are some combinations to try for yourself.
Organic Recipes for under $7 per Meal
Trifecta Ingredients: Chicken ($3.12), Broccoli ($1.87), Brown Rice ($1.62)
Where to take it: Chicken Teriyaki Bowl
Add $0.12 for one serving of teriyaki sauce $0.12 for the sesame seed green onion garnish.
Total Cost per Meal: $6.85
Trifecta Ingredients: Basa Fillet ($2.57), Zucchini ($1.75), Quinoa ($2.12)
Where to take it: Cajun Catfish with Lemony Summer Quinoa
Add $0.05 for a shaking of cajun seasoning, $0.05 cents for lemon juice and $0.10 cents for extra virgin olive oil.
Total Cost per Meal: $6.64
Trifecta Ingredients: Beef ($3.32) Broccoli ($1.87), White Rice ($1.62)
Where to take it: Korean Beef and Broccoli
Add $.04 for ground ginger, a few cents for soy sauce and $0.12 for sriracha.
Total Cost per Meal: $7.00
Organic Recipes for Under $9 per Meal
Trifecta Ingredients: Turkey ($3.75), Zucchini ($1.75), Sweet Potato ($2.12)
Where to take it: Thanksgiving Leftovers
Add $0.10 for a half serving of cranberry sauce.
Total Cost per Meal: $7.72
Trifecta Ingredients: Shredded Chicken ($3.75), Portobello Mushroom ($3.25), Brown Rice ($1.62)
Where to take it: BBQ Pulled Chicken with Grilled Portobello Rice
Add $0.15 for bbq sauce.
Total Cost per Meal: $8.77
Trifecta Ingredients: Cod ($4.07), Zucchini ($1.75), White Rice ($1.62)
Where to take it: Mexican Mahi Mahi with Zucchini Salsa Verde
Add $0.30 for salsa verde, $0.05 for lime juice and $0.05 for cumin and paprika.
Total Cost per Meal: $7.84
Organic Recipes for Under $12 per Meal
Trifecta Ingredients: Flat Iron Steak ($6.12), Mixed Vegetable ($1.99), Sweet Potato ($2.12)
Where to take it: Steakhouse Dinner
Add a dash of table seasoning. That's it.
Total Cost per Meal: $10.23
Trifecta Ingredients: Salmon ($5.37), Asparagus ($2.73), Quinoa ($2.12)
Where to take it: Summer Salmon
Add $0.05 cents for lemon and $0.05 for dried dill.
Total Cost per Meal: $10.32
Trifecta Ingredients: Elk ($6.07), Portobello Mushroom ($3.25), Sweet Potato ($2.12)
Where to take it: Woodsman Feast with Elk and Balsamic Mushrooms
Add $0.15 for your favorite steak sauce and $0.10 for balsamic vinegar reduction.
Total Cost per Meal: $11.69
Need more inspiration? Check out some of Chef Mario's meal prep recipes:
Eating fresh organic meals every day is easier than you'd think and the principles of meal prep are the key to keeping the costs surprisingly low. Combining Trifecta's wide variety of easy-to-use prepared organic proteins, vegetables, and grains with your own favorite ingredients can create thousands of meal prep recipes to keep you healthy and on budget.