Meal prepping has long been touted as the nutrition go-to in the fitness world. Advocates praise it for keeping their diet on point and pounds off, all while saving them time and money. But what exactly counts as meal prep, and is it worth the hype?
When done right, meal prepping can be one of the biggest factors helping you lose weight fast and hit your fitness goals. But it takes a little strategy to get it right and make meals that you will continue to enjoy for more than a few weeks. To help, we've compiled our favorite meal prep ideas for weight loss, including recipes, meal planning strategies, and flavor hacks to stop boredom in its tracks.
How to Meal Prep for Weight Loss
Learning how to meal prep doesn't have to be difficult. In fact, you can tailor your meal plan and approach to your skill level—no chef culinary skills needed.
Your diet, just like your meal prep, is personal. And what works for one doesn't always work for everyone. To start, let's get the basics down first.
What is Meal Prep?
Meal prepping is the art of planning and preparing some or all of your meals in advance with the intention of controlling calories and nutrition to meet personal dietary needs.
This could be making your lunch the night before, cooking in batches, or pre-cooking all your food and portioning it out for the week. And it is often done to improve overall nutrition intake, cut calories, gain muscle, support workouts, etc.
Meal Prep Benefits
Meal prepping benefits range from reduced cost and time spent to lower stress levels and more successful dieting. Taking control of your diet and the foods you're eating is one of the best ways to make sure you are successful.
Having a plan and food on hand will prevent you from making poor, hunger-based decisions when they arise and can cut down on the amount you are eating out—saving you money in the long run. And with research continuing to suggest that meal planning is associated with better nutrition and more weight loss, it is definitely something worth considering if you are trying to get in shape (1,2,3).
Meal prepping can also help reduce the stress that comes with trying to eat healthier. Dieting, especially cutting calories, can cause you to think about food all day long. And not knowing what your next meal will be or whether or not it's going to help your dietary goals can get overwhelming day after day.
Not to mention, your willpower gets drained much faster, and you are more likely to go off your plan when you're tired or "not in the mood" to make the healthier decision, especially if it feels more difficult or time-consuming.
Solving all your food decisions in advance really frees up some of your willpower and mental stress, helping you reach your goals faster and with more ease.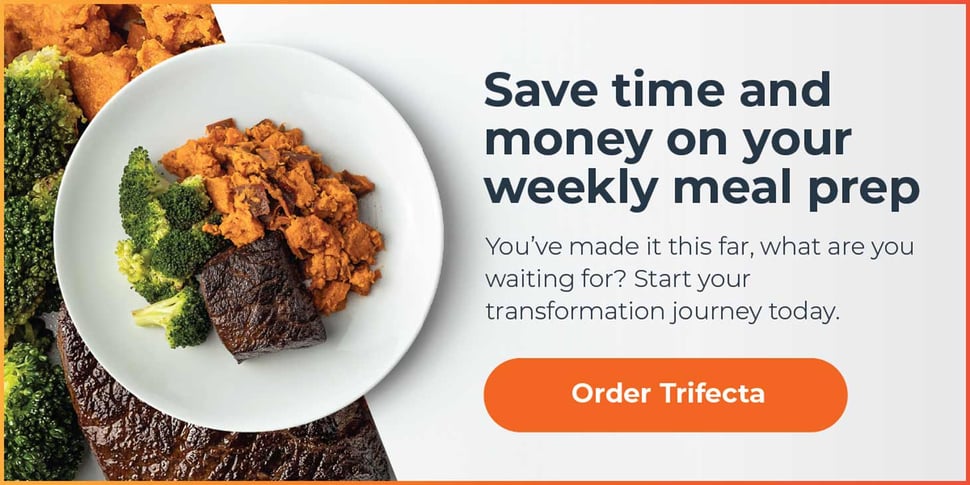 Weight Loss Meal Plan
This is probably the most important part of your meal prep routine. Prepping food alone won't necessarily help you drop pounds if you aren't following the basic steps for weight loss. Start with the following, in this order:
Calculate how many calories you need to lose weight with this.


Learn How to Count macros on-point using this.


Read this to learn the best foods for weight loss.
Sensible Portions
Once you've got the basics down, it's time to start putting it into action.
Calories and macros go hand in hand, which is why meal prepping on a macro diet can make keeping your portion control in check and calorie control even easier - especially since counting macros means you have an idea of how much of each type of food your should be eating.
You may also want to consider buying a food scale or using a food tracking app to be as precise as possible and learn the exact portion sizes that match your individual needs.
Keep in mind, the portions you use may change from one day to the next or one meal to the next, depending on your fitness and health goals. You can adjust your carb and protein portions around your workouts, eat more food when you are more active, and a lighter meal on rest days or when you are not moving around as much.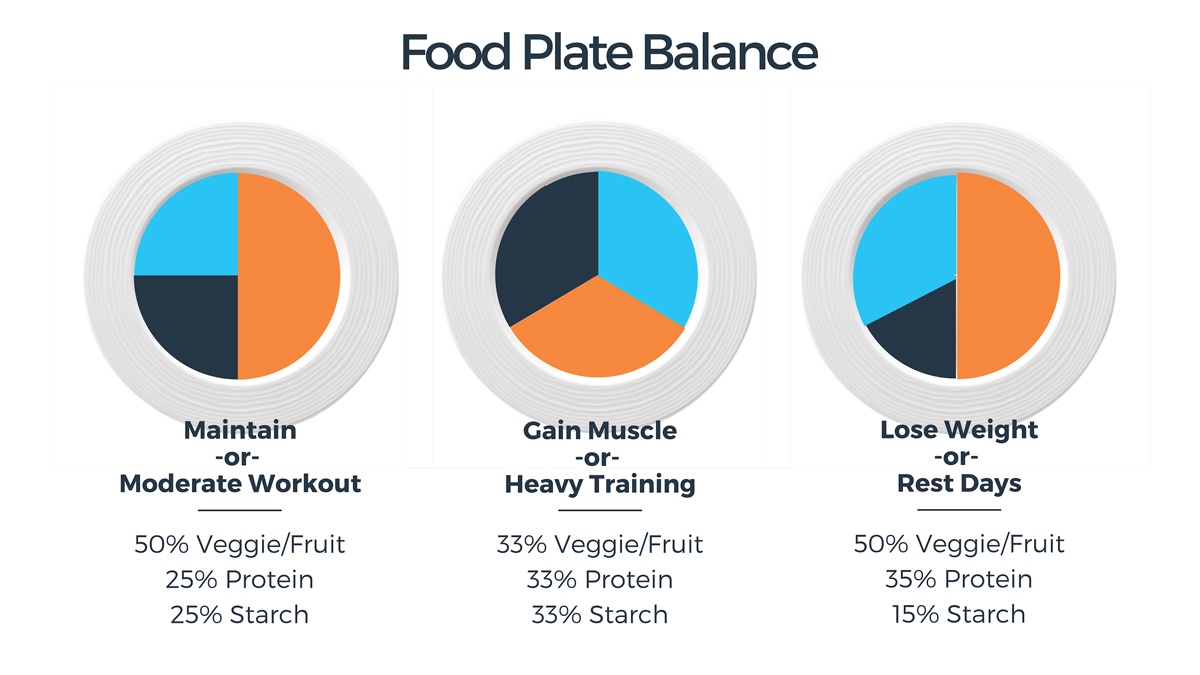 Your carbohydrate needs are directly related to your level of physical activity, and you should eat more carbohydrates when you are the most active.
Here are some easy ways you can automatically get more nutrition and sensible portions into your meals:
Load up on veggies. They should make up 1/3 to 1/2 of your meal to provide high amounts of nutrients, prebiotics, and fiber that will help keep your appetite in check and your metabolism going strong.
Pick lean proteins to balance out the dish like chicken, fish, grass-fed beef, or tofu. Minimize breaded and fried versions to keep your calories in check. Eating more protein will help keep you satisfied and supports lean muscle, which is important for weight management.
Use whole grains like quinoa, farro, brown rice, and whole-grain pasta as a base. They travel well and pair with just about any protein, veggies, and flavor you add. You can also use beans, lentils, peas, corn, or potatoes. Aim to keep your starch portion to 1/3 or less of your meal.

Cook with small amounts of

healthy fats like olive oil and avocado oil, or top with whole fats like olives, nuts, and avocados. A little bit goes a long way, so keep your portions small and only add what you need for flavor.
Minimize added ingredients like salt, cheese, heavy sauces, high-sugar dressings, etc. These can wrack up extra calories quickly from sugar and fat. Instead pile on calorie-free additions to add more flavor and variety - like lemon, fresh herbs, garlic, paprika, or chili flakes. Or choose lighter options like salsa, kimchi, nutritional yeast, and sugar-free dressings.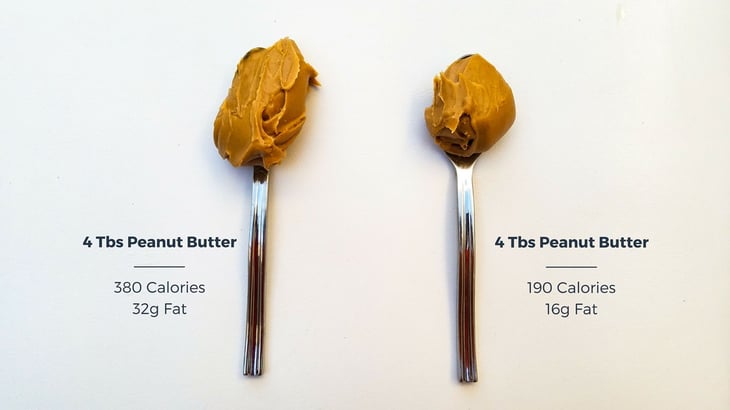 Weighing Your Food
Been counting calories and still having trouble losing weight?
Learning how to weigh your food using a food scale is the most accurate way to control your portions. Even if you are using measuring cups and spoons, this still requires some eyeballing.
If you are new to meal prep or need to be super strict about your calories, consider using weights instead. Minor differences can really add up, especially when looking at high-fat toppings, dressing, and cooking oil.
For example, 1 ounce vs. 1.5 ounces of cheese topping can look pretty similar, but the larger portion adds 43 calories, 3g protein, and 3g fat to your meal. This amount may seem minor, but if this happened twice a day, 5 days a week, you'd be adding almost 500 extra calories without realizing it.
Healthy Meal Prep Ideas for Weight Loss
While the idea of meal planning is simple, the execution can take some strategy. Once you have an idea of the diet plan you are looking to follow - whether it is clean eating, paleo, vegan, etc., you can start planning your approach. You'll want to consider the following:
Gauge your level of commitment. Be realistic with yourself and your level of cooking expertise - how much do you want to cook and how often? If you aren't a culinary expert, opt for more quick-cook foods, pre-chopped produce, and simple recipes.
Tackle your weak spots first. What meals or snacks need the most attention? If you're eating out every night, but doing all right when it comes to lunches, you may want to start with dinner.
Start small. Begin by prepping for only 2 to 3 days or meals each week. Or start with something easy like breakfast or snacks.
Pick a day to plan and execute. You can dedicate one or more days per week to prepping. And don't forget to set aside some time to plan for the following week. For many, Sunday works as a great day to menu plan and cook for the week.
Stock up on food containers and cooking equipment you will need. Having reliable meal prep containers can help you portion your food better, and keep meals tasting fresh and stored safely. And be prepared with any travel coolers if needed.
Meal Plan Template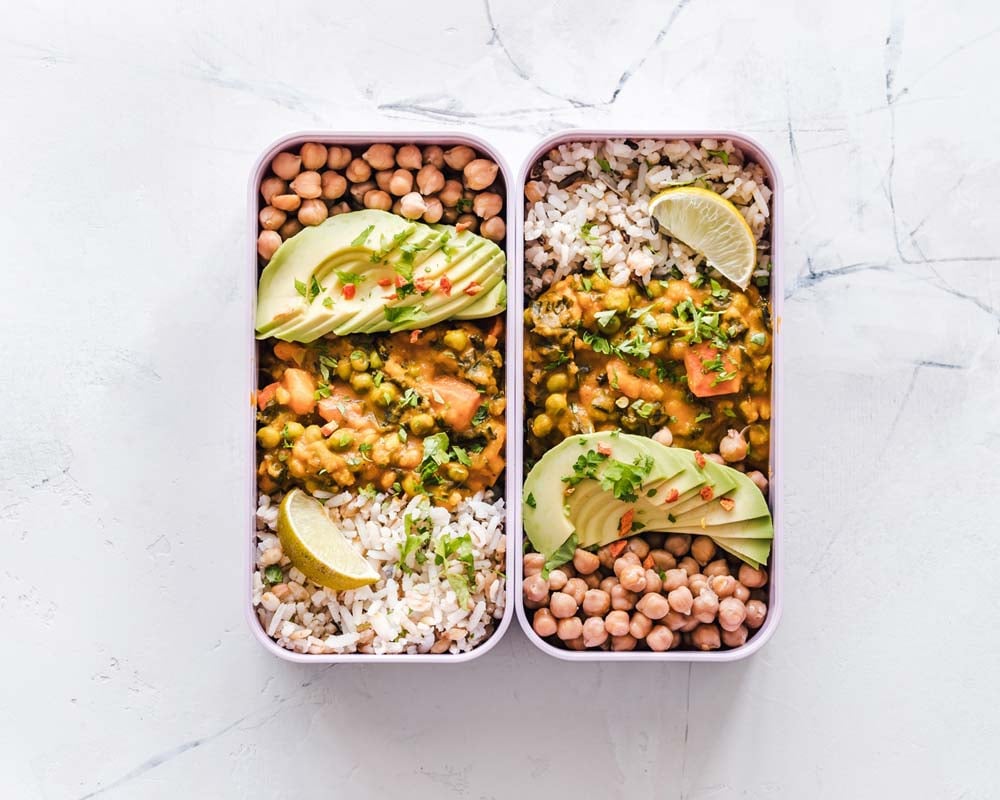 Budget
You'll need to determine exactly how much you plan to spend on meals each week, or your menu planning can easily get out of hand.
Overall, Americans spend roughly 10% of their income on food, so estimating somewhere around 10% of your take-home salary could be a good start (4). Or if you are already tracking how much you spend on food each month, including take-out and restaurant, you can use this amount as a high starting estimate.
Here are a few easy shopping tricks that can help make your planning even more budget-friendly:
Mix and match ingredients to get more bang for your buck. As you plan your menu, look for versatile ingredients that work in multiple dishes.
Look for items on sale and stock up on non-perishables when they are on sale, like dried beans and grains, and canned and frozen.
Swap out expensive foods for a less expensive but similar option, such as cranberries in place of goji berries or brown rice instead of quinoa.
Buy portion sizes that make sense to reduce waste. For example, you probably don't need a 5-pound bag of apples for one person, unless you plan on using them in multiple recipes and for snacking.
Shop different stores and online to get the best deals you can find. And look for what's in season—it's usually traveled shorter distances to get there, meaning it's fresher and probably cheaper than during out-of-season.

Weekly Meal Prep Menu
Once you have your budget in place and plan in mind, you can curate your menu accordingly. It helps to actually write out a full week's worth of meals and snacks so that you can plan for exactly how much food you will need to buy.
Consider how leftovers can be used or how staples like chicken breast, brown rice, or sweet potatoes can be executed in multiple ways.
Download this Meal Plan Template to get started!
Once you have a menu, you'll need to create detailed recipes for each meal you are looking to prep. Do you need oil or seasonings? How much of each ingredient is necessary for each meal and all of your meals combined?
Shopping Lists
Once you have your desired menu set, you can now create your shopping list and adjust as needed based on your budget. Include weights or desired package sizes on your list to make sure you have enough on hand to execute your plan. It is also helpful to bring your full menu to the store with you in case last-minute substitutions are needed.
Best Meal Prep Recipes for Beginners
Looking for some recipe inspiration? Here are some of our favorite, easy recipes that work for meal preppers.
Up your portions as needed or swap in more variety with multiple proteins, veggies and grains you can divide up throughout the week! And don't be afraid to get a little fancy with new flavors and seasonings - it will help keep your daily meal grind from getting boring and cut down on cravings.
7 Easy Dinner Recipes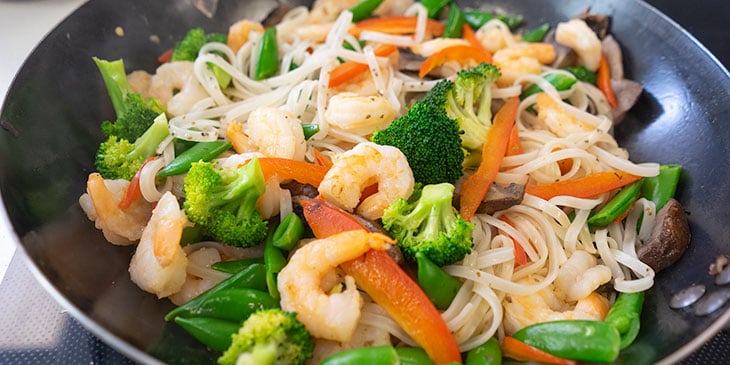 Take the stress out of having to decide what to cook each night with simple prepped options you can reheat or cook in no time.
Breakfasts and Lunches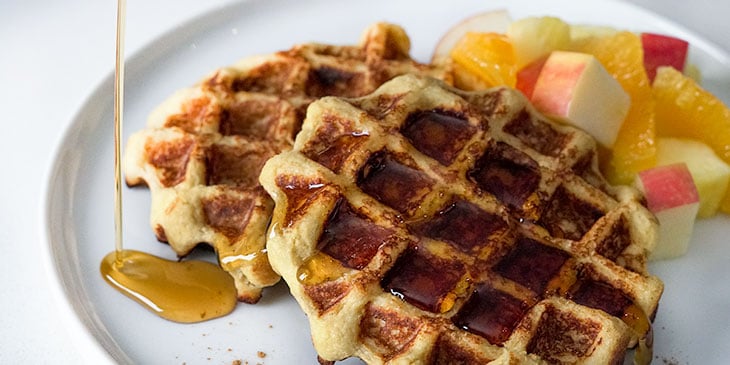 Breakfast is one of the easiest meals to make ahead of time. And there are also multiple grab-and-go options you can get from the store, like Greek yogurt with fruit or a lean and protein-packed frozen burrito.
The trick is to get more protein into your mornings and avoid high-sugar, high-calorie options—like pastries, sugary cereal, syrups, and white bread—that are going to drain your energy later in the day and mess with your appetite.
10 Breakfast Recipes:
Egg White Frittata - Veggies are also for breakfast! Try these in individual muffin tins for a pre-portioned option. Serve alone, with roasted sweet potatoes, or sprouted grain toast and avocado for more carbs and calories when you need it.
Pumpkin Chia Pudding - Need something a little sweeter in the morning? This simple pudding tastes like Thanksgiving and is guaranteed to make your day. Add 4 to 6 scoops of vanilla protein powder to this recipe for a healthy protein boost.
Maple Sweet Potato Waffles - Need we say more? Make ahead and serve warm with some fruit and yogurt topping or a drizzle of sugar-free syrup.
Greek Yogurt Parfait - These look as good as they taste. Fill small mason jars in advance and grab these on the run.
Freezer-Friendly Breakfast Burritos - Forget fast food. Make these bad boys in advance, wrap in plastic wrap and store in the freezer. Then just pop them in the microwave and make everyone jealous!
High Protein Salmon Toast - This simple toast recipe feels gourmet but packs a ton of nutrition into your morning.
Overnight Oats - Mason jars were built for this. Make your hearty oats ahead of time and flavor multiple ways. Add a scoop of protein powder for even more flavor and nutrition.
Clean Eating Breakfast Casserole - Make this once and have breakfast or snack options all week. A

perfect blend of eggs, sweet potatoes, and veggies.

Egg and Pesto Toast - Enjoy this quick recipe in less than 15 minutes of prep time to fill your belly with a delicious egg sandwich. Loaded with protein and radish for a little kick.

High Protein French Toast - Great way to curb your sweet cravings without the guilt. Make the toast first and pack sugar-free syrup or nut butter on the side for topping. You can also top it with fresh berries or fruit.
7 Lunch Recipes
Eat lunch like you mean it! Long gone are the days of simple sandwiches and chips once you start meal prepping like a pro. Get some more nutrition by eating lunch like you do dinner - loaded with lean protein, veggies, and whole grains - utensils required.
These four make-in-advance dishes are guaranteed to brighten up your afternoon and keep your hunger at bay.
Steak Fajita Bowls - Tastes like healthy take-out! Double the portions and make in advance for a tasty lunch all week long. Serve with your favorite toppings like tortilla strips or guac.
Honey Sriracha Turkey Meatballs - Sweet and spicy, these flavor-packed meatballs are an amazing option for your weekly meal prep. Easy to make, and absolutely delicious - this will be the meal you most look forward to throughout the day!
Hearty Salads - Check out these salads that will keep you feeling full and healthy AF. Change up your toppings each day for variety and opt for low-fat/low-sugar dressings that won't pack on empty calories.
Avocado Tuna Salad - The perfect blend of creamy and crunchy! Double up this recipe and serve with roasted sweet potatoes, on sprouted grain toast, or on top of lettuce. You can also try it with chicken.
Easy Shrimp Ceviche - High protein, low carb, and no cooking required. Mix Trifecta shrimp with your favorite fresh veggies, toss in a zesty vinaigrette, and enjoy!
Steak and Avocado Lettuce Wraps - The easiest, high-protein lettuce wraps you could eat all week long and not get tired of.
Turkey Stuffed Bell Peppers - Great, portioned controlled dish. Add variety with toppings like low-fat cheese, guac, or hot sauce. Roast the peppers ahead of time for even more flavor.
4 Plant-Based Recipes
Looking for high-protein vegan recipes for meal prep? Just about any traditional recipe can be made vegan or vegetarian with a few protein swaps - just add your favorite vegan meat substitute or plant-based protein. Here are some of our favorite plant-powered meals:
Vegan Tofu Scramble - The champion of vegan breakfast cuisine. This carb-friendly, protein-packed dish will not let you down. Enjoy as-is or throw it into a sprouted grain tortilla for a healthy breakfast burrito.

Black Bean and Quinoa Veggie Burgers - Veggies with more veggies! Try this recipe with your favorite blends of grains, veggies, beans, and herbs - also works with lentils. These also work great as vegan meatballs served over roasted veggies with a drizzle of tahini sauce.

Vegan Chili - Savory and delicious. Serve this over lentils or quinoa for even more protein, or top a baked sweet potato. For a vegetarian high-protein twist, top with a scoop of plain Greek yogurt!

Chana Masala - The easiest Indian recipe you can make! Toss in cauliflower or spinach for a nutrient boost and serve over brown rice or quinoa.
Healthy Snack Ideas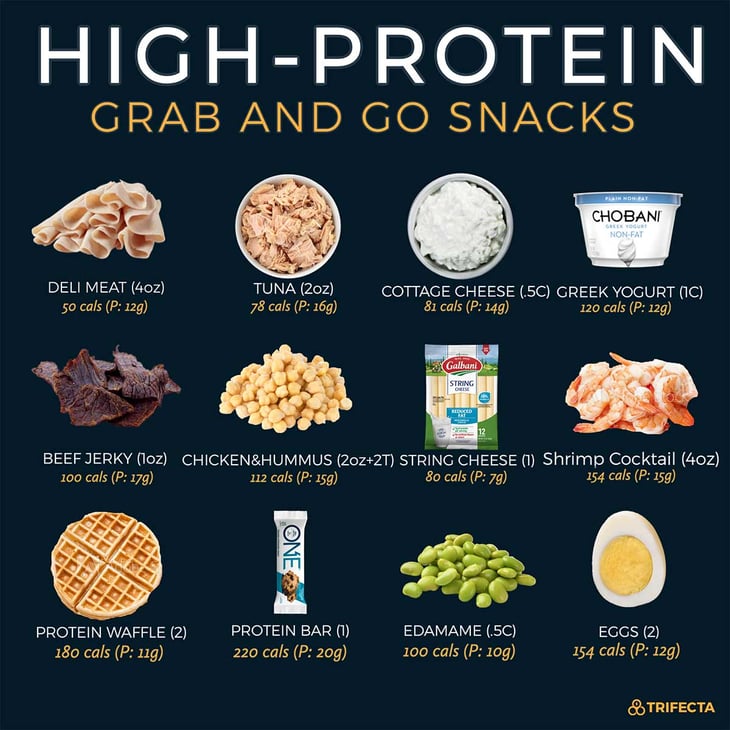 Don't forget to plan your snacks as well. Snacking is one of the easiest ways to make or break your diet. And most convenient food options are loaded with sugar and empty calories.
Instead opt for a simple, nutrient-dense fruit or veggie paired with a healthy dose of protein or fat to keep you feeling satisfied. Here are some quick options you can grab:
Grass-fed jerky

A piece of fruit and low-fat string cheese

A handful of nuts and dried fruit

Whole-grain crackers or fruit and nut butter
Tuna or chicken salad with whole-grain crackers
Hummus with veggies and grilled chicken strips to dip
Greek yogurt with fruit
Food Prep Hacks
Cooking your food, especially in large quantities in advance, can seem overwhelming, but it doesn't have to be! There are many tricks of the trade to help you cut your meal prep time down and eliminate the stress that comes along with following a healthy eating plan. Check out these popular meal prep ideas:
Use big-batch cooking to create one-pot dishes that will last you for days. Whip up a healthy chili, stew, or curry in a crockpot and serve over your favorite grains.

Keep the grains separate before serving to make them taste extra fresh.

Enchiladas, lasagna, casseroles, and pilafs also work wonders for getting more meals out of your recipes.
Buy pre-chopped ingredients such as veggies, bagged salads, and frozen and canned produce to minimize prep time.
Make healthy breakfast or lunch burritos, wrap in foil, and freeze for whenever you need them. Then pop them in the oven or microwave for a fast and balanced option.
If you're getting bored of the same dish each day, change it up with healthy toppings and add-ons, or switch up your marinades using Ziploc bags and cook more than one flavor at a time.
Just like anything, losing weight takes time. But learning to meal plan, portion, and cook yourself healthy options are important skills that will last you a lifetime, and are invaluable to your health.
---
Get even more meal-prepping tips and tactics, along with weight-loss advice from health experts, food lists, fat-burning workouts, and goal-setting tools.
Get your free Weight Loss and Healthy Living Strategy Guide below.