Is there any better way to start your day than with the sweet, buttery goodness of waffles? Perhaps not. Since no one should ever have to live a day without the great taste of waffles, we decided to create the ultimate healthy waffle recipe that is sure to satisfy your cravings!
A Waffle with a Little Spice
Needless to say, there are pancake people and then there are waffle people. It's hard to deny that both have their own appeal, and can be infused with various spices and additional ingredients like fresh fruit, chocolate chips, or granola.
This simple high protein waffle recipe is great addition to any meal prep plan because it can be prepared in less than 15 minutes from start to finish.
We utilized precooked Trifecta Sweet Potatoes, cinnamon, nutmeg, and ginger power to spice up these waffles for an extra delicious morning treat.
Looking for a vegan waffle recipe? Remove the eggs and yogurt and add 2 tbsp. arrowroot starch and 1 cup dairy-free yogurt.
This recipe will help you crush your macros as each waffle packs 18 grams of protein.
How to Prepare Maple Cinnamon Sweet Potato Waffles
Prep time: 5 minutes
Cook time: 15 minutes
Servings: 5 waffles
Ingredients:
3/4 Cup Trifecta Sweet Potatoes
1/2 cup greek yogurt or cottage cheese
2 large eggs
1 tablespoon maple
1 teaspoon of vanilla extract
1 cup all-purpose flour or rolled oats (gluten-free version)
2 teaspoons baking powder
1 teaspoon cinnamon
1/2 teaspoon ground nutmeg
1/2 teaspoon ground ginger
Pinch of Salt
Kitchen Tools:
Waffle Maker
Blender
Bowl & Whisk
Spatula
Measuring Cups and Spoons
Non-stick Spray
Step 1: Preheat Your Waffle Maker and Mix Your Batter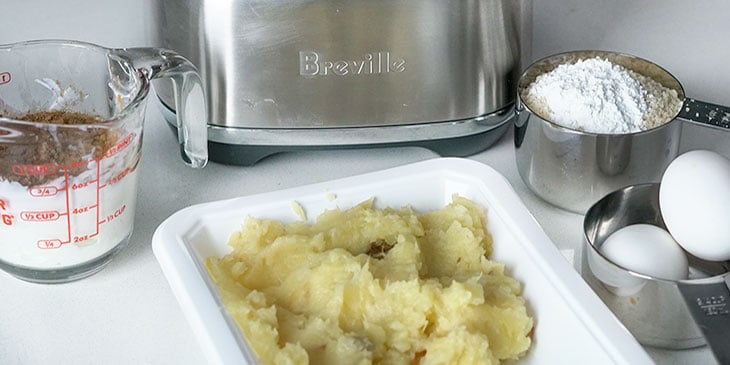 Combine all of the ingredients together in a blender and blend until smooth.
Bump up the protein by substituting half of the flour for your favorite protein powder.
Set aside while the waffle maker preheats.
Step 2: Cook Your Waffles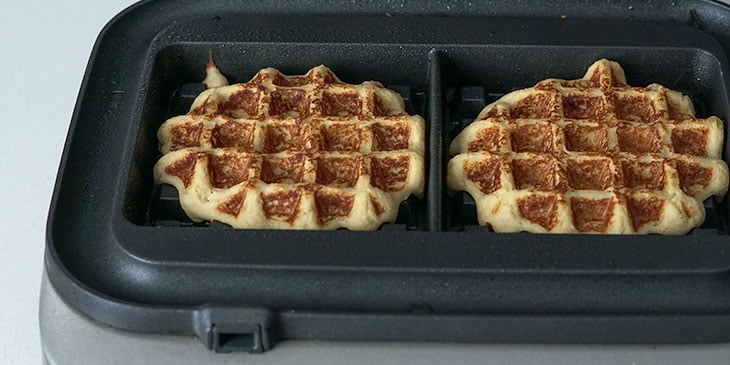 Generously spray the waffle maker with non-stick spray then measure 1/2 cup amount of batter into each space.
Close the lid and cook for 4-5 minutes until done.
Be gentle when removing the waffles from the maker, the addition of sweet potato makes these tasty waffles more delicate than normal.
Step 3: Eat or Pair with Other Delicious Breakfast Options!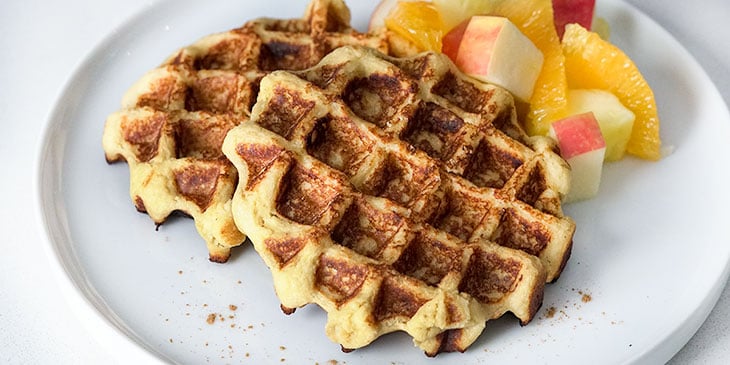 Feel free to enjoy these waffles on their own with a side of fruit and drizzled with some syrup. Or bump up your meal prep by serving these with:
---
Meal Prep Made Easy
Ready to take your meal prep up a notch? Learn how to count your macros to reach your goals and use our Trifecta A La Carte ingredients to conquer your meal prep without spending hours in the kitchen! Take your wellness to the next level with Trifecta.