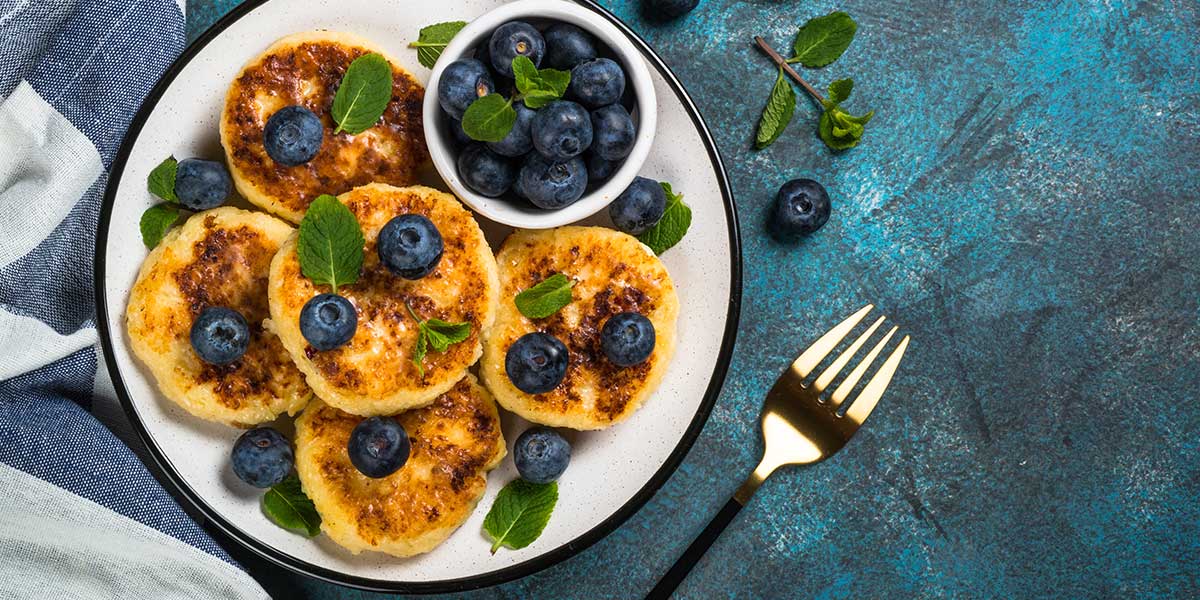 Pancakes are a delicious breakfast staple and one of the best items to meal prep ahead of time. This simple recipe uses a combination of eggs, almond, and coconut flour to yield deliciously fluffy, keto-friendly pancakes.
How to Make Keto Pancakes
To get a solid keto pancake, we have substituted regular flour, with a combination of both almond and coconut flour. These two combined result in a very friendly texture and pleasant taste. The vanilla extract and sugar replacement (we suggest stevia or erythritol) add that hint of sweetness common to panckes without adding carbs. The combination of eggs, oil, and baking soda help provide moisture and that necessary leavening factor to create a super fluffy product. We've taken baking science and mixed it with our love for flavor. The result? A solid pancake recipe for your ketogenic needs.
Pro tip: Speed up your meal prep by preparing your dry ingredients in bulk. Simply whisk together the dry ingredients in a large bowl, transfer to a Ziplock bag and store in the freezer. That way, whenever you're craving pancakes, all you need to do is mix 2.5 cups of the flour mix with 3/4 cup of liquid, 3 eggs and 1/4 cup of olive oil. You can also cook the entire batch at once and freeze your pancakes stacked in Ziplock bags. During my childhood, my mom would cook pancakes most Saturday mornings and she would freeze the extras for us to eat throughout the week. It was wonderful as I could have her delicious pancakes
I suggest using coconut milk for this recipe - don't use the canned coconut milk, but rather the one sold in cartons in the dairy/creamer isle. If you prefer using water or another milk substitute, you can do so, but be aware the macronutrients will change as displayed here.
This recipe contains 22g of fat, and only 6g of net carbs (10g carbs - 4g fiber), and 8g of protein! Perfect keto macros!
If you want to make these high in protein, add 1 scoop of your favorite protein powder. As I was writing this article, I played with our food analysis system (ESHA), by adding 2 scoops of chocolate whey protein (I used EAS Sport) and the protein increased from 8g to 14g and both the fat and carb increased by 1g each. Granted, this will vary depending on the protein powder of your choice. You may have to add 1/8 cup of extra liquid to thin the batter if it becomes too thick.
Ingredients:
2 cups almond flour
½ cup coconut flour
3 Eggs, whole
¼ cup avocado oil
2 teaspoon vanilla extract
1 teaspoon stevia or erythritol
½ teaspoon baking soda
½ teaspoon salt
¾ cup coconut milk (water or favorite milk substitute ok)
Spray oil
Kitchen Needs:
Medium bowl
Whisk
Measuring cups
Measuring spoons
Non-stick large pan
Plastic spatula
Cooling rack
Step One: Mix Ingredients in a Bowl
Combine all ingredients in a bowl. Using a sturdy whisk, whisk together until fully combined.
If mix is too dry, add ¼ cup of liquid at a time. Whisk to incorporate and assess whether batter needs more liquid.
Step Two: Cook, Serve, or Cool and Store
Heat a nonstick pan over medium heat. Spray with spray oil. Measuring ¼ cup at a time, add ¼ cup of batter to pan, allowing a few inches of space in between pancakes. Adjust heat to medium-low if necessary.
Cook for 1-2 minutes undisturbed, and flip using a plastic spatula to avoid scratching the non-stick pan. Typically, a good indication it's time to turn the pancakes is once bubbles start forming on the top raw side of the pancake. Flip and cook for another minute to two.
Once both sides of pancakes are cooked, remove and lay on a cooling rack to completely cool if using for meal prep. Otherwise, stack them on a plate and cover with a cloth to keep warm before serving.
Helpful Tips for Successful Pancake Cooking:
Find your pan's ideal cooking temperature.

This will take a bit of trial and error, but you ideally want the temperature to be hot enough to cook the pancake steadily, but not so hot that the edges will burn. Test one pancake first and then cook the entire batch. A nice golden brown outside is ideal.

Look for bubbles - all the bubbles.

Say that again, bubbles. Ha. Funny word. When cooking pancakes, bubbles on the top of the pancakes indicate the bottom side is close to being cooked or it has cooked completely. Flip once you see several appear on the top side of the pancake.
Storing and Serving
If you are craving pancakes, have a serving of these with one of our keto breakfasts or simply scramble some eggs and eat this perfect combination together.
You can cook all pancakes ahead of time and freeze them by storing them in a Ziplock bag. If you have parchment paper, make squares and add a parchment paper square in between each pancake. This will keep the pancakes from sticking together and will come in handy if you only want to remove a few pancakes at a time.
Store in the fridge for up to a week, covered in a Tupperware with an airtight container in stacks of 3-5.
Meal Prep like a Pro
Want to get more out of your weekly meal prep efforts? Stick to your calorie goals and maximize results with this free meal prep toolkit for weight loss. An RD-written guide complete with macro meal planner, food lists, and expert advice to help you lose weight quickly.