Whether you're following a low carb or keto diet, you'll love this simple grab-and-go style breakfast especially if you are meal prepping for the week.
The base of this egg muffin recipe is a simple combination of whole eggs and whatever mix-ins you'd like. Totally customizable, packed with protein, and easy to prepare.
Easy Keto Breakfast Meal Prep
This recipe is packed with protein to help you meet your keto macros and the pre-portioned size makes them the perfect on-the-go meal for your keto breakfast. They are also freezer-friendly and can be reheated in 2-3 minutes in the microwave!
Not sure what your macros are? Use this keto macro calculator to find out how this recipe will help you crush your nutrition needs.
Tips For Making the Perfect Keto Egg Muffins
The base of these deliciously quick egg muffins will always be the same; for 12 egg muffins crack and scramble 1 dozen eggs with 1 cup cottage cheese then mix in any additional ingredients you would like. You can leave out the cheese if you are following a strict paleo diet or substitute another kind of cheese!

What to mix in though? There are tons of low-carb vegetables and healthy fats to add, and they are a great way to utilize any leftovers left in the fridge.

Classic flavors, with recommended ingredient servings based on the recipe below:

Ham & Cheese: 1/2 cup sliced ham, 1/2 cup shredded cheddar cheese, and 1/4 cup green onion
Bacon & Jalapeno Cheddar: 1 each fresh jalapeno, diced, 1/2 cup cheddar cheese, and 1 cup pre-cooked bacon, diced
Mushroom, Olive, and Thyme: 1/2 cup sauteed mushrooms, 1/4 cup chopped olives, and 2 tablespoons fresh thyme
The Southwest: 1/4 cup roasted red bell pepper, 1/4 cup diced tomato, 1/4 cup diced onion, 1 tablespoon garlic, 1/4 cup queso fresco, and 1 tablespoon paprika
You can really choose any kind of flavor combination you'd like, and this is a great opportunity to utilize any leftover ingredients or make a trip to your local farmers market to see what's in season!
Don't forget an essential piece to preparing egg muffins is, of course, a muffin pan. This will help them cook faster and also pre-portion individual egg muffins for your weekly meal prep.

How to Prepare Your Keto Egg Muffin Recipe
Prep Time: 10 minutes
Cook Time: 25 minutes
Servings: 12

Ingredients
1 dozen eggs

1 cup cottage cheese
1 tablespoon nutritional yeast
1/2 cup kale, chopped, sauteed
1/2 cup onions, sauteed
1/2 cup bell pepper, sauteed
pinch salt and black pepper
Kitchen Needs
12-hole muffin tray, ideally non-stick, or 12 oven-friendly round containers
Baking sheet (to set muffin tray in)
Blender, immersion blender, or a whisk
Bowls (large and small)
Oven
Step One: Measure Ingredients Into a Bowl and Blend
Preheat your oven to 375°F and gather all of your ingredients. If you need to roast or saute any vegetables you are adding in, do that first to allow them to cool slightly before mixing them into your raw eggs.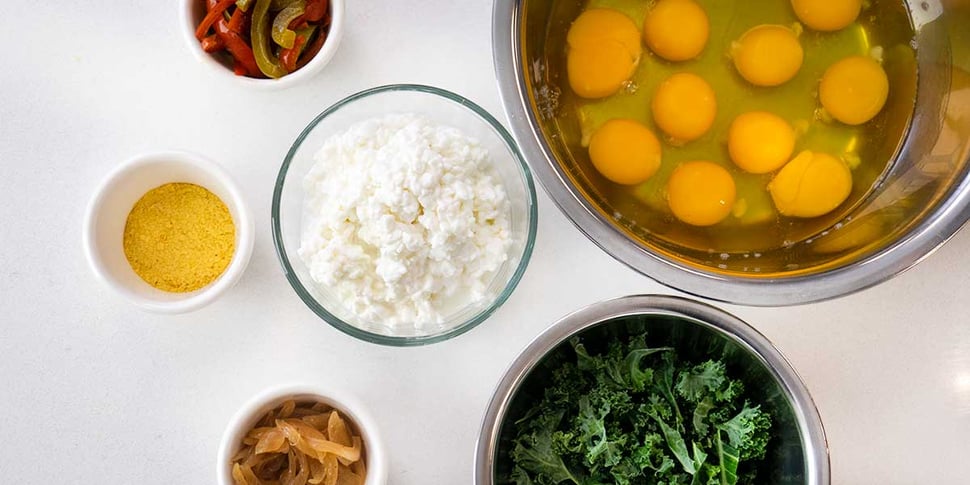 In a large bowl, add whole eggs, cottage cheese, nutritional yeast, salt, and black pepper; whisk together to combine.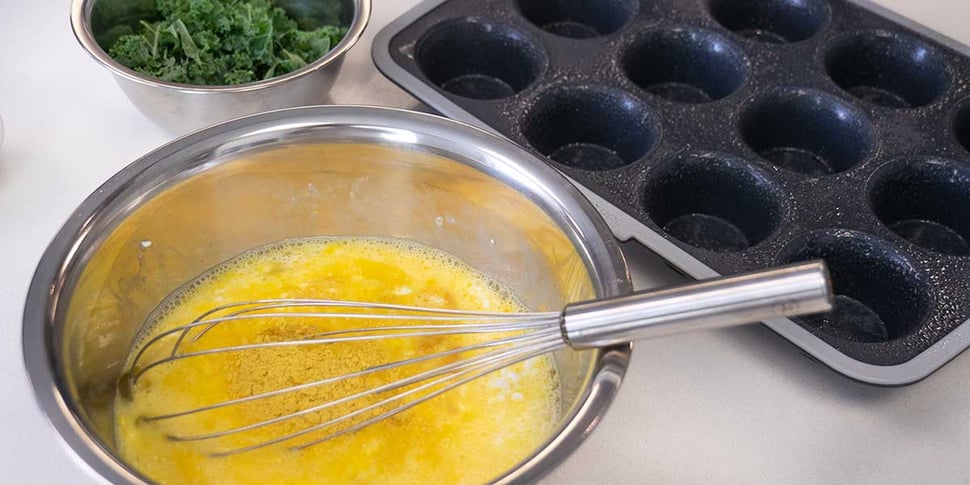 Step Two: Prepare Muffin Pan and Portion Egg Bites
Liberally spray your muffin pan with spray oil. Coat every corner of each muffin mold. Spread oil with a paper towel and respray lightly once again to ensure proper lubrication.
At this point is take a small pinch of each add-in and portion it into the individual muffin cups in the pan. Then using a measuring cup, pour over your scrambled raw egg mixture.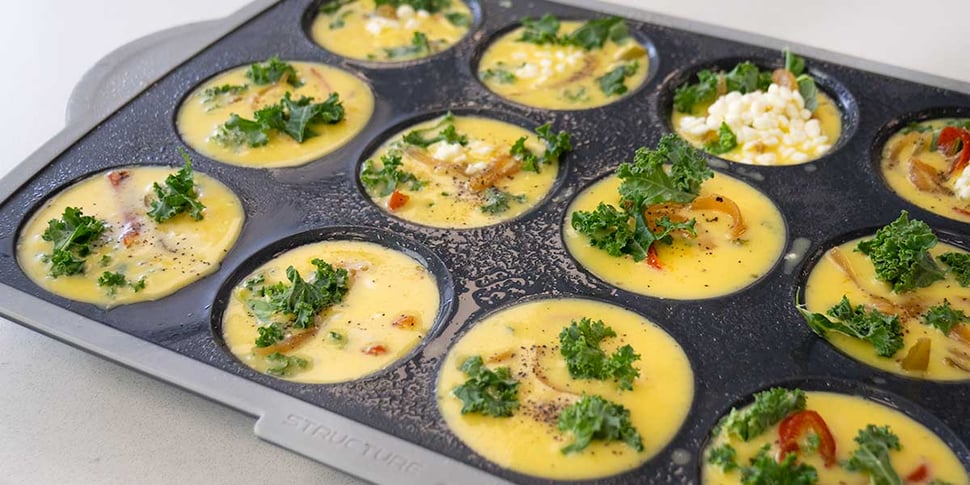 This helps ensure you won't overfill the muffin pan!
Step Three: Bake, Cool, and Store
We use a silicone muffin pan which ensures the keto egg bites won't stick too much to the pan. But if you are using a normal muffin pan you'll want to follow this extra step before baking:
Grab a baking sheet pan and add about 1/2" of water on the bottom. Set the muffin pan in the sheet pan and carefully place this set up in the oven. The water will create humidity to help cook the eggs evenly.
Bake the egg bites for 20 minutes, rotating the muffin pan 180 degrees halfway through the baking process to ensure even cooking.
Keep a close eye on the bites as they cook; if they are starting to bubbly up like a balloon this is a sign they are done cooking so remove them from the oven immediately.
Once time is up, check the doneness by poking a couple of the egg bites with a toothpick or a cake tester in the middle. No egg should stick to it. If the bites need a little extra cooking, add 2 minutes at a time, rotating the pan each time.
Once done, remove from oven, let muffin pan cool slightly and using a butter knife or an offset spatula, carefully scrape the sides of each muffin pan and remove the bites from the molds. Carefully discard the water on the bottom sheet pan.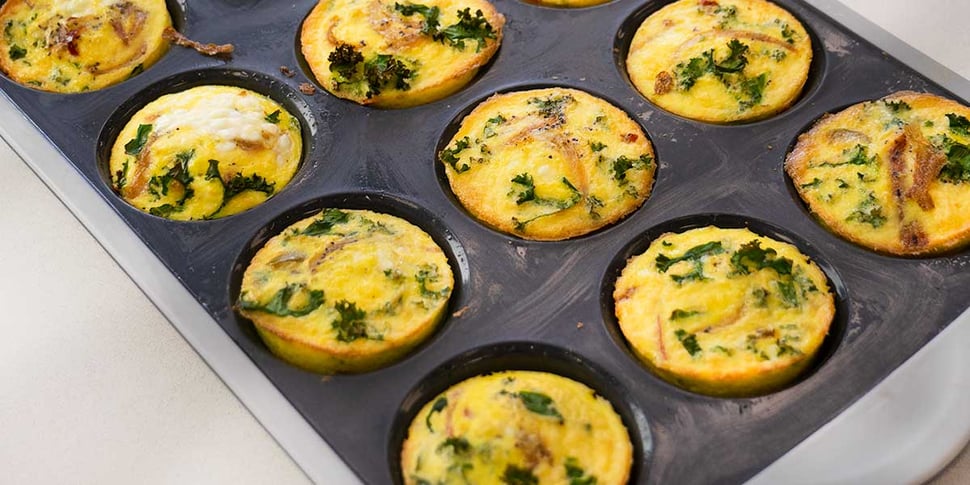 Cool down your muffin bites by placing them in the fridge in an open container or on a plate. They divide and store for your weekly meal prep.
Nutrition Per Egg Muffin: 110 calories, 6 grams fat, 5 grams carbohydrates, and 9 grams protein.
Storing and Serving
These delicious egg bites will keep for up to 5 days in the fridge. When storing them make sure you don't press them down or squish them!
These egg bites can be eaten for breakfast as a part of a balanced keto breakfast or used as a mid-day snack. Using the guide below, you could count the keto egg muffins as your protein and include the non-starchy vegetables as the add-ins to flavor the muffin!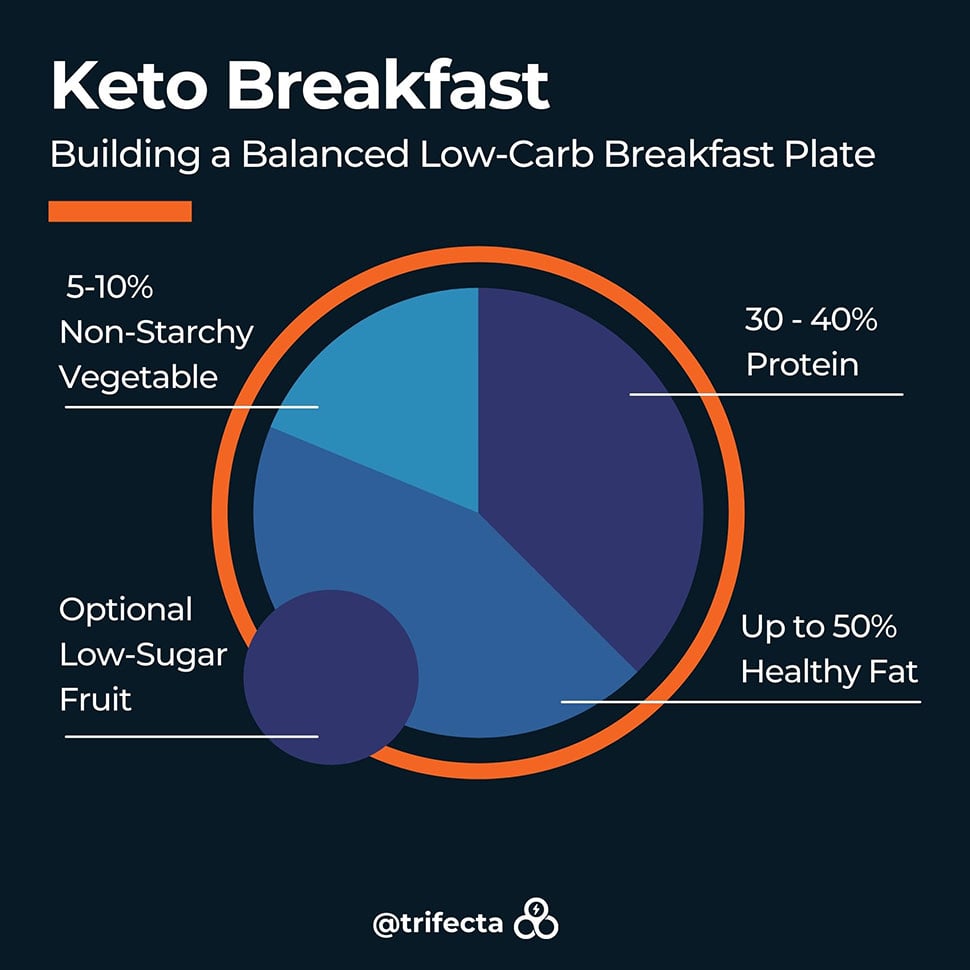 Pair your keto egg muffin with:
You can also use these keto egg muffins for a low-carb breakfast sandwich using keto cloud bread!
---
Too Busy? We Got You!
Want to skip the keto meal prep altogether?
For roughly the same cost, and none of the shopping, cooking, and clean-up time, get macro balanced keto meals delivered right to your door. Enjoy more variety and hit your keto macro goals with ease.