If you are looking for ways to improve your keto meal prep while keeping it healthy, you have come to the right place! Find a fun collection of 15 keto sauces created by a culinary nutrition trained chef, aimed to help you keep your meal prep fresh and fun at all times. This guide is divided into two unique sections: nut-based sauces and oil-based sauces.
Keto Sauces That Make Sense
Sauces are what give any dish an authentic sense of character. Instead of consuming a plain keto diet, substituting straight oil or plain fats with keto-approved sauces that hold the same caloric value, and have tons of flavor, will provide a new essence to each of your keto meals, day in and day out.
We've compiled a wide variety of new, easy & fast keto sauces you can either start by prepping at home or buying at most supermarkets (to make your life easier - we understand you are busy).
We hope these tips can take your lunches and dinners to the next level. Use these recipes as inspiration to prepare your weekly meal prep.
Pro tip: to make a batch or two of a few of these, and make your weeknights stress-free without any guesswork.
Easy Keto Sauces
We've separated these easy keto sauces into two different categories, based on what the base of each is made from. The first seven sauces will be nut or seed based, meaning, the ingredient that gives the sauce it's body and texture will be a kind of nut or a seed.
Conversely, oil based sauces will be an emulsion or a sauce that heavily relies in the use of an oil.
Whether you are on the Trifecta keto meal plan, or you do your own meal planning, these keto-friendly recipe ideas will make your food that much better. Most of them only have a few ingredients and take a few minutes to make.
7 Nut and Seed Based Sauces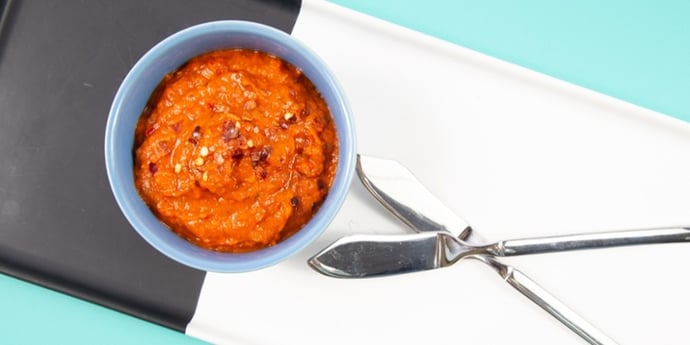 Romesco sauce is a Spanish sauce that is typically made with a bread base. However, by substituting the bread with almonds, the flavor turns nutty, the sauce becomes gluten-free, and of course, it becomes keto-friendly.
This sauce goes especially well with breakfast scrambles, but also works on beef and meatballs! (This is a great substitute for marinara! Shocked? Thought so!).
Serving: 2 Tbsp. 60kcal, 4g Fat, 2g Pro, 4g Carb
Pesto uses a combination base of pine nuts, parmesan cheese, and olive oil, a mix of saturated and unsaturated fats, providing a deep salty and somewhat umami flavor base. If you want to make vegan pesto, simply replace the pine nuts and parm with lightly toasted pistachios! Pesto pairs exceptionally well with salmon.
Serving: 1 Tbsp. 100 kcal, 9g Fat, 3g Pro, 1g Carb

Okay... Coconut is not technically a nut or a seed, but it contains the word "nut" so we're going with it! Coconut is a medium-chain triglyceride, which means that it is a shorter saturated fat and it's absorbed much more easily by the body, plus it provides the creamy texture similar to a dairy-base product. Combine this with diced or shredded chicken or some beautiful shrimp. This sauce keeps very well. As an idea, make it in advance and keep it refrigerated to stay ahead of your meal prep.
Serving: 2 Tbsp. 70 kcal, 6g Fat, 1g Pro, 2g Carb, 0g Fiber, 15mg Sodium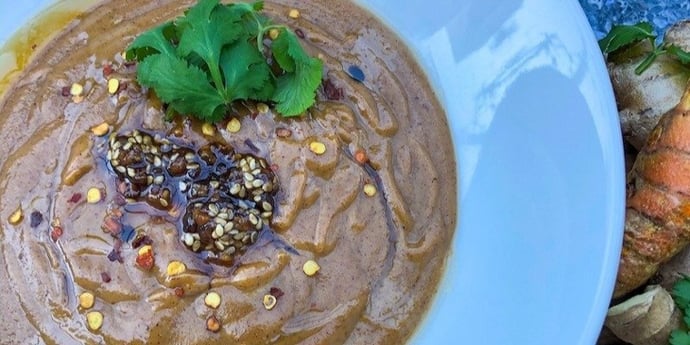 The combination of peanut butter and sesame lends a Thai style sauce that you can use to dress the chicken, white fish, or coat zucchini noodles. Add some sprouts, chopped peanuts and cilantro and you've got yourself a 5-minute dinner. Make sure you grate the garlic and ginger, as that is what gives this recipe its essence!
Serving: 1 Tbsp. 80 kcal, 8g Fat, 3g Pro, 3g Carb, 1g Fiber, 35mg Sodium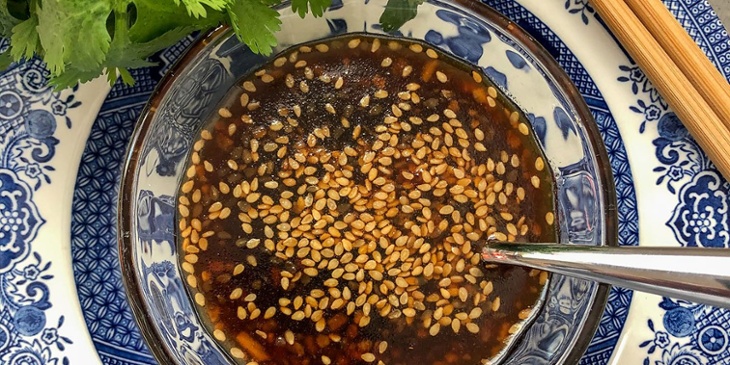 Sesame has an incredible amount of flavor. Use this dressing to flavor your veggies, like broccoli throughout the week. That's how I eat my vegetables all the time and also add another layer of fat to remain on ketosis. Meal prep hack! Smart, huh?
Serving: 1 Tbsp. 60 kcal, 5g Fat, 1g Pro, 1g Carb, 0g Fiber, 230mg sodium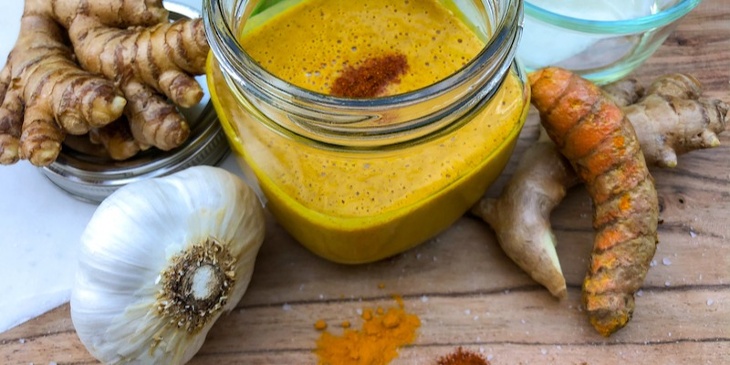 This sauce might make eating your veggies a whole new experience (trust me on this one). By using this base and combining, oil, garlic, turmeric, a hint of ginger, and nutritional yeast, this sauce becomes an umami punch.
Serving: 1 Tbsp. 60 kcal, 6g Fat, 1g Pro, 2g Carb, 1g Fiber, 30mg Sodium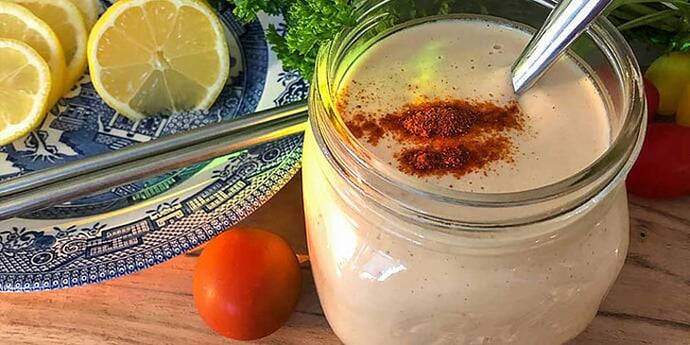 Tahini is basically a sesame paste. Try making a quick dressing by combining equal parts store-bought tahini and an acid like lime juice, 0.25 part water, and 0.5 part neutral oil. Add spices if you want! Tahini goes exceptionally well with tofu as a marinade, and also with your vegetables (think hummus flavor profiles - tahini is an essential part of hummus). This dressing is a beautifully well balanced recipe of umami, savory, sweet, and acidity.
Serving: 1 Tbsp. 60 kcal, 6g Fat, 1g Pro, 2g Carb, 1g Fiber, 10mg Sodium
8 Oil-based sauces
These high-fat sauces can be used as dressings, marinades, and sauces. Because of their oil base, these sauces drive tons of flavor and can be cross utilized depending on what one is cooking. Have fun mixing these into your meal prep and watch as your food explodes with flavor!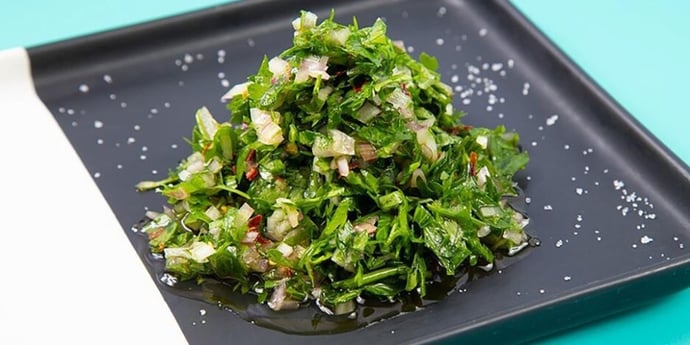 Chimichurri is an exceptionally simple sauce to make that requires no cooking. The fresh herbs combined with a hint of spice, oil, and vinegar make this sauce go incredibly well with beef and chicken. I love this sauce as an addition to my weekly bowls (or maybe daily - haha!)
Serving: 1 Tbsp. 50kcal, 6g Fat, 0g Pro, 1g Carb, 0g Fiber; 15mg Sodium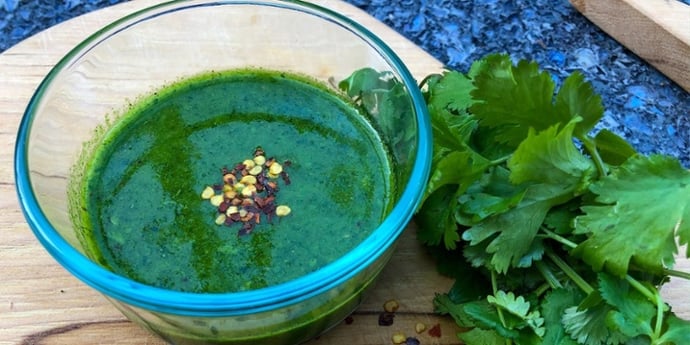 Also known as spicy cilantro sauce, this sauce is packed with character thanks to the jalapeno, cilantro, cumin, and cardamom spices. Aside from being incredibly bright and pretty, you can dress your Beyond Meat burgers with it, chicken, turkey, steak, shrimp, cod… you name it!
Serving: 2 Tsp. 50kcal, 5g Fat, 0g Pro, 1g Carb, 0g Fiber, 15mg Sodium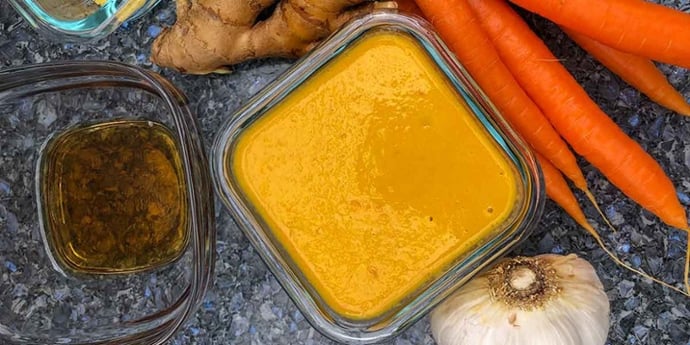 Not gonna lie… Some supermarkets have some of the best instant carrot-ginger dressing around. The flavors in this dressing make the most perfect marriage. Slightly umami, yet packed with a punch of nutrition, this dressing is a clean and easy pair for proteins, and also works as a salad dressing, or as a flavoring for veggies like Brussels Sprouts.
Serving: 1 Tbsp. 60 kcal, 6g Fat, 0g Pro, 1g Carb, 0g Fiber, 15mg Sodium
By slightly adjusting the classic buffalo recipe, we were able to create a keto recipe that keeps its essence while providing a high-fat profile. Use this as a dip, or to season your favorite proteins, especially some air fried chicken or cauliflower! You can also control how hot this sauce is by increasing the pepper content!
Serving: 1 Tbsp. 40kcal, 4g Fat, 1g Pro, 1g Carb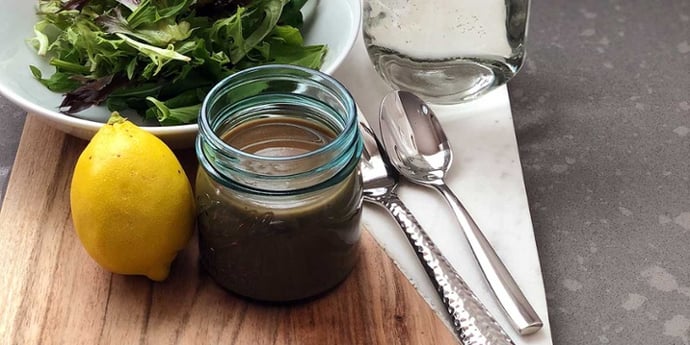 Because a vinaigrette is a mix of oil and an acid, a balsamic vinegar is a great option to throw some rich flavor with a hint of natural sweetness from the balsamic - that, let's be honest - more often than not the body craves at some point during ketosis. You can either buy this in any supermarket or make it in minutes at home (just add some salt and pepper, and limit the excessive use of balsamic!).
Serving: Tbsp. 100 kcal, 11g Fat, 0g Pro, 1g Carb, 0g Fiber, 10mg Sodium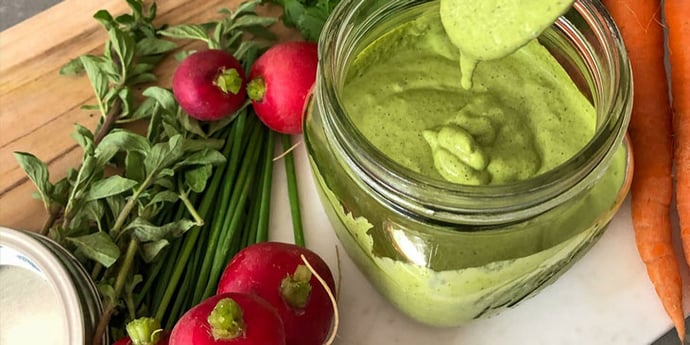 Green Goddess is one of those underrated yet highly delicious dressings out there. By using avocado and grape seed oil as a base of the sauce, massive amounts of healthy fats are added to make this sauce rich in body and texture. Also, with the combination of different herbs and greens, you have a green machine here filled with nutrients. (If you are looking for an instant & nutritious option check Trader Joe's). Dress your cooked keto cauliflower rice, salad, or combine it with any low carb pasta.
Serving: 1 Tbsp. 70 kcal, 7g Fat, 0g Pro, 1g Carb, 0g Fiber, 35mg Sodium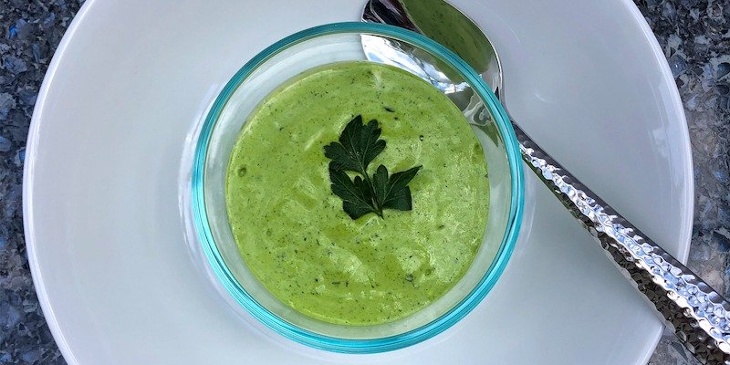 A 'crema' is a loose mayo, or a combination of egg yolk, a pinch of water, and oil. By adding your favorite herbs like parsley and cilantro, along with a pinch of lemon juice, you'll get a slightly creamy and flavorful sauce. Add this to your eggs in the morning, or as a decoration on top of your Trifecta Keto Meals!
Serving: 1 Tbsp. 60kcal, 6g Fat, 0g Pro, 1g Carb, 0g Fiber, 10mg Sodium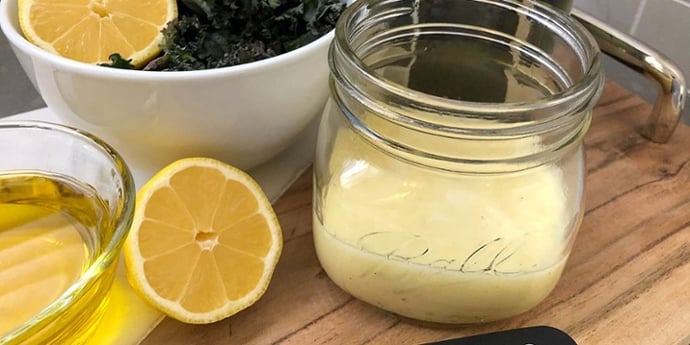 Here's a quick-start fun challenge for you to save time: Stir together 1 cup oil, ½ cup champagne vinegar, 1 teaspoon of minced garlic, 1 tablespoon of minced shallots, salt, and pepper to. taste. Done! Dress your sides with this for a beautiful flavor punch. Don't have the time? No worries! Pick any simple dressing at the supermarket that's already done the work for you.
Serving: 1 Tbsp. 90 kcal, 10g Fat, 0g Pro, 1g Carb, 0g Fiber, 10mg Sodium
---
Too Much Work? We Got You!
Want to take the hard work out of eating healthy? Hit the easy button on keto meal prep with nutritious, minimally processed meals cooked and delivered to your door. Our team of experts will plan, prep, and ship a tasty menu each week.