Pesto is not just for pasta and pizza! This common sauce is incredibly versatile and pairs well with salmon, chicken, shrimp, and veggie based dishes. Traditional pesto uses a combination base of pine nuts, parmesan cheese, and olive oil - providing a deep salty and somewhat umami flavor base. It's easy to make and wont disappoint!
How to Make a Classic Pesto Sauce
What makes this sauce 'classic' is the use of the pine nut and parmesan combination. Originally, pestos were made with a mortar and pestle, grinding the slightly toasted nuts with garlic and some coarse salt first, while slowly adding oil.
Though it would be great to have the time to create this sauce as the Italians did years ago, we've adjusted this recipe method of preparation to help you create a faster yet delicious pesto sauce.
This recipe makes a big batch of pesto - about 40 servings of 1 Tablespoon servings, perfect for your meal prep! Feel free to cut this in half if needed or package it up and give it to loved ones for a tasty treat.
Ingredients:
2 cups fresh basil, rinsed
1/3 cup pine nuts, slightly roasted
2 garlic cloves, raw or 1 teaspoon minced garlic
1/2 cup olive oil
1/2 cup parmesan cheese (Parmigiano Reggiano works perfectly well!)
1 teaspoon lemon juice
Pinch Kosher salt and pepper
Kitchen Needs:
Storage
Baking tray
Spatula
Food processor
Want a dairy free version of this sauce? Make a simple vegan pesto by replacing the pine nuts and parm with lightly toasted pistachios!
Step One: Roasting the Pine Nuts, Wash and Pick Basil, and Gather all Other Ingredients
Preheat your oven to 375°F.
Line a baking sheet pans with aluminum foil to save time on clean up and roast pine nuts for 3-5 minutes until pine nuts are golden brown. Keep a close eye as these go from slightly toasted to burnt in no time. Remove from oven and let cool down.
Meanwhile pick, wash, rinse, and dry your basil leaves. Place leaves into a bowl and keep aside until needed.
Culinary tip: If you want to make your basil super bright green, grab a metal bowl and fill with ice and water. Submerge the leaves for 3-5 minutes.
The ice water will 'shock' and brighten the chlorophyll naturally. This will make your pesto sauce bright in color.
Grate parmesan cheese or measure if already grated and keep aside. Measure all other ingredients and have ready at hand to blend the sauce.
Step Two: Blend Your Ingredients
In a food processor (easiest tool but if you don't have one, feel free to use a high quality blender like a Vitamix - or also a NutriBullet) add pine nuts, a small pinch of salt, 1 tablespoon of the measured olive oil, garlic, and the parmesan cheese.
Pulse food processor until a paste is formed, scraping sides as needed. If the nuts are not forming into a paste, add another tablespoon of olive oil.
Do not add lemon juice yet.
Once paste is formed, add the basil into the food processor. Pulse once again until the basil is fully incorporated, scraping the sides as needed.
Once the basil is one in the paste, add the lemon juice, and season with salt and black pepper if needed. The saltiness of the parmesan sometimes is enough and no further addition of salt is needed.
Transfer to a bowl, scraping all the sides of the food processor bowl.
Step Three: Fold in Remaining Oil
The reason why the oil is not added into the food processor is because heat is created while the paste is being formed which causes the oil to oxidize, creating off notes and flavors. In order to avoid this, the oil is folded into the basil-paste in a separate bowl.
"Folding" is a culinary term that means to carefully mix two mixtures of different thickness and weight, into one unified mix.
Mix in the oil into the basil paste with a rubber spatula, by slowly adding the oil in batches and mixing it into the paste. Repeat until all the oil is folded in.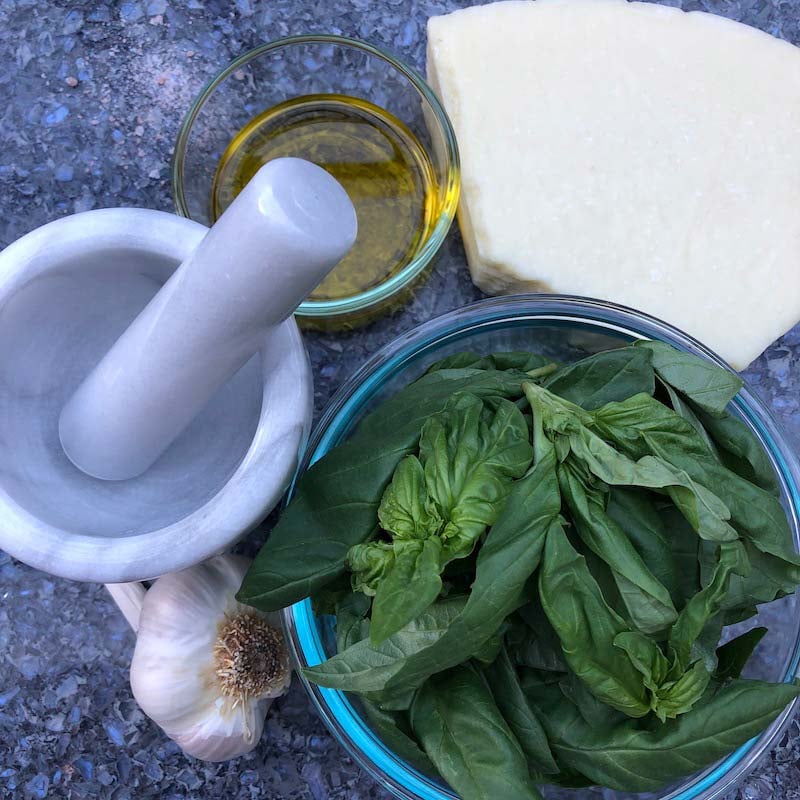 Storing and Shelf Life
Store this sauce in the fridge, up to a week for maximal freshness and for the brightest green color. The sauce will withhold a longer shelf life under refrigeration, however the chlorophyll may start turning dull brown after a week. Flavor will stay consistent as long as its refrigerated.
Serve this With
Pesto and chicken in a sandwich form are excellent, or like I said before, you can pair it with salmon, flavor your favorite vegetables with it, or even make a pesto quinoa - a vegan dish widely used throughout Peru (fun fact).
Want to get more out of your weekly meal prep efforts? Stick to your calorie goals and maximize results with this free meal prep toolkit for weight loss. An RD-written guide complete with macro meal planner, food lists, and expert advice to help you lose weight quickly.
Want more tasty recipes like this one? Check out the full collection of 16 keto sauces!