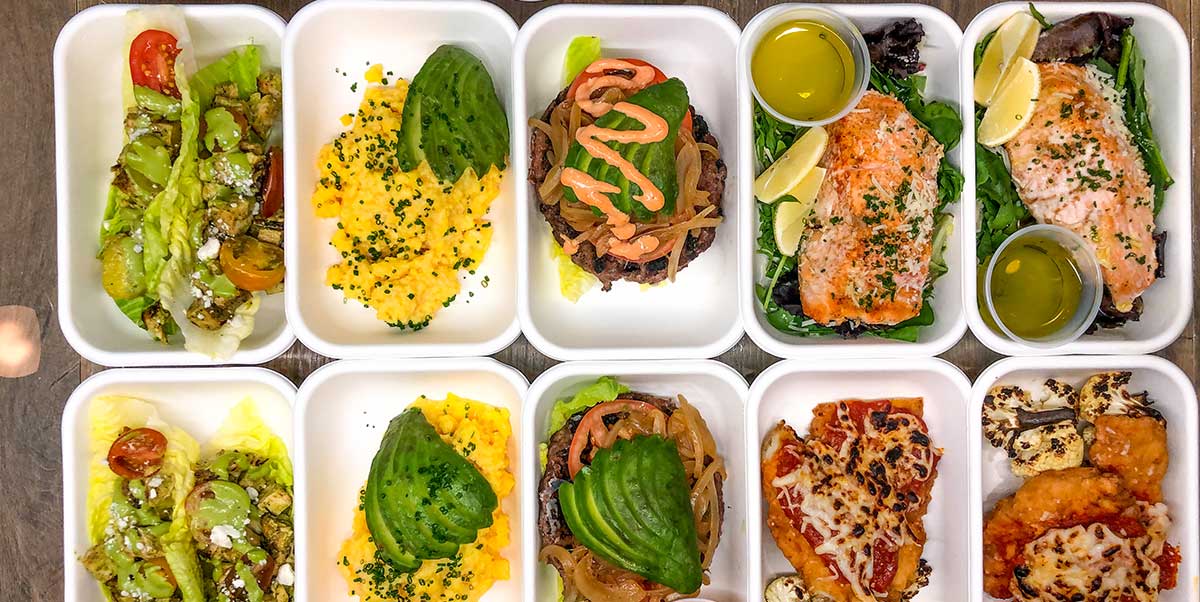 Staying on track with your keto diet takes some serious effort and nutritional know-how, especially if you are cooking all your own food and being diligent about hitting your macro goals. Not to mention, you still need to cut calories and focus on good nutrition to lose weight and stay on top of your health.
If this seems exhausting, we are here to help! I've done all the hard work for you with this complete 14-day, 1,200-calorie diet keto meal plan with recipes, nutritional analysis, shopping lists, and a menu full of variety for you to take advantage of. The only thing you need to do is cook these recipes and enjoy them all week long.
Here's everything you need to get started:
How to Hit Your Keto Macros
The ketogenic diet is rooted in controlling macronutrients with a goal of transitioning the body into a metabolic state called ketosis. Ketosis encourages the body to become more effective at burning fat - and potentially promotes faster weight loss.
Understanding how to hit your keto macros for ketosis takes a little bit of time and adjustment, but with practice, it gets easier!
Be aware that following a keto lifestyle requires strict adherence to macronutrients. Meaning, you have to keep track of your calories and macronutrients to ensure you are not going over your carbohydrate count, or that you are consuming too many calories from fat, potentially causing weight gain.
It is strict caloric control that supports fat loss on keto.
Additionally, if you are looking for a plan to control your blood sugar levels, this plan may potentially benefit you due to overall decreased carb and sugar intake.
Depending on your activity level, and personal size, the number of carbs you need per day, vary. Know that you can start slowly transitioning your body into a full ketosis state by slowly incrementing the percentage of fat you eat in your diet. Once you find your personal macros, you can easily adjust this plan for yourself.
However, to make it easier for you, you can use a keto macro calculator to find your macronutrient needs:
To make life easy for you, we have created a two-week ideal 1,200-calorie easy keto meal plan menu for you to follow. Treat each week as its own one-week keto meal plan. Each week varies greatly in keto recipe variety to help you avoid meal prep burnout.
About This Keto Meal Plan
This two-week 1,200-calorie easy keto meal plan is the ideal menu for you to stick to your carb and calorie goals while getting plenty of quality nutrition.
Each day we help you hit at least a 65% of your macros from fat, which will help induce a state of ketosis in your body.
Each week varies greatly in keto recipe variety to help you avoid meal prep burnout, so treat each week as its own one-week keto meal plan.
There are two weeks of food planned for you all with their own keto recipes - the recipes cross-utilize ingredients to make your meal prepping super simple and straightforward.
For example, during week 1 you will have some leftover chicken (when bought ahead of time) that you can use for week 2. Similarly, we cross utilize sauces to make your meal prep super simple.
To make your meal prep easy, we do repeat the same dishes 3 or 4 times throughout the week, but we have included enough variety to help you enjoy this meal plan. The variety also is not excessive, helping you make any cooking super simple. It's all been carefully planned for you.
If you're not seeing results right away, be patient. Try to stick to this plan for at least a few weeks for long term success!
If this is your first time following a keto diet or a very low carb diet, there may be an adjustment period. Some people can experience side effects, commonly known as the keto flu. But these effects are generally harmless and the more consistent you stay with your diet and with hitting your macros, the better your body will adapt to burning fat for fuel.
Of course, always talk to your health care provider, dietitian, or doctor before trying any new diet program.
Best Keto Foods
This plan includes a keto shopping list for each week that is high in the following: healthy keto fats, low sugar fruits, low carb vegetables, keto proteins,, and condiments.
We have included ingredients like salmon, chicken, cheeses, eggs, nuts, nut butter, unsaturated and heart-healthy fats, and low carb vegetables to make the plan first and foremost ketogenic, second highly nutritious, and third highly flavorful.
However, we are hyper-aware that multiple people will have different food preferences and even potentially some allergies.
Here's the best keto friendly foods you can use to replace any ingredients to fit your personal preferences and needs - just make sure you account for any macro changes!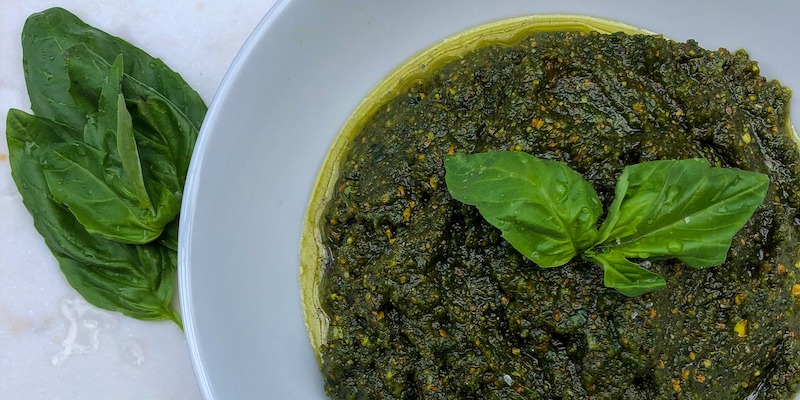 Keto Macro Ratio
The average net carbs for the two weeks of this meal are 17.25g; meaning, you won't go over 21 grams of net carbs per day at any given time.
If for any reason you CAN eat more carbohydrates, and also need more calories, feel free to add foods like avocado and nuts to your diet to hit both of those macronutrients with one stone.
The average fat percentage stands at a solid 64.75%; meaning, the remaining 35% of this plan is divided into your protein and carbohydrate needs, with a solid amount of fiber present in the plan to help you stay consistent.
The calories for 3 out of the 4 weeks are slightly under the 1200 range to give you some wiggle room in your plan. This doesn't account for any beverages you may take - make sure you track these to stay within your 1200 kcal plan!
If you'd like to further ensure you are staying in track and within your macros, track of your calorie intake and nutrition using a keto friendly app!
How To Use this Meal Plan
You will see each week has two meals for each meal period. Meaning week 1 has two different breakfasts, two different lunches, and two different dinners, and week 2 is the same format but with different recipes.
The recipes are broken down to yield 3 servings, and others into 4 servings, thus making a 7-day meal plan.
I organized this plan in a way where all the recipes in the first part of the week are to be eaten together, and all the recipes for the remainder are to be eaten together. This will help you maintain calorie and carb control each day.
For example, on week one the keto egg and sausage sheet pan recipe should yield 3 servings for 3 breakfast. For lunch you'll have three days worth of keto guacatillo chicken salad, and lastly, 3 days worth of the keto salmon on a lemon-parm salad (Monday through Wednesday). The remaining 4 days of the week hold the same format but they have different recipes.
The same format is repeated for week 2.
Customizing Your Keto Menu
If you've found this plan but you need a higher calorie intake, here's how to make this fit your calorie goals.
If you need extra food, all you need to do is multiple the portions to match your calorie needs.
For example, if you need 1800 calories per day, you'll need to increase portions by 33% or a factor of 1.33 (1800/1200 = 1.33).
Just multiply all ingredients by a factor of 1.33 and your set! If you consume a 2,000 calorie diet, then simply multiply by 1.66 (2000/1200 = 1.66).
Because some of the higher fat foods (like avocado or almonds) may contain a small amount of carbs, if you need to increase your fat intake, I suggest doing so by adding extra teaspoons of an unsaturated oil of your choice, or by adding any high fat sauce you'd like.
Tips to Save Time and Money
While shopping for food, I always suggest buying in bulk. Go to a Costco and purchase a high-quality protein that is needed for this meal plan in bulk to save money. Wholesale shopping will always be cheaper than retail or regular grocery store prices. This will also save you tons of time since you won't be going back and forth to the grocery store to purchase one or two things.
Allocate 6 to 8 hours if you are beginner at meal prepping. Work smart, not hard when it comes to cooking. I suggest working on all breakfast items first, then moving onto lunch, and third dinner. Plate as you finish cooking and label each container what it is, and when you get to eat it.
Plan ahead and do your shopping one day, cook all the food you need to cook for the week and freeze the rest of perishable items to use on your next meal prep day.
Week 1
Use the following food list and recipes to tackle week one's prep and shopping.
Shopping List
Here are all the foods you'll need for your recipes.
Proteins
22 whole eggs
2 cup egg whites
2 lb chicken breast, raw (Feel free to substitute chicken thighs for higher fat content)
24 ounces salmon, raw
4 sausage links, favorite brand
210g Protein powder, ideally third party tested
4 Teaspoon Cotija cheese
2 cups Parmesan cheese, fresh, grated
4 tablespoons Mozzarella cheese, fresh, grated
Produce
1 bunch Kale, curly
4 Avocados
1 small container cherry tomato
2 Yellow onion
5 each Tomatillo
3 Red bell peppers
2 Roma tomato
1 bunch Cilantro
1 bunch Parsley
1 pack Romaine lettuce
1 small bunch Oregano, fresh
1 small bunch Rosemary, fresh
3 Shallots
1 small tub Garlic, fresh, minced
Spices & Misc. Items
1 bottle Coconut oil
1 bottle Avocado oil
1 bottle Olive oil
1 bottle Red wine vinegar
1 bottle Tabasco
1 small bottle lemon juice
1 Quart Milk, whole
1 cup Almonds, whole, unsalted
4 Tablespoons Pistachio, whole, unsalted
1 small bag Flax seed
2 tablespoons Paprika
2 tablespoons Garlic powder
2 tablespoons Onion powder
1 tablespoon Crushed red pepper
2 teaspoons Cayenne pepper
0.75 cup Almond flour
Black pepper
Kosher salt
Breakfast Recipes
Here are two meal prep oriented breakfast items for the first week. These are simple keto-friendly recipes that also help you save time while meal prepping.
Meal prep 1/2 of this full recipe to get four egg portions for the week (your first 4 breakfasts) and pair with a serving of sauce. Make sure you spray the sheet pan you use very well with spray oil, and/or use foil to line the sheet pan.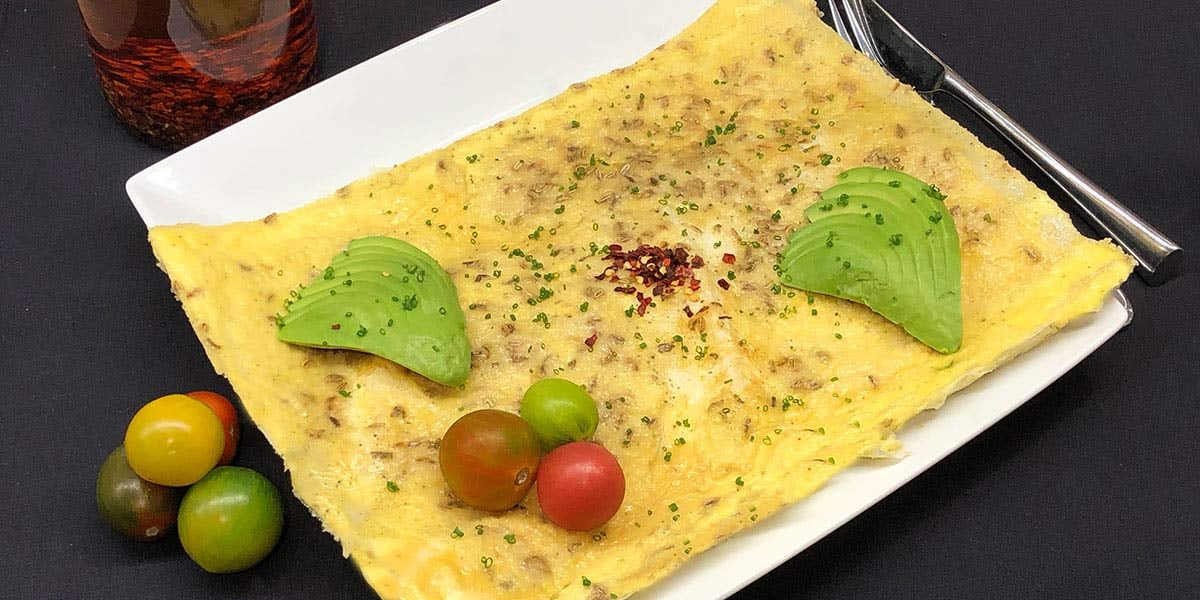 Nutrition: 340 calories; 27g fat; 20g protein; 5g net carbs
Meal prep three of these portions for the last part of your week and pair with avocado. Simply scramble the eggs following the guide on the recipe attached, cool the eggs uncovered, and add 1/2 an avocado.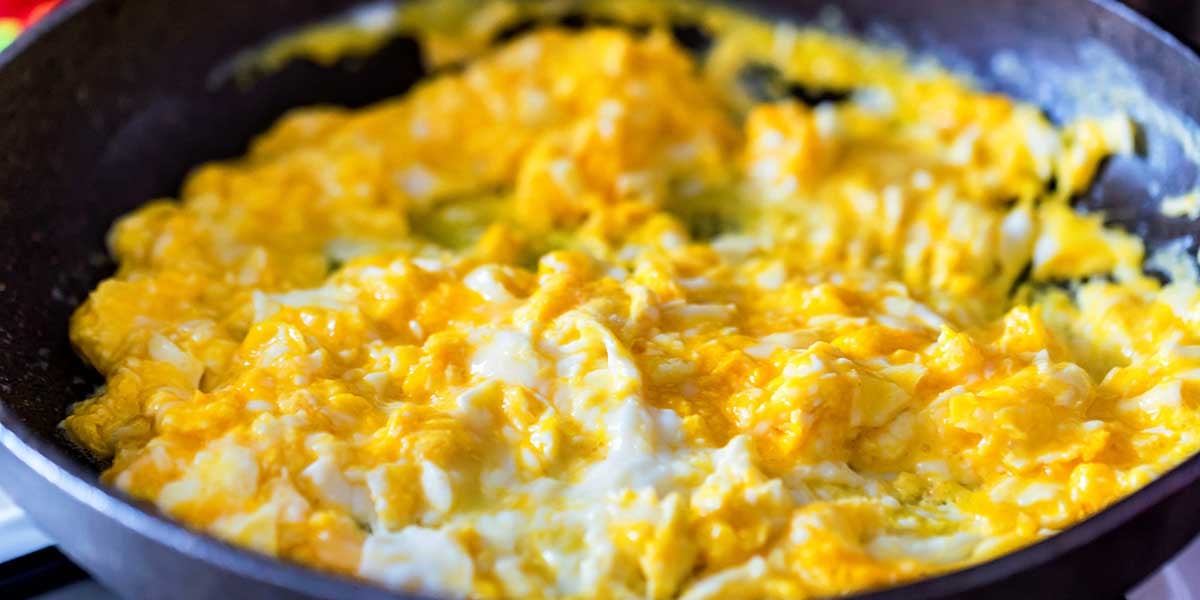 Nutrition: 350 caloires; 30g fat; 15g pro; 3g net carbs
Lunch Recipes
Continue to follow combining all the Monday-Thursday recipes together for breakfast, lunch and dinner throughout the week, as well as Friday-Sunday recipes, to stay in track with your calorie content.
Meal prep this full recipe to get four portions (2 wraps per portion) of this for the week. Feel free to keep the Romaine lettuce separated from the chicken salad until you eat them.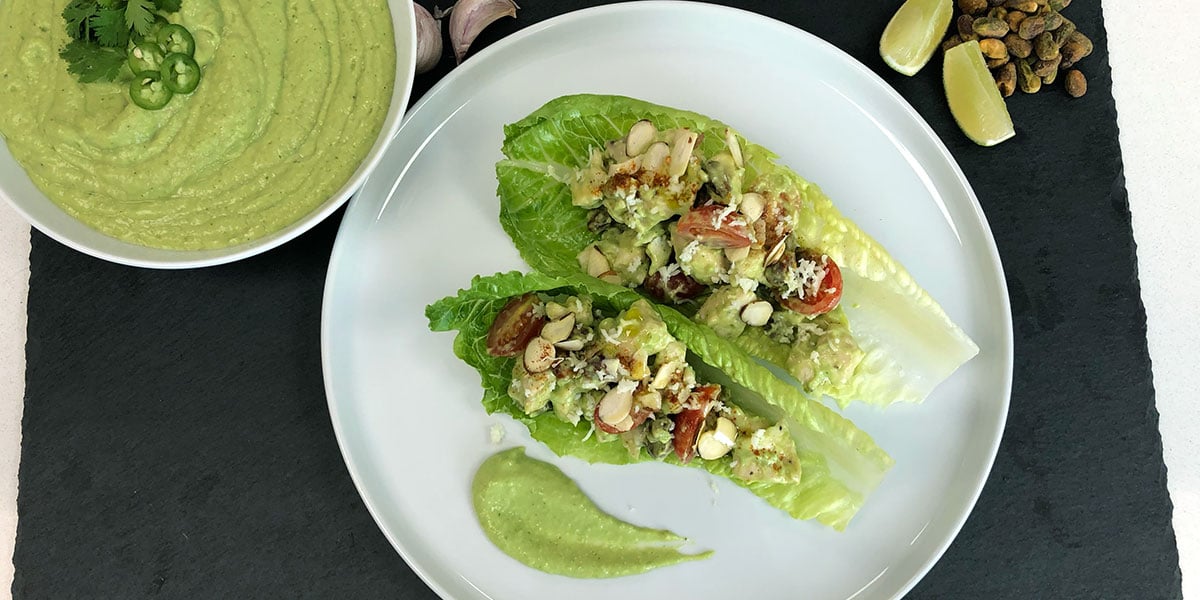 Nutrition: 330 calories; 21g fat; 28g protein; 11g net carbs
Make enough for three portions of salmon cakes and pair with a serving of leftover chimichurri sauce from breakfast.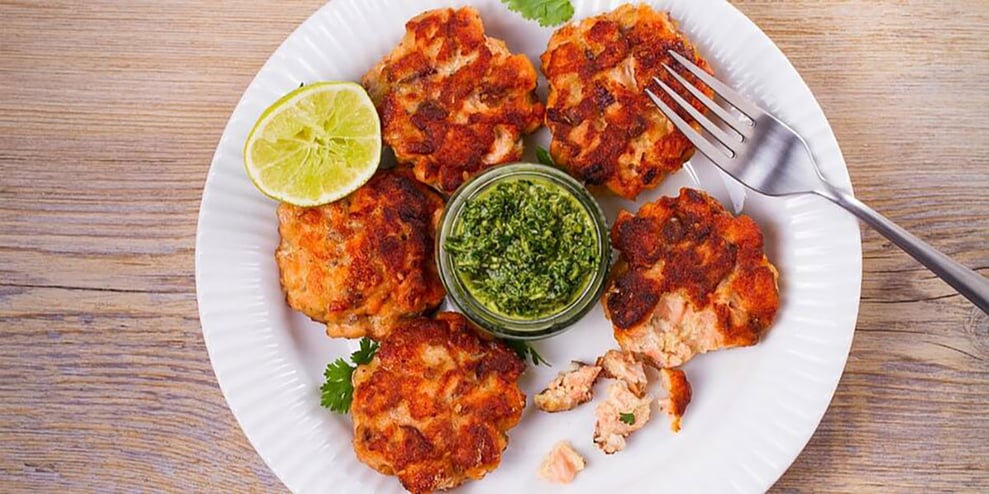 Nutrition: 340 calories; 21g fat; 31g protein; 4g net carbs
Dinner Recipes
These dinner recipes are super simple to follow and incredibly delicious.
Make this full recipe to get four dinner servings for the week. It won't take you much time at all. Simply roast the salmon, cut and season the kale, and you are good to go. Fully cool the salmon before placing it on the meal prep containers.
Meal prep 4 of these.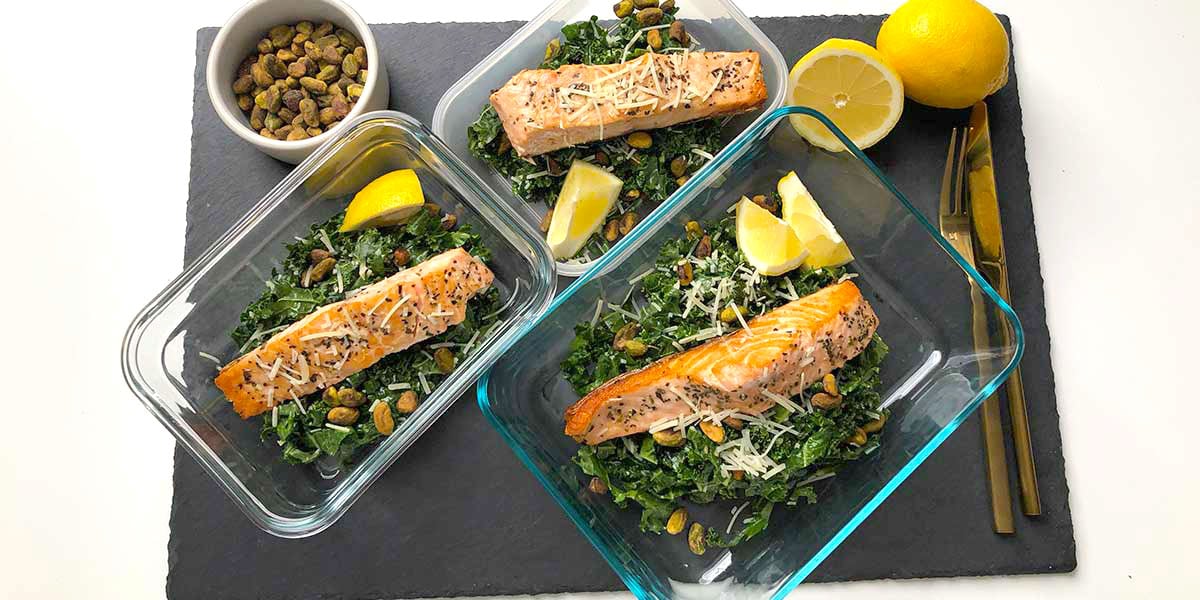 Nutrition: 320 calories; 19g fat; 32g protein; 4g net carbs
Adjust recipe to provide three servings for the week. This recipe will take a little bit more time to make. Knock this one out along with the coconut-cashew recipe to save time.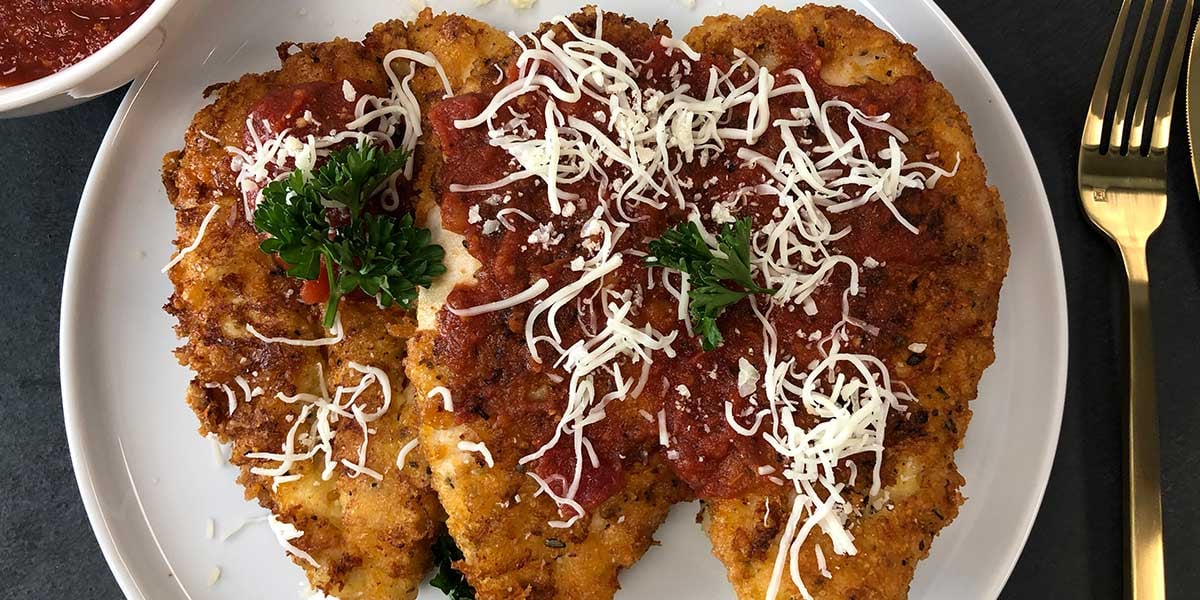 Nutrition: 590 calories; 41g fat; 45g protein; 13g net carbs
Snack Ideas (Week 1 Only)
If you are hungry and need an extra snack, these fat bombs are the perfect solution to keep you in ketosis, satiate your sweet tooth, and provide a bump of protein for lean body tissue maintenance.
Make half this recipe to make enough matcha fat bombs for four days during week one. Or make the full recipe to have extra snacks on hand during week two!

Nutrition: 120 calories; 10g fat; 6g protein; 1g net carbs
Week 2
Because meal prep burn out is an actual thing, for week two we are providing a different set of meals. Your fat percentage stays at a consistent 65%. This week does not have any snacks within the 1,200 calorie plan.
Use the following food list and recipes to tackle the second week's prep and shopping.
Shopping List
Here are all the foods you'll need for your recipes.
Proteins/Dairy
2 cups Greek yogurt
10 whole eggs
6 oz egg whites
6 oz cottage cheese
1 Lb flat iron steak, raw
28 oz chicken breast, raw
3-4 oz (12 oz total) bison patties, raw
1/2 cup heavy whipping cream
2 bacon strips, raw
1 stick Butter, unsalted
Produce
2 oz Fresh basil
1 small jar Garlic, fresh, chopped
1/2 cup Berries
2 cups Zucchini
2 cups Shredded slaw
1 bunch Cilantro
1 small bunch Mint
1 Onion, yellow
2 each Tomato
1 head Boston Bib Lettuce
4 cups Broccoli florets
1 whole fresh ginger
Spices & Misc. Items
2 jars Almond butter
1 cup Peanut butter
1 cup Cashews
1/2 cup Coconut flakes, unsalted
1/4 cup Cashews, unsalted
3 tablespoon Mayonnaise
1 tablespoon (from 1 can) Chipotle in adobo, blended
1/2 cup Frank's Red Hot Sauce
1 small bottle Coconut aminos or Tamari
1 small bottle Sesame oil
1 small bottle Lime juice
1.25 teaspoon Erythritol
Breakfast Recipes
These two breakfast recipes will get you through week two mornings.
Make this full recipe to prep four parfaits in advance. Much like the scrambled eggs for week 1, this recipe won't take long at all to make. Make extra if you want - adding or subtracting calories from this recipe is super simple.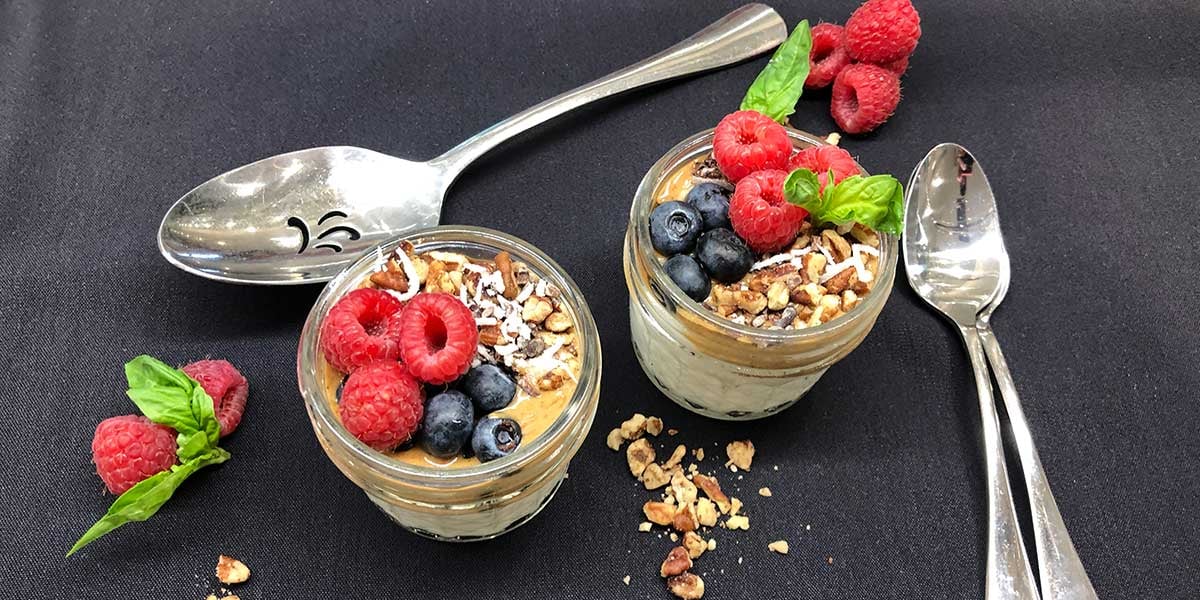 Nutrition: 340 caloires; 10g Net CHO. 26g fat. 17g Pro. net carbs
I love this recipe. You can use it as a breakfast item, or also as snacks. Make this recipe as is on the attached link. This will yield 12 egg bites. Eat 4 each morning served with 1 tablespoon of the pesto sauce. You'll leave wanting more.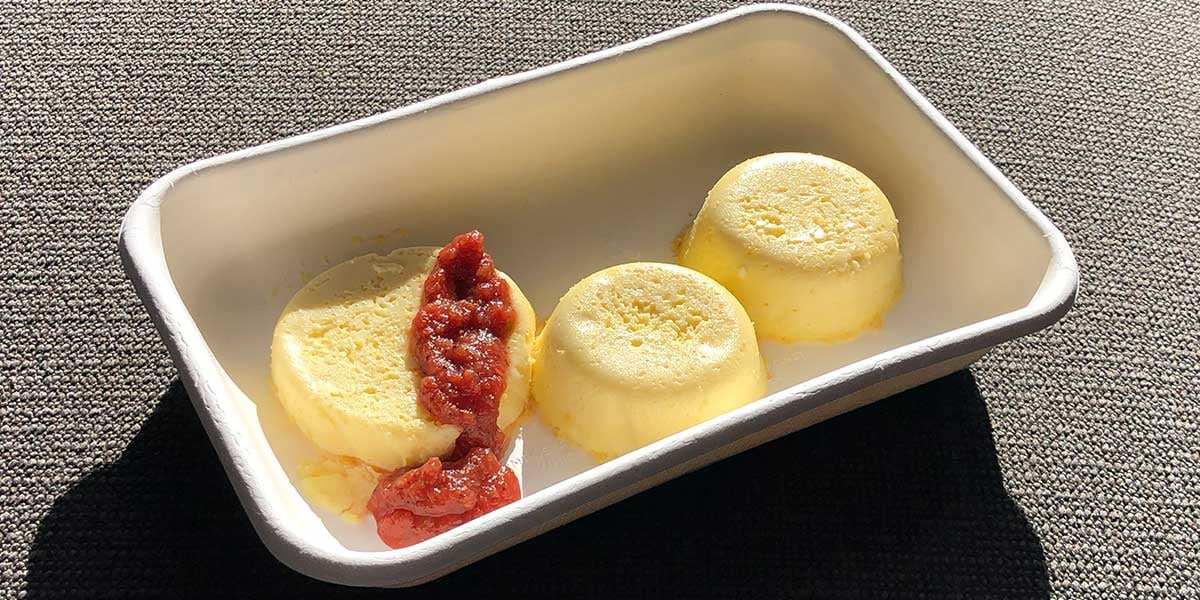 Nutrition: 340 calories; 23g fat; 25g protein; 5g net carbs
Lunch Recipes
Here's two ultra satisfying and simple lunch dishes to try.
The perfect lunch to for the go. Much like other recipes in this collection, this recipe won't take long to make. Cook this full recipe to get four lunch servings.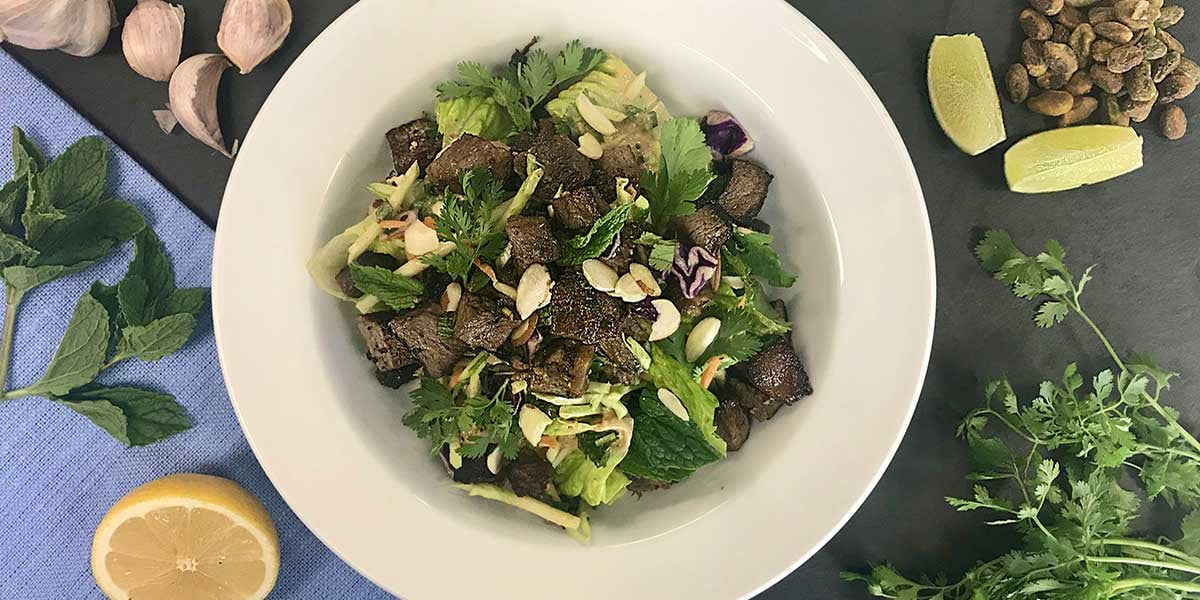 Nutrition: 390 calories; 24g fat; 32g protein; 9g net carbs
Make 3 of these highly delicious 'fried' chicken breasts, for a total of 3 full fried chicken breasts (the recipe yields 4 servings, but if you divide each ingredient by a factor of 1.33, you'll have the exact needs for each ingredient.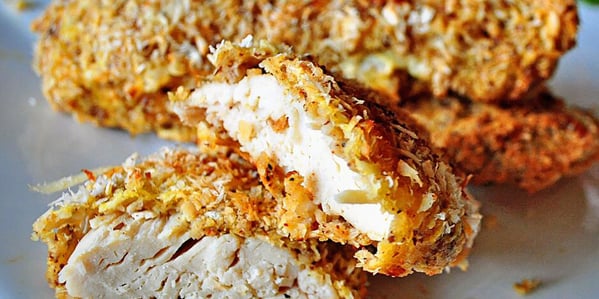 Nutrition: 410 calories; 31g fat; 23g protein; 7g net carbs
Dinner Recipes
Here are two easy dinner recipes for week two.
Make four burgers total of this super simple and straightforward recipe. Make a bigger batch of the chipotle mayo and have it in your fridge to use for any other keto recipe. The secret of this recipe? The onions.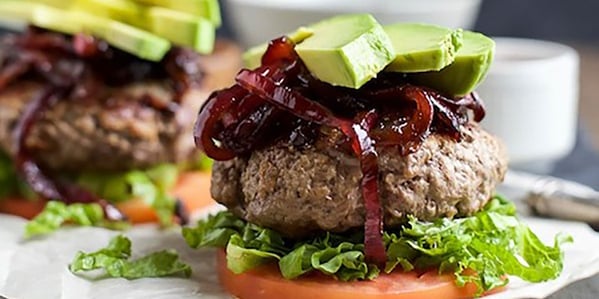 Nutrition: 390 calories; 29g fat; 27g protein; 4g net carbs
This recipe shows you how to make the keto buffalo sauce. However it doesn't explain how to cook the chicken. Though quite straight forward, I rather explain it here to provide context.
Use chicken breast, or if desired chicken thighs for a higher fat content cut of chicken. Cut them into squares, roast in the oven and then combine with the sauce. Don't forget to season your chicken.
Do the same with the broccoli. Cut broccoli into florets, and roast by combining 6 cups of broccoli florets with 3 tablespoons of avocado oil. Roast at the same time as the chicken. Then combine as by dividing 4 ounces of chicken basted in 1 tablespoon of the keto buffalo sauce, 2 cups of avo oil roasted broccoli.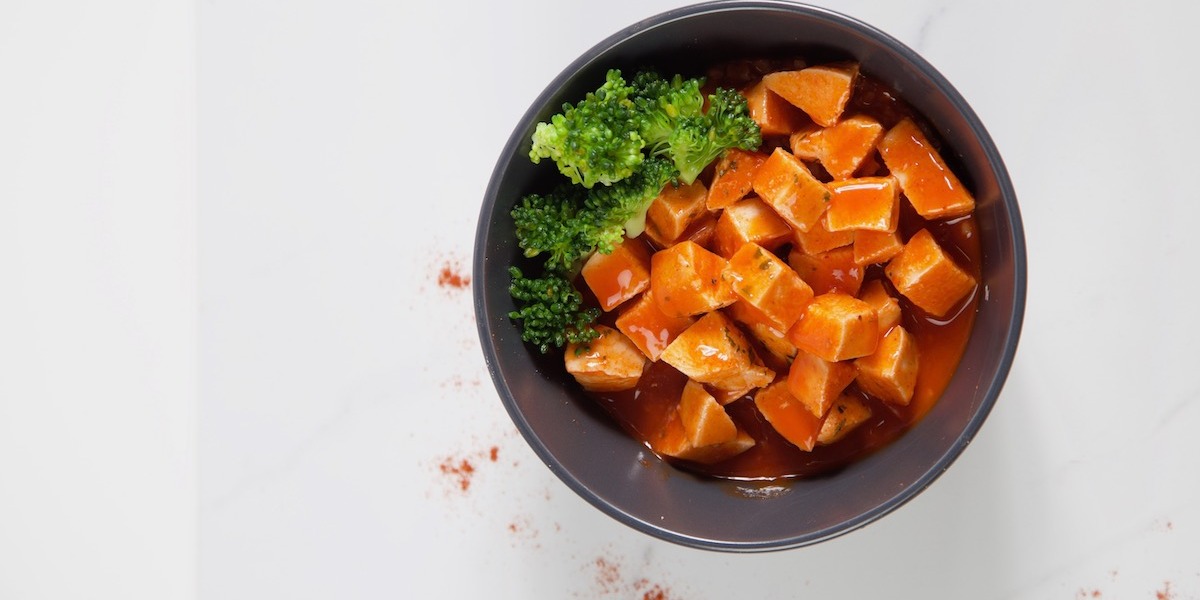 Nutrition: 420 calories; 30g fat; 26g protein; 7g net carbs
Too Much Work? We Got You!
Want to skip the keto meal prep altogether? For roughly the same cost, and none of the shopping, cooking, and clean-up time, you can get perfectly macro balanced keto meal delivered right to your door. Enjoy more variety and hit your keto macro goals with ease.