Dig into this low-carb and keto-friendly burger recipe, complete with a spicy and tangy homemade chipotle mayo, and thick-cut bacon.
Key to Making A Low-Carb Burger
If you are following a Keto-diet, you can still enjoy a delicious hamburger for lunch or dinner; the secret is to substitute the carbohydrate-dense buns for low-carb alternatives like lettuce leaves (or your favorite keto bun).
There are endless combinations when it comes to building a delicious burger, you can break down the components of a good burger into 3 parts: the bun, the patty, and the toppings/condiments.
What Can You Use Instead of Hamburger Buns?
Traditional white hamburger buns can contain anywhere between 21-30 grams of carbohydrates per bun (1), so they aren't the most keto-friendly option.
Luckily, you have a lot of options when it comes to building a burger without hamburger buns and you get the bonus of added micronutrients from using whole foods-based bun options! Honestly, you could just eat the burger without a bun substitute as well!
Here are 10 Low-carb, Keto-friendly, and gluten-free alternatives to Hamburger Buns:
Thick-Cut Tomatoes: You can use thick slices of tomatoes to create an open-face burger that can be enjoyed using a fork and knife. Two slices of tomatoes have less than 3 grams of net carbs (2).
Lettuce Leafs: Lettuce leaves are the most common option for a low-carb bun substitute. Bib lettuce, green lettuce, and even romaine lettuce are great options, all of which fall under 2 grams of net carbs per two leaves (3).
Roasted Portobello Mushrooms: Grill or roast portabella mushrooms for a delicious low-carb bun! Two large mushrooms contain less than 6 grams of net carbs and add a bump of protein, around 8 grams (4).
Thick Sliced Red Bell Pepper: Although you may not be able to get a round shape, thick slices of bell pepper can make a decent "bun" for a sandwich, enjoy raw slices or lightly roast them for more flavor (and a softer bite). Two 2-inch by 3-inch slices of red bell pepper contain less than 7 grams of net carbs (5).
Cauliflower Buns: This type of bun can require some extra work as you can bake your own cauliflower buns from scratch, or alternatively look in the freezer section at your local supermarket for a keto-friendly bun option.
Grilled Pineapple: A fruity option that tastes even better when grilled slightly! Two slices of pineapple contain around 13 grams of net carbohydrates (6).
Sweet Potato: Although in large serving sizes sweet potato may not be extremely keto-friendly, if you cut and roast 1/2 inch thick round you can use these as a mini-slider bun option, as this would have less than 12 grams of net carbs (7).
Eggplant: Similar to the sliced sweet potatoes, you can also slice eggplant into 1/2" thick rounds and roast them at 400 degrees for 10-12 minutes until tender, and use them for a low carb burger bun option! Two slices of eggplant contain less than 6 grams of net carbs (8).
Zucchini: This is probably one of the less preferred options, as you would have to find a fairly large zucchini to get rounds big enough to be a bun option for a burger patty, but you can always use roasted rounds of zucchini for burger slides or burger bites. This is a great low-carbohydrate vegetable; two 2-3" round slices contain less than 1 gram of net carbs (9)!
Jicama: If you're looking for a crunchy bun option, then head to the store and pick up a large jicama! This root vegetable has a celery-like flavor and can be sliced into raw rounds and used as burger buns or even low-carb taco shells. Two slices contain less than 2 grams of net carbs (10).

What's the Best Meat To Cook For Hamburgers?
We utilized Trifecta meal prep in this recipe by preparing the keto burger with Trifecta Beef, speeding up the process. Alternatively, you could also use Trifecta turkey or Beyond Beef patties, it all depends on your personal preference.
If you decide to use raw beef, turkey, bison, or chicken burgers to build your low-carb keto burger, we have a few tips on purchasing high-quality meats:
Some of the best ground beef to buy for burgers is 80/20 ground chuck, meaning 80% is lean meat and 20% is fat, giving you a juicy and super flavorful burger. You can also purchase ground sirloin, round, or a mixture of all three which is typically just labeled "ground beef". If the label doesn't list the specific cut where the ground beef came from, then most likely it's a combination of trimmings and scraps. These may have too much fat or not enough.
Use your senses when purchasing ground meat for burgers at home; the meat should smell fresh with no odor, look vibrant and red or free of discoloring and no liquid in the package, and feel semi-firm to the touch.
Prime, grass-fed is the highest quality of ground beef available, but if you are purchasing other ground meats (turkey, chicken, bison), choose organic and grass-fed whenever possible.
Creating Delicious Keto Burger Combinations
Choosing your burger toppings is a great way to add variety and flavor to your keto meal prep and burger recipes!
We went for a combo of bacon, carmelized onion, avocado, and chipotle mayo but there are endless toppings and flavor combinations to choose from. Also, most condiments are keto-friendly as long as you use them in small amounts.
Delicious keto burger combinations:
Blue Cheese, Toasted Pecans, and
Cheddar Cheese, Ranch, Pickles, and Fresh Onion
BBQ Sauce, Swiss Cheese, Red Onion, and Tomato
How Many Carbs Should You Eat in A Day?
If you are following or starting a keto diet, then you know the key to success is tracking your macros to ensure you aren't eating too many carbohydrates.
The goal of any keto diet is to limit your carbohydrate intake to anywhere below 50 grams per day or so (this can vary depending on your size and weight). Limiting your carb intake and increasing your intake of healthy dietary fats will shift your body to enter a metabolic state called ketosis and to utilize more fat substrate for fuel.
If you are unsure of what carb range you need to follow for a keto diet, use this keto carb calculator:
How To Prepare a Low-Carb Keto Burger
Prep time: 15 minutes
Cook time: 10 minutes
Servings: 3 each
Ingredients:
3 Trifecta Bison burger or Trifecta Beef burgers (or 6-ounce fresh burger patties)
3/4 cup yellow onion, sliced, caramelized
6 Tomato slices, sliced thinly
3 Boston bib lettuce leaves, washed, separated
3 Bacon strips, crispy, halved
3 tablespoon chipotle mayo (see below)
3/4 Avocado, sliced
Avocado oil or regular olive oil
Kosher salt to taste
For the Chipotle Mayo:
3 tablespoons of mayo
1 tablespoon chipotle in adobo puree
1 teaspoon lime juice
1 teaspoon garlic powder.
Kitchen Needs:
Cutting board and chef's knife
Saute pan
Small bowls for mixing
Meal prep containers
Spatula
Oven
Step One: Gather Your Ingredients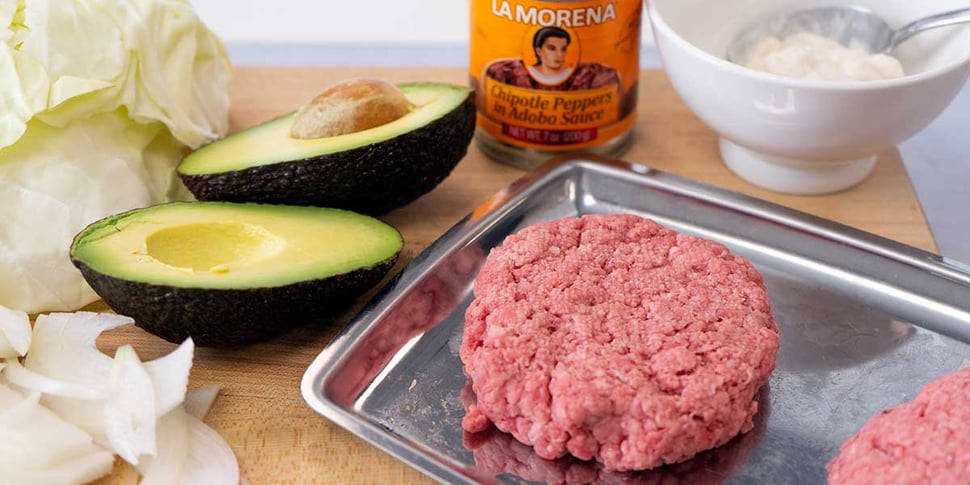 Gather all of your ingredients for your keto burger:
Thinly slice your onions and separate your lettuce leaves into individual leaves for your low-carb bun. Rinse the fresh leaves and store them in the fridge until you are ready to build your burger to keep them crisp.

Slice your tomatoes, and gather any other toppings you are using.
If you are using freshly ground meat, form your burger patties if needed, or remove the pre-made patties from your package and season them with salt and pepper.

Step 2: Caramelize Onions, Bake Bacon, and Make Chipotle Mayo
To bake the bacon, preheat the oven to 400F and line a sheet pan with foil. Set however many bacon strips you'd like on the sheet pan and bake for 7-10 minutes as your onions are cooking.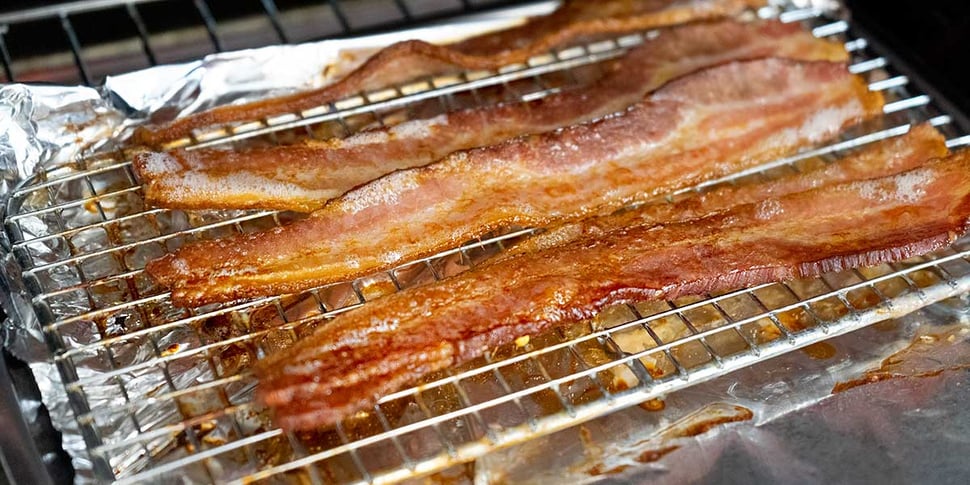 For the caramelized onions, preheat your saute pan over medium-high heat and add 1/2 teaspoon of avocado oil along with your sliced onions.
Traditionally caramelizing onions can be a long process, as though slowly cooking the onions down you draw out the water and natural sugars present, caramelizing the sugars and cooking the onions.
But there is a chef-hack to caramelizing onions quickly by cooking them over medium-high heat and adding small amounts of liquids throughout the process when you see them start to brown and brown bits (aka 'fond') begin to build up in your pan.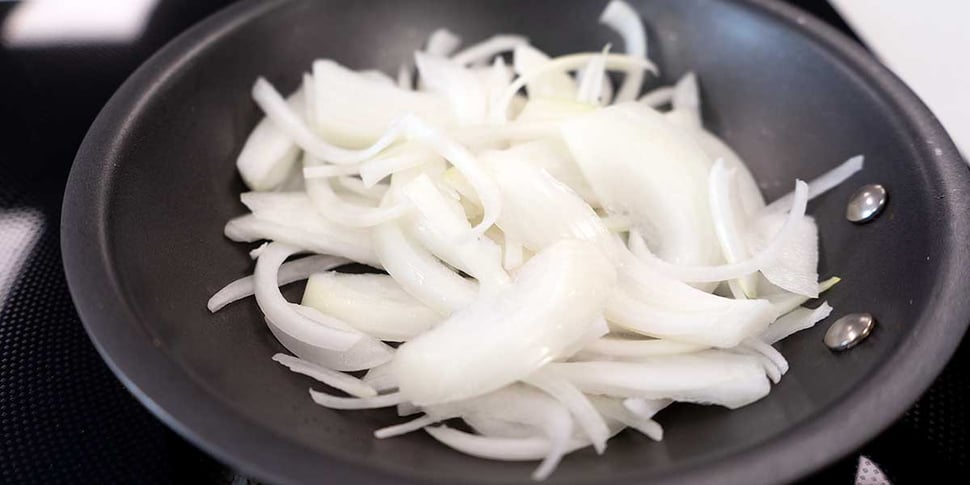 Saute your onions over medium-high heat for 5-8 minutes until they begin brown.
When you start to see small brown bits start to build upon the bottom of the pan and your onions begin to brown add 1-2 tablespoons of liquid (we used stock in this recipe but you could always use water or vinegar) and stir vigorously.
Adding water or stock will help caramelize the onions and cook them more quickly. Repeat this process as needed to prevent the onions from burning.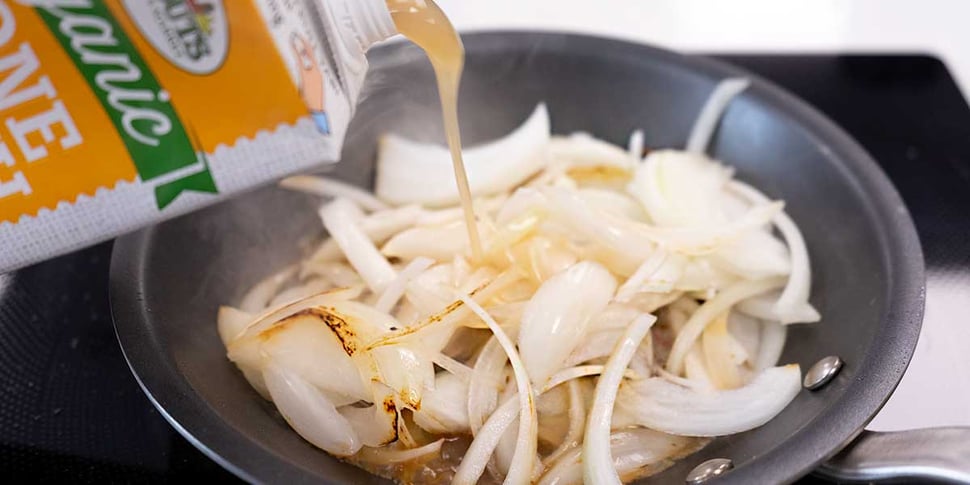 Once deep in caramel color, season with kosher salt, transfer to a bowl and hold warm until needed, or cool down completely if meal prepping. Only season the onions with salt afterwards, as the salt removes moisture from the onions and inhibits a deep caramelization.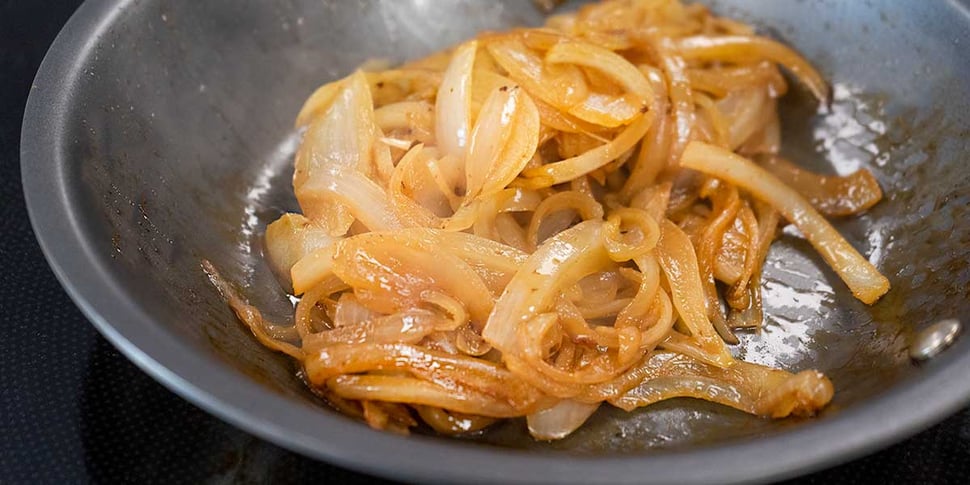 While your onions are caramelizing you can prepare the chipotle mayo by mixing all of the ingredients together in a small bowl. If you bought your chipotle peppers canned in adobo like the picture below, you can blend the entire can in a blender and store them in a separate container. Use the blended chipotle mix as needed for this recipe and other creations!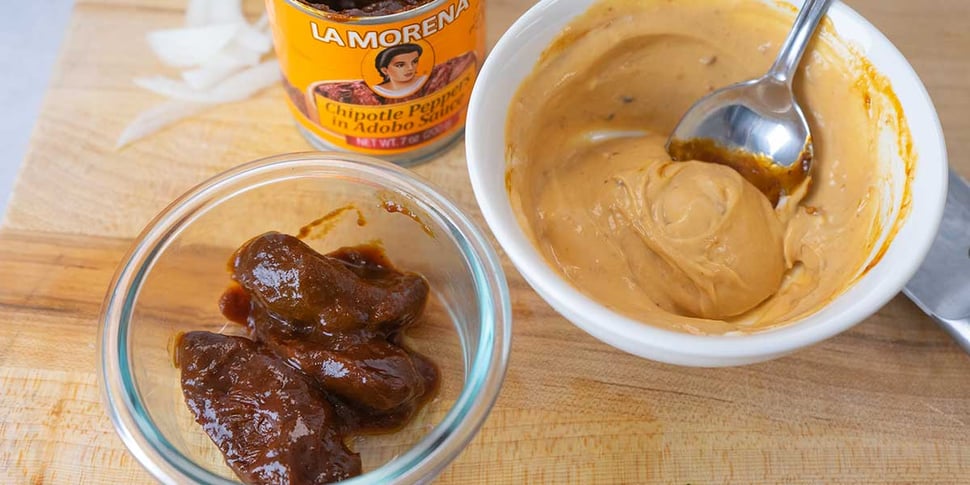 Step Two: Reheat or Cook Burger and Prep the Ingredients
If you are using Trifecta Meal Prep, you can reheat your bison or beef burgers via:
Oven: Preheat your oven to 400 degrees and place patties on an oven-safe tray, then bake for 8 minutes until warmed through.
Skillet: Heat a non-stick skillet over medium-high heat, add 1 teaspoon of oil, and sear burgers for 3 minutes on each side.
Microwave: Place your burgers on a microwave-safe plate and cover with a damp paper cloth then microwave for 2 minutes.
Air fryer: Preheat your air-fry to 400 degrees and air fry for 5-7 minutes.
Grill: Preheat your grill to 375, and grill the burgers for 2-3 minutes on each side.
We opted to sear our Trifecta burgers in a skillet.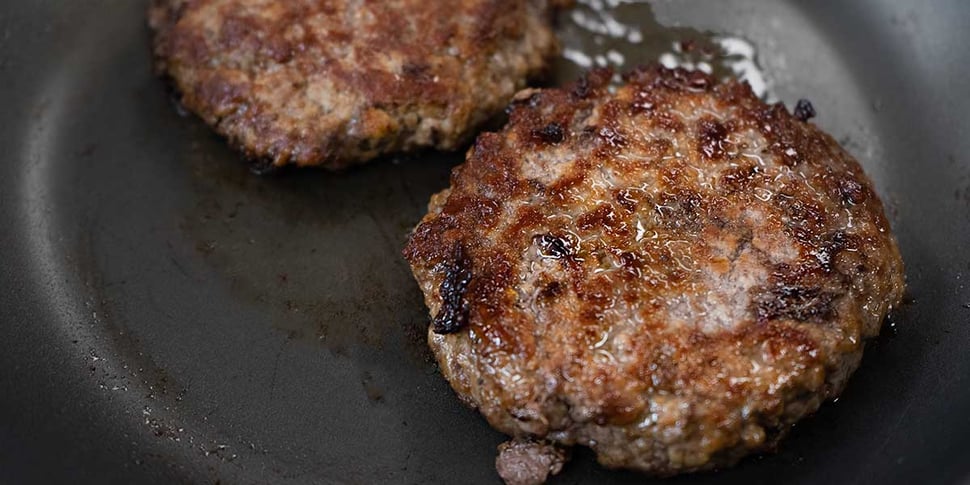 If you are cooking your burgers from scratch: Follow the steps as explained above. Cook your patties on your preferred cooking method - whether grilled, seared, or baked, until the internal temperature reaches 135F to 140F for a nice medium-rare burger, approximately 4-6 minutes.
While cooking your burger be sure to gather all of your toppings and buns.
Step Three: Put it all Together
To build your burger first place a Boston bib lettuce leaf as the bottom 'bun'. Then add 2 slices of tomatoes, add your cooked burger patty, 1 tablespoon of chipotle aioli, add 1/4 cup caramelized onions, and 1/4 sliced avocado. Serve immediately or meal prep in containers and refrigerate.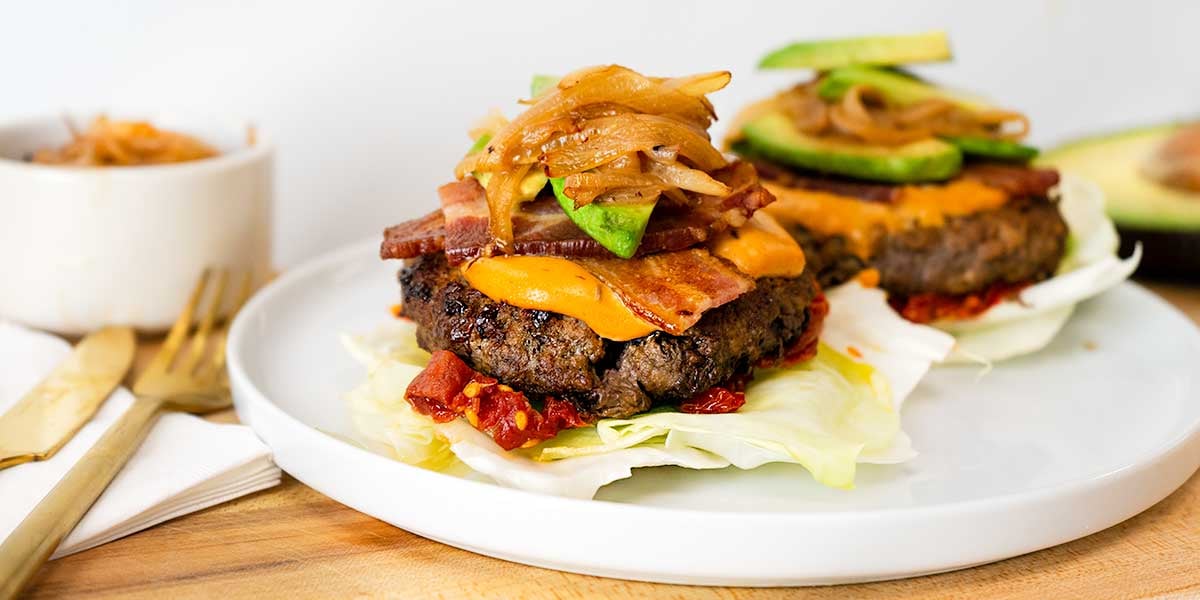 .
What To Serve with a Keto Burger
This recipe can be served with other keto-friendly recipes. Here are a few examples:
Keto Meal Prep Resources
Following a keto or low-carb diet has its challenges, so we've put together plenty of resources to support you in your wellness journey:
---
Too Busy? We Got You!
Want to get more out of your weekly meal prep efforts? Stick to your calorie goals and budget with our A la Carte Ingredients. Pre-cooked and ready to heat, these ingredients are organic, sustainably sourced, and minimally seasoned to maximize your meal prep.