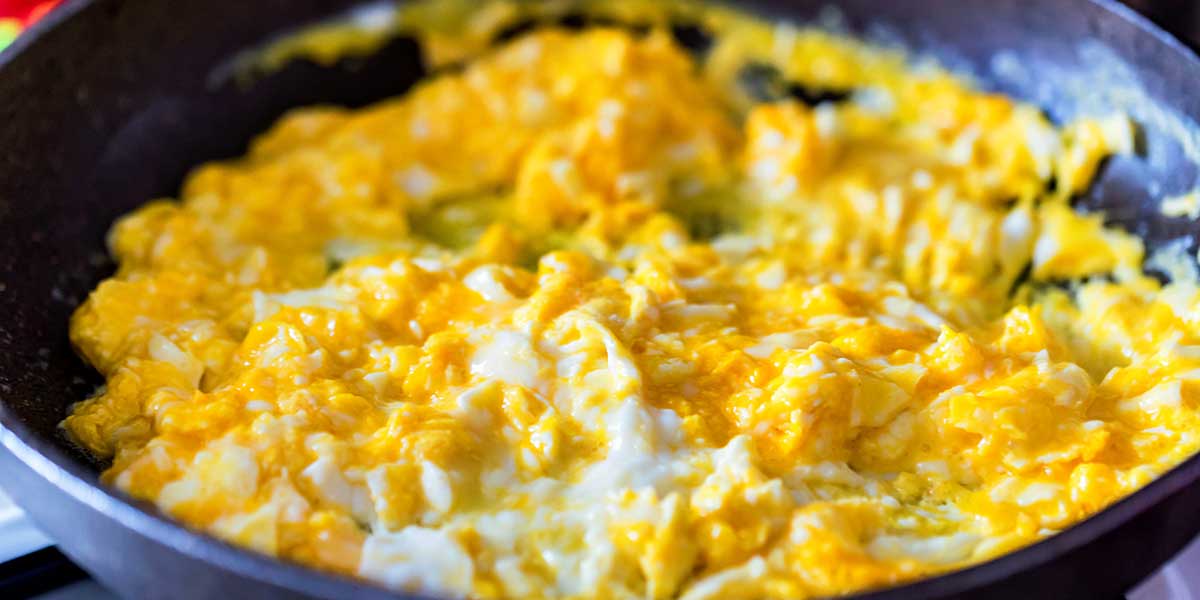 Scrambled eggs are a breakfast staple, and one of the easiest ways to ruin them is shoddy meal-prep that results in overcooked, rubbery eggs - yuck! But done right, the perfect scrambled egg can add a ton of flavor and nutrition to your morning. Here is exactly how to master scrambled eggs for your breakfast meal prep.
How to Meal Prep Scrambled Eggs
The most straightforward way of using this method is to scramble them, cool, and portion them ahead of time. You can also make omelettes with this method if desired.
Now granted, there are personal opinions on whether this is acceptable or not, since some claim that scrambling eggs 5-7 days in advance diminishes the quality and flavor of the eggs substantially. I agree to an extent. Personally, I would only meal prep 2-3 days ahead of time to ensure utmost freshness of my eggs. Otherwise you can crack all your eggs ahead of time and cook a 2-3 day quantity. Best of both worlds.
However, if you decide to scramble your eggs ahead of time for the entire week, I suggest you do the following, plus also remember not to fully cook the eggs - cook them to about 90% (just a bit watery). This way they won't get cardboard dry when being reheated:
Before starting, learn how to meal prep your eggs like a chef for a faster method on getting your eggs prepared for the week.

For example:

If you are cooking 3 days worth of eggs, and you eat 4 eggs per day (3 days x 213g (or 4 eggs) raw eggs) that would be an equivalent of 639g of raw eggs to be cooked at once for meal prep).
639g of raw eggs x 93% Cooking Yield (0.93) = ~594g (CY) cooked eggs
613g cooked eggs / 3 days = 198g of cooked eggs per day to be portioned on each container.
Tips for Meal Prepping your Eggs
Cook only 2-3 days worth of eggs at a time. I personally only cook up to two days ahead of time when I scramble my eggs. I like them fresh, but there's no science that claims it's either positive or negative to cook them ahead of time.

If you're meal prepping and want to have the exact macros of each portion, make sure you either use cooking spray, or only add 1 teaspoon of oil at a time for 5g of added fat through the oil

Use salt and pepper and cook your eggs in batches.

I suggest you cook all the eggs at once, cool in an open container on the fridge, and then portion into your favorite Tupperware.
Check out the chart below that clearly displays raw versus cooked weights per number of eggs needed.
Ingredients:
Whole eggs, quantity based on weekly needs
Spray oil
Salt and pepper, to taste
Kitchen Needs:
Large non-stick pan
Rubber spatula
Sheet Tray
Tupperware of meal prep containers
Step One: Weigh your Cracked Blended Eggs
Once again, if you haven't already, learn how to meal prep your eggs like a chef to cut down on meal prep time. Once you have all your eggs ready to go, weigh the total quantity of eggs you will need for the week, or for the determined amount of days you'll be cooking for.
For example: if you are cooking 3 days worth of eggs, and you eat 4 eggs per breakfast (3 days x 213g (or 4 eggs) raw eggs) that would be an equivalent of 639g of raw eggs to be cooked at once for your meal prep. Keep your total measured egg quantity in a container.
Step Two: Heat a Non-Stick Pan, Cook, and Cool
Ideally, to save time, use a large non-stick pan. If you don't have a large non-stick, cooking your eggs in batches in a smaller pan also works. In this case, you'll have to cook your eggs in batches.
Heat your pan over medium-high heat and spray liberally with spray oil. As soon as the oil is warm (shimmering or just slightly smoking), immediately add your eggs into the pan. Do not excessively fill the pan with raw eggs. Overfilling will make cooking the eggs hard and more likely than not will cause you to spill eggs onto the stove top as you are scrambling them.
Remember to only use a rubber or wooden spatula when using non-stick pans. Otherwise the teflon will get scratched and the non-stick pan will be ruined.
Season your eggs with salt and pepper to taste, and begin scrambling by gently and constantly moving the eggs in the pan. Reduce the heat if the eggs are cooking too fast.
As the eggs scramble, continue to move the spatula around and break any large chunks of cooked eggs. Once at 90% cooked, remove the eggs from the heat and gently scoop into a sheet tray. Spread evenly. Repeat process if you have any eggs left to cook.
Cool down completely in the fridge uncovered.
Step Three: Portion into Containers and Store
Once eggs are cooled down, and measure according to the quantity of eggs you eat per day. Use the following chart as guide!

To follow up on the example earlier on the blog and to further clarify:
If you are cooking 3 eggs per day, that means you are cooking a raw quantity of 159 grams. After cooking, you should have about 148 grams total. Portion this amount into each meal prep container and portion your breakfast needs for 2 to 3 days in less than 20 minutes!
Look at you go, you meal prep expert.
Clean Up, Storing and Shelf Life
After you're done cracking your eggs and blending them, make sure you wash all surfaces that may have any egg traces (including your sink) with soapy water to eliminate the possibility of any potential cross-contamination. Rinse and dry all surfaces with a paper cloth. This is a great practice to get into after preparing any protein. Make sure you also wash your hands.
Make sure your eggs are completely cool before covering them.
Serve this With
This hack is perfect for your daily meal prep. You can cook your eggs in the morning in a much faster way and serve with some crispy bacon, a cup of your favorite vegetables, and top with any sauce you like. I personally love Tabasco or Sriracha. Also feel free to use these eggs to make other recipes, like these delicious baked egg bites, or for any baking purposes,
Want to get more out of your weekly meal prep efforts?
Stick to your calorie goals and maximize results with this free meal prep toolkit for weight loss. An RD-written guide complete with macro meal planner, food lists, and expert advice to help you lose weight quickly.