When I'm on the road and tight on time, the egg bites from Starbucks tend to be my breakfast and my saving grace. That's where the inspiration came from. I developed these as a fun and healthy way for you to make them at home. Stick with me for some cool tips and tricks to make these fluffy.
How to Make Egg Bites
Making egg bites is tons easier than what you think. A cool fact about this recipe is that I refined it over 6 months while cooking for athletes. Though you can cook these in a sous vide method, I've adjusted the recipe so you can bake them at home.
To increase the protein quantity in each of them, I combined whole eggs with egg whites. Given that egg whites are pure protein, this egg mix is in a way 'fortified' to provide 6 grams of protein per bite. The yolks and oil provide the necessary fattiness to make this palatable and moist, and the cottage cheese aids in the fluffiness. Use this recipe as a general guide, but keep in mind you can add any extra ingredients you'd like when making these at home.
Add variety with things like soyrizo or chorizo (personal fave), pre-baked bacon chopped into pieces, or cooked veggies like spinach, tomato, bell peppers, or mushrooms. In addition to the cottage cheese, feel free to add some shredded cheese to this mix and I promise these meal prep egg bites won't disappoint. Best of all? This recipe yields 12 bites, meaning you can make them once and enjoy them all week!
Measure each egg bite to 50g of the egg mix for exact macros as shown on this recipe.
Ingredients:
8 eggs, whole, fresh
5.5 oz or 145g egg whites
5 oz or 144g cottage cheese, full fat (or you can also use ricotta cheese)
2 teaspoon avocado oil
½ teaspoon kosher salt
¼ teaspoon black pepper
Dash of Tabasco (trust me on this one)
Spray oil, coconut oil ideally
Kitchen Needs:
12-hole muffin tray, ideally non-stick, or 12 oven-friendly round containers
Baking sheet (to set muffin tray in)
Blender or immersion blender
Bowls (large and small)
Food scale
Oven
These egg bites are keto friendly with 3.5 grams of fat per serving, 6 grams of protein, and only 1 gram of carbohydrates!
Step One: Measure Ingredients Into a Bowl and Blend
Preheat your oven to 375°F.
In a large bowl, add whole eggs, egg whites, cottage cheese, salt, black pepper, and tabasco.
If you have an immersion blender (stick blender), blend in the bowl until all ingredients are fully incorporated. If you don't have one, use a regular blender and blend starting slow while consistently increasing the speed. Blend for 30 seconds or until mix looks fully incorporated. Keep in blender to easily portion each bite.
Step Two: Spray Muffin Pan and Weigh Egg Bites
Liberally spray your muffin pan with spray oil. Coat every corner of each muffin mold. Spread oil with a paper towel and respray lightly once again to ensure proper lubrication.
Place a small bowl on top of a food scale, and measure 50g for each egg bite. Empty the weighted liquid into one muffin mold. Repeat until all egg mix is portioned. If there's a small quantity left, feel free to evenly distribute amongst the 12 muffin molds. This won't affect the nutritional content.
Step Three: Bake, Cool, Store
Grab a baking sheet pan and add about 1/2" of water on the bottom. Set the muffin pan in the sheet pan and carefully place this set up in the oven. The water will create humidity to help cook the eggs evenly.
Bake the egg bites for 26 minutes, rotating the muffin pan 180 degrees halfway through the baking process to ensure even cooking. Set a timer for 13 minutes each time. Keep a close eye on the bites as they cook. If bites are beginning to inflate like a balloon, remove the bites from the oven to avoid over cooking, as this indicates these are done cooking. Once time is up, check the doneness by poking a couple of the egg bites with a toothpick or a cake tester in the middle. No egg should stick to it. If the bites need a little extra cooking, add 2 minutes at a time.
Once done, remove from oven, let muffin pan cool slightly and using a butter knife or an offset spatula, carefully scrape the sides of each muffin pan and remove the bites from the molds. Carefully discard the water on the bottom sheet pan.
Cool down completely and transfer to containers to store.
Culinary tip: If your oven has a convection option, you may only need to cook these eggs half the time (about 15 minutes). Keep a close eye on them.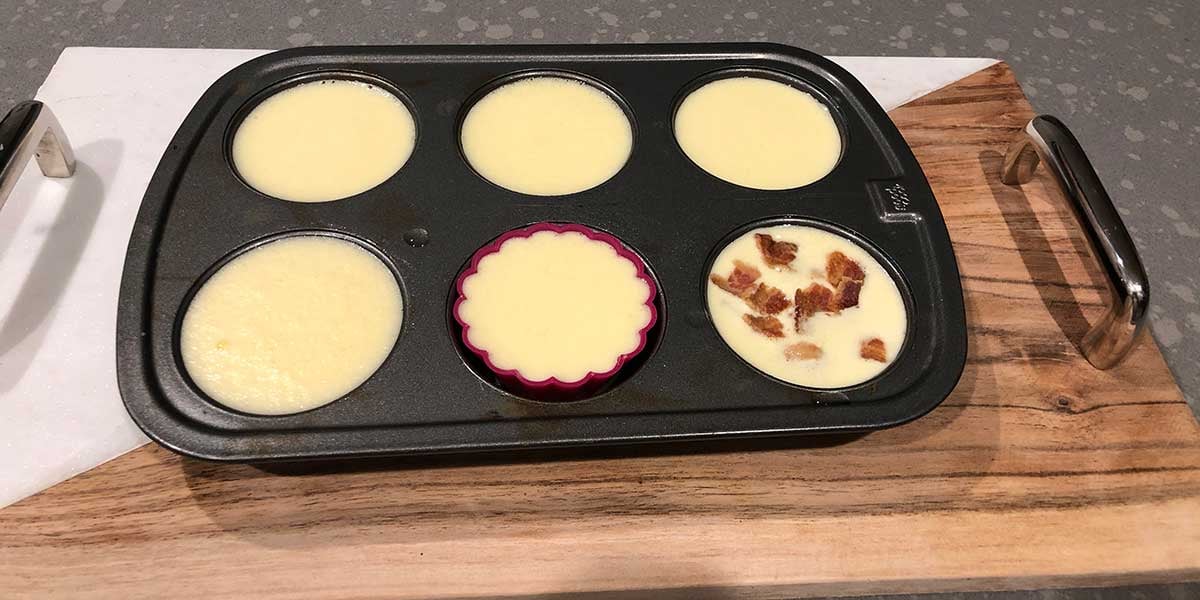 Storing and Shelf Life
I suggest you stack these egg bites in deep Tupperware and store them covered in the refrigerator. Avoid pressing down and squishing them however. Make sure they are cooled down completely before covering with a lid. Storing any food covered while still warm creates the perfect breeding ground for bacteria and can cause food borne illnesses and food spoiling. Save these for no more than 5 to, at most, 7 days.
Serve this With
Egg bites are super functional and can work incredibly well as your breakfast, a mid-day snack or as supplemental protein for your lunch. Check our these healthy high fat sauces you can dress these with, or put them into a healthy breakfast sandwich.
Too Much Work? We Got You!
Want to skip the keto meal prep altogether? For roughly the same cost, and none of the shopping, cooking, and clean-up time, you can get perfectly macro balanced keto meal delivered right to your door. Enjoy more variety and hit your keto macro goals with ease.