Looking for a lean, veggie-packed egg white recipe that tastes as rich as its full-fat variety? Look no further! Put down the rubbery, dried-out egg white frittatas from the past and latch on to this rich, creamy breakfast that packs a ton of protein and nutrition to keep you going.

Secrets
of A Frittata
The secret to making this egg white frittata extra creamy and rich tasting without the added fat is the cottage cheese! Cottage cheese is not only a quality source of low-fat protein, but it's also the culprit behind what makes popular egg bites taste so sinful.
Here's how to whip up this dish in no time!
Spanish tortilla, omelet, etc.
With just a few minutes of meal prep time, you'll have a healthy high protein breakfast to look forward to all week long!
How to Make a Simple Vegetable Frittata

Prep Time:
Cook Time;
Servings:
Ingredients
32 oz liquid egg whites
1 cup cottage cheese
1/3 cup diced bell pepper
2 cups spinach
1/3 cup diced cherry tomatoes
1/3 cup mushrooms
1 to 2 tablespoons olive oil
1 teaspoon turmeric powder
1 teaspoon onion powder
½ teaspoon garlic powder
½ teaspoon paprika
1 tsp salt
Cooking Spray
Kitchen Tools:
9-inch casserole dish
Saute pan
Blender
Step 1 - Warm Your Pan
You can use a casserole dish, non-stick pan, or muffin pan for this recipe.
Whatever you decide on, pre-heat your oven to 350 degrees and place your pan in the oven while it is pre-heating and you move on to step 2.
Step 2 - Saute Your Veggies
Warm oil in a skillet over medium-high heat and toss in your chopped veggies - except for the spinach!
Season with garlic, onion, paprika, and turmeric, and saute your veggies for 3 to 5 minutes or until they brown.
Add the spinach and then turn off the heat, giving everything a quick toss or two to wilt it and coat it in the seasoning.
Step 3 - Whip Your Eggs
In a blender, add the egg whites and cottage cheese. Pulse on high until the mixture is fully combined.
This will add some air into your egg mixture, keeping your frittata nice and fluffy!

Step 4 - Build Your Frittata
Remove your pre-warmed casserole dish from the oven.
Sprinkle your cooked veggies along the bottom, spacing them out evenly. Then pour the egg mixture over top.
Step 5 - Cook to Perfection
Cook for 45 min to 1 hour until the center is cooked through. The frittata should double in size and brown around the edge when ready.
Remove from the oven and let cool, undisturbed, for at least 15 minutes before serving.
Step 6 - Portion and Eat!
Slice your frittata into your desired serving sizes. The recipe calls for six, but this dish is so light, you can enjoy a much bigger serving if you choose.
For meal prep, store in air-tight containers until ready to eat. Then, reheat at 300 degrees in the oven for 5 to 10 minutes or microwave for a minute and a half.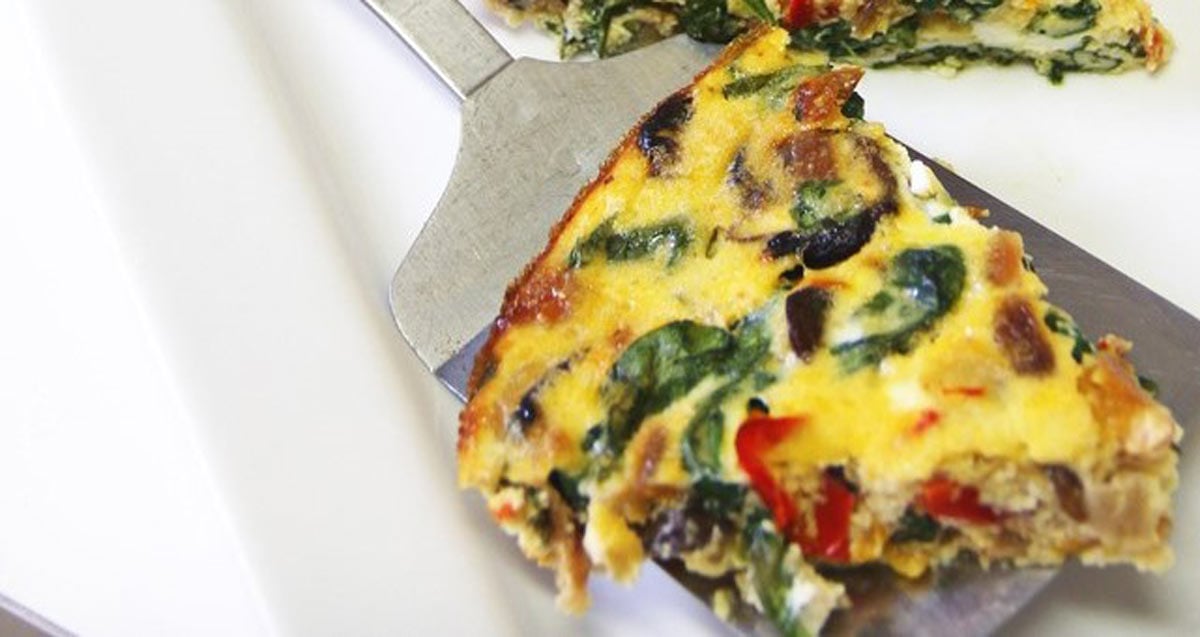 Enjoy this With
While great on its own, feel free to pair this egg dish with any of the following toppings and sides to add a bit more fat, protein, or carbs.
Top with avocado for more healthy fats
Pair with toast, fruit, or potatoes for some extra carbohydrates
Top with cheese for a little more protein and fat
Season with hot sauce from some added heat!
---

Get shredded and dial in your nutrition with this free meal prep toolkit for fat loss. An RD-written guide with a macro meal planner, food lists, and expert advice to help you lose weight quickly.