You may have heard that "breakfast is the most important meal of the day" a time or two. But, why is breakfast the "most" important meal? And does this mean that all breakfasts should be treated equally? We break down the best healthy, protein-packed options for breakfast to start your day off right and support suistainable weight loss!
Why Is a Healthy Breakfast Important?
Breakfast is considered the most important meal of the day because it's the first meal we eat after an overnight fast, hence the term break-fast. (That's right, even if you aren't intentionally intermittent fasting or snacking late at night we all fast normally when we sleep)
Eating breakfast allows your body to replenish its stores of blood glucose, your body's main energy source, while also providing other vitamins and minerals required for healthy function.
Eating a healthy nutrient-dense and protein-based meal early in the day may have a variety of benefits including weight control, reducing cardio-metabolic risk factors, and cognitive performance (1).
An extensive amount of research has also shown the importance of eating a balanced high-protein breakfast in shaping overall nutrient intake, highlighting that those who eat breakfast tend to make better food choices throughout the rest of the day, improving overall dietary quality (1, 2).
When you eat breakfast, you are sending a message to your body that you will have plenty of calories coming in throughout the day, whereas if you skip breakfast you are sending a message to your body to conserve calories.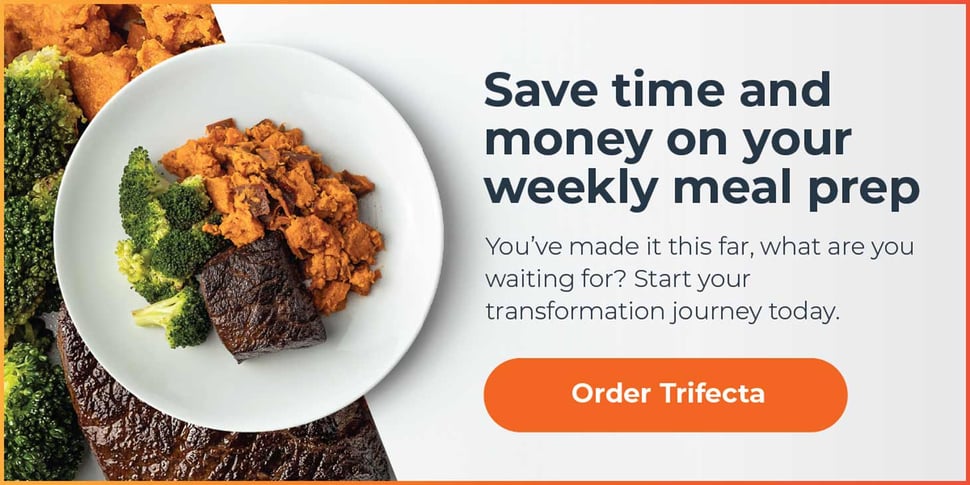 What Breakfast is Best For Weight Loss?
With all this being said, breakfast is clearly an important meal, but it is not simply "eating breakfast" that will make all the difference.
The quality of food and the breakdown of macronutrients are extremely important. Breakfasts that are high in protein and dense in nutrients will allow you to:
Stay fuller longer
Prevent unwanted snacking
Support balanced blood sugar levels
Protect your lean muscle mass
Additionally, protein is the least likely of all the macros to be stored as body fat when you overdo it.
But not all proteins are created equal. When looking at animal sources like meat, dairy, and fish, leaner options tend to provide excellent nutrition with less saturated fat and calories, making them a great choice for an energy-controlled diet.
The amount of protein you should aim for will vary from person to person based on your unique needs, especially if you are building muscle.
For weight loss and general health, clinical nutrition recommendations suggest a protein intake of 1 gram of protein per kilogram of body weight (1). This would equal roughly a minimum of 68 grams of protein a day for a 150-pound adult, and when we split that up into 3 meals that's around 23 grams of protein per meal.
Another way to consider protein needs is by looking at macro balance. The US Dietary Guidelines suggest protein intake should make up 10% to 35% of your daily calories. And on a 2,000-calorie diet, this will equal 50 to 175 grams of protein a day—quite a large range!
For the most part, we could consider a high-protein breakfast to contain as much as 15 grams of protein to over 30!
Not sure how much protein you should be taking in each day to lose weight? This protein calculator factors it for you. Just plug in a few details and get your perfect daily protein needs.
When it comes to crafting the perfect healthy high-protein breakfast, you can always keep it simple and stick to some scrambled eggs with vegetables and a piece of toast. But let's be honest, it gets boring eating the same thing every day.
15 High Protein Breakfast Ideas to Help You Lose Weight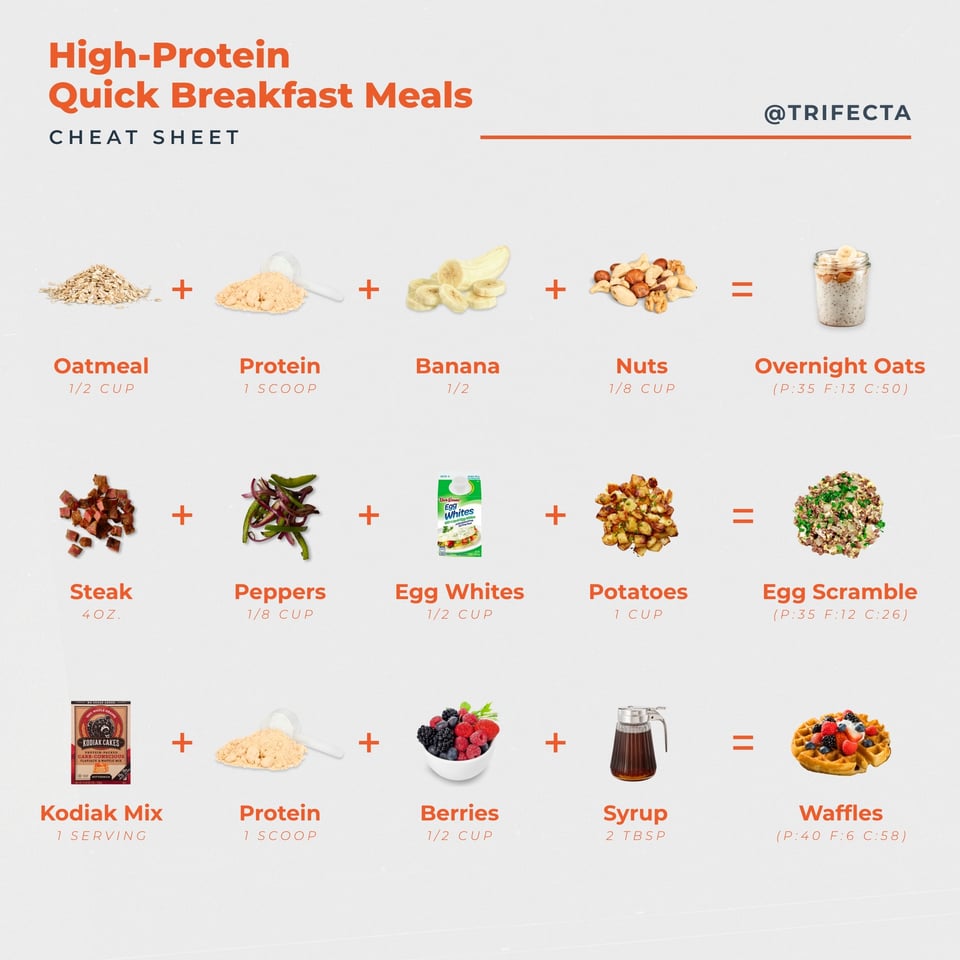 Ready to start your day off right? Enjoy one of these healthy high-protein breakfasts, from a grab-and-go shake to a hearty breakfast skillet.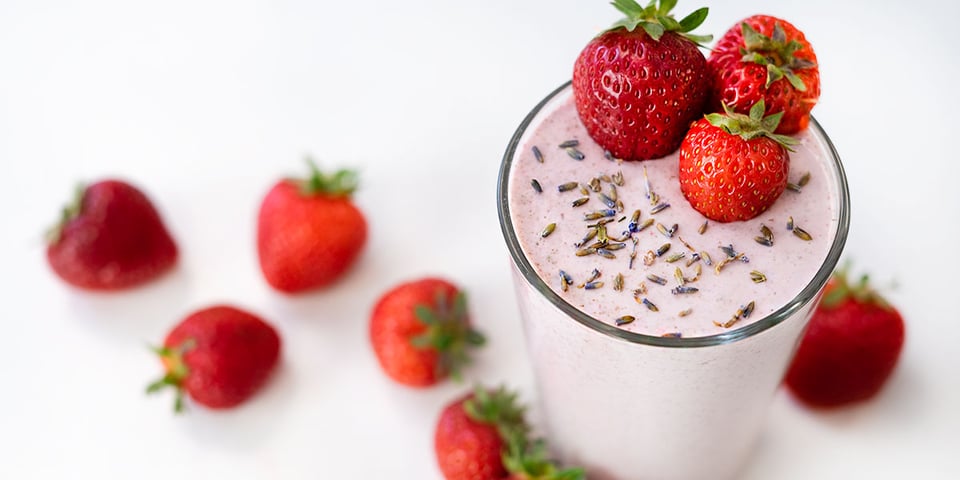 Perfect for a quick and healthy high-protein breakfast, this fruity and fun smoothie is sure to start your day off right.
Recipes:
With the addition of a quality protein powder, you can get up to 40 grams of protein per smoothie!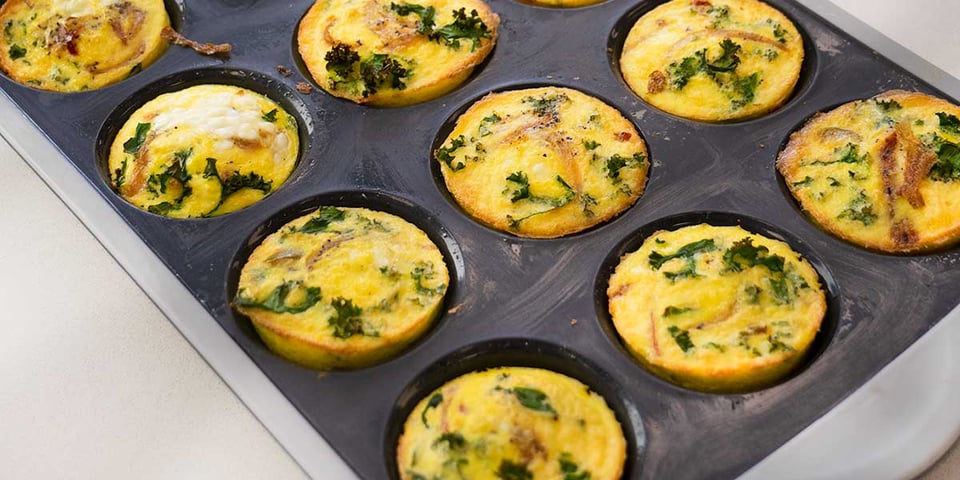 Frittatas are a classic Italian egg-based dish similar to a crustless quiche and typically include a variety of other ingredients such as meat, vegetables, and cheese.
Frittatas do well when paired with a flavorful sauce too. Top it with a farmer's market salad full of fresh greens and green goddess dressing, or drizzle some delicious herb pesto to finish it off.
Here are some of our favorite frittata flavor combos:
Broccoli and feta cheese

Mushroom, tomato, and balsamic vinegar

Roasted veggies and romesco sauce

Average protein per serving: 18 grams.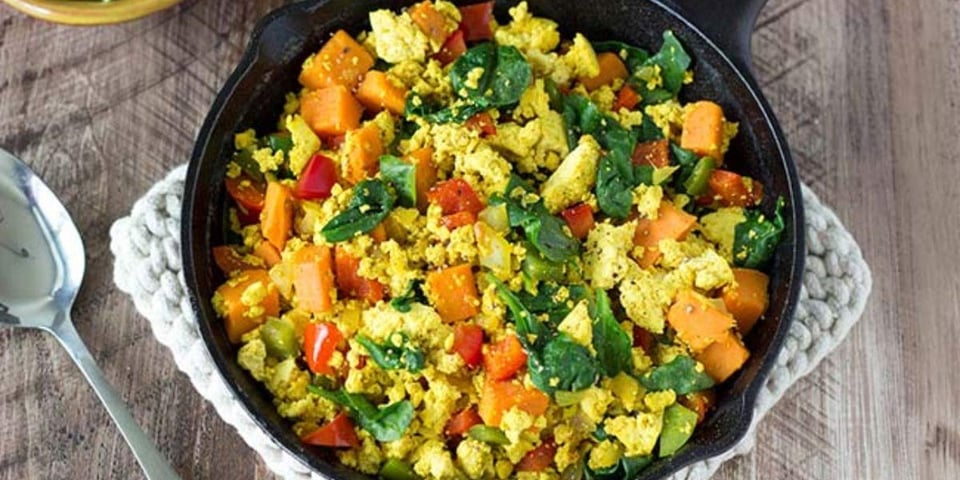 A delicious, savory, protein-packed recipe that's perfect the day of or to meal prep for a scrumptious get-up-and-go breakfast during the week.
For another take on the tofu scramble, try this recipe. A medley of summer vegetables comes together with a seasoned tofu scramble with a satisfying cheesiness to satisfy any morning hunger. The trick? Nutritional yeast! You'd never know it's vegan!
Average protein per serving: 24 grams.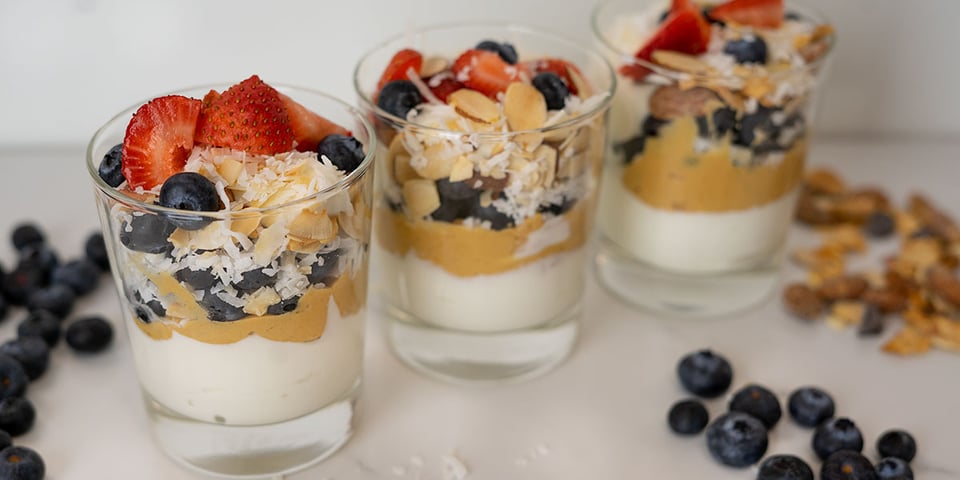 Packed with protein, yogurt parfaits are the perfect way to include a sweet treat in any brunch spread! They also make great meal prep as they can be prepared ahead of time for an easy high-protein breakfast or enjoyed as a dessert perfect for overnight muscle recovery.
Make a parfait for any lifestyle:
Average protein per serving: 32 grams.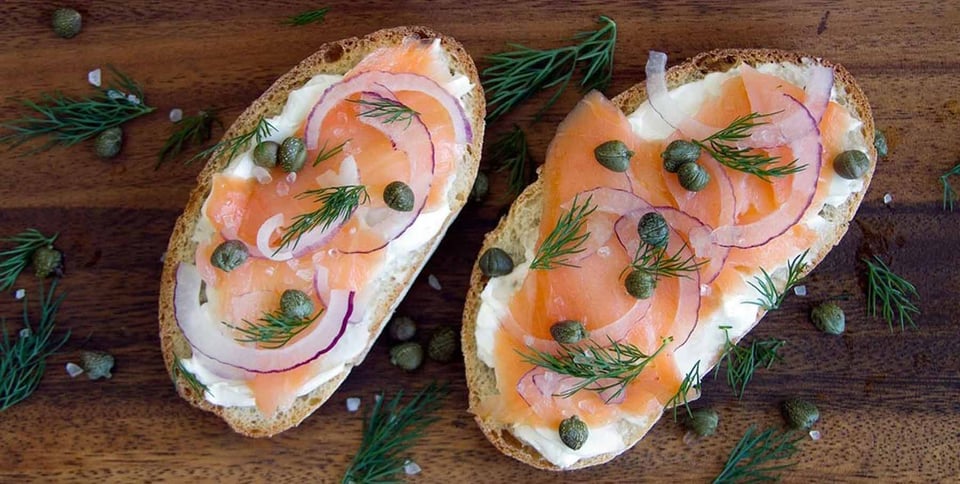 News flash: you can make more than avocado toast for breakfast! Get creative and enjoy all the flavors of a lox style bagel, but as toast!
There really are endless ways to prepare breakfast toast:
Bump up the protein by topping your toast with an egg! Hardboiled, softboiled, poached, or even scrambled eggs are a great addition to any toast.
If you choose to go hardboiled, try out grating your egg on top of your toast!
Average protein per serving: 23 grams.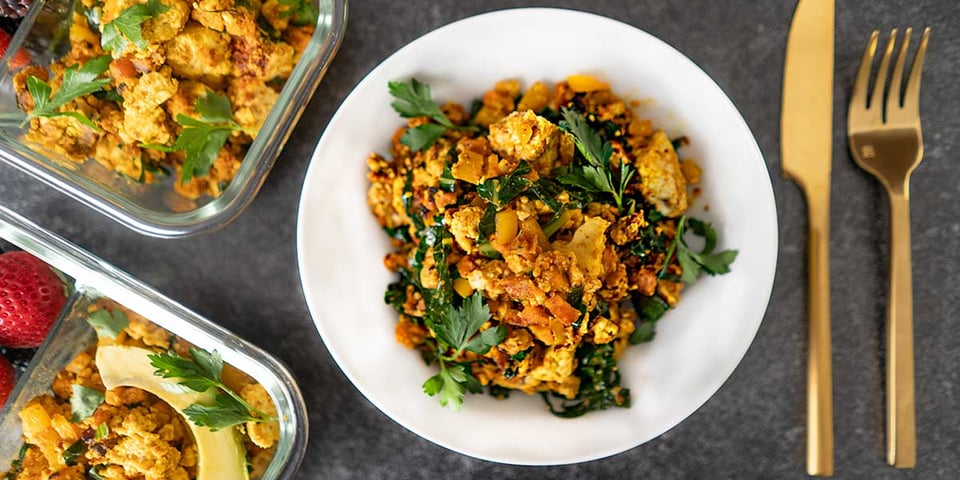 This one-pan vegetarian sweet potato and greens breakfast hash recipe will provide 4 days of breakfast in less than 30 minutes. Use this recipe as an outline to turn last night's leftovers into an imaginative high-protein breakfast feast.
Average protein per serving: 28 grams.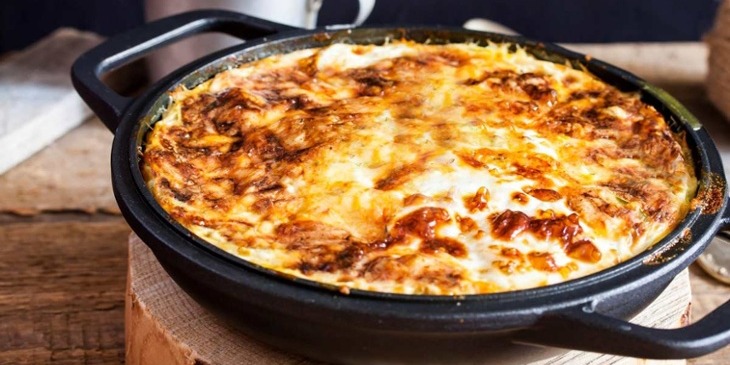 Part giant egg bite, part frittata, and breakfast casseroles provide an amazing well-rounded dish that can be packed with pretty much anything.
They are a great brunch option to spruce up any leftover ingredients from the week, and bonus points if you have a beautiful baking dish to present it in.
This slightly smoky turkey sausage and sweet potato breakfast casserole recipe is a hearty brunch favorite, or try out a paleo breakfast sausage casserole.
Swap out some plant-based beyond meat in any of the recipes above for a vegetarian-friendly version packed with protein.
Average protein per serving: 23 grams.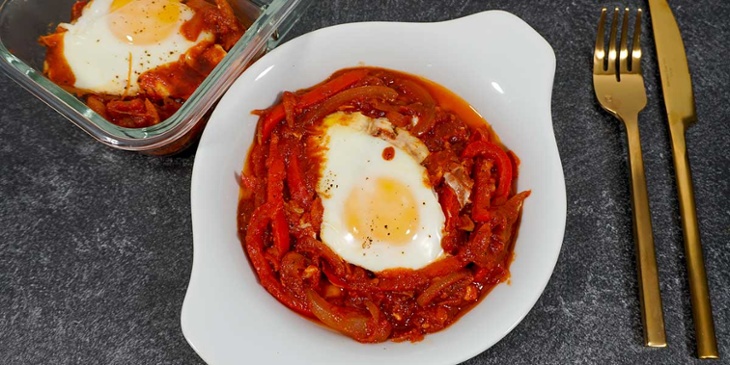 Shakshuka means 'all mixed together,' and it pays tribute to the North African immigrants who introduced this dish to Israel.
There is a lot of debate around the origins of this savory roasted pepper and egg dish, but no matter the backstory, you'll love this middle eastern style 'huevos rancheros' (and yes, there are many different versions of it throughout the world!).
Average protein per serving: 20 grams.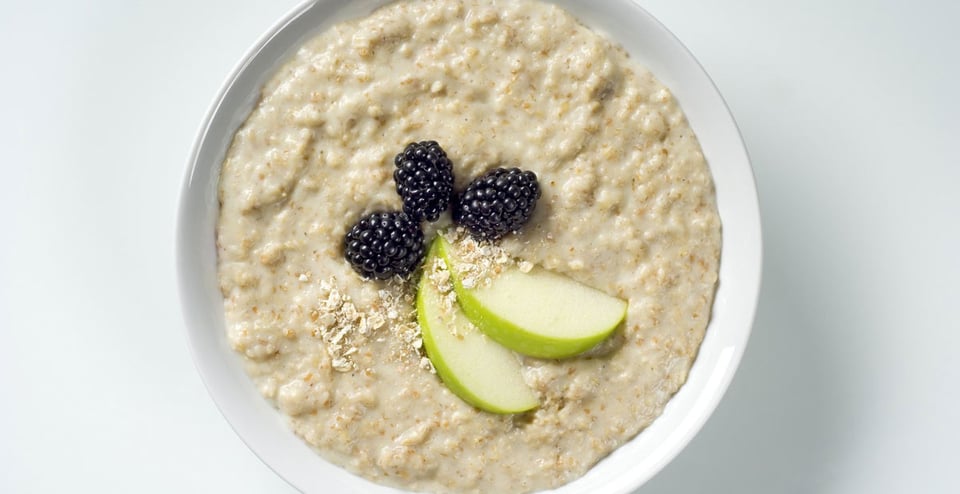 Oatmeal is a classic healthy breakfast staple, but unfortunately, most recipes tend to be carb-heavy and lack overall macro balance.
Luckily, with a few simple ingredients, you can add a serious boost of protein to your morning. Start by adding a scoop of protein powder to your morning oatmeal! Oatmeal is also one of the best grab-and-go options for a quick healthy breakfast, simple portion and prepare overnight oats instead of a warm oatmeal bowl for a quick and easy breakfast the next day.
Average protein per serving: 18 grams.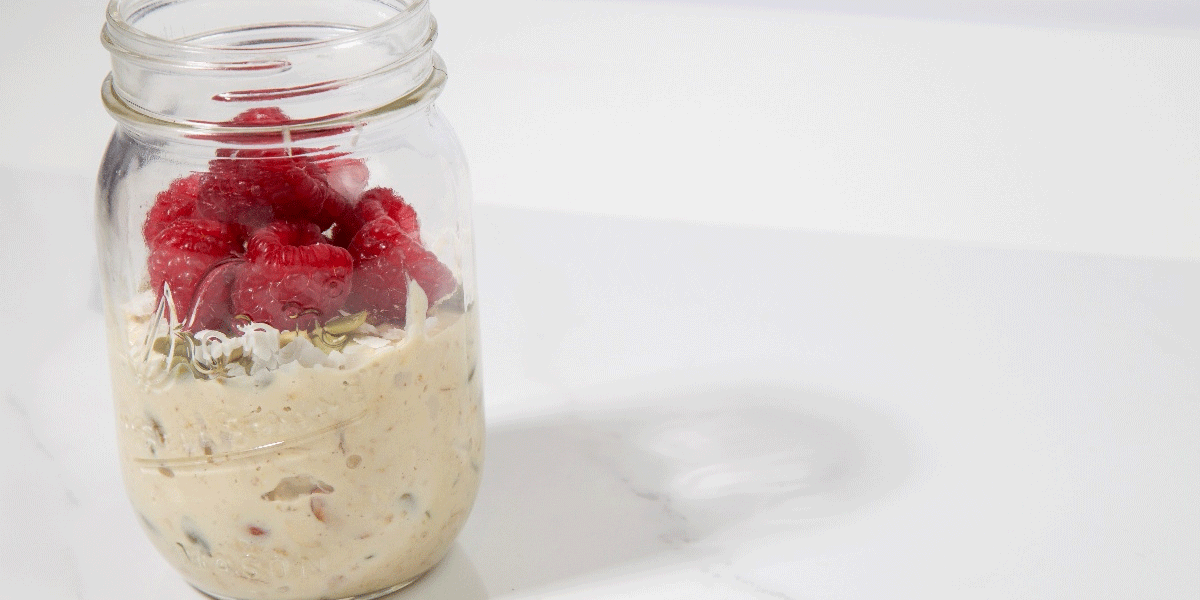 If you've got a bit of a sweet tooth but didn't meal prep your pancakes, grab this easy on-the-go muesli recipe. A triple punch of protein with oats, nuts, and seeds, plus plant-based protein powder on top of that, this quick recipe will keep you full all morning without any cooking involved.
Average protein per serving: 30 grams.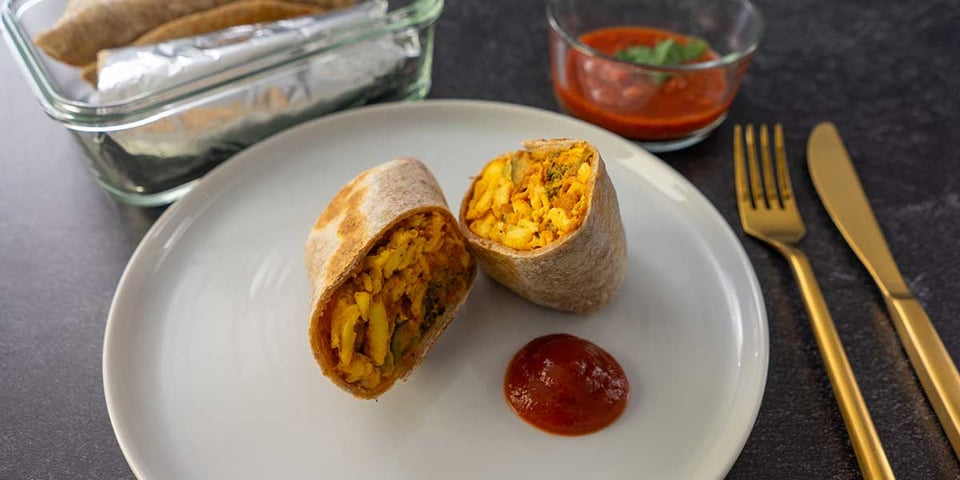 Breakfast burritos are one of the best meal options for when you are in a time crunch. The tortillas provide energy and vessel to house any kind of vegetables and protein, to make a highly delicious grab-and-go breakfast. Serve it with your favorite salsa and enjoy your homemade burrito!
Average protein per serving: 23 grams.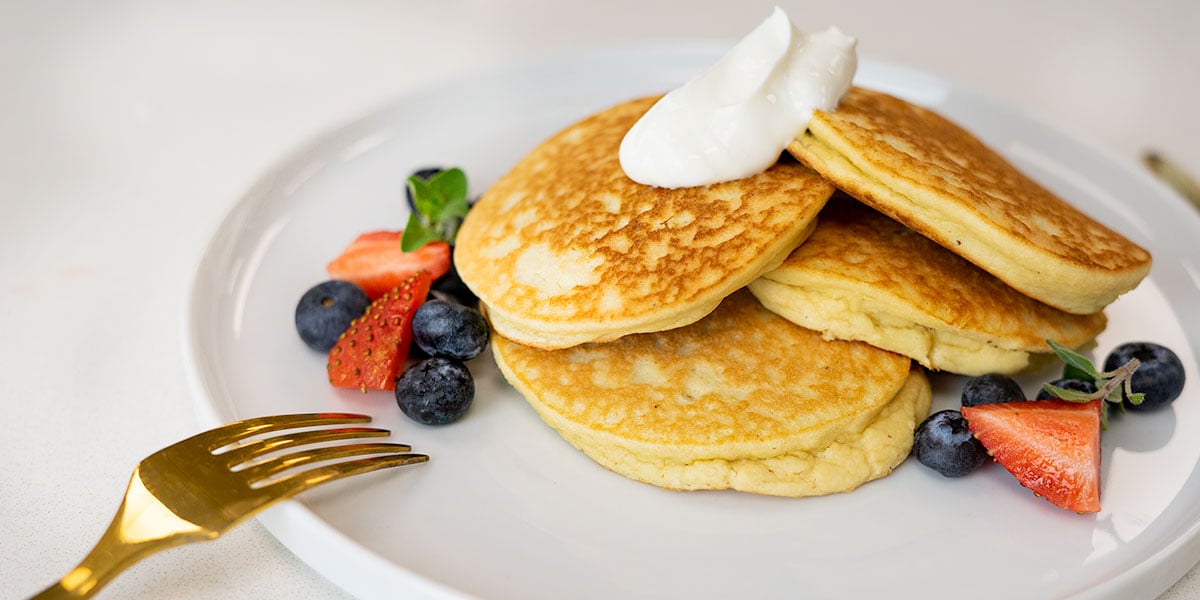 Pancakes set the tone for the day, and personally, those are my favorite days.
Protein-filled almond and chickpea flour take the lead with these pancakes, while powdered almond butter, almond milk, and vegan protein powder take your macros to critical levels. The almond powder also gives the pancakes air structure, mimicking gluten in this gluten-free recipe.
The chickpea flour gives these pancakes a fluffy texture to sop up the vegan approved pure maple syrup.
To meal prep, make your batter in bulk, enough for as many days per week you want pancakes and honestly, that should be most days. Store the batter in an easy-pour container with a lid in the fridge. Griddle to order and enjoy!
Average protein per serving (2 pancakes): 28 grams.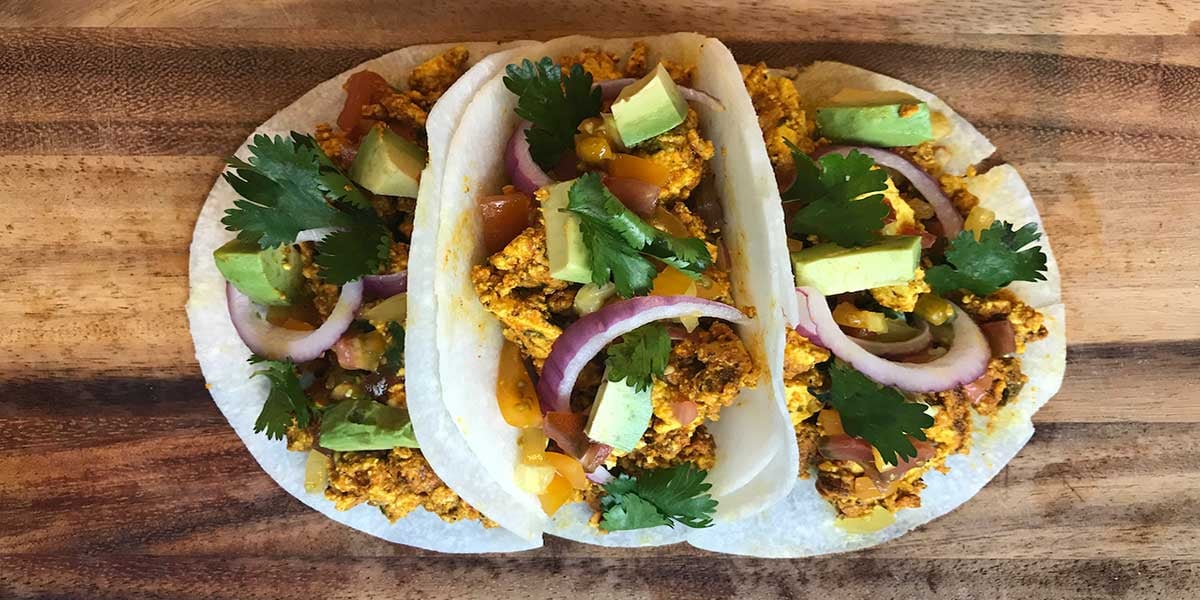 The beauty of a taco is its endless variety of flavor combinations and, this recipe utilizes a low-carb shell allowing for more versatility and variety in your filling without worrying about ingesting a high-carb brunch.
Although this breakfast taco recipe is prepared with a vegan tofu scramble filling, you can easily substitute it with some scrambled eggs.
Top these with a tasty pineapple papaya salsa, or prepare a breakfast burrito instead.
Use this recipe as a foundation for future meal prep ideas and create your own signature taco recipe.
Average protein per serving: 17 grams.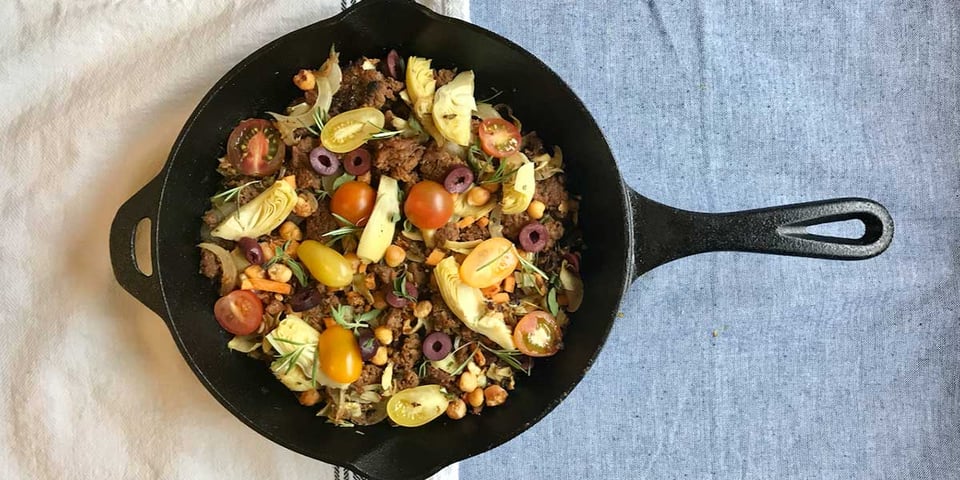 Utilizing a cast-iron pan to prepare this breakfast skillet helps crisp the small diced sweet potatoes and chickpeas while browning the Beyond Meat® and artichokes.
Although we used a plant-based meat alternative, you can substitute any meat you'd like and top it off with poached eggs or scrambled eggs on the side.
Try it with:
Try it with:
Average protein per serving: 22 grams.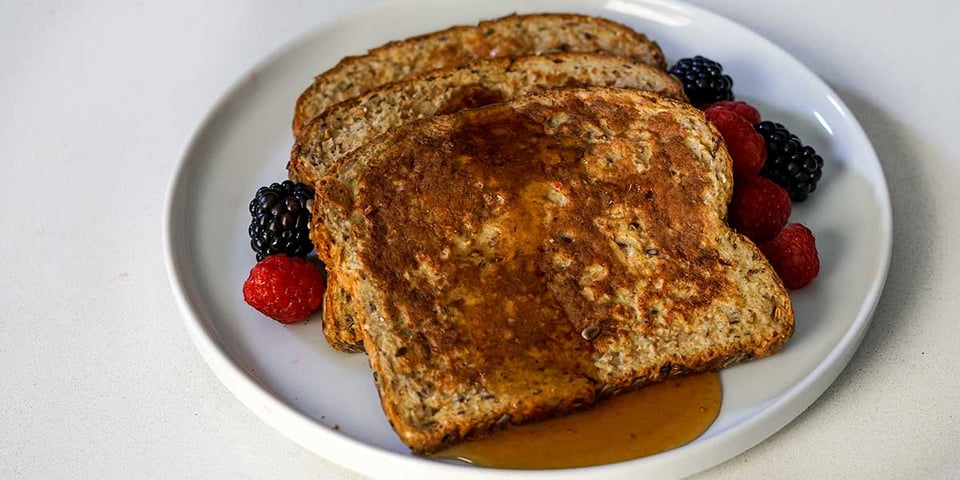 Who knew french toast could pack in so much protein!
This high-protein french toast recipe is deceivingly flavorful and packed with 32 grams of protein per serving to help you start your day off right. Read the full recipe to find out how!
Meal Planning for Weight Loss
Don't just stop at breakfast! We've got plenty of tools and recipes to support you in your health journey!
---
Looking for more delicious food choices to help you lose weight?
Learn more about Trifecta's macro-balanced meals designed for sustainable results and amazing flavor!