This keto avocado toast recipe is going to be your new go-to low-carb breakfast or snack. This recipe is both gluten-free and 100% customizable, with only 2 grams of net carbs per serving.

About This Recipe
Can I start by saying avocado toast is hands-down my favorite breakfast or lunch option? The variety of nutrient-dense ingredients and creative ways to mix and match flavors is endless, and it is extremely filling.
You can easily enjoy a low-carb and keto-friendly version of creamy avocado toast by utilizing keto bread, a hard cheese, or a low-carb bread alternative for the toast! When building the perfect avocado toast, there are 3 different components; the avocado, the bread, and the fixings.
There are 3 key components to building the perfect avocado toast: the avocado, the bread or the base for keto, and the fixings.
The Avocado
The key to a great avo toast is to select and purchase avocados that are almost ripe. That is - they feel like a nerf football; firm but with a slight give. To this day, I have yet to find another metaphor to describe an almost-ripe avocado as appropriate as a nerf football.
Avocados are praised for their high amount of heart-healthy monounsaturated and polyunsaturated fats (MUFAs and PUFAs) but also contain high amounts of other minerals and vitamins as well.
One-half of an avocado contains significant levels of potassium and magnesium, as well as vitamins C and E (1).
Low-Carb Bread Alternatives and Counting Carbs
Here is where most keto or low carb dieters run into trouble; the type of base you use to build your avocado toast can quickly stack on the carbohydrates.
If you have been struggling to track your carbohydrate intake you can use a nutrition app or use this simple keto carb calculator below to get your recommended keto carb intake based on your unique health and fitness goals.
Whatever your personalized macro goals turn out to be, there are a few options you have for preparing a low-carb avocado toast to fit into your meal prep plan:
Low carb "keto" bread
Use a hard cheese like halloumi
Eggplant, sliced into disks and roasted or seared
Portobello mushrooms, roasted whole
Rice cake
English muffin
The Fixings
The toppings can add a ton of flavor and additional nutrients to your toast without adding too many extra carbohydrates.
This is pretty self-explanatory, but feel free to get creative with your toast toppings.
Common toppings include seeds (such as pumpkin, chia, flax, and hemp); sliced raw vegetables (cucumber, carrot, radish); fresh herbs (parsley, mint, dill); hot sauce; tofu; hummus; tahini; and fresh greens (kale, arugula, sprouts, carrot tops, spinach).
Currently, I am obsessed with using everything bagel seasoning on avocado toast.
How to Prepare a Basic Keto Avocado Toast
Prep Time: 5 minutes
Cook Time: 5 minutes
Servings: 1

Ingredients
1 Avocado
1 teaspoon avocado oil
2 slices of halloumi or low-carb keto-friendly bread
1 teaspoon Everything Bagel Seasoning
1 tablespoon lime juice
1/2 cup fresh sprouts
2-3 slices fresh tomato
1 hard-boiled egg (optional)
Tools
Knife and cutting board
Saute pan and tongs
Small bowl
Oven or toaster oven (if using bread)
Step One: Gather Your Ingredients
Gather all of your ingredients together, if you've chosen to prepare a keto cloud bread as the base, feel free to make that first then jump to step three.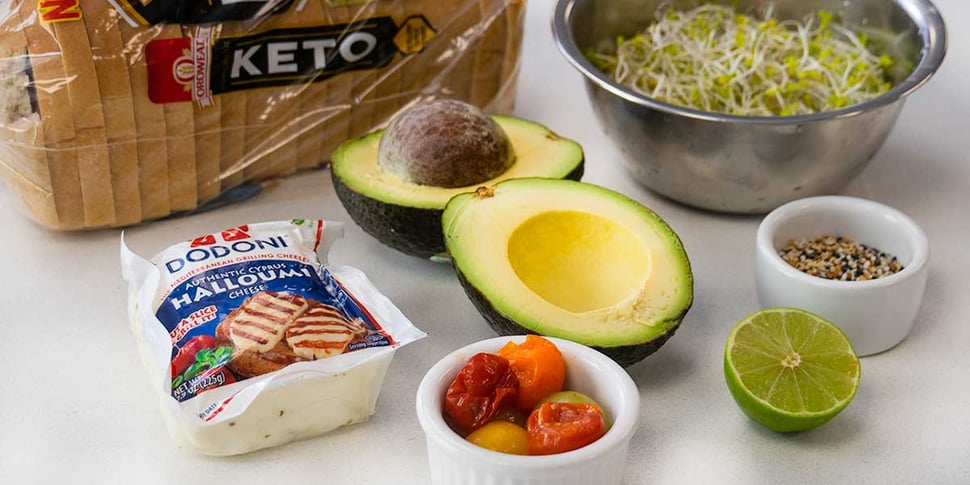 Cut your halloumi cheese into 1/4-inch slices if it did not come pre-cut, and pre-heat a non-stick pan over medium heat.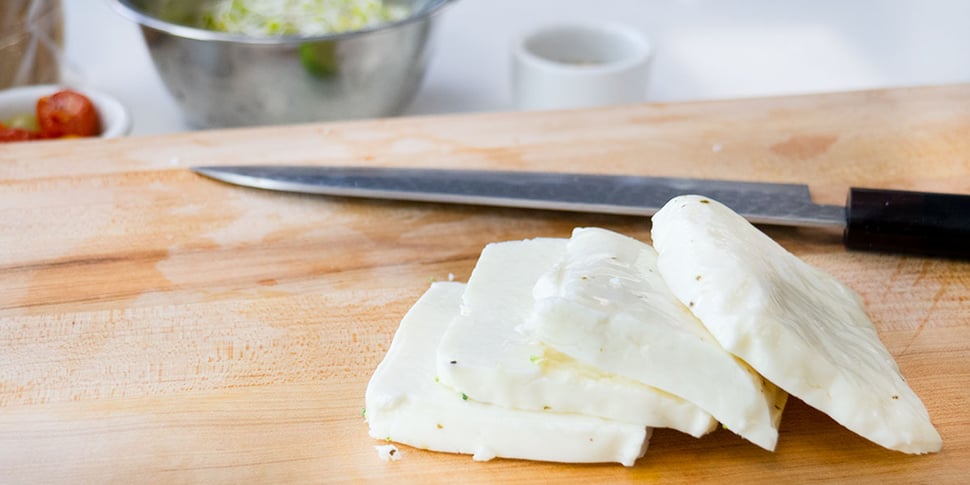 In a small bowl, mash avocado with lime juice and a pinch of sea salt. You can choose to add some fresh herbs or dried spices such as red pepper flakes and garlic powder if you'd like!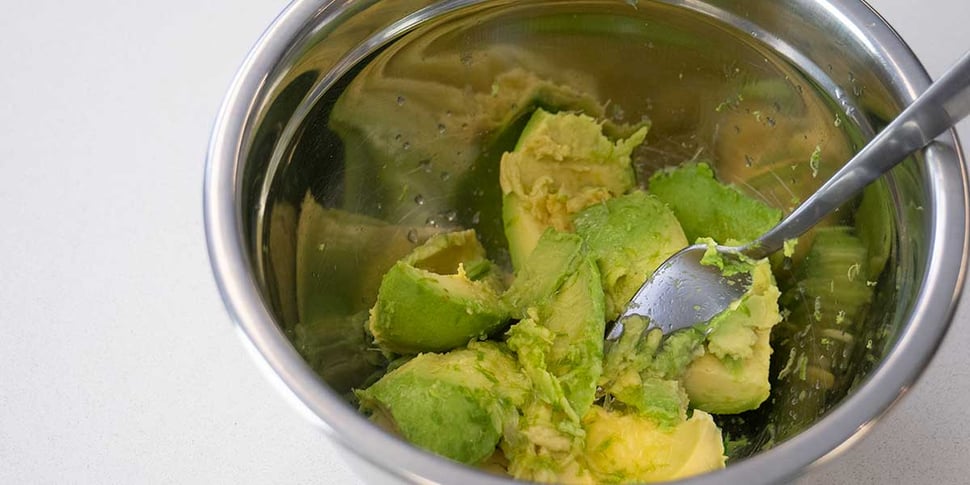 Step Two: Get Toasty
Heat a non-stick pan over medium heat and add 1 teaspoon of avocado oil, toast the keto cheese "bread" 1-2 minutes per side until lightly brown on both sides.
Remove your cheesy bread from the heat and set it aside on a cutting board or plate to build your avocado toast.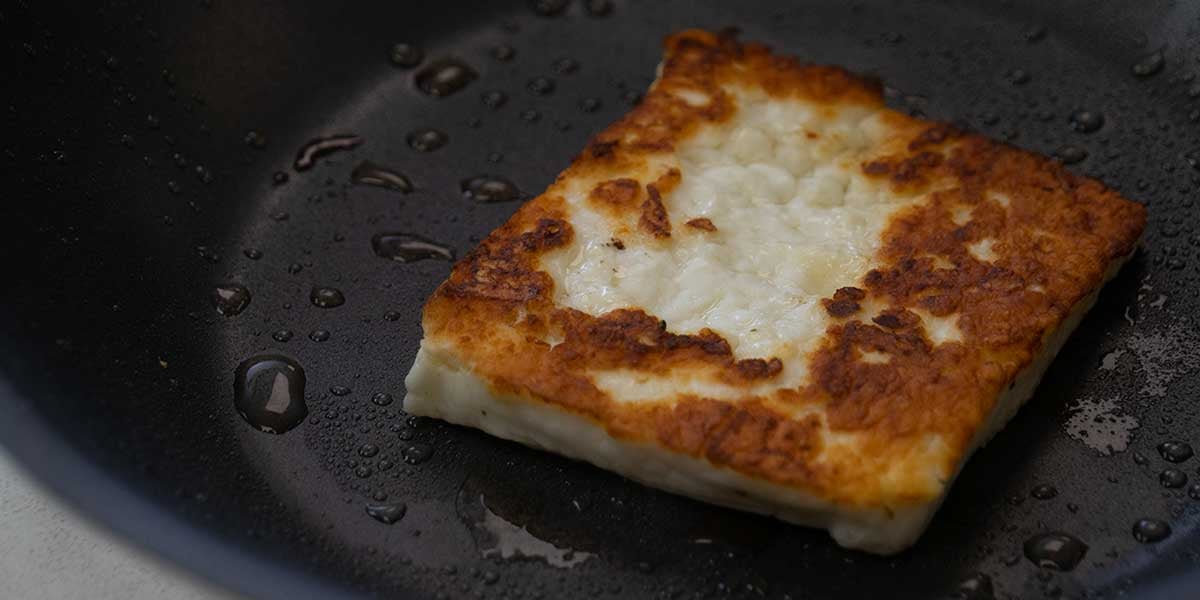 If you are using low-carb keto bread, toast the bread in a toaster oven for 2-3 minutes before building your avocado toast.
Step Three: Build Your Toast
To plate your fancy keto avocado toast, top the toasted halloumi cheese with 1-2 tablespoons of mashed avocado, a few slices of tomato, sports, and a sprinkle of everything seasoning! Then dig in!
With the addition of Everything Seasoning, there is no need to add salt and pepper to this recipe.
Feel free to add 1 hard-boiled egg or fried egg per toast for extra protein!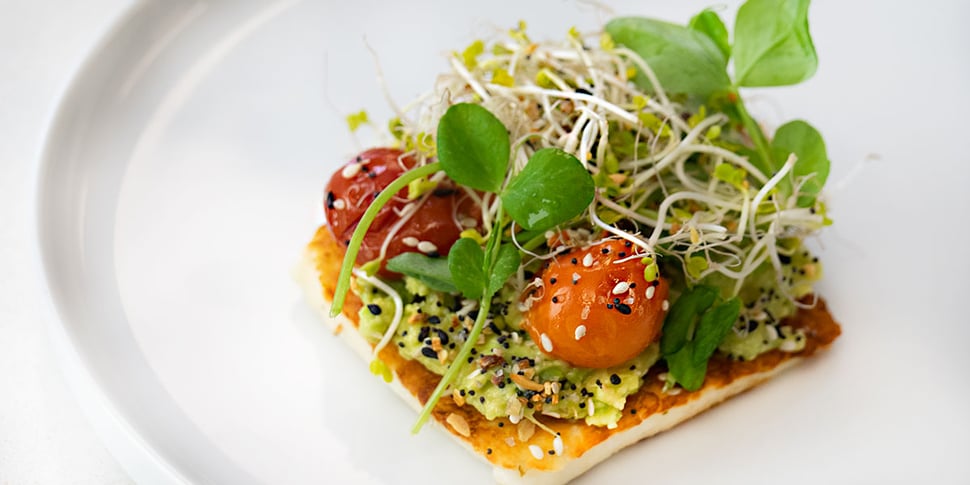 Keto Avocado Toast Variations
This recipe is a great place to start if you are exploring the world of avocado toast but don't feel limited to the ingredients we choose above. You can customize and create any variation of toast you would like, but be sure to use a nutrition app or tracker to ensure you are staying within your recommended macro range.
Here are 8 Variations for Keto Avocado toast for inspiration simply choose your base, add mashed avocado and then top with the following:
Italian Inspired: 1-2 slices crispy prosciutto, fresh basil, balsamic vinegar, and olive oil
The BLT: cooked bacon, romaine, fresh tomato, lemon juice, and mayo

Green Goddess Toast

: fresh kale, green goddess dressing, chives, and parsley
The New York Lox: lox, capers, arugula, tomato, red onion, black pepper
The Greek: feta, sun-dried tomato, and olives
Keto Meal Prep Resources
If you're adding avocado toast to your weekly keto meal prep, remember you can cross-utilize the ingredients. Prep extra keto cloud bread for a breakfast sandwich or use the leftover avocado in a keto chocolate avocado smoothie!
Following a keto or low-carb diet has its challenges, so we've put together plenty of resources to support you in your wellness journey:
---
Too Busy? We Got You!
Skip the meal prep, and let us deliver macro-balanced keto meals directly to your door.
Sometimes there just isn't enough time in the week to perfectly plan every meal. Let us help you make conquering your nutrition even easier by providing organic meals you can count on.