This Mexican hot chocolate-inspired smoothie uses spices such as ground cinnamon and nutmeg and will be your go-to sweet treat, making a A decadent keto avocado chocolate smoothie perfect for breakfast or post-workout meal.
How to Conquer Your Keto Breakfast Macros
If you are following or starting a keto diet, then you know the key to success is tracking your macros to ensure you aren't eating too many carbohydrates.
The goal of any keto diet is to limit your carbohydrate intake to anywhere below 50 grams per day or so (this can vary depending on your size and weight). Limiting your carb intake and increasing your intake of healthy dietary fats will shift your body to enter a metabolic state called ketosis and to utilize more fat for fuel.
Keto breakfast meal prep can get monotonous. Often the typical keto breakfast consists of eggs paired with some kind of meat and a touch of avocado for fat.
If you aren't sure about how many grams of carbohydrates you need per day to transition into ketosis, get your custom keto carbohydrate count by using the calculator below:
Add some variety and flavor by preparing this protein and healthy fat-packed keto smoothie recipe that we've spiced up by adding in some ground cinnamon and nutmeg.
This one is sure to satisfy your sweet tooth as well. Smoothies can be prepared with high-fat, high-fiber, and low-carb fruits and vegetables to ensure they fit within the keto diet parameters.
The Secret to Preparing a High-Fat and Low-Carb Keto Breakfast Smoothie
Preparing a high fat and low carb keto smoothie is all about understanding which ingredients pack more fat and fewer carbs per serving, then layering in some additional nutrient-dense foods such as chia seeds, frozen blueberries, or frozen bananas. This can be especially true when choosing a base liquid for your smoothie.
When it comes to the base of the smoothie, there are plenty of keto-friendly milk options. Often the best choices include dairy-free plant-based milk alternatives such as unsweetened almond milk, coconut milk, macadamia nut milk, flax milk, soy milk, cashew, and pea milk; these tend to contain less sugar (aka added carbohydrates) than some of the animal-based dairy products. Be sure to purchase the sweetened or flavored products, as sometimes they have a higher amount of carbohydrates per serving.
Cow's milk can be a keto-friendly option, and half-and-half and heavy cream are considered keto-approved beverages, but be sure to check the label as they can be rich in natural sugars.
Ideally, for most of your smoothies, you'll use 1 cup of liquid to blend together with your ingredients. If you choose to include high-fat nuts and seeds such as chia seeds, cashew seeds, or almond butter you may want to use water instead of a high-fat liquid, as the nuts will provide plenty of nutrition. You can also incorporate ingredients such as greek yogurt and small amounts of maple syrup or calorie-free sweeteners.
How to Prepare Your Keto Avocado Smoothie
Ingredients:
1 cup milk of choice (we used almond milk)
½ cup ice cubes
½ large avocado, ripe
1 tablespoon unsweetened cocoa powder
1 teaspoon hemp seeds or almond butter
1 scoop chocolate protein powder (we used momentous or throne chocolate with 3 grams of carbs and
1 tablespoon functional mushroom powder (reishi etc.) (optional)
¼ teaspoon cinnamon
¼ teaspoon nutmeg
1/4 teaspoon cayenne (optional)
Kitchen Needs:
Blender
Smoothie Container or Ball Jar
Measuring cups
Tablespoons
Spatula
Step One: Gather Your Ingredients
Grab a blender, measure, and add all ingredients into the blender.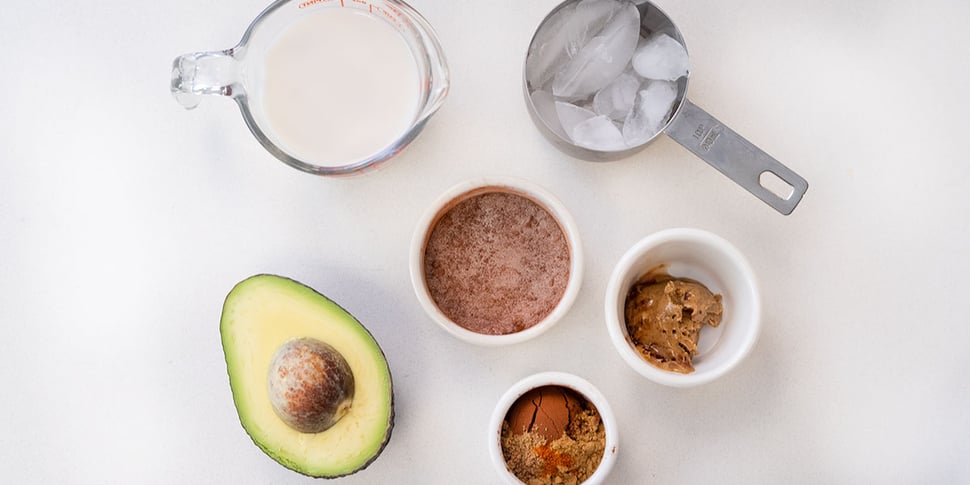 Remember that you can totally customize this recipe based on your personal flavor preferences. We included some cinnamon and nutmeg to spice things up a bit, but you could also add additional seasonings such as:
Allspice
Pumpkin spice
Cardamom
Ginger
Step Two: Blend the Smoothie
Cover the blender with its lid, and blend for 30 seconds up to one minute - until everything is mixed well and a smooth consistency is created.
Transfer your shake to your container of choice and repeat if making multiple shakes. You can also do this in a bullet-like blender (like Ninja or Nutribullet).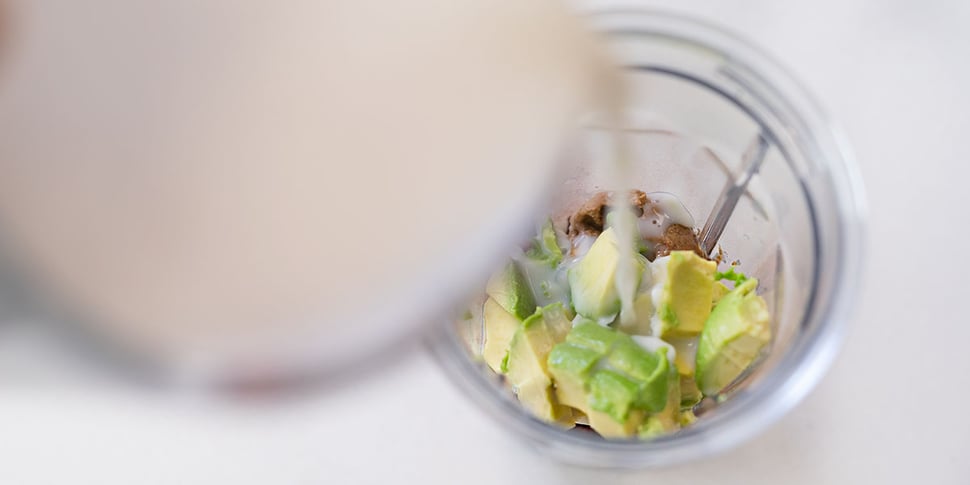 Tips for Meal Prepping Breakfast Smoothies And Storage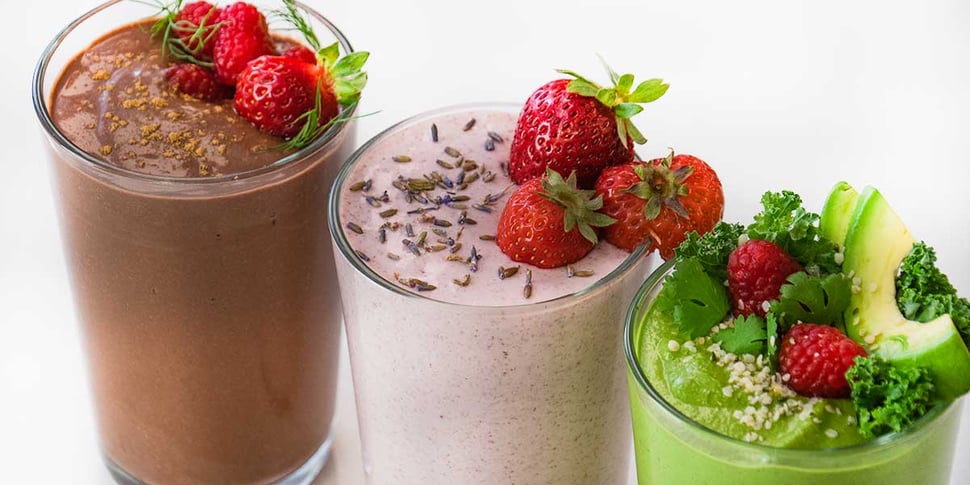 Smoothies are an amazing way to pack in your nutrition in the mornings, especially if you tend to skip breakfast or need something on the go. You can pre-blend your smoothies the night before (skip the ice because it will melt and get watery) but ultimately smoothies taste fresher and more appetizing if you blend them fresh right before you enjoy them.
Although they are already fairly easy to throw together in less than 5 minutes in the mornings, here are some other pointers to save time:
Pre-measure all of your ingredients (besides ice if you are using ice and any added avocado as it will brown) in a mason jar or blender container the night before
Keep all of your ingredients for your smoothies in one pantry or area in the fridge to easily access them and portion what you need.
---
Put this shake and other keto meal prep recipes to good use with this free meal prep toolkit for keto. Cut carbs and lose fat quickly with a keto macro meal planner, approved food lists, and RD advice on going and staying keto!