This one-pan vegetarian sweet potato and greens breakfast hash recipe will provide 4 days of breakfast in less than 30 minutes. Use this recipe as an outline to turn last night's leftovers into an imaginative breakfast feast.
Key to a Quick Breakfast Hash
A quick way to prepare a potato breakfast hash is by crisping small diced potatoes before incorporating any of the other ingredients. This can be challenging without the use of a ton of oil, but it isn't impossible; small dice the sweet potato to ensure quick cooking and optimal browning.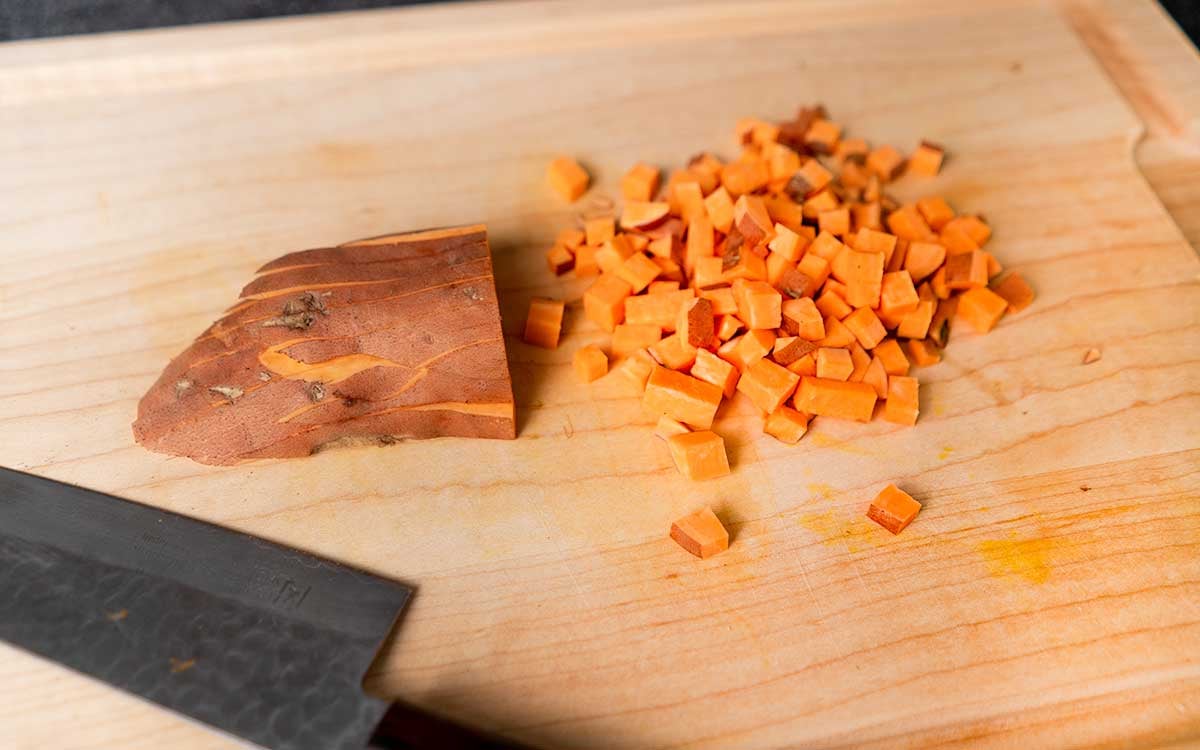 Pro tip: Prepare your hash in a large cast-iron skillet; you'll get better flavor development due to the intense amount of heat the skillet holds.
Utilize the ingredients below, or change it up by substituting whatever you have in the fridge; for an easy vegetarian protein substitution utilize tempeh or Trifecta beyond meat burgers instead of tofu. Preparing a breakfast hash is a great and sustainable way to turn last night's leftovers into extra meals for the week!

How to Prepare Vegetarian Sweet Potato and Greens Breakfast Hash Recipe:
Prep Time: 5 minutes
Cook Time: 25 minutes
Servings: 4
Ingredients
1 medium potato, small diced

2 tablespoon coconut oil

16 oz extra-firm tofu

3 tablespoons nutritional yeast
1 bell pepper, small diced
1.5 cups thinly chopped collard greens, dandelion greens, spinach, or kale
1.5 teaspoon garlic powder
1 tablespoon onion powder
2 teaspoons smoked paprika
½ teaspoon black pepper
¼ cup chopped parsley
1 lemon, juiced
Tools
Medium skillet or cast iron pan
Small bowl
Knife and cutting board
Measuring spoons & cup
Spatula

Step 1: Preheat your Skillet and Cook Potatoes
Heat a large skillet over medium-high heat and add two tablespoons of coconut oil. Add in the small diced sweet potato and cook for 8 minutes, stirring occasionally. The potatoes will start to brown and crisp up. While the potatoes are cooking, move on to step 2.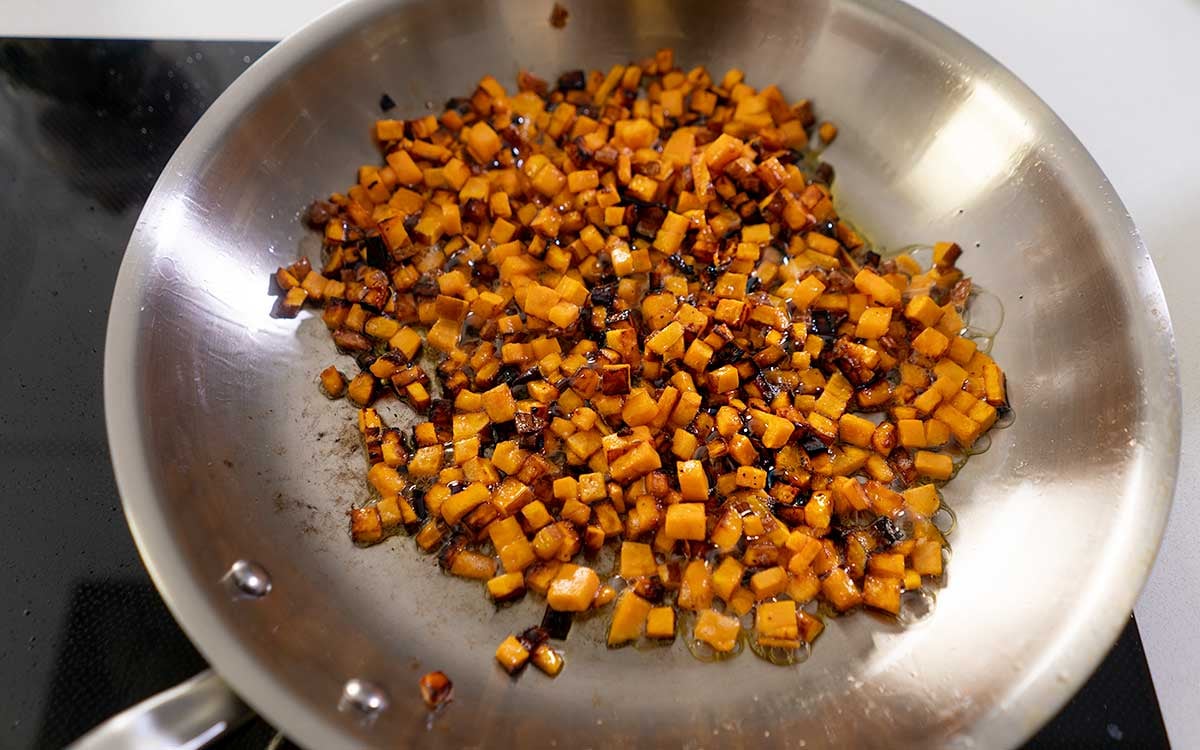 Step 2: Mix Your Tofu with the Dried Spices
Remove the tofu from its packaging and crumble it into a small bowl. Add the nutritional yeast, onion powder, garlic powder, black pepper, paprika, and pinch of salt. Mix to combine then set aside.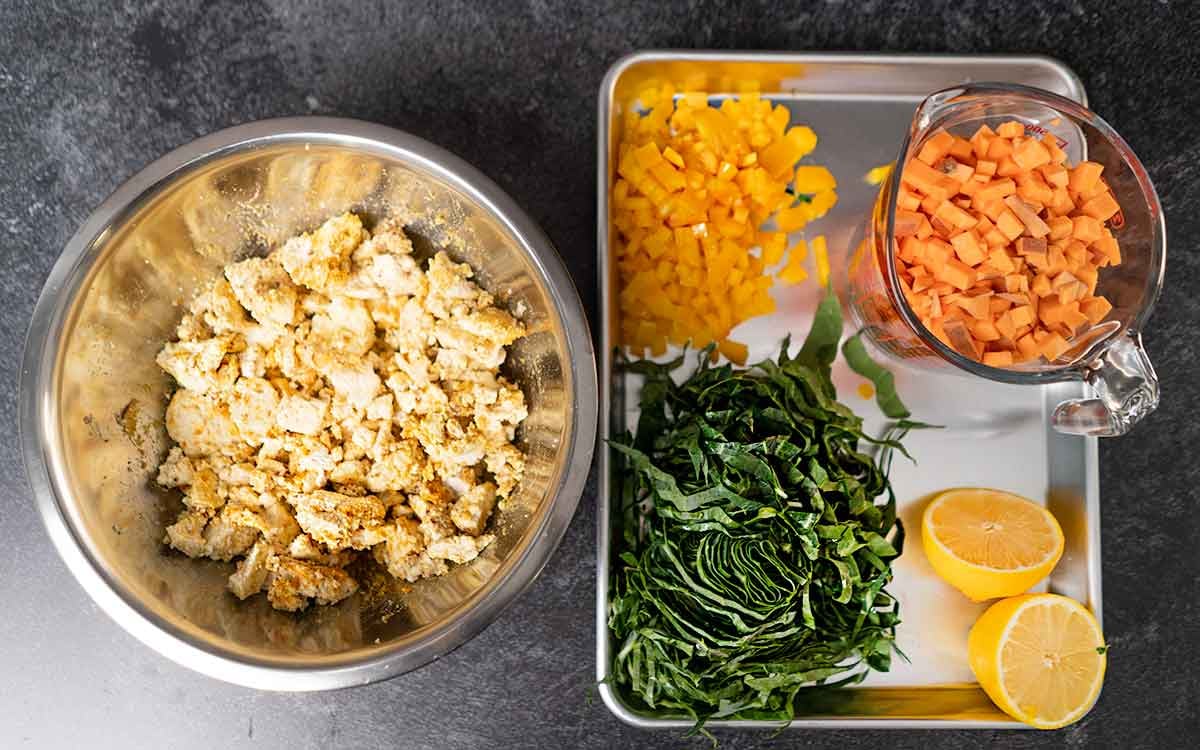 Step 3: Add the Bell Pepper and Greens to Skillet
Once the potatoes start to get tender and browned, add in the diced bell pepper and greens if you are using a hearty green like collard greens or kale. Saute the potatoes and peppers for 3 minutes. If you are using any other roasted vegetables, add them right now as well.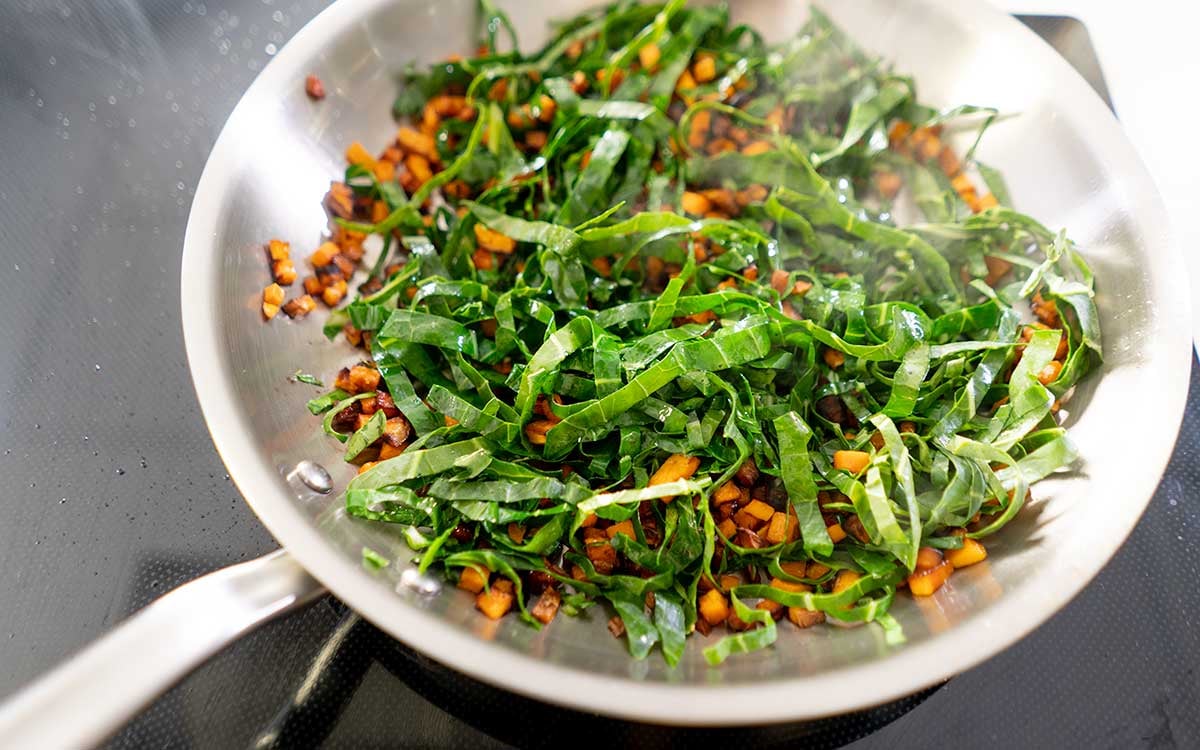 If you are using leafy greens such spinach, dandelion greens, or arugula, wait to add those at the very end, after the tofu, as they will cook extremely fast.
If the potatoes and peppers start to stick to the bottom of the skillet or pan, add a tiny amount of water or vegetable stock to prevent the ingredients from burning; this is called deglazing the pan.
Step 4: Finish by Adding the Tofu
Add the Tofu and cook for 5 minutes, stirring occasionally until the tofu is firm and cooked through. Season with salt and pepper, a squeeze of lemon, and top with parsley. Then Dig in!
Serving, Storing, and Reheating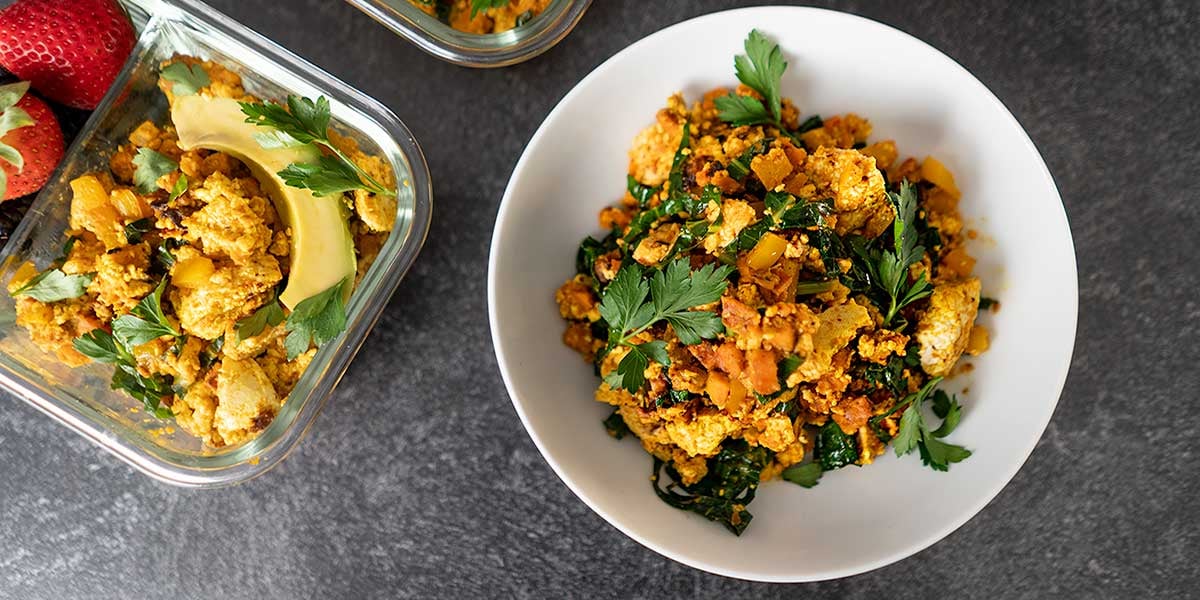 If you are adding this recipe to your weekly vegetarian meal prep, be sure to portion and cool the hash uncovered in the fridge for proper food safety. This recipe will keep for up to 6 days in the refrigerator and can be reheated in the microwave or in a skillet.
Here are some creative ways to utilize this recipe:
Turn this recipe into a breakfast taco by checking out these low-carb breakfast tacos prepared with crispy jicama shells!
Make a high-protein avocado toast by adding this cheesy vegetarian scramble to our mushroom avocado toast recipe.
Add 1 can of black-eyed peas to bump up the protein content!
---
Consuming a nutritionally balanced, plant-based diet requires a bit of effort. Be sure to prioritize an intentionally stocked pantry and fridge with variety and value.
Check out our Vegetarian Meal Prep Kit for more tricks to optimize your meal prep!