Since we know convenience is a huge factor in today's day and age, this smoothie can be made the night ahead for a quick grab-and-go in the morning. The vanilla chai flavor comes from the plant-based protein itself, but feel free to add vanilla almond milk or vanilla protein mixed with some chilled chai tea.
The combination of hearty spices, with the flavor of the plant-based protein powder and the rest of the ingredients makes this smoothie recipe an incredible symphony of flavors.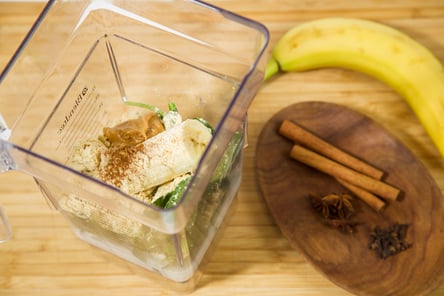 Spirulina is an ingredient I've used widely over this past year. This beautiful green powder comes from algae. It is high in micronutrients, but also in protein, and there is some science that suggests it may support endurance. I've added this ingredient to a very functional sauce I use within the UFC. Enjoy!
Use this dish and my other high protein vegan recipes, in your weekly vegan meal prep!
Learn how to crush your plant based lifestyle with this free meal prep toolkit for vegan diets. This RD written guide is complete with custom vegan macros, food lists and menu planning templates to keep your diet on track and help you achieve your health fitness goals!