The idea of Muesli was introduced to my world during Vegetarian cuisine in college, while some of my classmates were doing a presentation about fermented foods. Muesli is an uncooked cereal-like grain-based food, typically oats, combined with dry fruits, nuts, nuts, and seeds, and soaked with foods like yogurt, milk, milk alternative, or fruit juice to soften, and in a way, "cook" the grains before consuming them. You can eat Muesli both hot or cold but in this case, we made the recipe cold, and nevertheless, hearty.
Use this recipe and my other high protein vegan recipes, along with this free meal prep toolkit for vegan diets. This RD-written guide is complete with custom vegan macros, food lists, and menu planning templates to keep your diet on track and help you achieve your health fitness goals!
Though you can simply mix all the ingredients in one take and begin eating them, the beauty behind this quick dish is the fact that you can make it a fermented food by mixing all the ingredients overnight with an active probiotic food (like coconut yogurt).
By adding a scoop of protein, this delicious breakfast becomes high in protein, active in beautiful gut-friendly bacteria, and balanced breakfast to start your morning. Use your preferred plant-based yogurt and use this recipe as a guideline - you can combine any dry fruits, nuts, and seeds you may prefer. As you can tell, Muesli is incredibly versatile.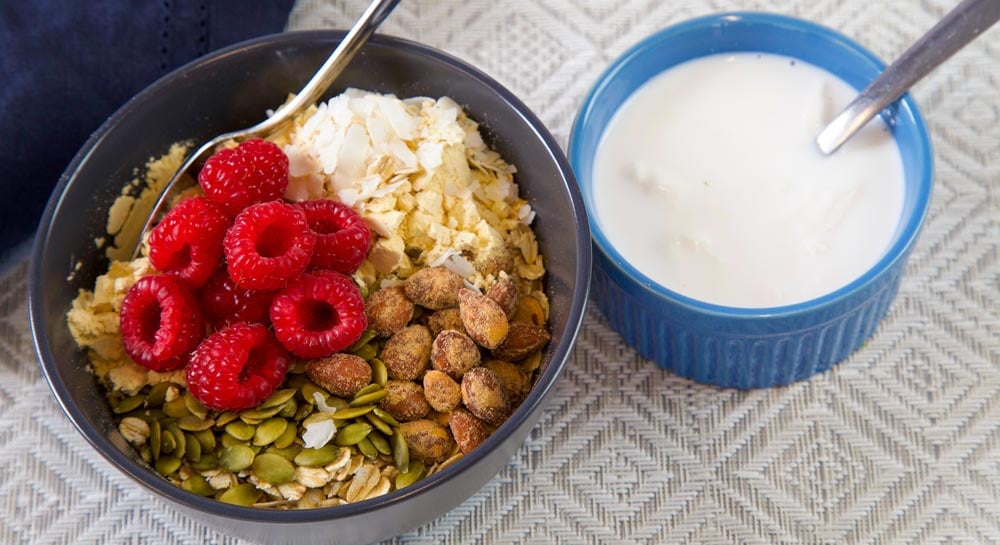 For basics, use a ratio of 4 to 1 to 1 when it comes to making any combination. 4 parts dry grains, 1 part nuts/seeds, and 1 part fruits (I would say do ½ dry and ½ fresh fruits for a beautiful Instagram-able dish).
To make this dish lower in carbohydrates, skip the granola and swap the soy milk for unsweetened almond or coconut milk.
Another beautiful factor to note is that the protein will provide a very creamy, rich texture to the end product. This mixed with nuts and seeds adds a beautiful crunch factor.
Similarly, be careful on the sweetness - if your protein powder of choice is sweet already, and you are using an already sweet plant-based yogurt, forego or halve the quantity of honey.