Breakfast burritos are one of the best meal options for when you are in a time crunch. The tortillas provide energy and vessel to house any kind of vegetables and protein, to make a highly delicious grab-and-go breakfast. Serve it with your favorite salsa and enjoy your homemade burrito!
About This Recipe
Treat this recipe as a blueprint guide on how to properly meal prep burritos; meaning, you can use this method of preparation to get your burritos built just right, and also stored properly. You can change the filling to whatever you desire, converting this from a breakfast burrito to a regular lunch or dinner burrito recipe.
The process is super simple; I went into as much details as possible to help you understand and conquer the process of making world-class burritos. You won't ever want to buy frozen burritos again after reading this article, as you will be able to make your own, freeze them, and of course conquer your macros (win-win-win)!
As well, to make your burritos healthier, make sure you buy either whole grain tortillas or sprouted tortillas. As an added bonus, check out how to best prepare and store eggs for meal prep to make this process tons faster and simpler.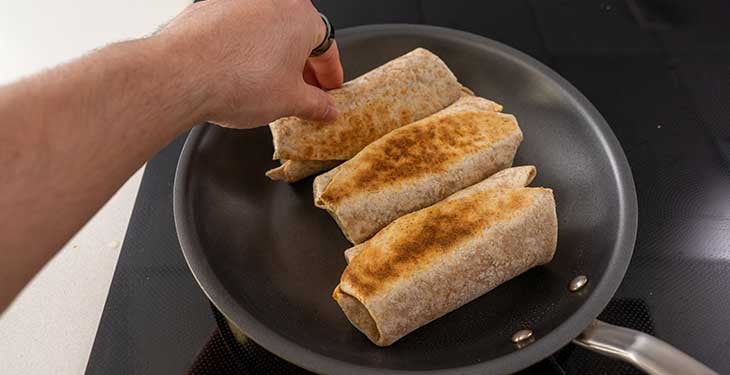 How to Make A Healthy Breakfast Burrito Recipe
Prep Time: 10 min
Cook Time: 15 min
Servings: 4
Ingredients
8 large sprouted grain wraps
22 ounce mixed eggs (or 12 eggs, beaten)
4 ounces Soyrizo
1 cup Trifecta vegetables
2 teaspoon of minced garlic
1/2 teaspoons paprika, ground
Salt and pepper to taste
1 cup of salsa, served on side
Kitchen Tools
Stainless steel bowls
Non-stick pan
Spatula
Food scale
Sheet trays
Spoons
Cutting board and serrated knife

Step 1: Gather all ingredients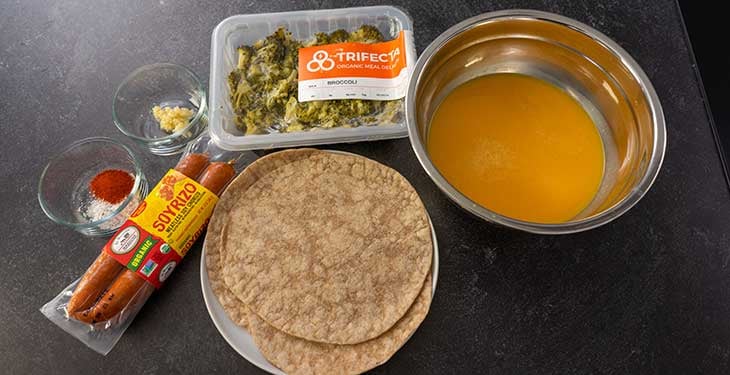 Mise en place (prepare all ingredients for the recipe) all your ingredients by pre-measuring them all into individual containers, as shown above. This will ensure a fast and efficient execution of this recipe.
Step 2: Saute Garlic, Vegetables and Add Soyrizo and Eggs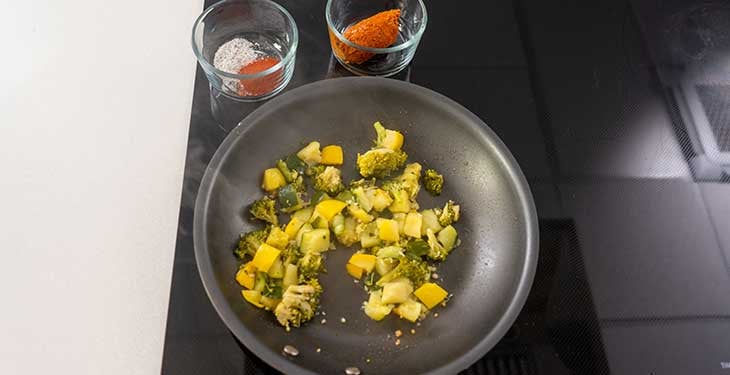 Saute minced garlic, along with vegetables of your choice or a mix of Trifecta vegetables by first preheating your pan and adding spray oil to it.
Saute the garlic for 1 minute until slightly caramelized and then add the vegetables.
Saute your vegetables until they are warmed through; for about 2-3 minutes. If you are adding your own vegetables, blanching them prior to adding them to the saute pan will make for a faster cooking process.

Add your Soyrizo and mix with your sauteed vegetables, cook for 1 minute.
Then add your liquid eggs and scramble them with a rubber spatula, scrambling your eggs often. Lightly season your eggs with a pinch of paprika and salt and pepper, but avoid over-seasoning, as the Soyrizo is already quite salty.
If necessary, do this in batches to avoid overcrowding your non-stick pan.
Transfer to a sheet tray, spread evenly and cool down in the fridge before adding the mix to your tortillas.
Step 3: Warm Tortillas, Weigh 5 ounces of Egg Mix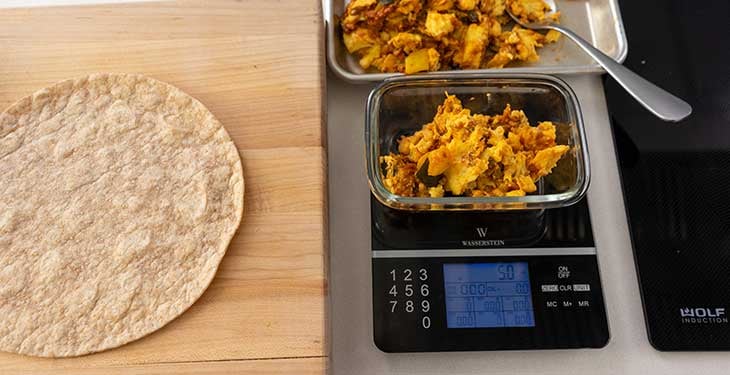 Once your egg mix is cooled down, warm your tortillas either over an open flame or on a warm non-stick pan. Keep them wrapped on a cloth linen to keep warm.
Having warmed tortillas will help you properly fold the burritos.

Add the 5 ounce mix to the middle of the tortilla and cocoon the filling in the middle on the lengthier side of the tortilla. Now the folding will begin.
Step 4: Fold Burritos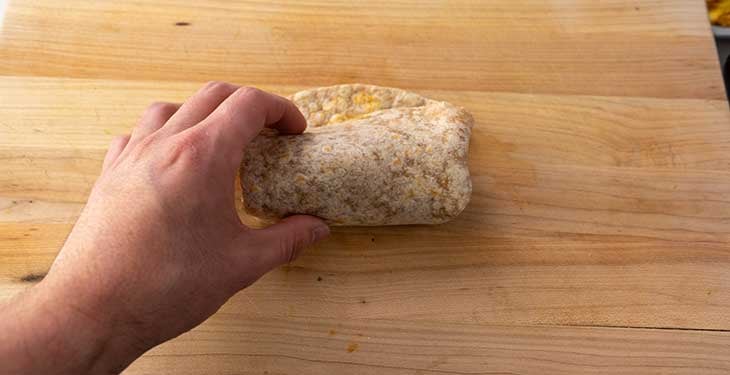 Fold the burrito in half and gently clamp all the ingredients together in the palm of your hand. It should almost look like a large ravioli — a mound of filling in the center with a wide border of tortilla around. Then you roll.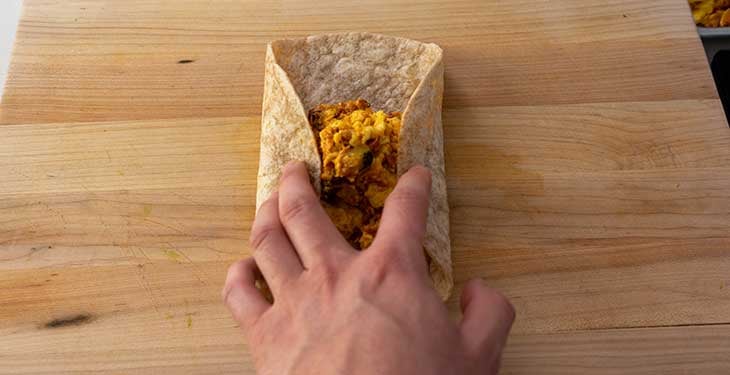 Then you roll. Fold the edges in; roll the mound forward. Start by folding by flipping the sides into the middle. Sort of imitate a sort of "V" shape; meaning, bring the bottom half of the tortilla closer in together compared to the top. This will help avoid having excess flaps sticking from the sides.

Place the burritos with the flap facing down and hold them like this to avoid burritos from opening back up. Fold the rest of your burritos until all of the filling is distributed evenly.
Step 5: Optional Step, Toast Burritos and Wrap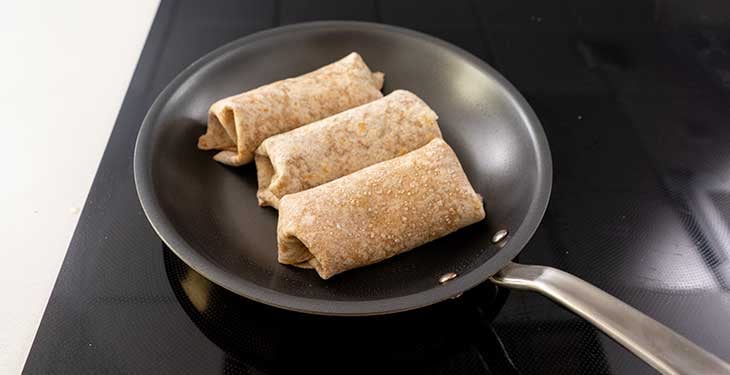 If you want to toast your burritos, start by heating a non-stick pan over medium-high heat. Lightly coat the pan with spray oil. Place the burritos in the pan with the seam facing down to help the burrito "seal." Rotate and toast the opposite side as well as the two other sides. Cool down and wrap in foil. Enjoy!
For Exact Macros: 1 Tortilla, 3 scrambled eggs, 1 oz Soyrizo, 1/8 cup vegetables, 1/2 tsp. garlic, pinch of salt and paprika

How to Freeze & Store Breakfast Burritos
The wonderful thing about burritos is that you can prepare them ahead of time and freeze them for optimal results and an easy grab-and-go meal if you are ever on a time crunch.
Though I wouldn't suggest you leave your breakfast burritos frozen for more than a week at a time (because of the texture and quality of the eggs and of the tortilla itself), you can instead freeze burritos that have other fillings that may be hardier (and thus, hold better long term).
To freeze your burritos, finish folding them all as explained below, toast them if you want to and make sure you cool them completely before wrapping them. To wrap them, you'll need foil sheets; you can either make the sheets yourself by cutting them from a foil roll, or you can buy foil square sheets that already come on individual precut squares.
Once your burritos are completely cool, wrap them tightly making sure you cover all sides of the burrito. Grab a large gallon Ziplock bag and nestle the burritos tightly and neatly next to each other. Transfer to the freezer, and lay them flat unbothered overnight.
To warm up, remove the burrito from the freezer, remove the foil (always) and warm on a low temperature on a countertop oven, or in the microwave on a lower power setting/defrost setting. I highly encourage you to use the oven, as this will result in a crunchier tortilla.
As an extra step, you can always thaw your burrito overnight in the fridge to have the inside cold but not frozen by the time the burrito is needed to be reheated. Rewrap the burrito on the foil sheet and enjoy!
---
Too Busy? We Got You!
Want to get more out of your weekly meal prep efforts? Stick to your calorie goals and budget with our A la Carte Ingredients. Pre-cooked and ready to heat, these ingredients are organic, sustainably sourced, and minimally seasoned to maximize your meal prep.