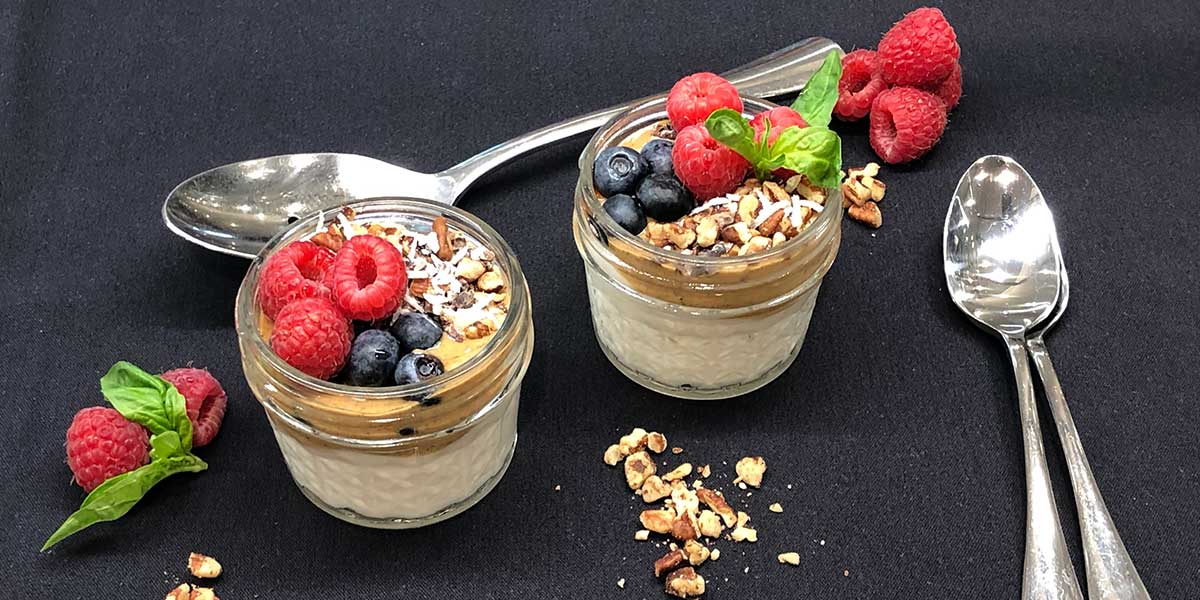 Parfaits are simple, quick, and one of the most well rounded meals or snacks out there. I am a big fan if you can't tell by my first sentence. This uber creamy, rich and satisfying keto parfait is sure to brighten any morning. Plus it tastes like dessert without blowing up your keto carb goals.
How to Make Insanely Good Keto Yogurt Parfaits
When I was in college, I lived in a dorm with my best friend, Mario. And I'm not talking about myself in the third person - my best friend's name is actually Mario (funny, I know). He was big into making Greek yogurt mixes, and by natural 'osmosis' I began doing the same. I haven't looked back since.
More often than not, when I am looking at buying pre-made parfaits at supermarkets or cafes, most of them (to my disappointment) are not macronutrient balanced, and tend to be loaded with added sugars - a big no-no on keto!
Making a parfait fit your keto diet is incredibly easy. And it all starts with choosing the right yogurt base.
The reason why I use Greek yogurt is because of it's higher protein content, and lower carb count. When you are shopping for Greek yogurt, look for the lowest carb count and you may even get better macros than what we display here! As well, by mixing Greek yogurt with heavy cream, we achieve a creamier consistency, and of course a higher fat count.
At Trifecta, one of our nutrition guiding principles for any ketogenic recipe is to have a net carb count of 10g or less, and without exception, we deliver exactly that here.
Plus the combination of full fat Greek yogurt, a heavy serving of almond butter (which adds tons of flavor by the way), and pecans for the crunch factor add the perfect combination of fats to help you stay in ketosis. The berries and the vanilla extract are there for the necessary sweetness,
This recipe has 33g of fat, 9g net carbs (12g carbs - 3g dietary fiber), and a whooping 14g of protein! Macro heaven.
Feel free to swap in any of your favorite keto toppings to keep things interesting, add variety, and to avoid meal prep burnout.
Here's how to throw it all together:
Ingredients:
1.5 cups Greek yogurt, whole milk
0.5 cup heavy whipping cream
6 tablespoons almond butter
2 teaspoon vanilla extract
1/2 cup berries (strawberries, raspberries, or blueberries)
4 tablespoons pecans, sliced
2 teaspoon coconut flakes
Fresh mint leaves, picked, for garnish
Cacao powder, for garnish
Kitchen Needs:
Mason jars, or Tupperware containers
Measuring cups
Tablespoons
Spatula
Step One: Portion the Greek Yogurt, Heavy Cream and Nut Butter
Grab four separate containers of your choice and line them up in a prep area. In a bowl mix the Greek yogurt and heavy cream until fully incorporated. Portion 1/2 cup of Greek yogurt mix in each container and press down with a spatula, flattening the surface of the yogurt. Next, add 1.5 tablespoons of almond butter (or nut butter of choice), in the middle as a dollop, or vertically across the container. You are about to make an Instagram worthy keto breakfast parfait.
Step Two: Portion Remaining Ingredients
Next, add 1/2 teaspoon of vanilla extract to each container, 1/8 cup of your preferred choice of berry mix (I love raspberries and blueberries) around the container.
Top with 1/4 teaspoon of coconut flakes, 1 tablespoon of sliced pecans, and finish with 1/4 teaspoon of coconut flakes. Garnish by gently sprinkling cacao powder on top of the parfait and by adding fresh picked mint leaves.
If you'd like your parfait a bit sweeter, feel free to add a small quantity of a non-caloric sweetener, like liquid stevia or erythritol.
Storing and Serving
Cover all containers with their appropriate lids. Store in the fridge at all times, and make sure the containers don't spend more than 4 hours in the temperature danger zone (TDZ - 40F to 140F) if carrying around.
When you are ready to eat the parfait, stir all ingredients together to have a perfectly flavor-balanced bite every single time. This is, always, my favorite part.
Want more delicious keto friendly meals like this? Learn how to hit your keto carb goals with ease with this free meal prep toolkit for keto. A step by step guide on how to plan amazing keto dishes for weight loss.