Shakshuka is an Israeli dish that can be enjoyed for breakfast, lunch or dinner. Shakshuka means 'all mixed together', and it pays tribute to the North African immigrants who in introduced this dish to Israel. Historians argue the origins of this dish can be traced back to either Yemen or the Lybian-Tusian region; no matter the origin you will love this savory recipe.
Shakshuka is composed of a tomato, herb, and pepper stew-like base, topped with one or many eggs that is cooked in the same stew's pan. It is usually served with a side of pita or bread.
This style of cooking is found in many other cultures. For example, in the Mexican culture huevos rancheros are also a tomato based dish served with fried eggs, beans, tortillas and guacamole. In Spain you have pisto manchego and in Italy you have ova 'mpriatorio, all tomato-based stew-like dishes that are served with eggs cooked in one way or another.
Below you will find a simple guide to make this history rich, Instagram worthy paleo breakfast dish. It is filled with flavor, and it can be served with a side of this delicious paleo bread. The beautiful thing about this recipe is that you can cook it all at once in one pan, cool it down and portion it into containers, making your breakfast paleo meal prep tons simpler! Enjoy!
Per serving, you get:
400 calories; 19g Pro; 40g Carbs; 18g Fat
How to Make Shakshuka
Prep Time: 15 minutes
Cook Time: 18 minutes
Servings: 4 servings
Ingredients
1 tablespoon olive oil
1 onion, yellow, sliced thinly lengthwise (julienne)
1 red bell pepper, cored and seeded, sliced lengthwise
3 garlic heads, minced
1-28 oz can crushed tomatoes
1 tablespoon maple syrup
2 teaspoon sweet paprika, ground
1 teaspoon cumin, ground
⅛ teaspoon cayenne pepper
¼ teaspoon Tabasco
4 eggs, whole
Salt and pepper to taste
Kitchen Tools
Step 1 : Prepare Your Ingredients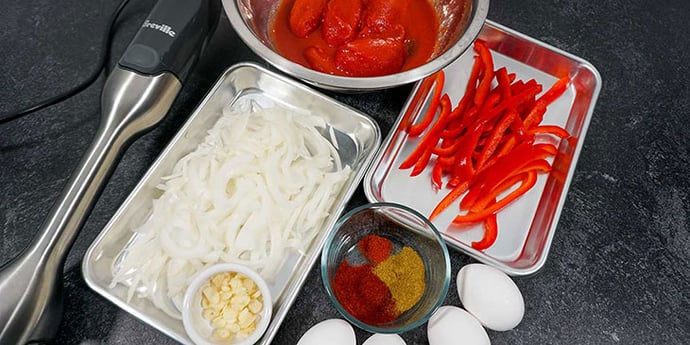 Preheat oven to 375 F. Slice onions lengthwise and transfer to a small bowl. Slice the bell peppers in a similar fashion, taking the core out and discarding all seeds. Mince garlic if needed or portion if you have store-bought minced garlic.
Prepare all spices in a small separate bowl and keep aside until needed. Use an immersion blender to break down any larger chunks of the can crushed tomatoes.
Step 2: Saute the Onion and Pepper Base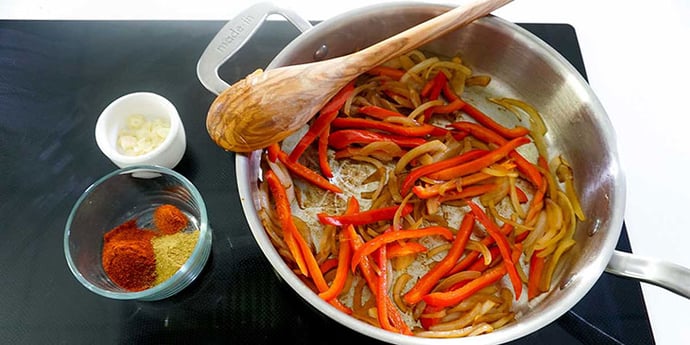 Heat up 1 tablespoon of olive oil in a deep pan (like Made In's saute pan) or a Dutch oven, over medium heat. Saute the onions for 3-5 minutes adjusting the heat to medium or medium-high, until these are fully translucent.
Add bell peppers and saute for another 2-3 minutes. Add the garlic, saute for 1 minute. Season with salt, black pepper, paprika, cayenne pepper, and cumin. Mix to incorporate.
Step 3: Add Can Crushed Tomato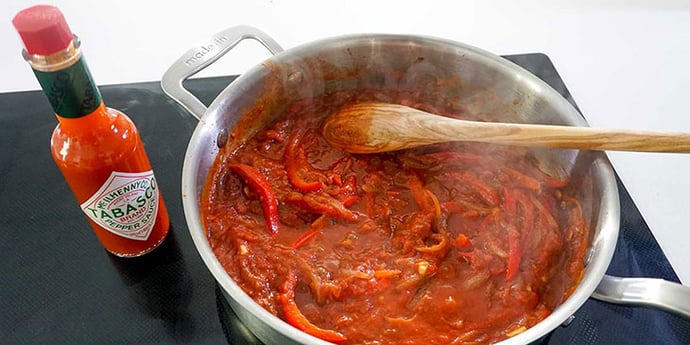 Immediately add the can crushed tomatoes to the pan. Mix to incorporate, scraping brown bits. Add 1 dash of tabasco, plus 1 tablespoon of maple syrup and simmer for 10 minutes until tomato mix thickens up.
Step 4: Crack and Cook Eggs in Oven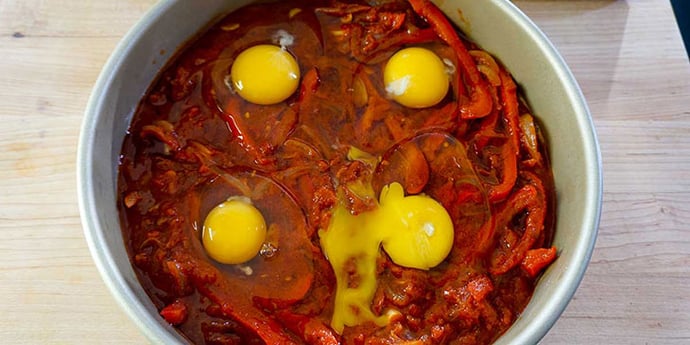 Crack 4 eggs inside the dutch oven and lightly season with salt and pepper. Transfer the dutch oven to the oven and bake for 8 minutes to set the eggs.
Conversely, if you do not have a dutch oven, you can do the above steps in a deep round pan.
After the tomato base has thickened up, transfer the mix into a round baking pan, like the one pictured. Make 4 small indents with the back of a spoon in four corners and crack the eggs on top of the tomato-base. Season each egg lightly with salt and pepper and bake in the preheated oven for 7 minutes.
Step 5: Remove from Oven and Portion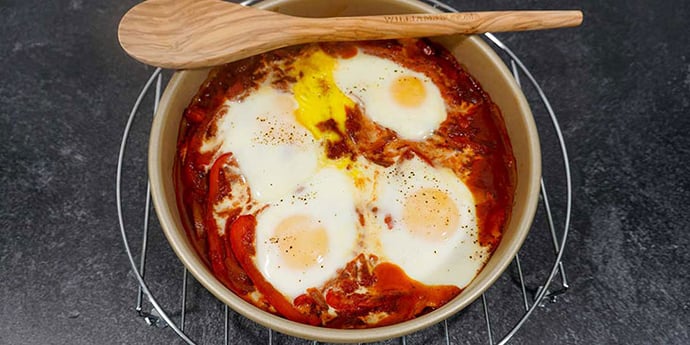 After the time is up, remove the pan from the oven, let cool completely and transfer 1 egg per container along with a healthy dose of the Shakshuka tomato-base. Serve with a side of vegetables, or any favorite paleo baked good.
Culinary Tip: It's okay if one of your egg yolks break. To avoid this from happening, be gentle when cracking the eggs.
Portioning Your Paleo Shakshuka
Once the pan has cooled off, gently scrape each egg by nestling it into a large spoon. Carefully transfer to a plate or a meal prep container, adding extra sauce to evenly portion this dish into 4 portions.
Storing & Reheating Your Paleo Shakshuka
Store in airtight containers for up to 5 days. Reheat by covering the container with a damp paper towel and using a lower power level of the microwave. My advice is to reheat it at power level 5 for 2 to 2:30 minutes. You'll want to avoid blasting the dish at the highest power in the microwave as this will create a rubbery egg,
Conversely, you can reheat this in a pan, by gently warming the entire dish, adding a splash of water to avoid excessive thickening of the sauce, and by covering the pan with a lid for 1 to 2 minutes. This will be a much gentle way of getting the egg warmed through without overcooking it.
---
Get started on paleo now. Download your free meal prep toolkit, complete with a meal planning tools, paleo food lists, and tips for eating paleo.