Yogurt parfaits typically made with regular or Greek yogurt don't fit the paleo lifestyle. However, because we live in an exciting time in the era of food production, there are now many products in the market that are paleo-friendly including non-dairy yogurts. Use a coconut yogurt as your base, along with this exciting paleo granola, and a mix of your favorite fruit to create a delicious snack or breakfast option.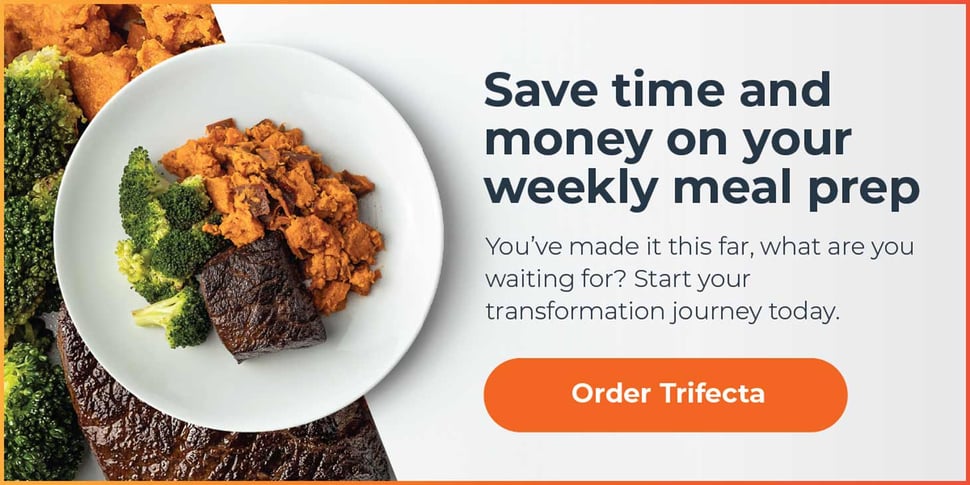 We know you'll love this macro-balanced recipe, prepared with specific ingredients to bring you a deliciously deadly paleo-approved yogurt parfait. With a healthy dose of fat from the yogurt and granola, mixed with some carbohydrates from the fresh fruit, and some protein from the nuts, I couldn't be more excited to share this recipe with you. This recipe is also dairy-free, and vegan.
Since there are many non-dairy yogurt options out there currently, feel free to pick the one you enjoy the most. However, for taste and texture purposes I chose to use So Delicious plain coconut yogurt. This option has the lowest amount of added sugar while still maintaining a decent flavor.
The granola we use in this recipe is a separate recipe of its own I developed for you. If you happen to find a store-bought paleo granola, feel free to use that instead, but note the macronutrients will vary from this recipe.
There are now many plant-based yogurts in the market. Pick your favorite and create your own paleo parfait recipe!
If you'd like to make 8 or 12 servings, simply multiply the quantities by 2x or 3x respectively.
This recipe is incredibly simple to make, as it only calls for 4 ingredients, so let's get to it.

How to Make a Paleo

Coconut Yogurt Parfait Recipe
Prep Time: 10 minutes
Cook Time: 0 minutes
Servings: 4 servings
Ingredients
2 cups plain coconut yogurt (Plain So Delicious was used in this recipe)
1 cup mixed berries of choice
Cinnamon powder and fresh mint leaves for garnish
Kitchen Tools
Measuring cups
Meal prep containers
Step 1: Gather Ingredients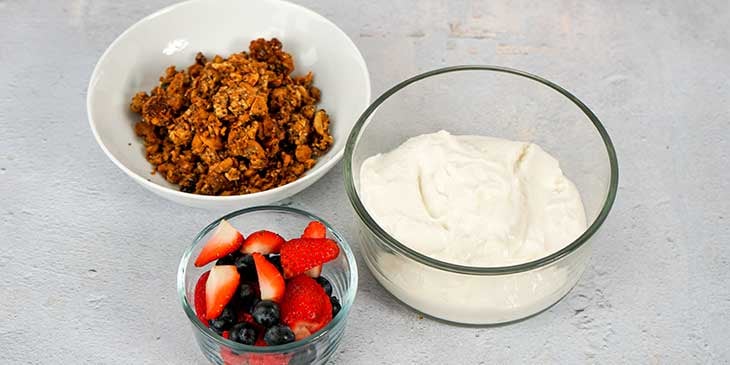 If you haven't already, prepare Trifecta's paleo gluten-free granola recipe, or gather your paleo granola of choice.
Step 2: Portion Ingredients into Containers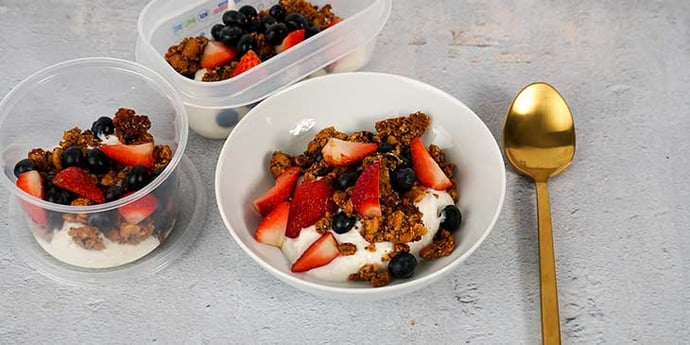 Grab four separate small containers. Per container portion ¼ cup of coconut yogurt, ¼ cup of paleo gluten-free granola, ¼ cup of mixed berries and sprinkle cinnamon powder on top of each container.
Store in the fridge and enjoy!
Storing Your GF Paleo Granola
Because our paleo granola recipe is hearty, the granola won't become soggy with time and it holds incredibly well stored for up to a week in the fridge, portioned in individual containers as explained above.
Meal Prep Tips
Make this snack part of your rotation of paleo snacks and enjoy a wide variety of paleo snacks throughout your week. This recipe can also work as a quick paleo breakfast solution.
If you are unsure as to what to eat on the paleo diet, here are some useful resources to get you started!
---
Get started on paleo now. Download your free meal prep toolkit, complete with meal planning tools, paleo food lists, and tips for eating paleo.