A classic granola recipe is unsuitable for a paleo lifestyle due to the use of oats, meaning a grain. To support your paleo needs, below you'll find an easy guide to a tasty, paleo-approved, gluten-free granola recipe utilizing nuts and seeds as its base to imitate the texture of typical granola, without compromising flavor.

This recipe doesn't take long to make and can be used as a blueprint for any variation of it, adding or taking away whatever nuts and seeds you, please.
Whatever variation you choose make sure you keep the binding factors the same; the combination of coconut oil, almond flour, and maple syrup helps give the granola its unique chunky texture.
This is a baked granola recipe, as baking helps create a chunky texture. Once your paleo granola is done baking, break the chunks apart to recreate the same texture as that of regular oat-based granola. Of course, in this case, this paleo-approved granola recipe will be chunkier and will have a better bite than that of its oat-based counterpart.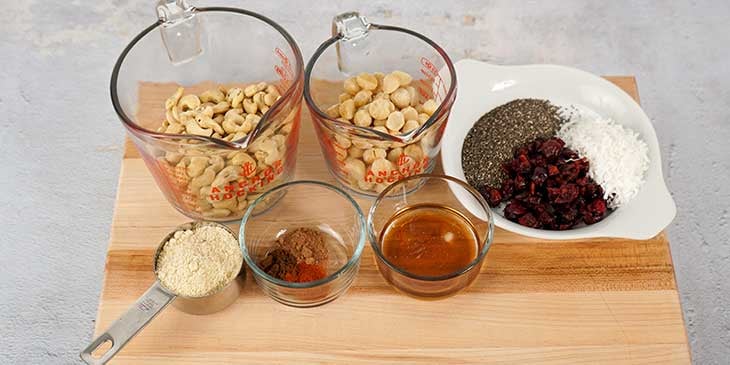 The color of the granola is also darker due to the dark spices used. The spices also provide a very warm and cozy flavor to the end product. If you'd like to change the spices for your own, please feel free to do so. At the end of the day, the blueprint of this recipe helps you make the granola, but the flavor profile can come from you directly.
Let's get to it.
Feel free to add extra ingredients or spices to make this recipe your own!
How to Make a Paleo Gluten-Free Granola Recipe
Prep Time: 10 minutes
Cook Time: 20 minutes
Servings: 27 servings
Ingredients
2 cups cashews, processed
1 cup macadamia nuts, processed
½ cup almonds, processed
¼ cup pepitas
¼ cup chia seeds
½ cup cran-cherry, dried
⅓ cup coconut flakes
½ cup almond flour
5 tablespoon coconut oil
4 tablespoon maple syrup
1 teaspoon vanilla extract
1 teaspoon cinnamon
½ teaspoon allspice
¼ teaspoon cayenne pepper
Kitchen Tools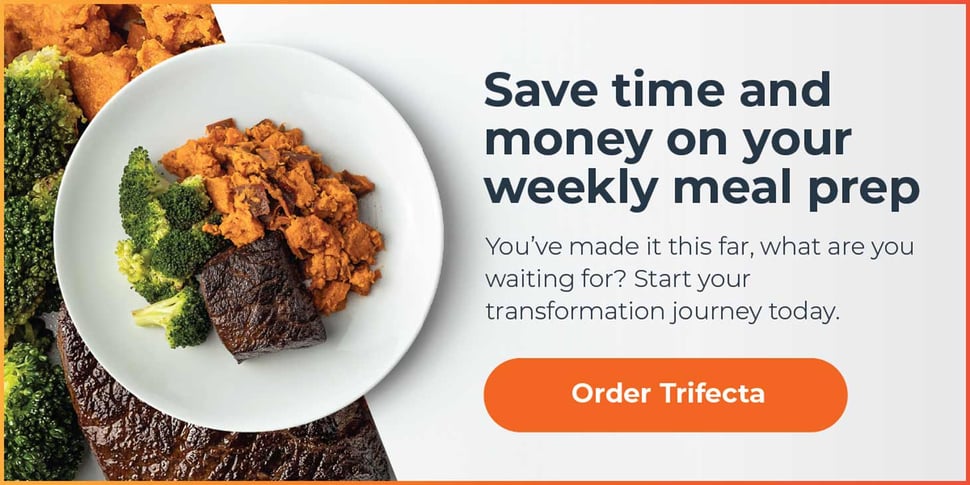 Step 1: Measure and make the Base of the Granola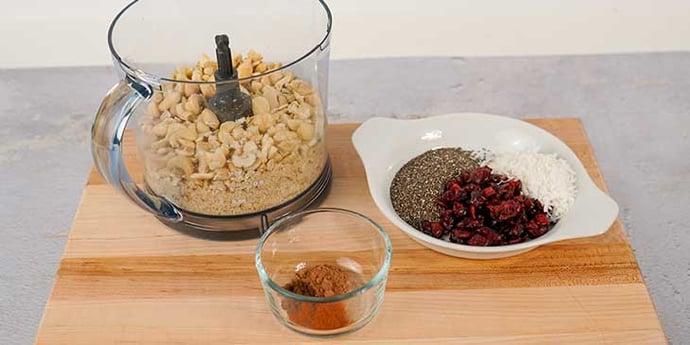 Preheat oven to 300F.
Measure cashews, macadamia nuts, and almonds into a food processor. We used Breville's All In One immersion blender, which comes with a food processor among its many versatile attachments!
Pulse until the nuts are roughly chopped, 3-5 times.
Transfer to a bowl. In the same bowl, add pepitas chia seeds, cran-cherry, coconut flakes, cinnamon, allspice, and cayenne pepper.
Step 2: Mix Liquid Ingredients and Almond Flour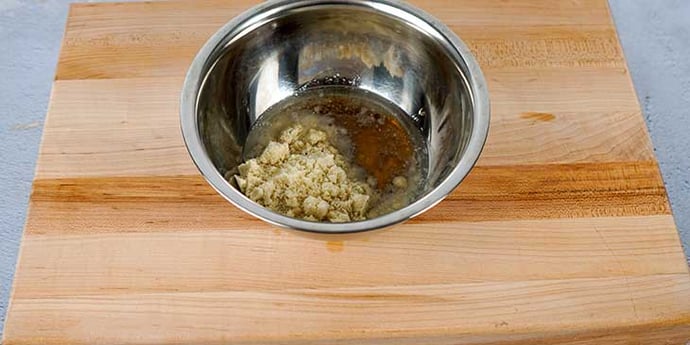 In a separate bowl, combine melted or liquid coconut oil, maple syrup, vanilla extract, and almond flour. Mix to combine.
Step 3: Combine All Ingredients Together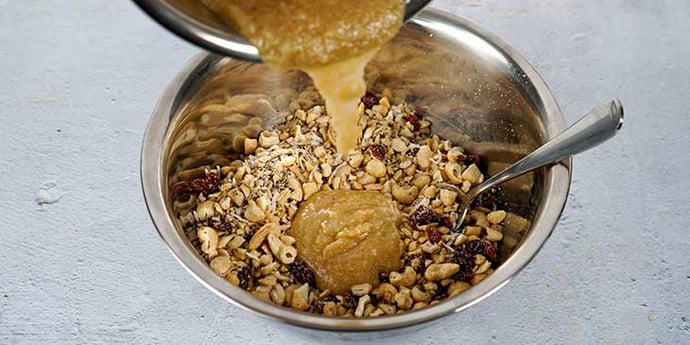 Combine nut/seed mix with coconut oil/almond flour mix. Mix to fully coat all ingredients together.
Step 4: Bake, Cool, Crack, and Portion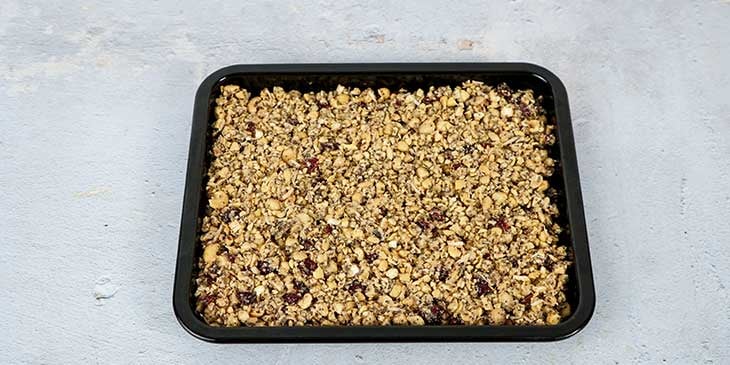 Transfer paleo granola to a parchment-lined baking sheet and spread evenly. Bake for 20 minutes in a preheated oven. If you have a countertop oven, baking this granola will be tons easier. We used Breville's The Smart Oven to make this recipe.
Remove from the oven after time is up, let cool completely and then break into small pieces. Transfer to an airtight container and enjoy as needed!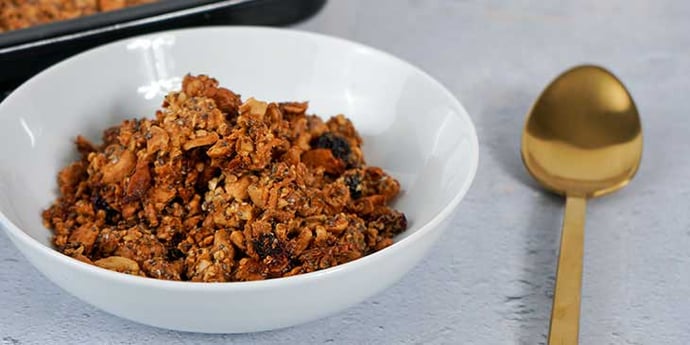 Storing Your GF Paleo Granola
You can store the granola all together in an air-tight container, in your pantry or a cool place in your kitchen, out of the sun's direct light. The granola holds incredibly well unrefrigerated, just like a regular granola would.
If desired, you can also portion the granola into individual ramekins or small containers for faster use as the week goes by.
Meal Prep Tips
Make this snack part of your rotation of paleo snacks and enjoy a wide variety of paleo snacks throughout your week. Also, if you are unsure as to what to eat on the paleo diet, here are some useful resources to get you started!
---
Get started on paleo now. Download your free meal prep toolkit, complete with meal planning tools, paleo food lists, and tips for eating paleo.