Dig into this tasty gluten-free high protein waffle recipe and find all the tips and tricks to meal prep a macro-fueled breakfast feast for any day of the week. Best part is, they can be made in less than 15 minutes from start to finish and each waffle has 18 grams of protein!
Waffles or Pancakes?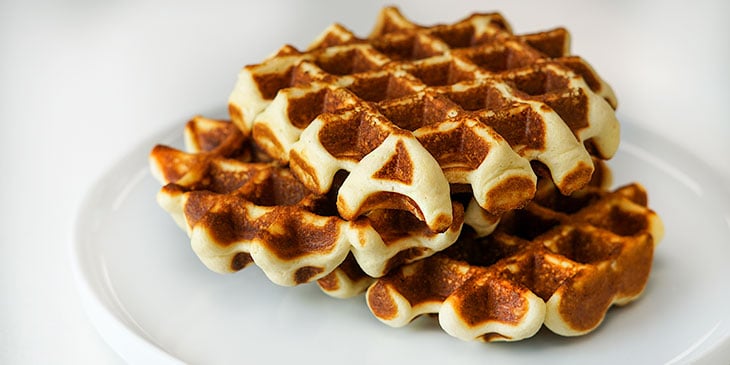 Needless to say, there are pancake people and then there are waffle people. It's hard to deny that both have their own appeal, pancakes can be fluffy, airy and uniquely stackable while waffles tend to have a crisper edge, thicker appearance and stuff-able quality.
Whatever side of the line you tend to fall on, the ingredients in a waffle and pancake are very similar, but waffles tend to store better when following a meal prep plan.
This simple high protein waffle recipe is prepared with 7 ingredients and is a great recipe because it can be prepared in less than 15 minutes from start to finish.
This recipe will help you crush your macros as each waffle packs 18 grams of protein and texturally mimics a classic Belgian waffle.
Make this a vegan friendly waffle by substituting the 3 eggs with ½ cup plant-based yogurt and utilizing a high-quality plant-based protein powder like momentous.
How to Prepare Your Gluten-Free Protein Waffle Recipe

Prep time: 5 minutes
Cook time: 10 minutes
Servings: 6 waffles

Ingredients
2 large eggs

½ cup almond butter powder

1/2 cup chickpea flour

½ cup whey protein powder of choice, we used Momentous

1 teaspoon vanilla extract

2 teaspoon baking powder

¼ cup milk or almond milk

1 tablespoon honey, maple syrup, or sweetener alternative of choice
Kitchen Tools
Mixing bowls

Rubber spatula

Blender

Waffle Maker

1/4 measuring cup
Step 1: Preheat Your Waffle Maker and Prepare Your Batter
Preheat your waffle maker and then measure out all of the ingredients into two bowls: eggs, milk, vanilla, in one and then all of the dry ingredients in another.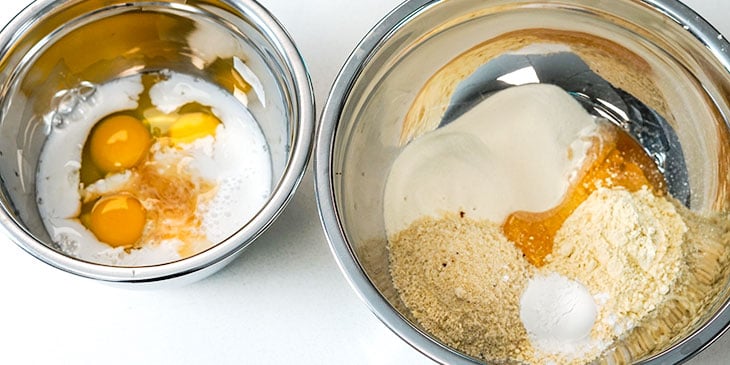 Step 2: Blend Your Protein Waffle Batter
Place all of the wet ingredients into a blender and blend on high for 30 seconds, then add the dry ingredients and blend for 1-2 minutes until thoroughly mixed. We used our Breville Super Q Blender to help give the waffle batter a bit more fluff.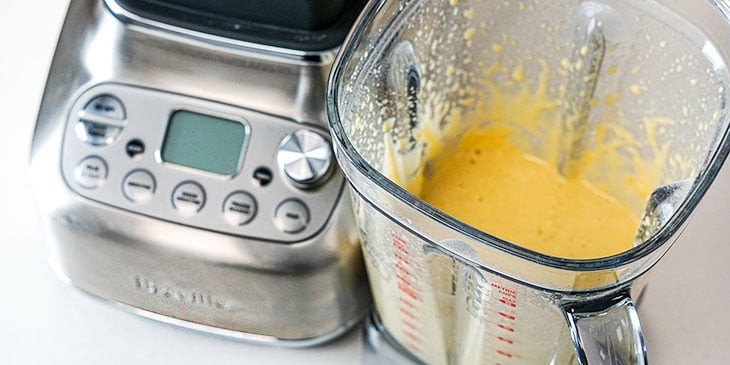 This recipe includes almond butter powder in the batter as it adds extra protein and flavor without adding any fat! If you can't find almond butter powder, substitute 1/2 cup of almond flour instead.
You can also add some simple spices but feel free to get creative with the batter and your waffle toppings like preparing a maple cinnamon waffle.
Some of our favorite ideas for various spices to include in the batter:
Pumpkin Spice (pumpkin spice french toast, yes please)
Cinnamon (pair with sautéed apples for a cinnamon & apple french toast)
Nutmeg
Allspice
Cardamom (try out a chai spiced french toast)
Ginger
Step 3: Cook Your Waffles
Once your waffle maker has heated up, measure 1/4 cup of batter for each waffle and cook for 1 1/2 - 2 minutes until golden brown, these waffles cook fast!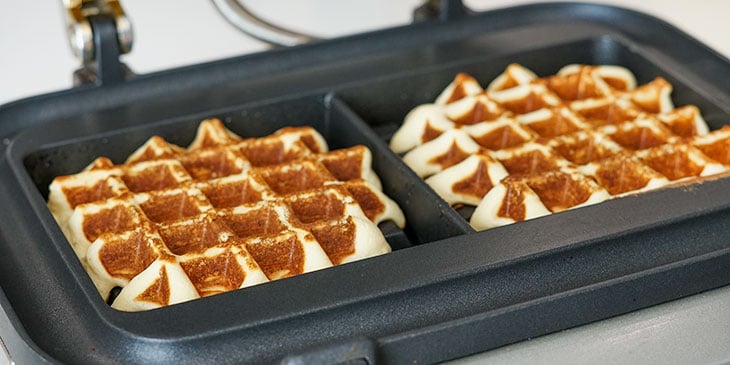 Step 4: Dig-in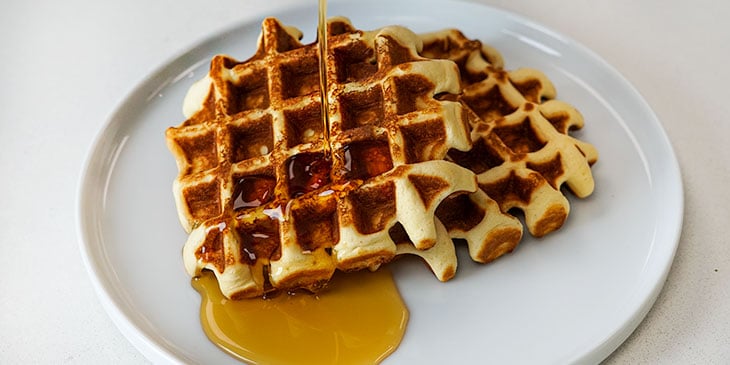 Once you have finished cooking your waffles dig in! Top them with crunchy granola or a little bit of sugar-free syrup and go to town. Serve these with fresh fruit, scrambled eggs or any of your favorite breakfast meal prep recipes.
Serving, Storing, and Reheating
Make these gluten-free protein waffles as a part of your weekly meal prep and pair with:
This breakfast recipe is great for meal prep as you can store the cooked waffles for up to 5 days in the fridge and reheat them using a microwave or oven!
---
Want to get more out of your weekly meal prep efforts?
Stick to your calorie goals and maximize results with this free meal prep toolkit for weight loss. An RD-written guide complete with macro meal planner, food lists, and expert advice to help you lose weight quickly.