Trust me when I say you'll fall in love with this vegan kelp noodle pad Thai recipe. This healthy, plant-based pad Thai is a low-carb alternative to the classic Asian street food we all crave. Stir-fries are quick to prepare and can easily include a variety of vegetables. Prepare this recipe with the spicy almond dressing shown below or this Thai Peanut-Sesame Sauce Recipe.
About this Recipe
During my time managing a culinary school, I instructed a pad-thai cooking class and was astonished at how simple it was to whip one together. Traditional pad Thai recipes use carb-heavy rice noodles stir-fried with tofu, eggs, bean sprouts, and a sweet and sour sauce.
My least favorite part of teaching the class was the inevitability of conceiving a food baby by the end after consuming 2 bowls of sauce and oil-drenched noodles - thus the inspiration for a low-calorie pad Thai recipe and sauce geared towards vegetarian and plant-based diets for optimal health benefits and flavor.
I love using kelp noodles in stir-fries and cold noodle bowls. They can be found in the Asian aisle in most grocery stores. They are made from kelp (edible seaweed) and are a gluten-free, low-carbohydrate noodle option with a high amount of minerals such as iron. Did I mention they have an amazing crunchy texture?
The added bonus of meal prepping and shopping for a stir-fry is you'll have plenty of fresh vegetables to cross-utilize in other meals for the week.
How to Make Your Vegan Kelp Noodle Pad Thai
Prep time: 15 minutes
Cook time: 10 minutes
Servings: 4
Ingredients
1 package (14 ounces) of kelp Noodles, prepared according to package directions
1 tablespoon avocado oil
1 cup red bell pepper, chopped
1 cup broccoli florets, raw
⅓ cup water
1 cup red cabbage, shredded
1.5 cup mushrooms, sliced
1 packaged (14 ounces) firm tofu, cut into 1" cubes or 1 Air-Fried Tofu
For garnish: green onion, toasted cashew, lime wedges
Spicy Thai Almond Sauce:
Yields: 1 cup, 8 servings
1/4 cup almond butter
3 tablespoons coconut aminos
4 tablespoons lime juice
1 tablespoon toasted sesame oil
1/3 cup water
1/2 teaspoon cayenne pepper
1/2 teaspoon ginger, powder
1 teaspoon turmeric powder
2 teaspoons nutritional yeast
Pinch black pepper
Tools
Knife and cutting board
Large saute pan or wok
Tongs
Bowl and whisk if preparing the sauce

Technique
Step One: Prepare Your Sauce and Tofu
I highly recommend preparing your own stir-fry dressing. Store-bought pad Thai sauce ingredients often include a lot of sugar and non-vegan fish sauce. Feel free to prepare the spicy almond thai sauce below or choose from Thai Peanut Sauce or Toasted Sesame Ginger sauce!
To prepare the spicy almond Thai sauce, simply whisk all of the ingredients together in a bowl.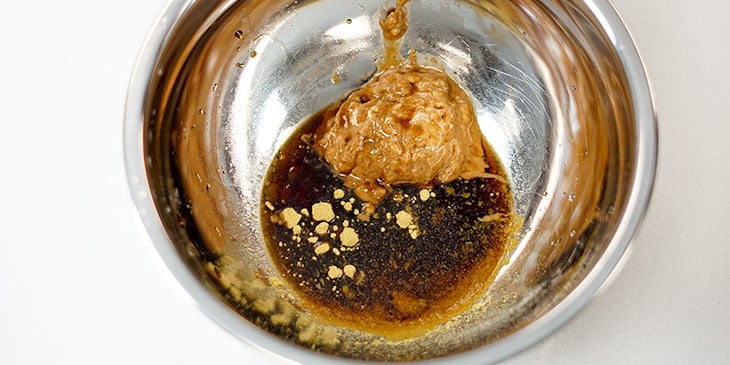 If you opted to prepare Chef Mario's Air-Fried Marinated Tofu, heat up your air-fryer and prepare that first. Personally, we chose to air-fry our tofu in our Breville Smart Oven Air-Fryer!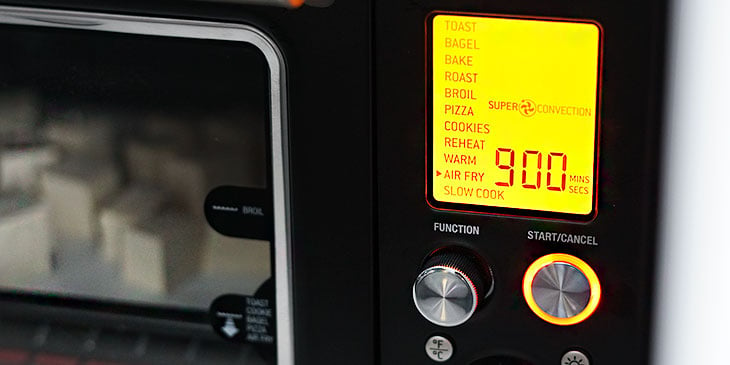 Skip the air-frying and purchase pre-baked or fried tofu to save time.
Step Two: Prepare your Kelp Noodles and Vegetables
To prepare your kelp noodles, simply drain them from any liquid from the package and gently loosen then set aside. Kelp noodles come ready to eat, making them convenient meal prep for a quick stir-fry or raw noodle bowl.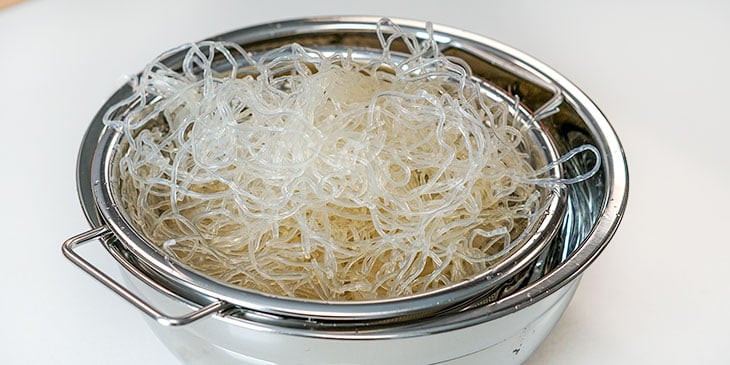 This recipe includes crunchy cruciferous vegetables such as broccoli and cabbage. Feel free to add other vegetables such as bok choy, sweet potatoes, carrots and zucchini!
To prepare your vegetables slice the peppers, mushrooms, and red cabbage into thin slices. Cut the broccoli into small bite-sized pieces.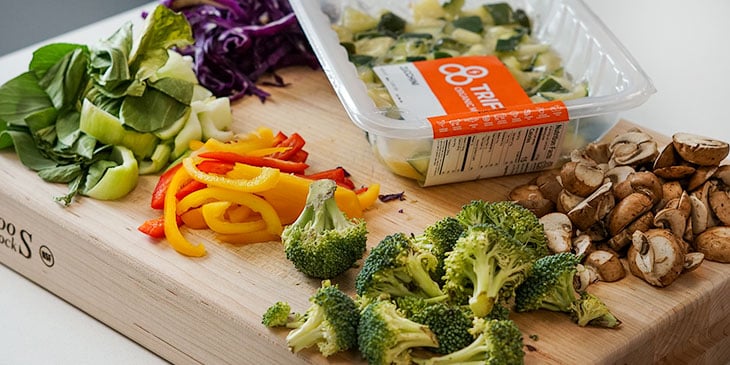 I would limit your stir-fry add-ins to 5 or fewer, otherwise, you'll have to cook in batches or end up with a mushy mess.
Most cruciferous vegetables are packed with folate and vitamin K and tend to be rich in fiber but low in calories (1).
To shorten the cooking time even further, utilize our meal prep-friendly Trifecta A La Carte Vegetables such as our mushrooms, broccoli, zucchini, or asparagus. All come pre-cooked and ready to heat in under 2 minutes.


Step 3: Heat Your Cookware
Large skillet, Wok, or Cast-Iron Skillet? Choose your cookware and heat it over high heat and never turn it down.
We went with our Made-in blue carbon steel frying pan; it's the perfect hybrid of cast-iron and stainless steel and when seasoned properly creates a natural, and non-toxic, non-stick surface!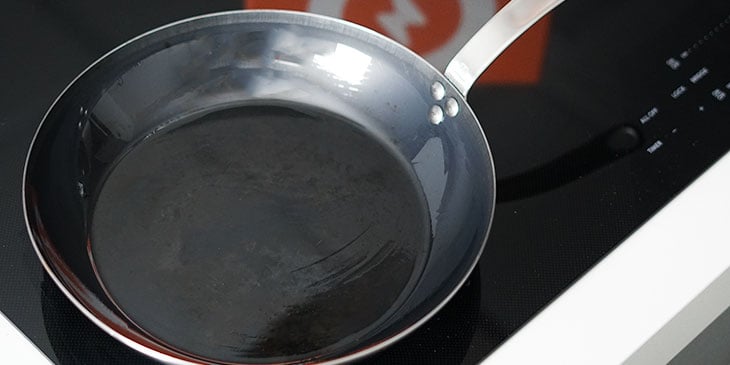 The goal of cooking on high heat or stir-frying is to achieve Wok Hei, or 'breath of the wok'. Although this term is Cantonese, it applies to all stir-fry techniques. Wok Hei refers to the smoky and caramelized flavor obtained from cooking over high heat in the wok that can be tricky to achieve at home.
Follow these tips to execute Wok Hei at home:
If you don't have a wok at home, go check out a local Asian market and purchase a small one! Alternatively, use a large saute pan or cast iron skillet.
No matter what you choose, don't overcrowd the pan with ingredients or else you'll end up cooling the pan down and causing it to steam/stew, not stir-fry. A good rule of thumb is to only take up about 1/3 or a little under a half of the pan with ingredients.
Oil choice matters! Use avocado or vegetable oil, both have high smoking points and can be heated up to 520 degrees.
If you're preparing a large amount of stir-fry, cook it in batches, this ensures you'll get appropriate browning.
Heat your cooking pan of choice over high heat and add your oil.
Step Three: Wok-it out.
Heat your pan for 1-2 minutes before adding in the oil, then add your broccoli, red bell pepper, mushrooms, and any of the other vegetables you'd like.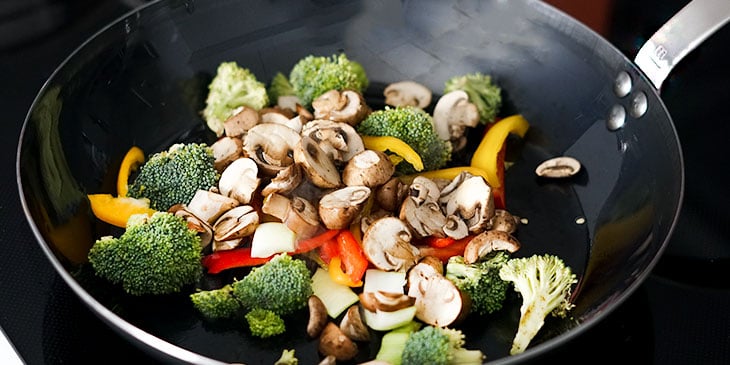 If you are preparing the recipe with raw tofu, add that now as well. If not, add your fried tofu to the noodles in Step 4.
Cook for 5 minutes on high heat, stirring to brown the tofu and vegetables. Gently pour in 1/3 cup of water. Cook for 1-2 minutes until the water is mostly gone; the water cooks the vegetables further, helps skip having to 'blanch' the vegetables, aka pre-cook in boiling water, and prevents them from burning.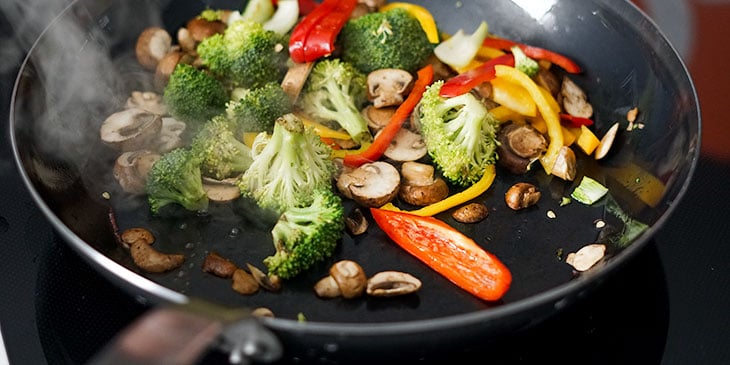 Avoid burning yourself with steam by pouring your water close to the pan and on the edge to prevent splashing or large steam clouds.
Step 4: Add Your Noodles and Sauce
At this point, your veggies should be charred, crispy, and tender. Add in the cabbage and kelp noodles and stir-fry for 2 minutes.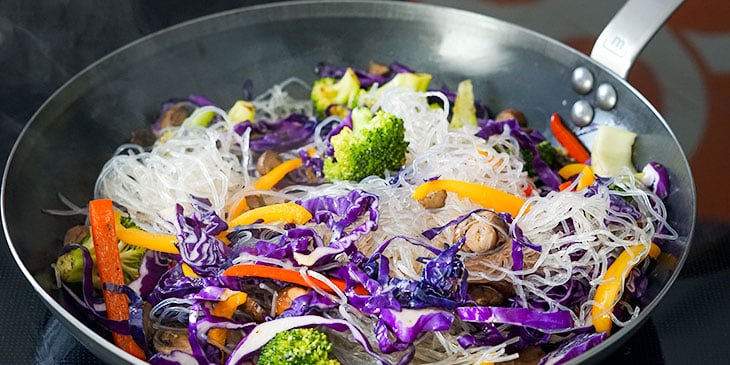 Then add your sauce and cook another 2-3 minutes until the ingredients are well coated.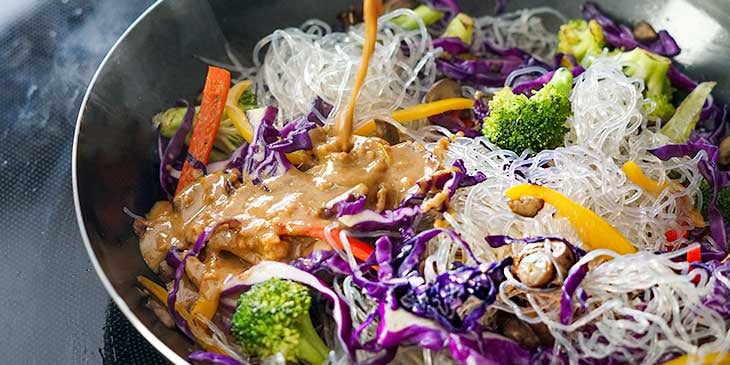 At this point turn off heat and plate. Top with toasted cashews or peanuts, fresh sliced green onions, and serve with wedges of lime.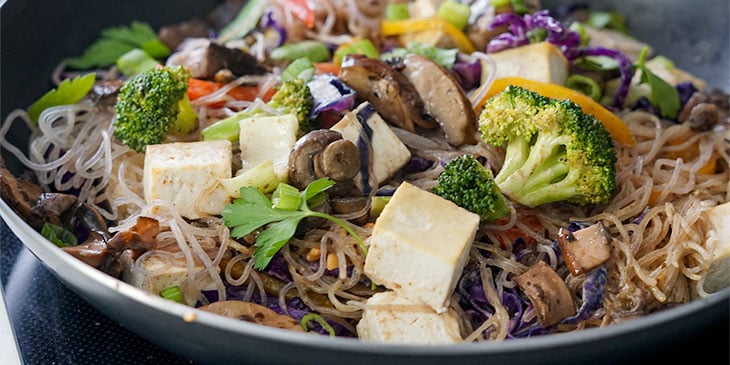 Serving, Storing, and Reheating.
Stir-frys are a must-have in anyone's meal prep arsenal, not only can you pack in a lot of nutrient-dense and colorful vegetables but they reheat well throughout the week.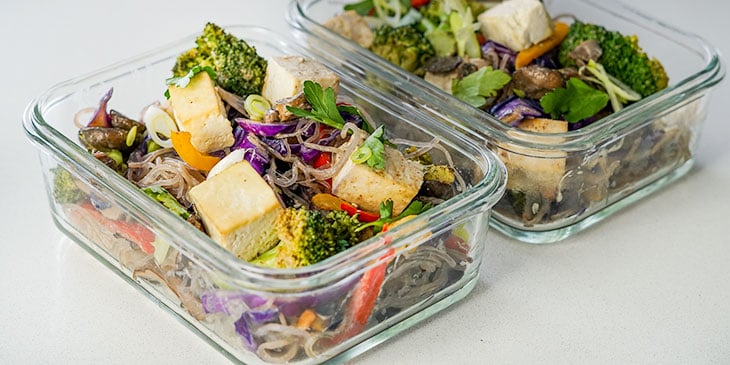 Portion your vegan kelp noodle pad thai into your favorite meal prep containers and let the meal cool completely in the fridge before securing on the lid for proper food safety.
This simple meal prep recipe will hold for up to six days in the fridge and can be reheated in the microwave for 2-3 minutes or on the stovetop.
---
Looking for other high-protein vegan meal prep recipes? Check out this RD-created Vegan Meal Prep Guide!
Consuming a nutritionally balanced plant-based vegan diet requires a bit more effort, be sure to prioritize an intentionally stocked pantry and fridge with variety and value. Check out our Vegan Meal Prep Kit for further tricks to optimize your meal prep!