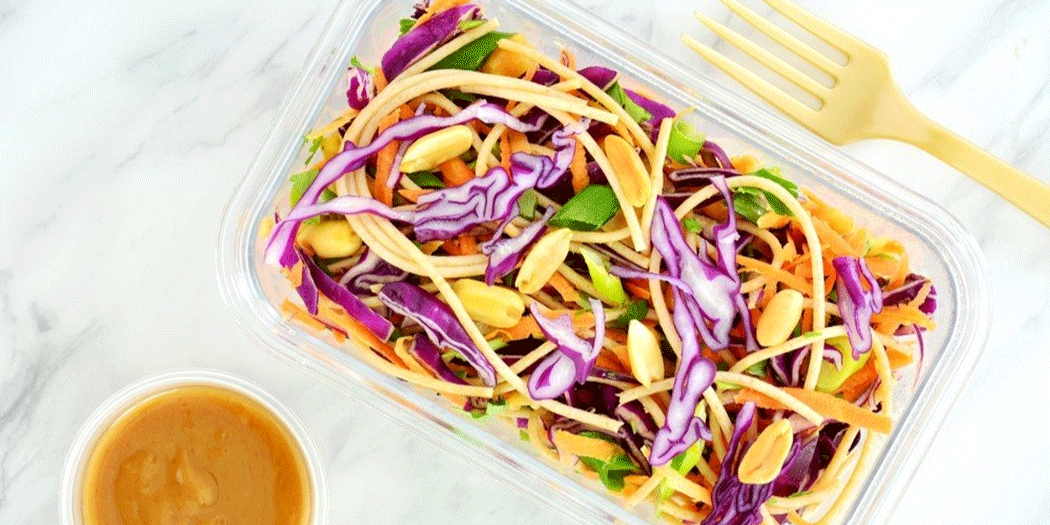 There's a lot of plant based eating guides out there promising to help you thrive on a vegan meal plan, but most of these resources don't consider overall nutrition needs and macro balance to help you achieve your fitness goals. So here's a vegan meal prep guide that does.
Ready to tackle plant based eating like a pro? Grab this vegan meal prep toolkit and started on your vegan diet today!
How to Start a Vegan Diet
Starting any new diet begins with identifying your personal health and fitness goals. Your nutrition goal will determine you daily calorie needs and shape the foundation of your food choices. For most, the reason for changing their eating habits falls into one of the following categories:
However, these may not be the only reasons one would start a plant based style of eating. Veganism is unique in that it is also associated with sustainability. Regardless, if your main reasons for going vegan fall into less health-oriented goals like these, it is still important to think through how your eating habits impact your personal wellbeing.
Step one is to determine what you want to get out of your meals. From there you can begin to shape your menu to fit your unique nutrition needs.
Customize Your Nutrition
Once you understand the basics principles of vegan eating for your nutrition goal, the next step is to fine tune your menu with quality options and optimized macro balance.
What Are the Best Vegan Foods?
A vegan style of eating can already feel somewhat limited with the removal of large food groups like meat, dairy, and seafood. But it doesn't mean you can get tons of variety and tasty options.
The best vegan diet is the one full of nutritious options that you enjoy eating. If you don't enjoy the food, there is little chance you are going to stick to and stay consistent.
To keep your nutrition on point, opt for more whole foods like fresh fruits, veggies, whole grains, beans, nuts, and legumes, as well as minimally processed meat and dairy alternatives to fill in the gaps.
Here's a comprehensive vegan food list to get you started.
How to Count Vegan Macros
Choosing the right foods is only part of it - getting the right amounts of each type of food is also key.
I'm talking about macronutrients. Macronutrients or "macros" are a way to organize your calories by looking at the main food groups that impact your health, energy, mood, appetite, and fitness. You can estimate your exact vegan macros and calorie needs using a simple online macro calculator.
Vegan Meal Prep Ideas and Expert Tips
Now you're ready to put it all together and execute your vegan meal prep - which can sound a lot easier than it is. Well executed meal prep takes dedication and a bit of strategy.
But have no fear, we've got you! Meal prep is nothing more than planning and/or cooking some or all of your meals in advance. And it's also totally salable to your needs and skill level.
Here are some ways to help you simplify the process, including templates and tips to use:
Meal Planning 101
Be honest with yourself, how much cooking can you do and how much cooking do you want to do? Once you can gauge your response to this question, focus on finding recipes that fit your culinary skill set.
Next, pick which meals you want to prep for. If you're new to meal prep, consider starting with one meal a day - like breakfast - or only meal prepping for a few days of the week at a time. If you go all in from the beginning, it can be easy to get overwhelmed and give up quickly.
Now pick which day works best to prep. You can prep meals the night or day before you eat them, or do multiple days and meals all in one day. Many people will cook their weekly meals on a Sunday or Monday to enjoy them all week long.
Then, grab a sheet of paper, calendar, or use this handy dandy meal planning template and map out your menu along with your shopping list. And don't forget to plan your snacks too!
Plant Based Meal Prep Tips to Live By
Take your plant based diet up notch with these food prep tips to save time and money and make the experience much more enjoyable overall.
1. Be Precise
Buy yourself a food scale or a good set of measuring cups and spoons. This will save you a big headache when it comes to dividing up your portions accurately and ensure you are sticking to your calorie and macro goals. Remember, cooking your own food is only half the battle - how much you eat still matters!
2. Be Efficient
Lets be honest, meal prepping can take a ton of time and energy. Save some time an your sanity by using simple tricks to make things a little easier on your self. Some go-to's include batch cooking staple ingredients, using pre-cooked options when possible (like canned and frozen ingredients), and making more one pot dishes.
3. Add Variety
Eating the same thing every day can get really boring. Add some life to your menu with a variety of seasonings and toppings. Just changing up the spice mixture on the exact same dish can transform the flavor. Become a master at healthy seasonings and sauces to step up your game each week!
4. Strategize for Reheating
Not all dishes will reheat well - you may have prepped a gorgeous crispy corn cake, but when you pull it out for lunch its a soggy, mushy mess. Choose recipes that you know will reheat well and package fresh ingredients (like herbs) and sauces separate until ready to serve. This will keep your dish tasting vibrant.
5. Upgrade Your Meal Prep Containers
Don't make the mistake of just throwing your meal into a bag - you'll end up with a mess of a lunch, Choose a solid meal prep container that will travel well, is heat safe, and easy to clean. And if you need it, opt for ones with separated compartments to keep your meal intact.
20 Vegan Meal Prep Recipes to Try
To help you plan your menu and crush your macros, here are our favorite vegan meal prep recipes to try.
5 Easy Breakfast Recipes
No, you don't have to live off cereal to be vegan. Here are five high protein breakfast recipes to start your day off right.
8 Lunch and Dinner Ideas
Here are eight easy recipes with at least 25 grams of protein per serving.
5 Vegan Snacks
Here are incredibly easy, grab-and-go high protein vegan snacks to add to your daily prep.
Edamame
Vegan Protein Bars
Raw broccoli and hummus for dipping
Roasted chickpeas
2 Vegan Desserts
Here are some healthier dessert options to satisfy your sweet tooth!
Dark Chocolate Brownies - Rich, decadent, and creamy. Also gluten-free, high protein, and nutritious.
Vegan Chocolate Chip Mug Cake - Tastes like cookie dough without the dairy and eggs.
Vegan Meal Prep Toolkit
Feeling overwhelmed with your weekly meal prep and wondering how you can simplify the process? Download this free vegan meal prep toolkit that has everything you need to stick to a plant based lifestyle. Or eliminate nearly all the work with Trifecta's high protein vegan meal plans with meal delivered right to your door - all you need to do is heat and eat them.