Whip up this mouth-watering high-protein vegan 'tuna' salad recipe in less than 5 minutes! Packed with 22 grams of protein per serving and Mediterranean flair, this plant-based tuna salad contains a base of tempeh, chickpeas, and flavorful artichoke hearts.
About this Recipe
The combination of artichoke hearts, chickpeas, and shredded tempeh creates a texturally pleasing and hands-down bomb flavor in this high-protein plant-based twist on a classic tuna salad recipe.
Tempeh is a meat substitute made from fermented soybeans and contains almost 20g of protein per 3.5 oz.
You'll love this recipe as we don't use any processed vegan mayo, but instead incorporate healthier and delectable fats such as savory tahini paste and olive oil packed sun-dried tomatoes.
Pack in the Protein with Protein Bread
Turn this into a tuna salad sandwich by utilizing protein bread. Protein breads are a wonderful addition to any plant-based pantry as many of them contain over 10 grams of protein per serving, helping you hit your vegan macros goals.
Protein breads can be prepared with a variety of grains and seeds such as quinoa, oats, rye, and flax providing extra nutritional value and trace minerals for a balanced vegan diet.
How to prepare Your Vegan 'Tuna' Salad Recipe
Prep time: 15 minutes
Cook time: 0 minutes
Servings: 4
Ingredients
1.5 cup chickpeas, (1-15 oz can drained and rinsed)
1 cup artichoke hearts, drained and rinsed
2 tablespoons sun-dried tomatoes, packed in oil, drained and rinsed
3 tablespoons tahini
2 sheet of "nori" seaweed
4 tablespoons nutritional yeast
2 lemon, zested and juiced (about 5 tablespoons)
1 tablespoons tamari
½ cup parsley, fresh, finely chopped
2 cloves fresh garlic
8 ounces of tempeh, crumbled
Kitchen Tools
Food Processor (we love our Breville All In One)

Cups and measuring spoons

Spatula

Bowl (optional)
Step 1: Combine all Ingredients in Food Processor and Blend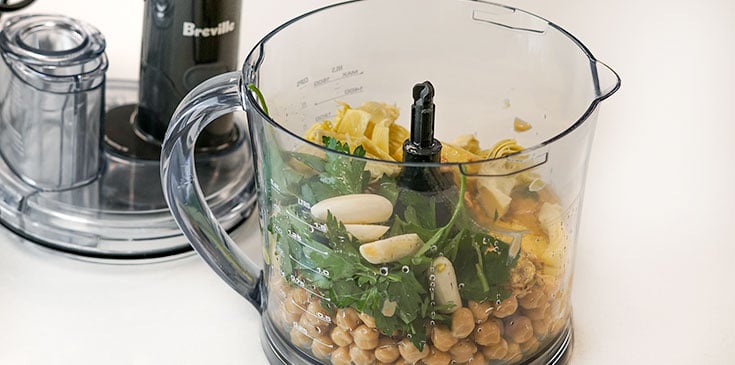 Instead of mashing the chickpeas by hand, blend all the ingredients in a food processor until evenly shredded. We got it done in one go by utilizing our Breville All In One that comes with a large food processor base!
If your food processor is smaller do this in batches to prevent over-blending the 'tuna' salad.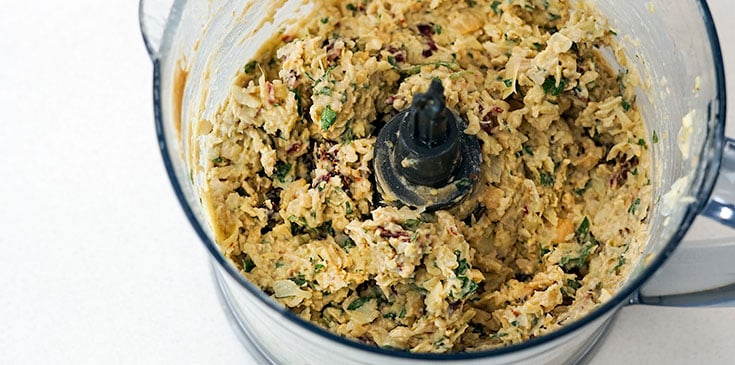 Step 2: Build Your Sandwich, Wrap, Or Salad
Once you have seasoned and prepared your tuna salad filling to your liking, measure 1 cup of filling and serve between two slices of high-protein bread, add other ingredients to bump up the flavor such as:
Lettuce and tomato
Sliced red onion
Avocado
Sliced apples
Fresh herbs
For Vegetarian eaters enjoy this with sliced hard boiled eggs
1 cup of this vegan tuna salad recipe contains: 22 grams of protein, 33 grams of carbohydrates, and 11 grams of fat.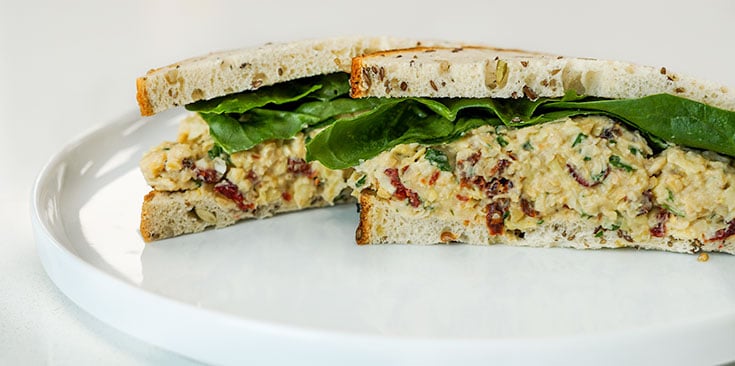 Make It Your Own
Enjoy creating your own plant-based tuna salad variation by adding other ingredients to this base. Here are some recommendations for appetizing additions to the filling:
Dijon mustard
Fresh herbs such as dill, basil, and cilantro
Dill pickles or relish
Dried cranberries
Toasted almonds or walnuts
Chia seeds or hemp seeds
Celery
Sunflower seeds
Dried spices such as curry or garam masala
Storing, Serving, Reheating
This recipe will hold for up to 7 days in an airtight meal prep container in the refrigerator and can also be frozen for later use.
This high-protein vegan recipe makes a phenomenal sandwich but is also extremely versatile, here are some other serving options:
On top of leafy greens as a salad
As a wrap, look for low-carbohydrate tortilla wraps or lettuce wraps
In a no-cook taco using crunchy jicama shells like we used in our scrambled-tofu breakfast tacos
As a dip, served with crackers and/or veggie sticks
Paired with a high-protein pasta
As a vegan tuna-melt with your favorite vegan-friendly cheese.
---
Having trouble hitting your protein goals on a plant based diet? Crush your vegan macros with ease using the free meal prep toolkit for vegan diets. A step by step RD written guide for meal planning your ultimate vegan menu.