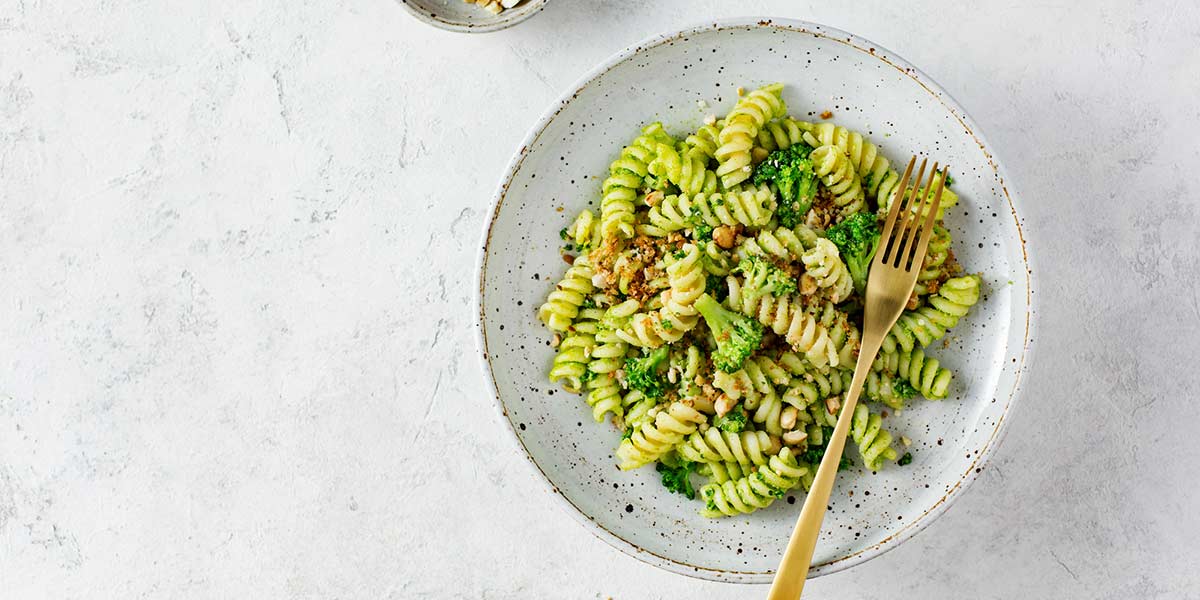 When discussing dieting, it's not often that we here at Trifecta go around recommending eating lots of pasta. But diets are meant to be enjoyed and, at least for me, there's almost nothing as comforting or satisfying as a nice plate of pasta. People take entire vacations to Italy to eat pasta and you know what? I get it.
If you're on a vegan diet or looking for a new Meatless Monday plant-based recipes, this is your list.
When I went vegan, pulling back on different pastas wasn't easy. Oh, tonkotsu ramen, you were missed. My mother's bolognese, only a memory.
Luckily, most packaged pasta you find in the store is 100% vegan. Plus, there are now several pastas made with chickpeas, lentils and other high protein vegan ingredients, making pasta more macro balanced than ever before.
Let's just say I wish I had this list back in the day. If you're a plant-based eater and miss the deep bowl days of carbohydrate comfort, try these recipes to hit your fix while still tackling your vegan macros.
How to Make Perfect Meal Prep Pasta
Not only is pasta insanely satisfying, it's one of the most adaptable foods for meal prep. Some pasta dishes even taste better the second day after all the ingredients get to know each other. Pasta is one of the easiest meals to make, often needing just one pot to prepare and has a fairly forgiving margin for error.
Pasta is easy to prepare in bulk and portioning is a breeze. Each of these dishes will keep in the fridge for up to five days with virtually no loss of quality.
Top prepare pasta for meal prep, cook your pasta slightly firmer than you would when eating it immediately. This way, after you reheat your dish you'll have perfectly cooked al dente pasta like you ordered it fresh from a restaurant.
If you're meal prepping pasta, make sure to completely cool your finished product before sealing and storing in the fridge to prevent food borne bacteria.
"How do you get your protein?"
Every vegan has heard this one asked a thousand times from all sorts of incredulous carnivores who think abstaining from animal products for longer than four hours is a one way ticket to withering away.
Even with guys like Mike Rashid on the scene, they're unconvinced any vegan could ever get enough protein to survive, much less dominate in a boxing ring.
But I understand if they don't believe you when you answer them, "Veggie pasta." This pasta delivers though, both your macros to build muscle and flavor to put this on your meal prep rotation permanently.
This recipe uses lentil pasta and a medley of Mediterranean ingredients to bring out the taste of the region and 19 grams of protein in less than 20 minutes.
364 Calories, 17g F, 42g C, 10g P
If you're new to a vegan diet or have a hankering for umami rich dishes, this vegan pasta sauce definitely hits the spot. Brimming with flavors of capers, Kalamata olives, tomatoes and high quality olive oil, this savory dish will fill you up and keep you satisfied.
The secret to this recipe's simplicity and deliciousness is in the tomato, or rather than can the tomatoes are packed in. Choose a high quality can of Italian San Marzano tomatoes for near instant gratification: a delicious chickpea and tomato sauce for dinner in under 30 minutes.
410 Calories, 11g F, 58g C, 24g P
Spinach and artichoke are a classic combination, perfect for pizzas, dips and this vegan pasta. The addition to sun dried tomatoes mixed with the artichoke gives this dish a brightness that hits you like a Mediterranean sunset.
The superstar of this dish is the supercharged pesto, replacing pine nuts with sunflower seeds and parmesan cheese with spirulina powder, a blue-green algae that's packed with protein and many micronutrients. This super pesto blends perfectly with with the produce and comes correct with 20 grams of protein.
Better yet, it comes together barely longer than it takes to make plain cooked pasta.
420 Calories, 18g F, 49g C, 20g P
Creamy, cheesy, stick to your ribs Alfredo approved for vegan diets is a real thing. You're not dreaming. Although after filling up on this one you might need a quick snooze. This is one of those in your feelings, wearing an elastic waist kind of pasta dishes.
Except this Alfredo sauce is completely vegan, has 21 grams of protein and only 420 calories per serving!
The almond milk and cashews blend to a creamy richness that coats the al dente bowtie pasta while the piquillo peppers punches up the dish with a bright sweetness. All in 4 quick steps.
420 Calories, 14g F, 54g C, 21g P
Chef Sky's crazy for this one. Completely reinventing the classic pad thai while retaining all the delicious qualities that make this distinct dish a classic, Chef really is a master mad scientist in the kitchen.
This creation starts with starch free kelp noodles to keep carbs and calories low. Add in crispy air fried tofu, fresh mushrooms, pepper and other produce, and lets it all get to know each other in a silky Thai almond sauce.
Super easy to make and super efficient calories here with 18 grams of protein and just 16 grams of carbs. That's not a typo. There's more protein in this pasta dish than carbohydrates.
290 Calories, 19g F, 16g C, 18g P
I call this the imposter pasta since nothing is as it seems.
Like I said, most pastas you find in the grocery are vegan to begin with, but that didn't stop us from improving on the product a little. Regardless of your diet, opportunities to make your calories more nutrient dense and get ahead of your macros budget should always be seized.
Enter spaghetti squash. This vegetable is only related to spaghetti in final appearance, once the soft, cooked flesh of the gourd is forked out from its skin.
As for the meatballs, well those are meat in name only too. These delicious munchkins are made with cauliflower and Beyond Meat®, browned in a skillet with the same sizzle and aroma of their bovine brethren.
This whole dish is a mind bender. It's like a salad dressed up as Nona's Italian supper for Halloween. And we like it!
The dish may be a look-a-like but the macros are real. This one weighs in with a whopping 25 grams of plant-based protein.
400 Calories, 20g F, 33g C, 25g P
Pesto is summertime preserved. When evenings get cooler and the basil in the herb garden starts to flower, it's time to put it all to final good use with a huge batch of pesto, enough to remind you of the green season until it comes back around next June.
Trouble for us vegans is that the nutty parmesan that complements the basil, oil and pine nuts is obviously off limits. The trick here is pistachios that delivery a nuttier flavor (at a much more affordable price) compared to pine nuts and emulsify into the oil to create a rich creamy pesto.
Top veggies, potatoes or anything you'd like with this stuff. But for me, a heaping bowl of pesto pasta is the quintessential weeknight meal. Super fast when you're tired from a long day and tasty enough to forget about Bob from accounting for a while.
90 Calories, 9g F, 2g C, 1g P
Want to try Trifecta vegan recipes every night of the week without the cooking? Shop our vegan meal plan now for fresh vegan meals delivered weekly.