Dig into this ultimate one-pot vegetarian chili recipe that takes less than 30 minutes to prepare. This recipe is prepared with simple and fresh ingredients simmered in a delicious blend of seasonings for a deeply rich end result.

About this Recipe
Preparing a phenomenal meatless vegetable chili is all about making a bomb gluten-free and dairy-free chili base, from there you can add any kind of beans, plant-based meat alternatives, or any roasted vegetables you'd like!
This hearty recipe includes a variety of seasonings such as roasted red peppers, smoked paprika, and nutmeg and will even satisfy your carnivorous friends. The most important part of your chili recipe is sourcing a quality chili powder or preparing some roasted chili paste to use in your base.
Chili powders are typically a blend of dried chilies with cumin, onion, cayenne, and paprika.
Chili's make a wonderful meal prep addition because you can recycle any leftover vegetables or odd-and-end meal prep from the week. They are the ultimate one-pot meal and can be prepared from a wide variety of ingredients so feel free to add what you like.
Whether you are making this chili as a part of your weekly plant-based meal prep or to feed family and friends we know you'll love this recipe as you can also prepare it in a slow cooker if desired.
Here are a few of our favorite chili tips and tricks:
Use a variety of legumes or beans such as kidney beans, black beans, chickpeas, lentils, or navy beans.
If you're looking for a beanless chili, substitute roasted root vegetables such as butternut squash, sweet potato, parsnips, or celery root.
Add in a variety of mixed vegetables such as Trifecta broccoli, cauliflower or zucchini.
How to Prepare Your Homemade Vegetarian Chili Recipe
Prep Time: 10 minutes
Cook Time: 20 minutes
Servings: 4
Ingredients
16 ounces Beyond Meat or 4 Trifecta

Beyond Meat patties

, crumbled
1 teaspoon avocado oil
1/2 yellow onion, small diced
2 stalks celery, finely chopped
2 carrots, small diced
3 cloves garlic, minced
1/2 cup roasted red pepper, drained from jar
1 (15 oz) can roasted diced tomatoes
2 tablespoons chili powder
1 tablespoon chipotle powder
3 tablespoons smoked paprika
2 tablespoons onion powder
1/2 teaspoon nutmeg
1 can kidney beans, drained and rinsed
2 cups vegetable stock
4 tablespoons orange juice or apple cider vinegar
2 tablespoons maple
Tools
Large pot
Spatula
Knife & cutting board

Step 1: Saute Your Mirepoix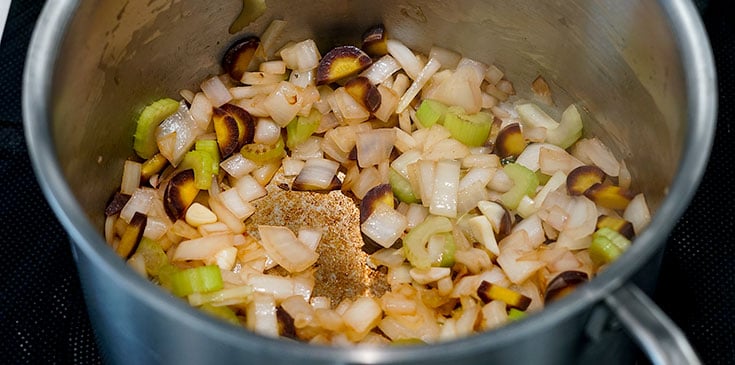 Mirepoix refers to the mixture of onion, carrots, and celery used as a flavor base for many soups, sauces, and stews.
In a sauce pot on medium-high heat, add avocado oil or olive oil, minced garlic, diced onion, celery, and carrot. Stirring occasionally cook for 3 to 5 minutes or until the onions begin brown. Stir in the crumbled Trifecta Beyond Meat patties and cook for 3 minutes or add 16 ounces of Beyond Meat and cook for 5 minutes.
Nutrition Tip: cut out added fat swap the avocado oil for vegetable broth, adding small amounts during the cooking process to keep it from sticking.
Step 2: Add Chili Powders, Spices, Roasted Peppers, and Beyond Meat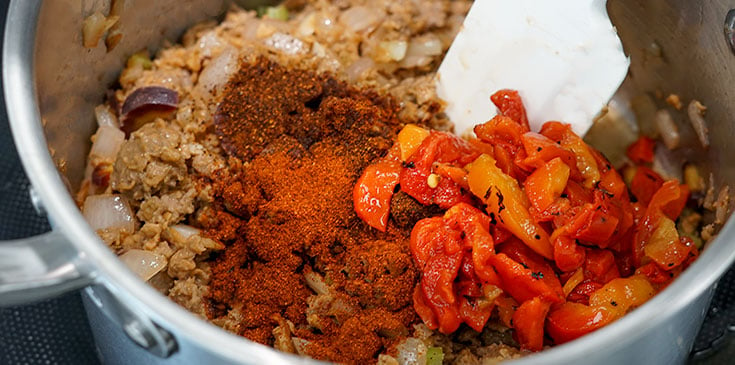 Once the meat and vegetables have browned, add in the spices and roasted red peppers and cook for 1 minute until aromatic and stir to combine.
Add any additional vegetables like Trifecta Broccoli or Trifecta Mixed Vegetables for extra flavor and nutrition.
Step 3: Add Stock, Diced Tomatoes, and Beans
Continue to cook on medium-high heat and add vegetable stock to release any of the brown bits stuck to the pan, then stir in the diced tomatoes and beans; bring to a boil, then reduce the heat to a simmer and cook for 10 minutes.
Season with orange juice or apple cider vinegar, a pinch of salt or pepper is desired then dig in!
Chef Hack: To thicken this chili quickly stir in a cornstarch slurry. 2 tablespoons cornstarch blended with 3 tablespoons of liquid.
Meal Prep Tips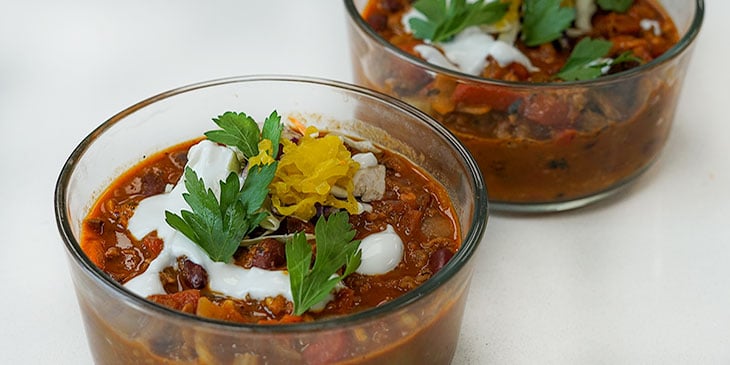 You'll love making this veggie chili in advance as it's flavor often gets better after sitting for a day in the fridge! Portion out your chili into 1.5 cup serving size and reheat in the microwave for two and a half minutes when ready to eat. It helps to give it a good stir half-way through the reheating process to make sure it is heated all the way through.
Here are a few other tips for this meal prep dish:
Package any easily perishable garnishes and toppings separate from the chili such as fresh herbs, avocado, or sour cream.
Portion and freeze any unwanted leftovers for future weeks.
Use this dish and other high protein vegan recipes, in your weekly vegan meal prep!
Serve this With:
Chili makes for a great main meal, or can be added into a variety of recipes to add more versatility into your meal prep for the week. Here are some healthy pairings to try:
Pair with tortilla chips and vegan cheese for a healthy twist on nachos.
Serve over spinach or extra greens for a taco-ish salad.
Stuff a baked sweet potato or serve on top of roasted potatoes.
Add in pasta and cheese for a chili packed mac-n-cheese.
Top with sauerkraut for a probiotic boost
---
Put this recipe to good use with this free meal prep toolkit for vegan diets. This RD written guide is complete with custom vegan macros, food lists and menu planning templates to keep your diet on track and help you achieve your health fitness goals!