A few fresh ingredients, spices, and a baked sweet potato are all you need to prepare a satisfyingly simple, luxurious vegan meal. This vegan Southwest baked sweet potato recipe is stuffed with plant-based Beyond Meat® and topped with zesty cilantro crema and fresh avocado.
Yam or Sweet Potato... What's the Difference?
Sweet potatoes are not the same as yams. True yams are native to Asia and Africa and have light or dark tree-bark textured skin with off-white, yellow, or purple flesh and rounded ends; they are drier and starchier than sweet potatoes, requiring a longer cooking time.
The term "yam" is used interchangeably in the US to label different varieties of sweet potatoes and traditional yams.
You will likely find orange, white, and even purple sweet potatoes at your local farmers market or grocery store. Each varietal has its own unique texture and level of sweetness, but here is a simplified breakdown based on color:
Orange or red-colored sweet potatoes have a yellow-tan or orange-red smooth exterior and vibrant orange/red interior. These varieties are typically sweet and moist, great for any recipe.
White/cream-colored sweet potatoes have a tan exterior and white to yellowish flesh. These are less sweet than their orange counterpart and have a starchier texture with a mild flavor.
Purple sweet potatoes get their purple color from the phytochemical anthocyanin, present in other red, blue, and purple ingredients such as blueberries, grapes, and red cabbage. Purple potatoes are dense and require a longer amount of cooking time to draw out subtle sweet flavors. These are great for frying or roasting.
Baked sweet potatoes are a fantastic base to mix and match a variety of toppings onto; from BBQ stuffed or Mediterranean inspired, incorporating a stuffed sweet potato into your weekly meal is easy and flavorful.

How to prepare Vegan Southwest Baked Sweet Potato
Prep Time: 10 minutes
Cook Time: 30 minutes
Servings: 4 loaded sweet potatoes
Ingredients
4 small sweet potatoes
1 teaspoon avocado or coconut oil
4 Trifecta A la Carte Beyond Meat® burgers, crumbled or 1 (16 oz) package Beyond Meat burgers®
1 cup corn, fresh or frozen,
1 tablespoon avocado oil
1 bell pepper, small diced
1/2 yellow onion, sliced
3 cloves garlic, minced
2 teaspoon paprika
2 teaspoon coriander
¼ cup vegetable stock or water
1 lime, juiced
1 avocado
1 Roma tomato, diced or ½ cup pico de gallo
Cilantro Crema
1 cup cilantro
½ cup plant-based yogurt
2 tablespoons lime juice
Pinch chili powder
Tools
Sheet tray and foil
Oven
Medium saute pan
Spatula
Knife and cutting board

Step 1: Bake Sweet Potatoes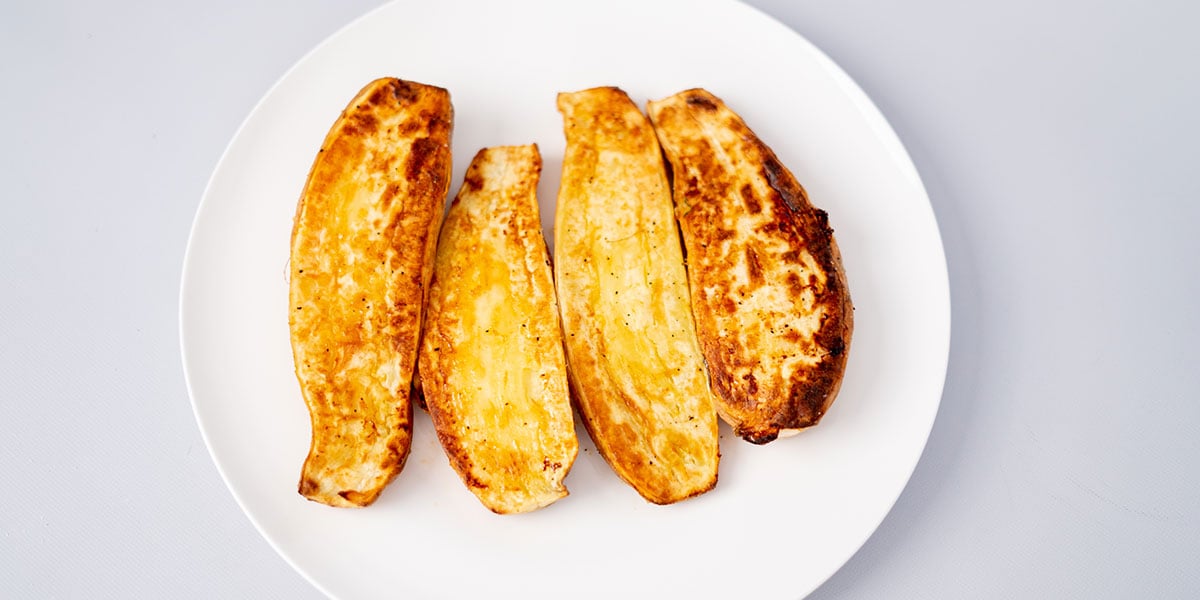 Here are two ways to roast your sweet potatoes depending on how much time you have. Each will require you to preheat your oven to 425 degrees Fahrenheit:
Classic baking the whole potato: prick the exterior with a fork all over the sweet potato, rub with coconut oil (utilize coconut oil for extra flavor), and then wrap the potato in foil and bake whole for 40-50 minutes.
Quick and easy: Cut your sweet potatoes in half and rub with oil, place sweet potatoes cut side down on a baking sheet lined with foil and roast for 25-30 minutes until tender.
While your potatoes are baking, continue on steps 2 and 3.

Once they are tender, carefully remove them from the oven, and set aside to rest while you prepare the filling and cilantro crema.

Take your baked sweet potatoes to the next level by rubbing them with spices or herbs, like in this paleo chicken stuffed sweet potato recipe. Sub the chicken for vegan-friendly jackfruit!
Step 2: Prepare the Cilantro Crema
In a food processor or blender, add the cilantro, vegan yogurt, lime juice, and chili powder. Blend until smooth.
Step 3: Prepare Your Southwest Filling
Heat a large sauté, pan over medium-high heat, and add oil. Add sliced onion and garlic and cook for 4 minutes, stirring constantly until they are fragrant and begin to brown. Be sure to stir often to prevent burning and reduce the heat if needed; you are in control!
Sauté refers to cooking over high heat to brown or caramelize the ingredients, developing a deeper flavor.
Continue to cook over medium-high heat and crumble Beyond Meat or 4 Trifecta a La Carte Beyond Meat burgers into the skillet and cook for 4-5 more minutes.
Add corn, bell pepper, and spices, continuing to stir for 2 more minutes, then finish by adding lime juice and stock or water. Cook for 1 more minute, then remove from heat.
Step 4: Load up Your Sweet Potato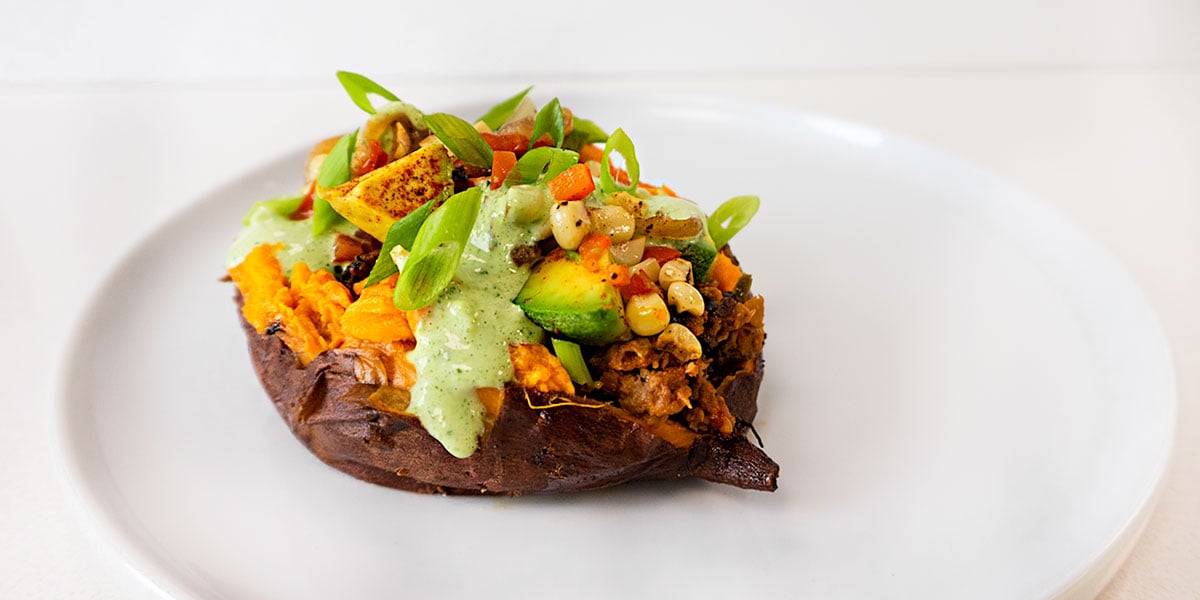 Now that you have your mise en place (ingredients) together it's time to build your vegan stuffed sweet potato!
For one serving, simply slice a whole roasted potato down the center or place two baked halves on a plate, then top with ½ cup - ¾ cup Southwest Beyond Meat filling, sliced green onions, ¼ cubed avocado, and 3 tablespoons of cilantro crema.
Meal Prep Magic
If you are preparing this recipe as a part of your weekly meal preparation, be sure to prepare and cool each component separately in the fridge before building the finished stuffed sweet potato: sweet potato, Beyond Meat filling, cream, and toppings.
The filling for this recipe is a simplified version of this vegan taco recipe filling, spiced with a homemade bomb taco seasoning.
Try a Mediterranean twist by using this vegan Mediterranean breakfast hash recipe as a filling!
---
How will this recipe help you reach your vegan macro goals? Try out this vegan macro calculator and find out.
Plant-based shopping is full of variety and color, check out our packed vegan food list highlighting flavor and nutrition!