This is an incredibly simple paleo recipe that is packed with flavor, nutrition, and to top it off, is incredibly easy to make for a quick weekday meal. This recipe is also a simple meal prep recipe, especially if you are using Trifecta's shredded chicken. Make the chicken ahead of time and simply reheat and plate for an effortless meal.
Whether you are using our Trifecta shredded chicken, our you are making your own, this recipe doesn't take much to prepare. The pesto can be made ahead of time and if you desire. I suggest you make a big batch of this vegan pesto recipe to keep in your rotation of meal prep sauces, or you can also purchase the sauce at your favorite store.
The sweet potatoes are halved and then roasted whole, skin on and everything, to create a beautiful vessel on to plate the chicken pesto on. The nutritional yeast adds a small layer of umami and cheese-like notes for more depth of flavor.
If you are new to paleo, this is the easiest way to stick to a paleo diet. Download this free, RD-written meal prep guide complete with meal planning tools, approved food lists, and tips for eating paleo.
The suggested serving size for the pesto is 2 tablespoons per serving. This is where all the healthy fats come from in this dish. If you'd like a saucier version, simply add an extra 1 tablespoon of sauce at a time, but know that the fat and caloric content will both increase substantially.
The macros for this paleo recipe are:
380 kcals; 24g Fat; 15g Carbs; 27g Protein
Top off your dishes with some freshly cut basil and a pinch of paprika for color.
Have fun with it.
How to Make a Stuffed Sweet Potato
Cook time: 30 min
Prep time: 15 min
Yield: 4 servings
Ingredients
8 tablespoon vegan pesto sauce
2 whole sweet potatoes
1 tablespoon avocado oil
1 tablespoon. nutritional yeast
Salt and black pepper, to taste
Lemon wedges, for garnish
Kitchen Needs:
Mixing bowls
Sheet pans
Foil
Oven
Cutting board and knife
Step 1: Bake Sweet Potato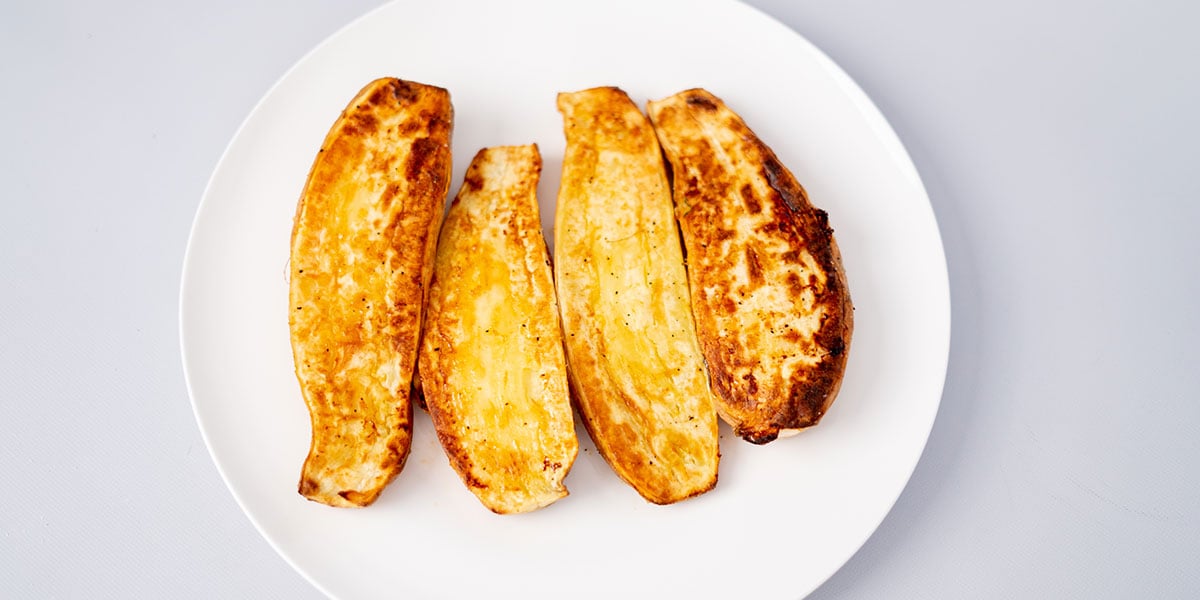 Preheat oven to 425F.
Cut potatoes lengthwise in half. Season the four halves with salt and pepper, nutritional yeast, and avocado oil. Place seasoned potatoes on a foil-lined baking sheet, and bake potatoes facing down in the preheated oven for 45 minutes.
Step 2: Mix Pesto with Chicken
Meanwhile, make the pesto sauce as indicated by the recipe. Keep aside.
Use Trifecta pulled chicken breast and dress it with pesto sauce in a medium bowl.
Step 3: Reheat Chicken, Top Sweet Potatoes & Enjoy!
5-10 minutes before the potatoes are done cooking, reheat the pesto chicken either in the microwave or on a skillet.
Once potatoes are baked, remove them from the oven, and carefully flip them face up, keeping the skin intact. Make a slight indent with the back of a spoon and plate 4 ounces of the dressed pulled pesto chicken in the potato. Serve with a lemon wedge on the side and your favorite vegetables.
Serve with a lemon wedge on the side, and with 1 cup of your favorite roasted vegetables.
Meal Prep Tips
If you are making 4 of these for the week, there's no need to reheat the chicken. You can simply mix the pesto and chicken and set aside as needed.
Similarly, after the potatoes are baked, carefully remove them from the sheet pan, and cool them down uncovered in the fridge. Once fully cooled down, transfer to your favorite meal prep Tupperware, and plate 1 half sweet potato topped with 4 ounces of the pesto chicken.
For more inspiration on different paleo foods, check out this list.
---
Get started on paleo now. Download your free meal prep toolkit, complete with meal planning tools, paleo food lists, and tips for eating paleo.