Here is the secret to creating rich and glorious meaty vegan tacos; Beyond Meat® and a bomb taco seasoning mix. This vegan taco recipe packs 30 grams of protein per two tacos and an abundance of savory tex-mex flavor; vegan taco night just got spicier.
The beauty of a vegan taco is its endless variety of flavor combinations; utilize hard or soft tortilla shells, or low-carb jicama shells to transport your inspirational plant-based taco filling from plate to palate. This recipe will bring some spice to your weekly vegan meal prep, and contains simple ingredients to cross-utilize in other plant-based recipes.
This recipe includes a bomb taco seasoning recipe prepared with dynamic spices and no salt! Dried herbs and spices are calorie-free flavor bombs. When mixed in the right amounts and utilized functionally, they can replace salt and elevate any meal.
Use this vegan recipe as a foundation for future meal prep ideas and create your own signature taco seasoning mix!
Plan your plant-based meal prep like a pro, save time and stick to your budget by choosing recipes with 2-3 similar ingredients to make the most out of your vegan shopping list.
Put this recipe to good use with this free meal prep toolkit for vegan diets. This RD written guide is complete with custom vegan macros, food lists and menu planning templates to keep your diet on track and help you achieve your health fitness goals!
How to Prepare the Only Vegan Taco Recipe You'll Ever Need
Cook Time: 10 minutes
Prep Time: 8 minutes
Servings: 8 tacos
Ingredients
16 oz Beyond Meat® or 4

Trifecta Beyond Meat

patties, crumbled
1 tablespoons avocado oil
1/2 cup yellow onion, small diced
3 garlic cloves, minced
¼ cup vegetable stock
Bomb Taco Seasoning recipe
4 tablespoon smoked paprika
3 tablespoons chili powder
2 tablespoon onion powder
1 tablespoon garlic powder
2 teaspoon black pepper
1 teaspoon coriander
1 teaspoon allspice
1 tablespoon oregano
½ teaspoon cayenne (optional)
For your taco build
8 taco shells, hard or soft (we used corn-based shells)
½ cup pico de gallo, store bought or homemade
1 avocado
¼ cup cilantro, rough chopped
1 lime, cut into wedges
4 tablespoons vegan cheese (optional)
Kitchen Needs:
Small bowl and measuring spoons
Medium-sized saute pan
Knife and cutting board
Spatula and tongs

Step 1: Blend Your Bomb Taco Seasoning
In a small bowl, blend the seasonings together with a whisk or fork till evenly distributed. The recipe listed will provide you with ample amounts of bomb taco seasoning for multiple vegan taco recipes. Package up any extra seasoning in a jar or zip-lock baggie and store in a dry place for future use.
Although our bomb taco seasoning mix is quick to prepare, feel free to purchase a pre-blended taco seasoning. Be sure to look at the ingredient list and opt for a seasoning that contains no msg (mono-sodium glutamate) or added sodium.
A benefit of blending your own taco seasoning is the convenience of a stocked spice cabinet.
Step 2: Sauté Taco Meat and Prep Your Toppings
To prepare your taco filling first place your skillet over medium-high heat. Add in the oil, and sauté the minced onion and garlic for 3 minutes until they begin to brown.
Add you're beyond beef or crumbled beyond burgers and sauté for 4 minutes, then mix in as much bomb taco seasoning as you'd like. I recommend starting with 2-3 tablespoons, you can always mix in more later on. Sauté your vegan taco mix for 4 more minutes until the plant-based meat is cooked through and golden brown, add the vegetable stock and sauté for 1 minute.
Pro Tip: Sauté some of the pico de gallo or your favorite salsa to the taco filling to kick the flavor up to the next level.
The wonderful thing about Beyond® Burger is that you can either cook them whole or you can crumble them apart to imitate the same texture and use it as a plant-based ground 'beef'.
To prepare your taco toppings, rinse the cilantro and roughly chop then set aside in a small bowl. Slice the lime into wedges and set aside as well.
You can purchase fresh pico-de-gallo pre-made at most grocery stores, but if you want to prepare it at home all you'll need is some chopped-up tomato, cilantro, and yellow onion tossed in a little lime juice. I like to add some minced jalapeño and a pinch of chili powder for spice.
Step 3: Build Your Tacos
Now you're ready to plate your tacos or package them up for lunches throughout the week!
For 2 vegan tacos, measure out 2 ounces of filling per taco shell and top with 1 tablespoon of avocado, 1-2 tablespoons of pico de gallo, and garnish with fresh cilantro and vegan cheese.
If you are preparing these tacos as a part of your weekly vegan meal prep, cool down your filling in the fridge then divide into your meal prep containers.
Meal Prep Tips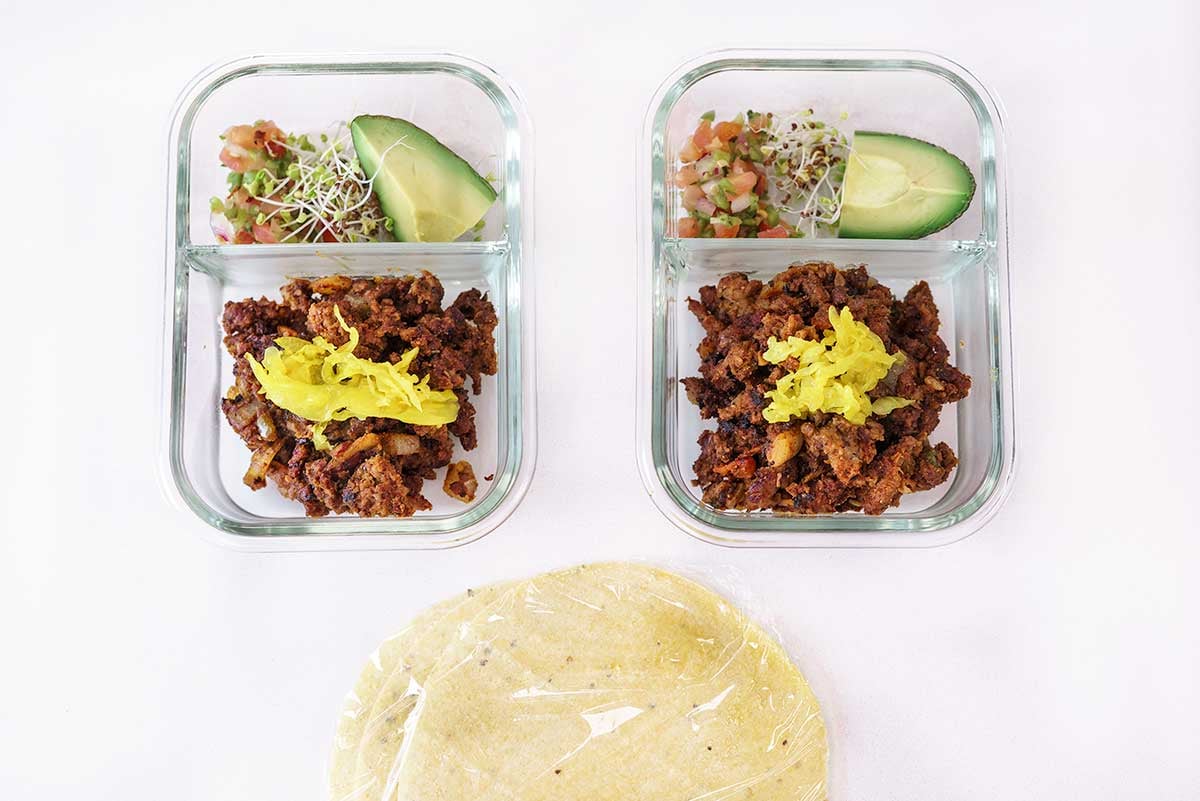 Meal-prepping tacos don't work well if you plate the tacos in advance. To execute this recipe for your weekly meal prep simply :
Divide 4 ounces of the Beyond Meat® vegan taco recipe filling into 4 separate meal prep containers. Divide fresh taco topping ingredients like avocado, pico de Gallo, and any garnishes into separate smaller containers to preserve their quality.
Keep the tortillas in the fridge or in their container.
When ready to eat, reheat your vegan taco filling for 2-3 minutes in the microwave or on the stove-top in a sauté pan. Separately heat your tortilla shell in the microwave for 1 minute or on the stovetop. Build your tacos and dig in!
Use this dish and my other high-protein vegan recipes, in your weekly vegan meal prep!
Serve This With
This taco dish is a great foundational recipe that is also incredibly versatile; add vegetables to the filling like corn, sauerkraut, or chopped red bell pepper for a veggie taco spin. If you love tacos use your taco ingredients in a number of ways to keep this recipe interesting:
Looking for low-carb alternatives or calories? Swap out the corn shells for crunchy jicama taco shells, or butter leaf lettuce.
Skip the taco and serve over Trifecta quinoa or

brown rice

for a tasty gluten-free vegan taco bowl.
Purchase tortilla wraps to make this a tasty burrito and stuff it with additional roasted vegetables and crunchy greens like romaine lettuce.
Make it a taco salad over a bed of dark leafy greens such as kale, spinach, or arugula with

fresh veggies

and tangy dressing like this Carrot-Ginger Dressing.
---
One day or day one? We make going plant-based easy, and you reap the health benefits while we do all the work. Check out our macro-balanced vegan meals.