If you've jumped on the weekly meal prep bandwagon, congrats! Planning your meals in advance is one of the best things you can do for your diet. And while you are working on mastering prepping foods, you may have noticed there are an endless amount of food containers to choose from. But have no fear, we are here to help with our meal prep containers review.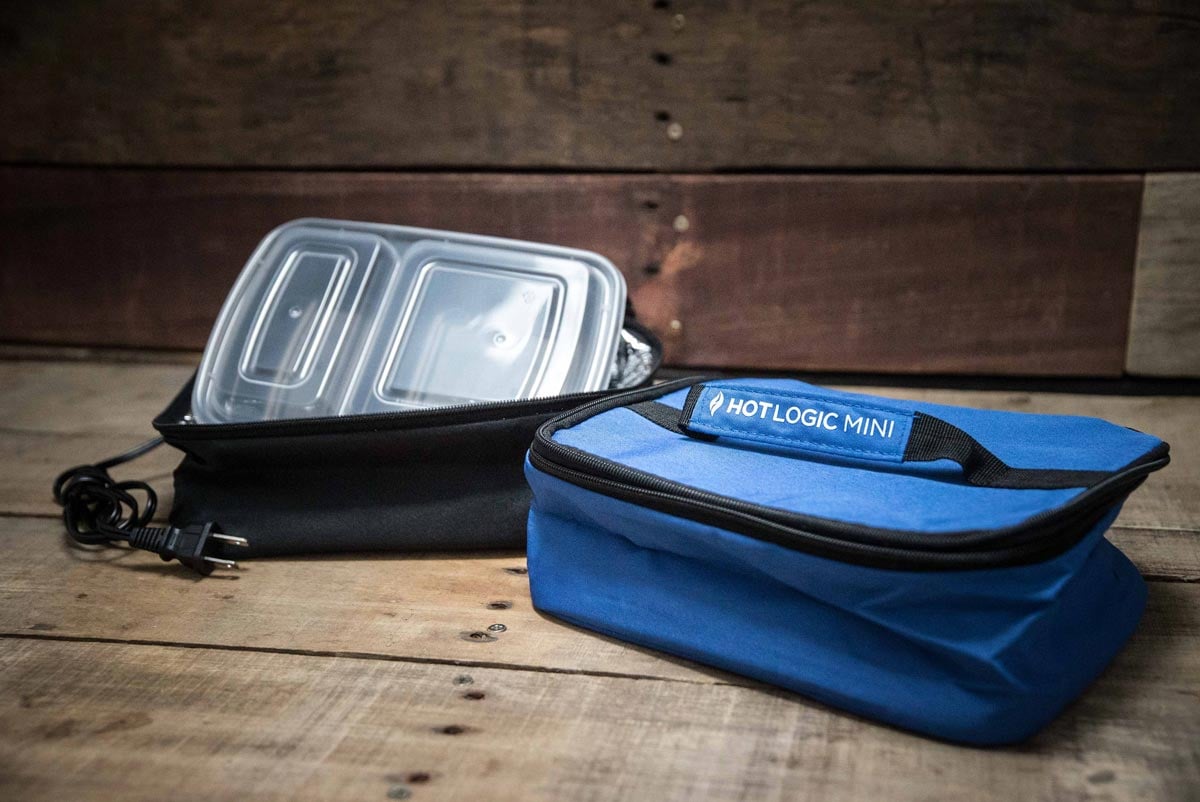 What exactly constitutes a meal prep container anyways, isn't it the same thing as Tupperware? Well, kind of. But food storage solutions have come a long way and companies are continuing to create innovate solutions for meal preppers, including containers that come with their own insulated heat bag, travel bags and add on container for dressings and sides. Here are our favorite tips for what to consider when it comes to taking your healthy food on the road.
It Can Hold at Least Two Cups of Food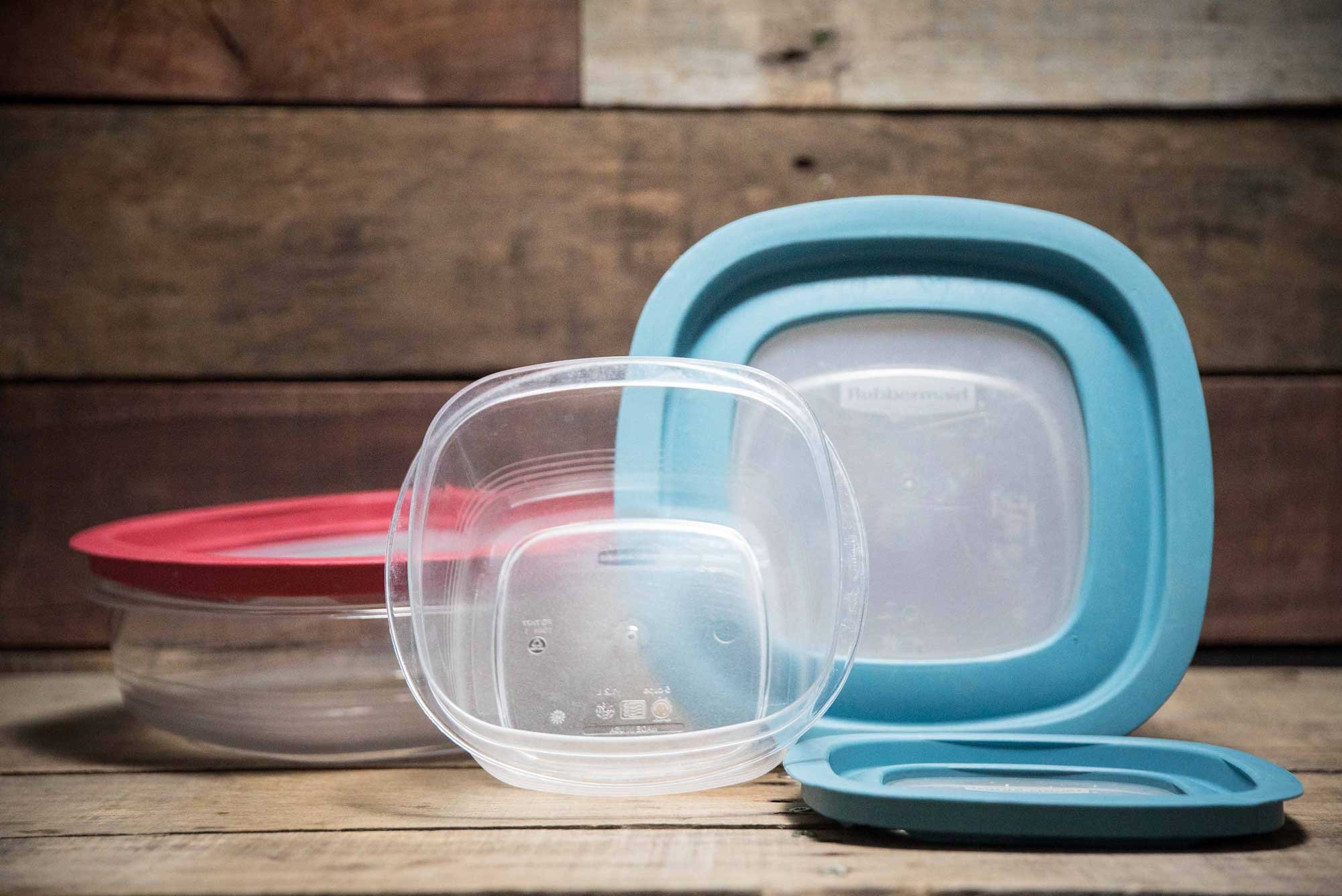 If prepping a full meal, you are likely going to eat at least 2 cups of food. Anything smaller is not going to be able to carry your lunch or adequate portions. It is easy to carry one container, rather than multiple small ones with different pieces of your meal. And while larger containers are great for storing large meals or a weeks worth of protein, they don't work for every occasion, and can be difficult to transport. You'll want a size that meets your serving needs and also travels easy.
It's Made From Quality Material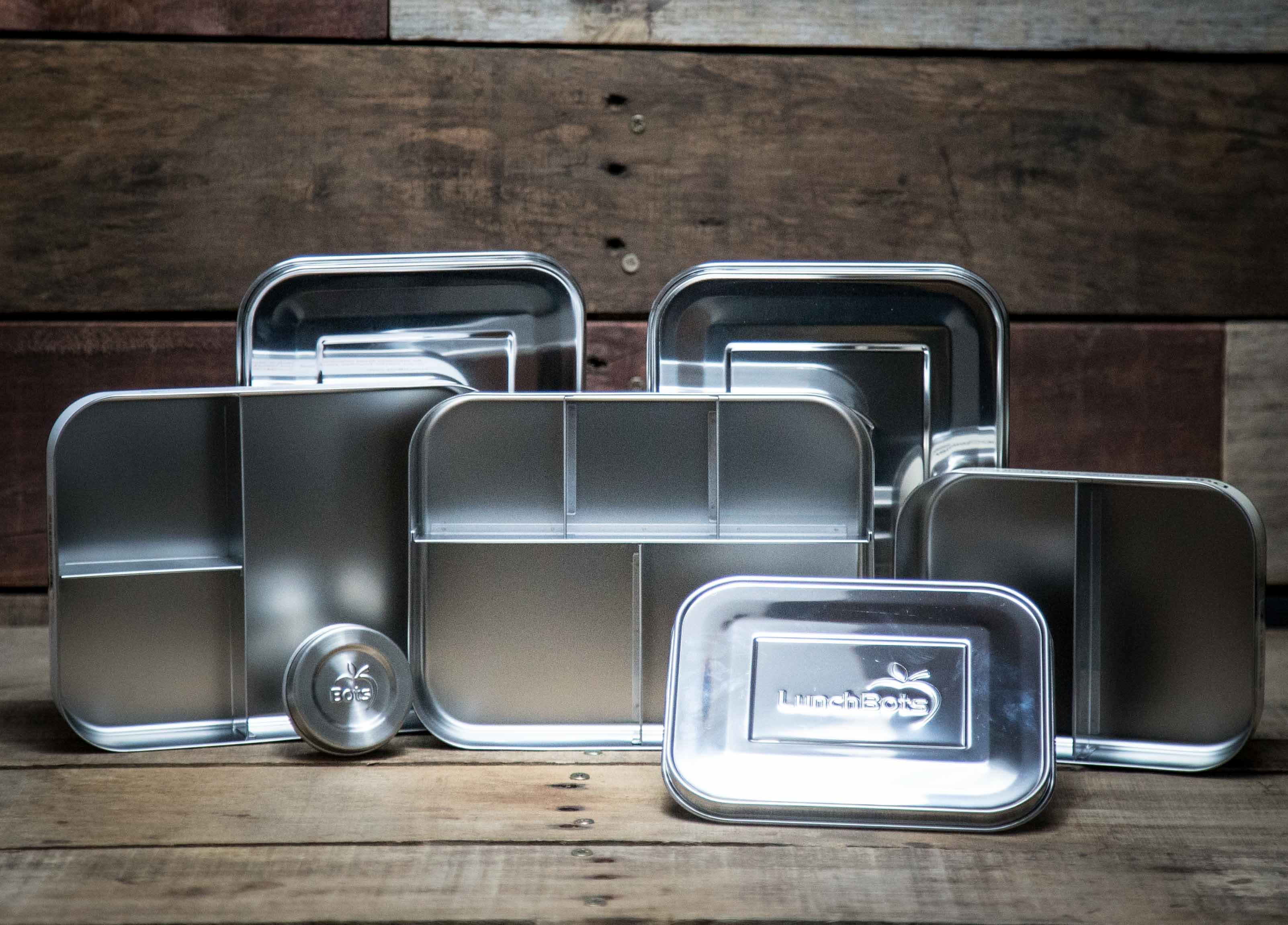 Will this container go the distance? How many times will you be able to reuse it before it falls apart or needs to be tossed? And is it made with quality in mind, like stainless steel, glass or thick BPA free plastic? Durability is a key factor when it comes to something you are going to be using on a daily basis. And it's important to look for choices that are made well with materials that don't leak chemicals into your food or will withstand daily wear and tear. You don't ruin your day with a broken or smashed container and be left with no food.
It is Easy to Clean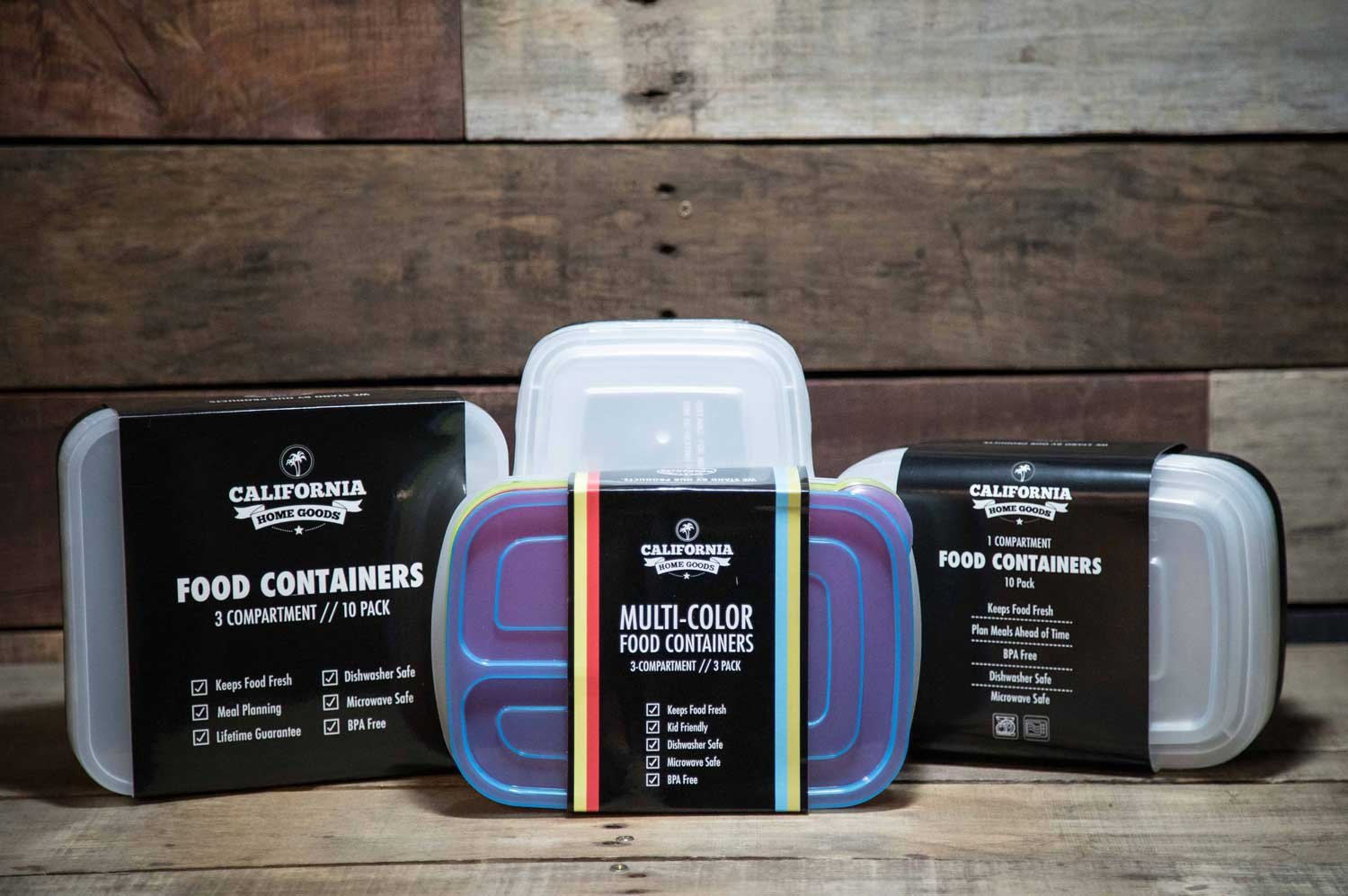 How easy is it to clean your containers? Can you put them in the dishwasher? Not all plastic receptacles survive a cleaning in the dishwasher - some will melt or start to degrade. An cleaning a large amount of containers by hand could be more work than you hoped for. Look for options that you can clean quickly and easily so that you can reuse them often and keep your food stored in unsullied containers.
You Can Put it in The Microwave or Oven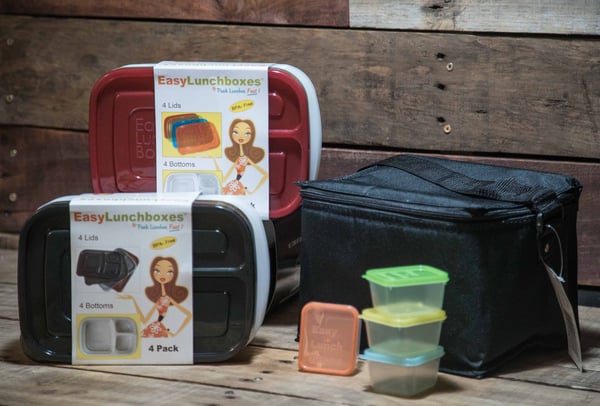 If you are planning to reheat your food at any point, you probably don't want to have to dirty up a new container or extra dishes. Look to see if the material microwave safe, or if you can at least put it in the oven. Stainless steel and some plastic containers are not microwave friendly. And while steel can handle the oven, plastic containers will melt. Also, there is some controversy over chemicals leaching into your food during heating. Research shows this can vary widely from one brand to the next, and if you are concerned about using plastic, look for BPA-free or opt for glass containers (1,2).
In addition, you may want to consider if the container can freeze your food. And also how well it holds temperature - keeping your food in a food safety temp zone as long as needed.
The Lid Stays Shut and Won't Leak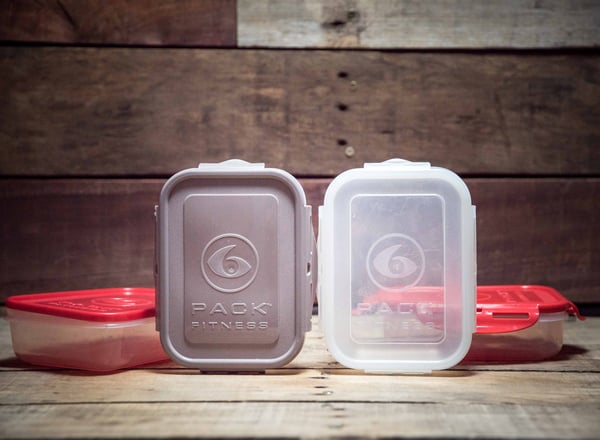 This is extremely important if you are taking your food on the go. Leaky lids will not only get food everywhere, but aren't very sanitary. Does the lid snap shut tightly? If you give it a good shake, does anything spill out the sides? There really isn't even a point of storing your meals for travel if they spill out in the process. Lids that click shut or lock into place are going to best protect your food from the hardships of travel.
It's Affordable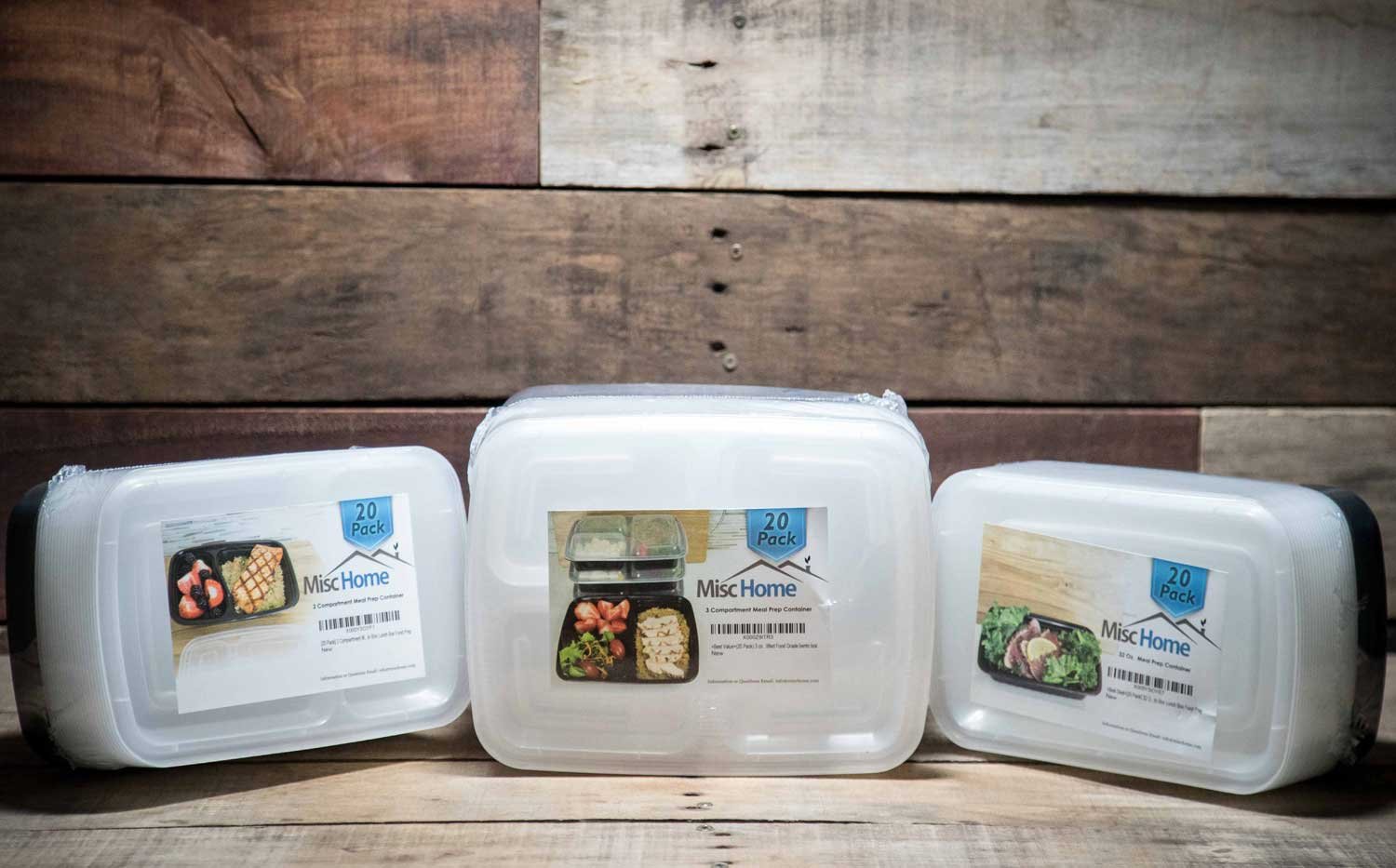 At the end of the day, price matters. Don't feel like you have to spend a fortune on a container if it's not the right one for you. There are many affordable options out there that will stand up to the test and not break the bank. But if you are looking to invest in the best quality, make sure it's worth the money and going to last for the long-haul.
Meal Prep Containers Review
We went ahead and did the hard work for you and tested out eleven different brands of containers. We weighed heaviest on leak proof lids, ease of travel and durability to find the toughest and most convenient option out there. In first place was Six Pack Fitness with spill proof containers that can be used in a variety of stylish travel bags for on-the-go fitness. And runner up was Tupperware Vent 'N Serve, with sturdy and leak resistant options in an array of sizes that can be stored in the fridge or freezer. Check out all the rankings below: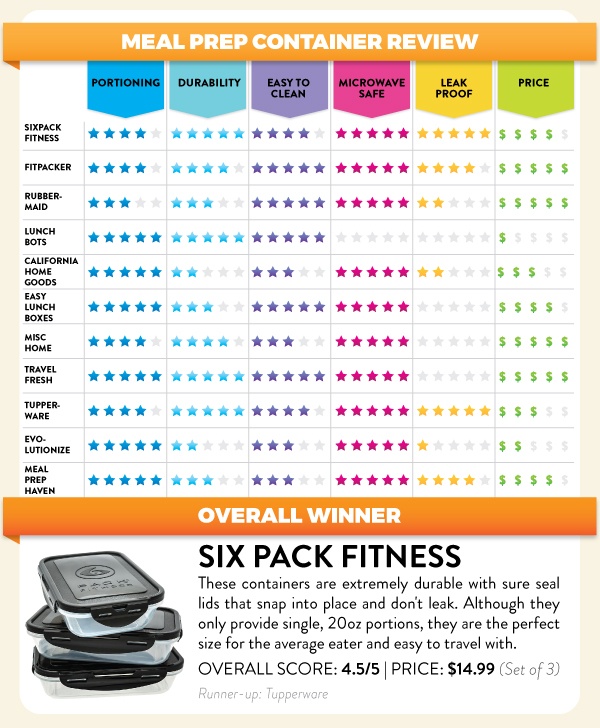 Final Thoughts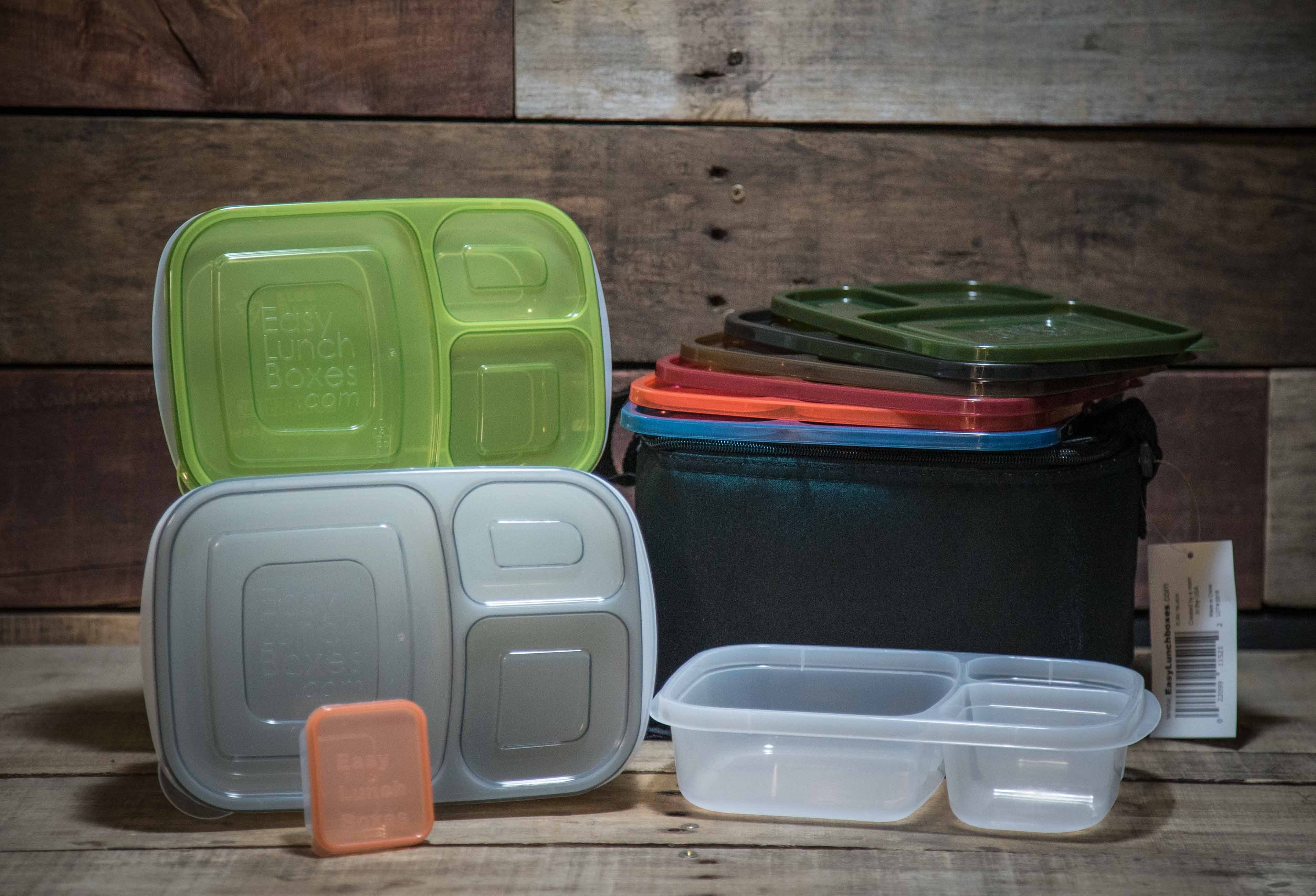 At the end of the day, the best meal prep container is the one that meets your personal needs best. If you eat more mixed dishes, a single paced container works great. But if you want your foods to stay separated, compartments are a must. Look for the size, material, and price point that works for you - there is no one size fits all approach.
Still looking for the best meal plan to store in your favorite container? Or just want to cut down on cooking time? Make your meal prep a breeze with organic, nutrient-dense meals delivered right to your door.