Topped with a tangy kiwi pomegranate salsa, garlicky guacamole, and crisp sprouts, this juicy vegan California burger recipe will have you dreaming of the west coast. Achieving your vegan macros just got easier thanks to Beyond Beef® burger patties; this recipe contains 30 grams of plant-based protein per built burger.
Californian west coast cuisine meets Beyond Meat® burger in this insatiable plant-based burger recipe. By transforming a few simple ingredients we put an eccentric twist on a classic burger build.

How to Prepare Your Vegan California Burger Recipe
Ingredients
4 burger buns (sesame, potato, or gluten-free; note the difference in nutrition, we used classic potato buns)
1 cup fresh Sprouts (alfalfa, broccoli, mung bean, radish, or sunflower)
1 head bib lettuce, cleaned and split into individual leaves
1 Roma tomato, sliced
Garlic guacamole
Kiwi pomegranate salsa
For the garlic guacamole
1 avocado
3 cloves garlic
½ lime, juiced
Pinch sea salt
Pinch smoked paprika
For the kiwi pomegranate salsa
4 kiwis, peeled and chopped
¼ cup pomegranate seeds
1 teaspoon fresh ginger, grated
2 tablespoons lime juice
¼ cup mint or parsley chopped
Tools
Grill or saute pan
Tongs
Microplane or grater
Two small bowls
One small sheet pan
Step 1: Prep Garlicky Guacamole and Kiwi Pomegranate Salsa
To prepare the guacamole, remove the pit from the avocado and scoop the flesh into a small bowl. Using a microplane or grater, grate the garlic into the avocado; this releases more of the volatile oils in the garlic enhancing the flavor.
Use a fork to mash the avocado and mix in the garlic, lime juice, and a pinch of sea salt and smoked paprika.
To prepare the kiwi pomegranate salsa, first slice off a small piece of the top of the kiwi, this will make it easy to peel using a knife or vegetable peeler. Peel all of your kiwis, then rough chop them into small dice.
Place your diced kiwi into a bowl and add the pomegranate seeds and chopped cilantro. Finish your salsa by using a microplane to grate the ginger into your salsa, stir and set aside.
Step 2: Mise en Place Your Buns, Lettuce, Tomato, and Sprouts
A good cook will always collect their mise en place before starting the cooking process.
Mise en place is a French term for "everything in its place" and in the culinary realm refers to the setup before cooking. Make sure you have all your ingredients, cookware, and take a breath before starting the cooking process.
Step 3: Grill, Saute, or Air-Fry Your Beyond Meat® Burger and Toast Your Buns
When it comes to cooking your Beyond Beef® burger patty, you have a few options:
Grill for 3 minutes on each side (if using Trifecta a la carte burgers, heat for 1-2 minutes)
Pre-heat a saute pan, add a 1-second spray of cooking oil, and sear for 4 minutes on each side
Air-Fry at 400 degrees for 8 minutes, flipping halfway through at the 4-minute mark
Pro Tip: The only time you should touch your burger is when you flip it, don't move it and touch it often; this ensures all of the juices stay inside the burger and it cooks evenly.
Toast your burger buns in the oven or toaster oven for 1-2 minutes, this will prevent the bun from getting soggy from the juicy Beyond burger and delicious toppings.
Step 4: Build Your Burger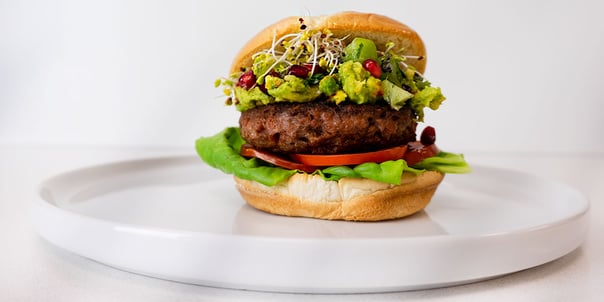 Prepare to make your meat-eating friends jealous. Once you have cooked your burger patty, build your burger however you'd like! I would recommend starting with lettuce and guacamole on the bottom bun to help secure all of the other toppings.

Servings, Storing, and Reheating
Burgers can be a simple and tasty addition to your weekly vegan meal prep. Simply pre-cook your patties and store them in a food-safe container in the fridge, then separately mise en place your toppings and buns. When you're ready to enjoy, microwave your pre-cooked patties for 2 minutes then build your burger!
A low-carb way to enjoy a burger on the go is by turning your tasty burger into a salad bowl! Cook your burger patty and crumble on top of a bed of fresh salad greens and top with guacamole, salsa, sprouts, and sliced tomato; pair with this green goddess salad dressing or your favorite salad dressing!
---
Love this recipe. Check out these 6 Vegan Breakfast Recipes for Plant-based Power!
Want to get more out of your weekly meal prep efforts? Stick to your calorie goals and maximize results with this free meal prep toolkit for weight loss. An RD-written guide with a macro meal planner, food lists, and expert advice to help you lose weight quickly.