Rise and shine to all the vegans out there. Chef Sky's up early to start your day right with six new vegan breakfast recipes. Swap the greasy spoon for high-protein, plant-based breakfast dishes. Now, this is sustainable energy!
How to Master Your Vegan Breakfast
Starting your day with the proper nutrition is the best way to set yourself up for success. Whether you need to focus at work or head out on a long hike in the mountains, a macro balanced vegan meal will get you a lot further than coffee and a donut.
Is Breakfast the Most Important Meal of the Day?
When we eat breakfast we are literally breaking a fast, having gone your longest period without a meal overnight. Whether breakfast is the most important meal of the day can be debated but it's your first opportunity to energize your body for the day.
Some studies suggest that eating more earlier in the day can help curb hunger (making cutting calories easier), and might also support better blood sugar control throughout the day (1,2,3,4,5).
What's most important is eating when your body is hungry and breakfast tends to be when your body needs it most.
Why Protein Matters
As for the nutrition, shoot for more protein in the morning! Multiple studies have linked a high protein breakfast with better weight management due to improved appetite control throughout the day (6,7,8,9).
Plus, you'll be getting a head start on conquering your vegan macros for the day.
6 High Protein Vegan Breakfast Recipes to Make this Week
Each of these vegan breakfast recipes are packed with healthy calories and plant based protein. A breakfast high in protein will keep you feeling full longer to keep you active and energized until your next meal without snacks in between.
These breakfast recipes are perfectly scalable for easy vegan meal prep. Usually skipping breakfast is more about our schedules than our appetites so planning ahead to have a healthy meal every morning is a great way to keep you on track all week.

Opa! Taste the Mediterranean with this meat free breakfast skillet. A medley of savory breakfast vegetables, like sweet potato and artichoke, and aromatic flavors of the Mediterranean region, the star of this skillet is the Beyond meat crumbles that make it a filling and protein packed breakfast.

Cooked low over cast iron until everything gets to know each other with perfect caramelization and browning, this dish will wake you up with hearty sustenance to start your morning.

Faster than airfare and better for the environment, enjoy an adventure to the Mediterranean before you even get dressed for the day.
Make enough for the whole week for a solid breakfast without waking up extra early.
Full recipe here.

Pancakes set the tone for the day and, personally, those are my favorite days. No one whips up a stack of pancakes and heads down to the DMV, at least I hope not.
Chef Sky's preparation will set you up for anything from walking the dog on the town to throwing down at the gym.

Protein-filled almond and chickpea flour take the lead with these pancakes while powdered almond butter, almond milk, and vegan protein powder take your macros to critical levels. The almond powder also gives the pancakes air structure, mimicking gluten in this gluten-free recipe.

The chickpea flour gives these plantcakes a fluffy texture to sop up the vegan approved pure maple syrup.
To meal prep, make your batter in bulk, enough for as many days per week you want pancakes and honestly, that should be most days. Store the batter in an easy-pour container with a lid in the fridge. Griddle to order and enjoy!
Full recipe here.

I love Mexican food and living in LA for years gave me an even closer appreciation for it. When I'd travel abroad, the first meal I'd come home to, the craving of comfort, would be Mexican. Not a burger, a burrito.

I could eat Mexican food every meal of the day.

Luckily Chef Sky has me and all the vegans out there covered with these delicious low carb vegan tacos.

These have all the flavor of a traditional breakfast taco but swaps the eggs for a well-seasoned tofu scramble and the corn tortillas for low-carb jicama, a Mexican root vegetable related to the turnip.

For a cuisine known in America by names like Asada and al-pastor, these meat-free tacos offer all the amazing flavors of Mexico in a portable plant-based taco.
When portioning these for weekly meal prep, keep the tortillas separate from the scramble. Reheat the scramble and then assemble your tacos, adding your preferred salsa or garnish fresh each morning.
Full recipe here.

Apparently, avocado toast is keeping millennials from buying houses or having kids, sucking down their savings accounts nine bucks at a time. I don't think there's much to that claim but I will say that these things are easily habit-forming and starting your day with one will give you the energy you need to keep clawing your way out of student debt.

Chef Sky makes hers with maxed out umami to satisfy vegans and meat-eaters alike and ups the protein even more with diced tempeh and gluten-free millet-chia bread. Rich mushrooms and avocado are balanced with tangy balsamic vinegar.

This dish delivers high protein, healthy fats, omega 3 fatty acids, vitamin C, E, potassium and magnesium. It's fully customizable and freaking delicious.
These are best made fresh each morning but you can get a head start using Trifecta's a la carte portobello mushrooms, precooked and packaged in bulk for quick meal prep in the morning.
Full recipe here.

For another take on the tofu scramble, try this recipe. A medley of summer vegetables comes together with a seasoned tofu scramble with a satisfying cheesiness to satisfy any morning hunger. The trick? Nutritional yeast! You'd never know it's vegan!
Full recipe here.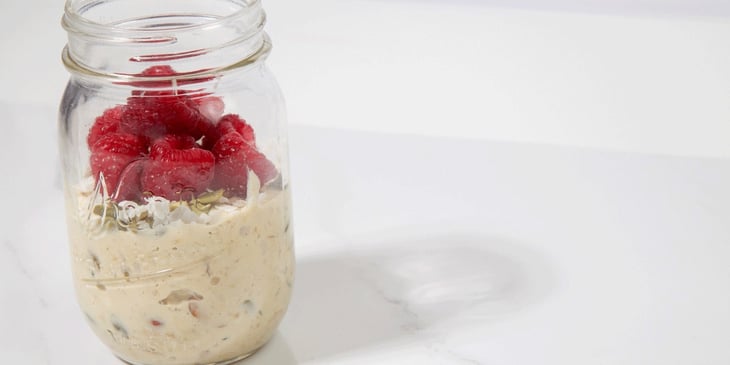 If you've got a bit of a sweet tooth but didn't meal prep your pancakes, grab this easy on-the-go muesli recipe. A triple punch of protein with oats, nuts, and seeds, plus plant-based protein powder on top of that, this quick recipe will keep you full all morning without any cooking involved.
Full recipe here.
Ready to take your vegan meal prep up a notch?
Lose weight and improve your health with a 100% plant-based diet. Learn how with this free meal prep toolkit for vegan diets. A step-by-step guide that includes meal planning templates, approved food lists, and expert tips to get you results faster.