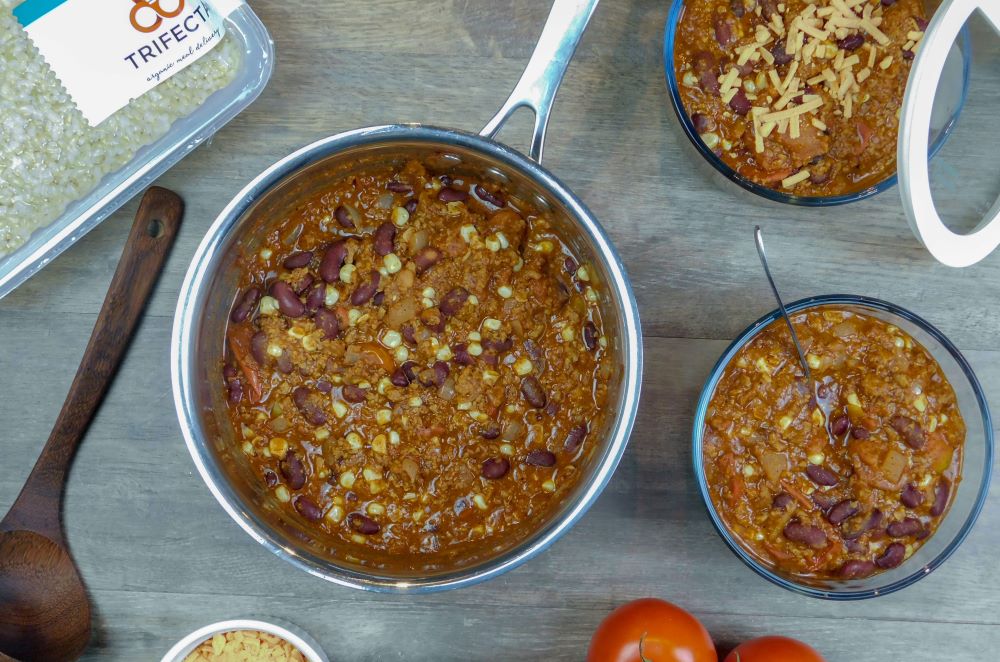 The might be the only vegan chili recipe you will ever need again! A delicious plant-based, one-pot chili that is high in protein and takes less than 35 minutes to make. Made with beyond meat burgers and simple ingredients simmered in the most delicious blend of seasonings... most of which you can find in your seasoning cabinet.
Put this recipe to good use with this free meal prep toolkit for vegan diets. This RD written guide is complete with custom vegan macros, food lists and menu planning templates to keep your diet on track and help you achieve your health fitness goals!
How To Make Vegan Chili
For this recipe you're going to need the following:
4 Trifecta Beyond Meat patties, crumbled
2 (16 ounce) cans kidney beans
1 (16 ounce) can navy beans
2 cups cherry tomatoes
1 medium yellow onion, chopped
2-3 tablespoons avocado oil
1 cup whole corn
1 cup filtered water
2 tablespoon tomato paste
2 garlic cloves, minced
2-1/2 tablespoon Chili powder
1 teaspoon cumin
1 teaspoon coriander
1/2 tablespoon organic cane sugar
1/2 teaspoon Himalayan fine pink salt
3/4 teaspoon ground black pepper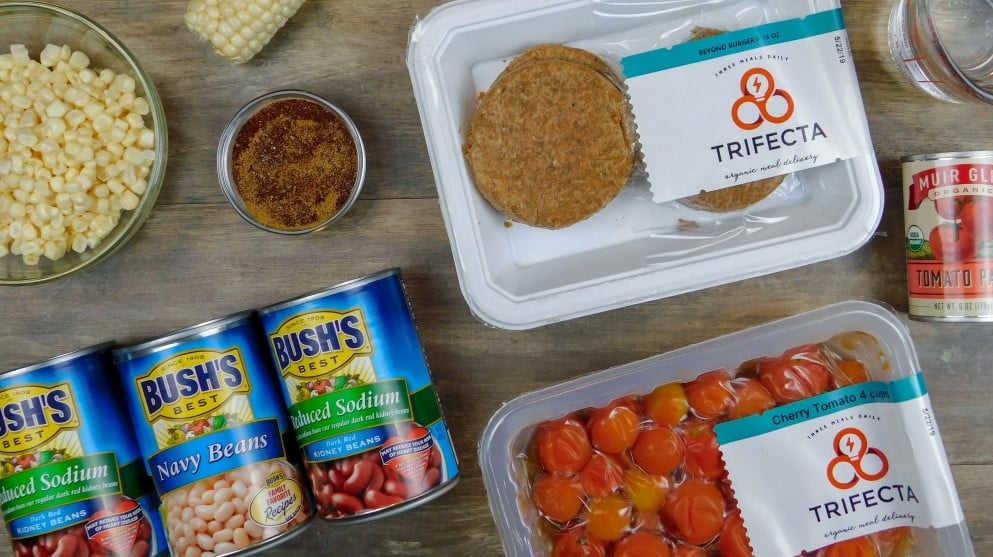 Start by prepping your ingredients:
Drain and rinse your kidney beans; set aside.
Drain and puree the navy beans; set aside.
Chop the cherry tomatoes into small quarters.
Dice the yellow onion.
Derail corn.
In a sauce pot on medium-high heat, add half of the avocado oil, all of the onion, and garlic. Sauté for 3 to 5 minutes or until onions begin to lightly brown. Stir in the crumbled beyond meat and cook for an additional 2 minutes.
Tip: Looking for to cut out some added fat? Swap the avocado oil for vegetable broth, adding small amounts during the cooking process to keep it from sticking.
Add the cherry tomatoes, chili powder, cumin, coriander, sugar, salt, pepper and tomato paste. Give a good stir and then add water, corn, kidney beans, and smashed pinto beans.
Bring mixture to a boil and reduce heat to simmer. Cook for another 20 to 25 minutes. When finished, remove from heat and serve into bowls.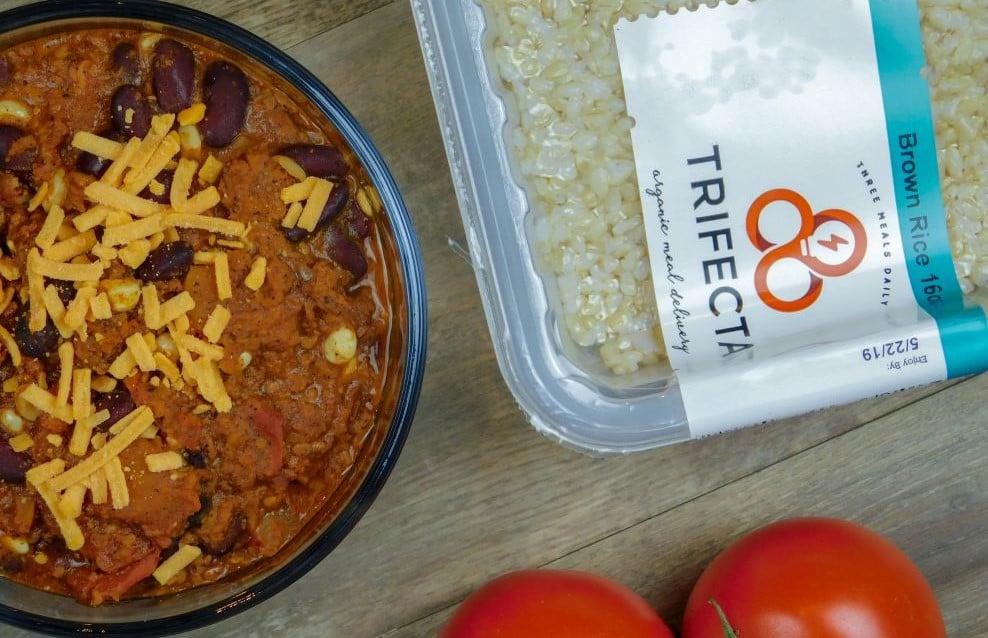 Tip: For extra carbs, serve your chili over Trifecta Brown Rice or your favorite pasta.
Serve it immediately topped with vegan sour cream, cheese, chives, or enjoy it plain.
Meal Prep Tips
If you are like me and need to make meals in advance, then you'll enjoy reheating this one! Portion out and simply reheat in the microwave for a minute or two when ready to ea. It helps to give it a good stir in-between cooking to make sure it gets warmed all the way through.
Here are a few other tips for this meal prep dish:
Package the garnishes and toppings separate from the chili.
Make sure to cover the top with a paper towel to prevent splattering.
Portion and freeze any unwanted leftovers for future weeks.
Use this dish and my other high protein vegan recipes, in your weekly vegan meal prep!
Serve this With:
Chili makes for a great main meal, or can be added into a variety of recipes to add more versatility into your meal prep for the week. Here are some healthy pairings to try:
Pair with baked chips and vegan cheese for a healthy twist on nachos.
Serve over spinach or extra greens for a taco-ish salad.
Top off a baked potato or roasted potatoes.
Add in pasta and cheese for a chili packed mac-n-cheese.
Get more recipes like this from Ryan Shepard, the Vegan Rhino.