In less than 30 minutes prepare this mouth-watering vegan Thai curry recipe overflowing with nutrient dense vegetables coated in a savory red curry coconut broth. This is a great meal prep recipe to customize and change up the vegetables or pair with quinoa, basmati rice, or brown rice.
Curries of the World
The term "curry" refers to a variety of dishes prepared with various spices, herbs, broths, proteins, and vegetables producing a unique flavor depending on what region of the world you are in.
This red Thai vegetable curry recipe draws its inspiration from Thailand, where curries tend to be categorized by the color of chiles used in the recipe and packed with aromatics such as lemon grass, galangal (a tropical relative of ginger), kaffir lime leaves, and coconut milk.
Visit your local Asian supermarket to gather your ingredients for this recipe or other Asian inspired dishes to source specialty ingredients such as red curry paste, galangal, lemongrass and lime leaves; we included garlic and ginger in the base of this velvety vegetarian coconut broth, if you can't find any of the ingredients listed above.
Adding minced aromatic ingredients such as lemon grass, galangal, and lime leaf results in a bright and well-balanced curry broth.
This is a great recipe to include in your weekly vegan meal prep as it can be prepared ahead of time and keeps for up to 7 days in the fridge. One recipe yields 5 protein packed meals to power you through your week.
How to Prepare Your Vegan Thai Curry Recipe
Prep Time: 6 minutes
Cook Time: 20 minutes
Servings: 5
Ingredients
1 teaspoon coconut oil
½ medium onion, sliced
2 cloves garlic, minced
2 tablespoon ginger, minced
1 bell peppers sliced
1.5 cups bok choy, chopped into pieces
2 cups Trifecta mushrooms or sliced mushrooms
2-3 tablespoon red curry paste
1 teaspoon coriander
1 can chickpeas, drained and rinsed
16 ounce tofu, baked or air-fried
1 can (13.66 ounces) unsweetened coconut milk
1 cup vegetable stock
4 tablespoons lime juice
2 cups cooked Trifecta quinoa
To garnish: Basil and Cilantro
Tools:
Knife & cutting board
Large Pot
Spatula
Measuring tools
Step 1: Chop and Prepare Ingredients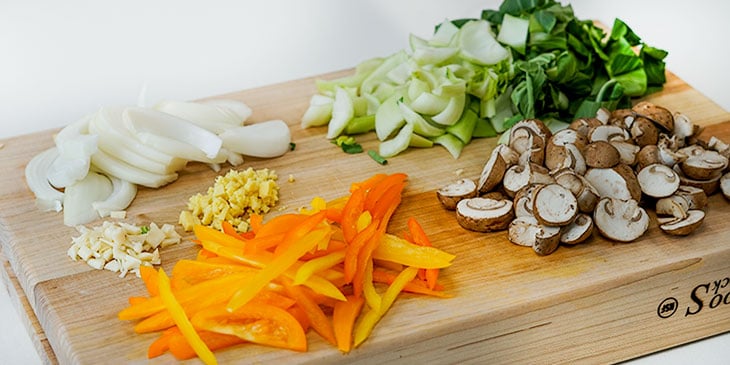 Mise en place your ingredients and mince or chop any vegetables before starting the cooking process. This gives you time to mentally walk yourself through the recipe and raid your fridge or pantry for any other ingredients you'd like to throw in!
Mise en place is a culinary term referring to the process of gathering all your ingredients and equipment before starting the cooking process.
If you have purchased pre-baked or enjoy the raw firm tofu, cube it into 1-inch cubes and set aside with the rest of your ingredients. To add another layer of texture to your Thai vegetable curry you can also air-fry your tofu: air-frying tofu will help the sauce coat the tofu evenly and soak up the luscious flavor of the red-curry broth.
Step 2: Heat the Pot and Saute Aromatics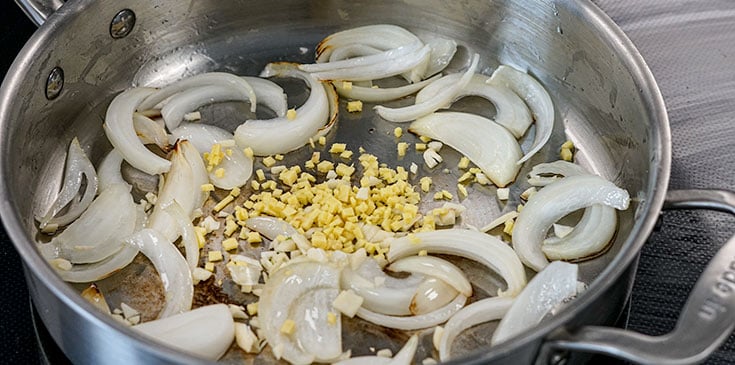 Heat a stock pot or cast-iron pot over medium heat for one minute and add coconut oil.
Add in the onions and saute for 1 minute, then add the garlic and ginger along with any other aromatic ingredients such as: galangal, lemongrass, leeks, celery, or carrots. Cook the aromatics for 2 minutes until they are fragrant and translucent.
Step 3: Add the Vegetables and Red Curry Paste
Add the mushrooms, red bell pepper, and bok choy to the pot and cook for 5 minutes until they are slightly tender.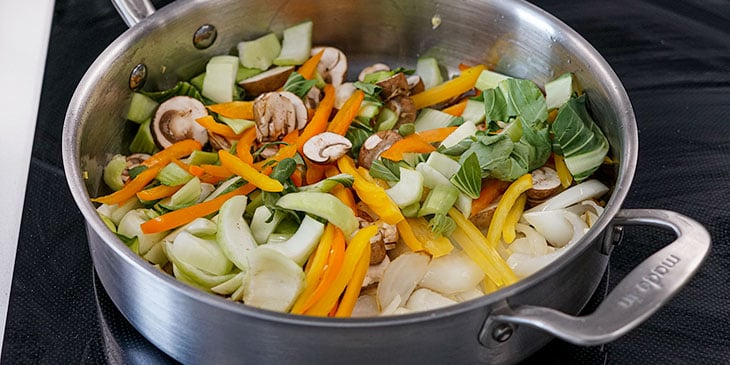 If you plan on using hearty vegetables such as butternut squash, sweet potatoes, or kabocha squash, cut them into cubes and roast them in a 400 Fahrenheit degree oven until tender then add them to the curry broth to reduce cooking time and increase flavor.
Stir in the red curry paste and chickpeas and cook until aromatic, about 1-2 minutes.
You can usually find pre-made red curry paste in the Asian section of most grocery stores, which tends to be prepared with roasted peppers and spices.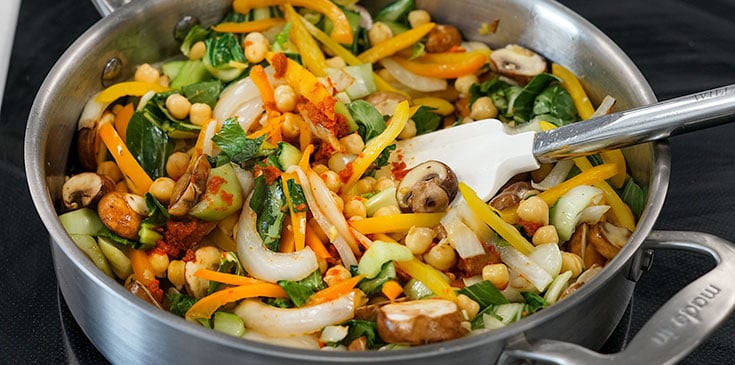 Step 4: Add Coconut Milk and broth (or Other Vegan Protein Alternative)
Add in your coconut milk and broth, being sure to gently release any curry paste or spices stuck to the bottom or sides of the pan. Bring to a boil then reduce the heat and simmer for 10 minutes then finish by adding in the tofu or vegan protein of your choice.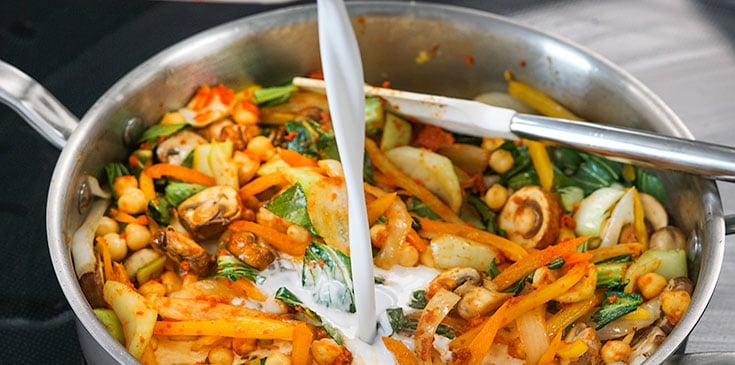 Step 5: Serve or Store
Taste your curry broth and season with lime juice and a bit of sugar if desired, this will help balance out the flavors of the dish; acidity is a wonderful way to counteract a dish that has a fatty mouthfeel or taste too heavy.
Serve with cooked quinoa, rice, or naan bread; for a macro balanced meal portion 1.5 cups of broth and vegetables over ½ cup of cooked quinoa into your favorite meal prep containers to achieve the nutritional value located below. Top with garnishes such as sliced green onions, basil, or cilantro.
This recipe is perfect for meal prep as you can prepare the curry before hand and portion it out to enjoy for multiple meals during the week!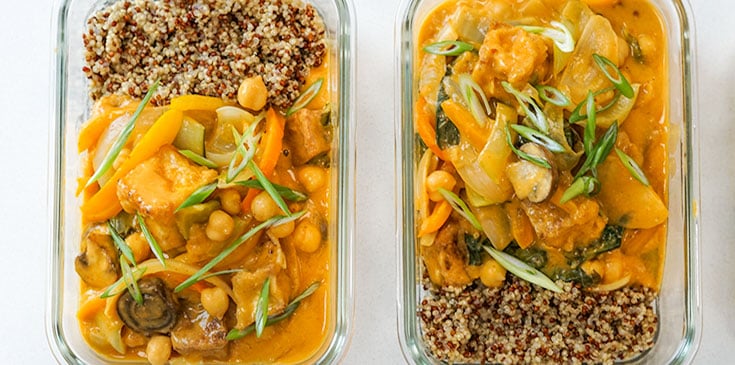 Use this dish and other high protein vegan recipes, in your weekly vegan meal prep!
---
Having trouble hitting your protein goals on a plant based diet? Crush your vegan macros with ease using the free meal prep toolkit for vegan diets. A step by step RD written guide for meal planning your ultimate vegan menu.