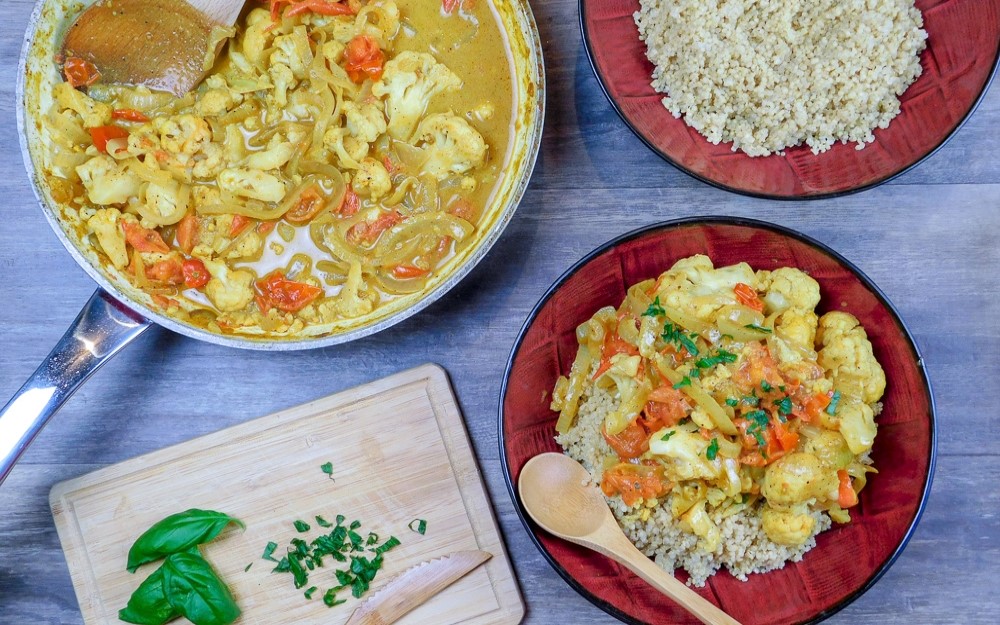 Are you ready for this easy one-skillet curry dish that will be ready in less than 30 minutes? This recipe uses veggies that have been simmered in a curry sauce made with a blend of seasonings. Although this curry sauce may have a complex flavor profile, it is simple to make will surely impress you and your family or friends. Who is ready to start cooking?
Put this recipe to good use with this free meal prep toolkit for vegan diets. This RD written guide is complete with custom vegan macros, food lists and menu planning templates to keep your diet on track and help you achieve your health fitness goals!
How to Make this Recipe
For this recipe you're going to need the following:
1-1/2 tablespoons avocado oil
16 ounces Trifecta quinoa
2 medium onions, sliced
1 teaspoon garam masala
1 teaspoon coriander powder
1/2 teaspoon cumin powder
1/4 teaspoon turmeric powder
1/2 teaspoon chili powder
1 can (13.66 ounces) unsweetened coconut milk

4 cups

cauliflower
1 cup diced cherry tomatoes
1/2 teaspoon Himalayan pink salt
1/4 teaspoon ground black pepper
Chopped basil for garnish
Add avocado oil to a large skillet and heat over medium-high. Once the skillet gets hot, add the onions and a pinch of salt and pepper for flavor. Sauté the onion for 5 to 10 minutes, or until onions are translucent and slightly golden.
Then stir in coriander, cumin, garam masala, turmeric, chili, cauliflower, and cook for an addition 2 to 3 minutes until the flavors begin to meld.
Tip: Increase the protein in this dish by adding chickpeas, tofu or seitan!
Slowly pour in the coconut milk, scraping up any bits from the bottom of the skillet. Cook until coconut milk begins to thicken, stirring occasionally.
Once mixture is thick and creamy, add the diced tomatoes, salt, and pepper. Continue to cook for another 1 to 2 minutes.
While your curry dish finishes cooking, heat up the quinoa according to the directions on the package - pop in the microwave for 90 seconds. Then portion out your cooked quinoa into your bowls or meal prep containers (4 ounces or roughly 3/4 cup per bowl).
Top quinoa with curry. Garnish with basil when ready to eat!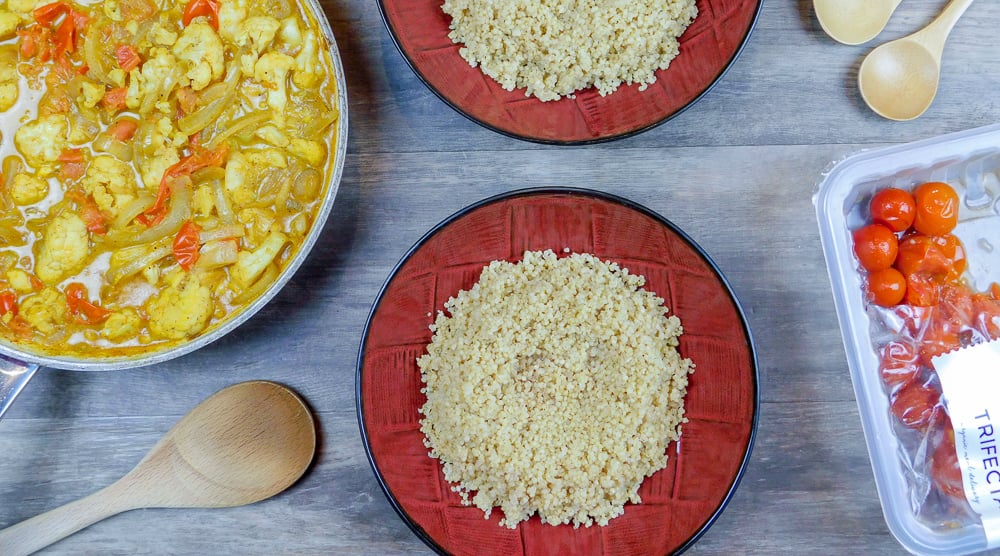 Use this dish and my other high protein vegan recipes, in your weekly vegan meal prep!
Make this for Your Vegan Meal Prep
This one pot dish is basically made for meal prep! Weigh and portion out your quinoa and curry into individual containers, keeping them separate until ready to serve. This will keep your quinoa from getting soggy. Or you can toss it all in one container and reheat when ready.
Tip: save your basil garnish until you are ready to eat. This will keep it from wilting and will add a fresh, vibrant flavor to the dish!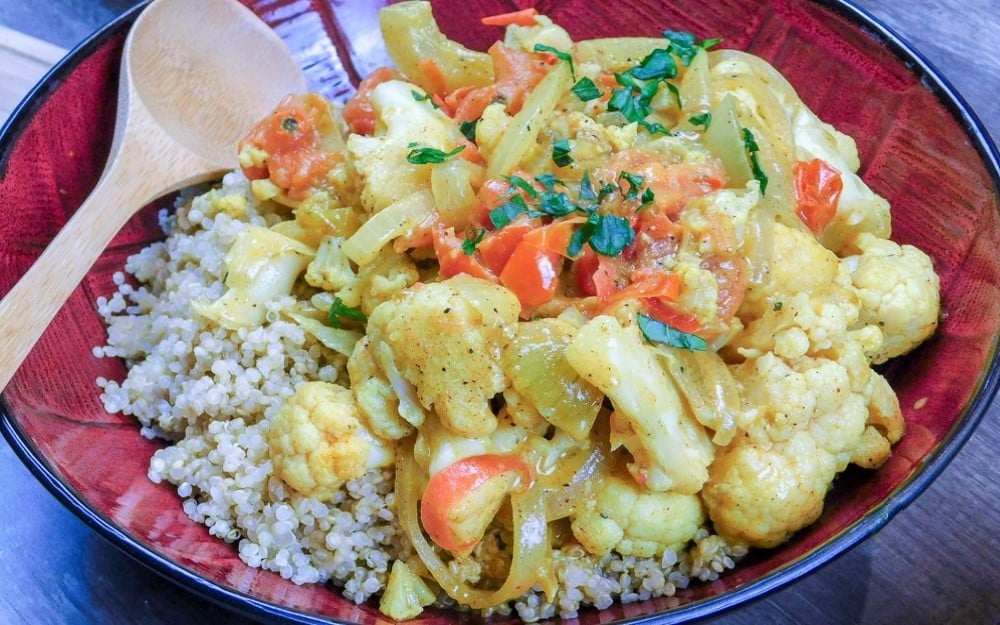 Serve this With

This spicy warmth of this dish makes for a complete meal on its own. To help balance out the heat try one of these healthy pairings:
A tomato and cucumber salad tossed in a fresh vinaigrette or tzatziki dressing.

Top with plain non-dairy yogurt (or Greek yogurt) to make the dish slightly more mild and creamy
Get more recipes like this from Ryan Shepard, the Vegan Rhino here.