Customizing Your Calories for a Vegan Meal Plan
This two-week 1,400 calorie-easy vegan meal plan is the ideal menu for you to stick to your macro and calorie goals while getting plenty of quality nutrition. If you need to increase your calorie intake all you need to do is multiply the portions to match your calorie needs.
For example, if you need 1800 calories per day, you'll need to increase portions by a factor of 1.28 (1800/1400 = 1.28). Just multiply all ingredients by a factor of 1.28 and your set! If you consume a 2,000-calorie diet, then simply multiply by 1.43 (2000/1400 = 1.43).
That being said, we planned this meal plan with some wiggle room to incorporate your favorite healthy beverage or snack and still be in a calorie deficit, the key to sustainable weight loss.
Tracking your daily intake using a nutrition app, is the easiest way to ensure you are staying on top of your calories consistently.
Setting up Your Kitchen and Pantry for Vegan Meal Prep
Choosing to meal-prep is ultimately self-care; take it a step further and organize your cookware and meal-prep containers beforehand to get an idea of what you have to work with.
In professional kitchens, we refer to this process as mise en place, or gathering all your ingredients and equipment before you start the cooking process.
Culinary mise en place is a mental mindset as well; what motivates you to stay on track with your health goals?
Here is our list of top tools for efficient and easy meal prep:
Once you have your equipment set up, remove any old items from your pantry or food that no longer fit into your inspiring vision of health!
The best diet for you is the one you enjoy eating so feel free to make substitutions and purchase other vegan ingredients to stock your pantry with options.
Here is a basic list of spices and other healthy pantry items to have on hand for this meal plan:
Spices & Herbs

Healthy Fats

Other Ingredients

Cinnamon
Cayenne pepper
Smoked Paprika
Turmeric
Garlic Powder
Dried Parsley
Red pepper chili flakes
Chinese five-spice
Kosher salt

Avocado Oil
Sesame Oil
Coconut Oil
Nut Butters

Tamari
Sherry Vinegar
Cornstarch
Vegan Sweetener of your choosing
Vegetable Stock
Vegan Protein Powder
This plan is gluten-free and utilizes whole foods, the shopping lists will prepare you to execute the recipes listed. The quality and variety of ingredients in a vegan diet are key to achieving phytonutrient diversity (eating lots of colors) and preventing reliance on highly processed foods to achieve your plant-based macro goals.
Ideas to Save Time and Money
Use your shopping list to plan ahead before the day you hit the grocery store, and buy all of your ingredients in one haul. Then choose a day or two that works for you and meal prep in advance using a weekly meal prep routine.

Allow yourself 6 to 8 hours if you are a beginner at meal prepping. This meal plan contains recipes with similar ingredients and utilizes leftovers; this will save you time as you can prepare some of the ingredients in bulk amounts.
Or, Let Us Help!
Ready, Set, Prep!
Week 1 Plant-based Meal Prep
Here is a full week of healthy and easy meals to make for week 1, you got this!
On the Menu
Meal Plan Shopping List
Here is your shopping list for week one, this list will also leave you with ingredients for week two, add in fruit and some of your favorite healthy vegan beverages and snacks.
Produce

Pantry

Proteins

4 bananas
1 lb baby Spinach (large container)
6 limes
4 lemons
1 package (6-8 tortillas) Jicama Tortillas (or 1 package tortilla of choice)
1 bunch cilantro
2 Zucchinis
3 bell peppers
4 medium roma tomato
2 cups vegetable of choice
2 heads broccoli
8 cloves peeled garlic
1 cup Sprouts
1 Head Bib Lettuce
2 Avocados
6 Kiwis
1 2" piece ginger
1 Bunch Parsley
3 Small Sweet Potatoes

1 Container Plant-based Protein

8 oz spirulina powder


8 oz jar almond butter (smooth or crunchy)

1 jar nutritional yeast

1 jar kalamata olives

1 cup almonds

8 oz high protein pasta
3 cups brown rice (microwave ready or raw)
4 Burger Buns



2 containers extra-firm tofu

16 oz Tempeh

2 Packages Beyond Meat Burgers




Other

1 Quart Dairy-Free Milk (Soy, Almond, Blend)

8 oz frozen corn

1 cup pomegranate kernels
Start Your Meal Prep Here
Before diving into each individual recipe, identify anything you can make in batches such as starches (sweet potato, rice, pasta), roasted vegetables, and sauces; refer to the cooking methods listed in the recipes.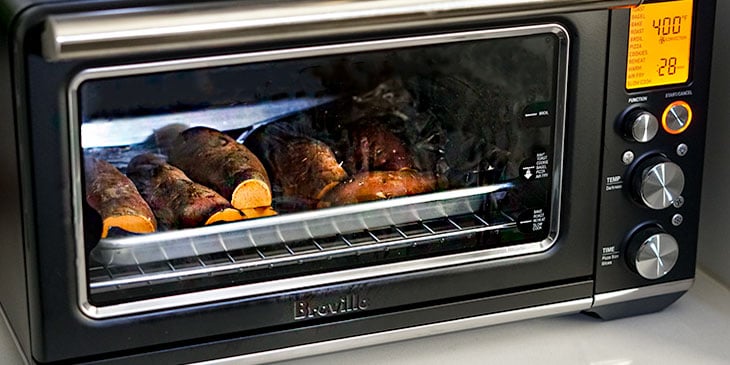 Some of the recipes source Trifecta Vegetables, but you can easily substitute any non-starchy veggies from your local farmers market or grocery store.
Incorporate as many non-starchy vegetables as you want in your vegan diet, as most are low in calories and highly nutritious.
Mise en place like a chef and prepare the following for week 1:
Food safety tip: always let the ingredients cool down completely in the fridge before portioning and sealing in your containers.
Add one healthy 200-calorie snack or beverage of choice (every day) or a dessert; try out this high-protein vegan fudge brownie recipe with 13 grams of protein per brownie.

Vegan Breakfast Recipes
Here are two easy vegan breakfast recipes that will power you through the week.
NUTRITION: 320 Calories; 31g Protein; 42g Carbohydrates, 10g fat.
Smoothies are one of the best ways to increase your protein intake by utilizing a quality plant-based protein powder. Source a trusted brand that contains high-quality ingredients and little to no added sweeteners. We recommend Momentous Essential Plant-Based Protein, it is non-GMO and NSF sport certified.
Add variety to your smoothies by:
Substituting other leafy greens such as dandelion, kale, or arugula
Blending in 1/2 cup of your favorite frozen fruit
Incorporating spices such as cardamom, nutmeg, and ginger.
Topping it with omega-3-containing nuts and seeds such as chia seeds
Use peanut butter instead of almond butter
Meal prep your smoothies ahead of time by pre-measuring out all the ingredients into containers, then all you have to do is grab, blend, and go!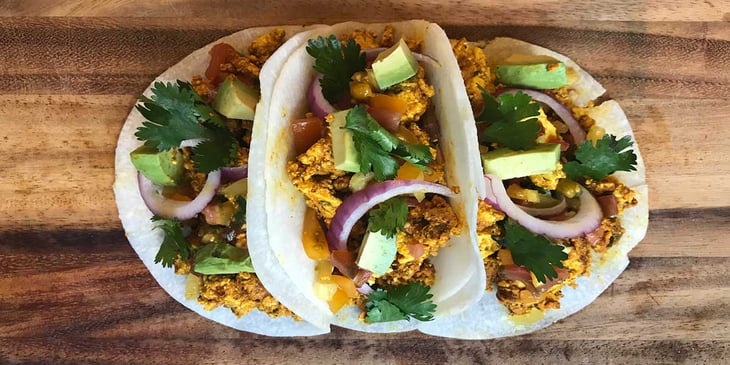 NUTRITION (per 2 loaded tacos): 210 Calories; 17g Proteins; 16g Carbohydrates; 9g Fat.
Follow the recipe above or this cheesy tofu scramble filling recipe for simple breakfast tacos and choose from low-carb jicama shells or your vegan taco shell of choice. Make the kiwi salsa and guacamole from the burger recipe below to garnish your tacos.
Meal prep storage tip: store your taco filling separate from your shells to prevent soggy taco syndrome.
Vegan Lunch Recipes
Here are two healthy lunch recipes to make for this week:
NUTRITION: 424 Calories; 21g Protein; 46g Carbohydrates; 21g Fat.
Combine high-protein pasta with roasted vegetables and 2 tablespoons of homemade or store-bought romesco sauce for a quick and tasty pasta salad. Add in 4 ounces of any plant-based meat or use any extra filling from the recipe below to increase the protein.
NUTRITION: 470 Calories; 26g Protein; 32g Carbohydrates; 7g Fat.
Try out this high-protein vegan burrito bowl with cilantro cauliflower rice if you're looking for another Mexican-inspired meal prep recipe to swap for the one above.

Vegan Dinner Recipes
Dinner recipes usually take center stage, but you can make any of the lunch recipes for dinner or vice versa!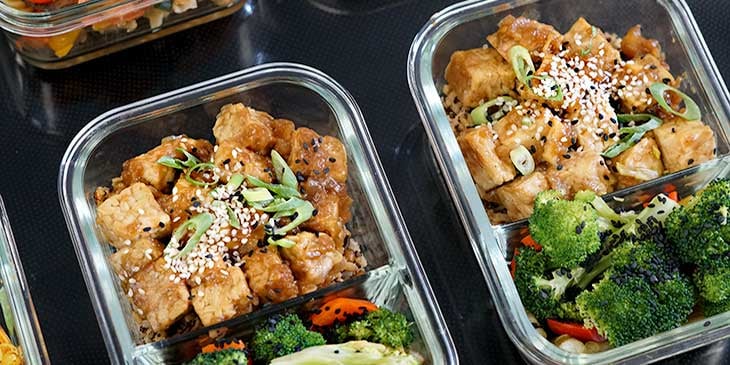 NUTRITION: 360 Calories; 27g Protein; 43g Carbohydrates; 10g Fat.
This healthy vegan meal is prepared with tempeh tossed in a tangy and sweet garlic ginger sauce. Tempeh a meat substitute made from fermented soybeans and contains almost 20g of protein per 3.5 oz.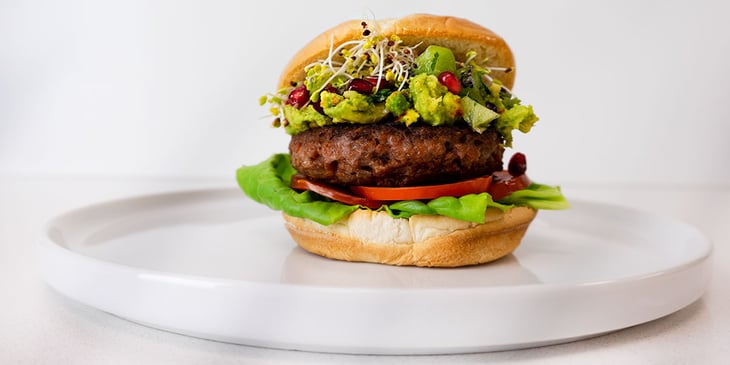 Nutrition: 530 Calories; 30g Protein; 42g Carbohydrates; 28g Fat.
We topped this juicy California burger with a tangy kiwi pomegranate salsa, garlicky guacamole, and crispy sprouts. Serve with 1 cup of roasted vegetables or a 1 cup side-salad with 1-2 tablespoons of an olive or avocado oil based dressing for a complete vegan meal.
Not in the mood for a burger? Try out this mouth-watering vegan meatball recipe with shredded spaghetti squash pasta or this delicious vegan thai curry recipe.
Week 2 Vegan Meal Prep
On the Menu
Meal Plan Shopping List
Here is a grocery list of the foods you'll need for your healthy meal plan recipes this week. You will still be using some ingredients from week one; add in fruit and some of your favorite vegan beverages and snacks.
Produce

Pantry

Proteins / Other

2 cups mixed berries

2 sweet potatoes

1 onion

1 hd garlic

4 cups mixed vegetables to roast

1 2" piece ginger, fresh

4 cups spinach

1 cup basil

2 bunches parsley

3 lemons

1 head cauliflower

1 bunch scallions

2 red bell pepper

1 small head red cabbage

1 package mushrooms

1 scoop plant-based protein powder

2 cups rolled oats

1 cup almonds sliced

1 cup pumpkin seeds

1 cup sunflower seeds

2 can artichoke hearts

1 can chickpeas

1 jar sun-dried tomatoes, packed in oil

4 cups quinoa

1 quart milk alternative (soy, almond, oat etc)

2 cups coconut yogurt

1lb beyond meat

2 packages extra firm tofu

1 cup edamame, shelled

½ cup ketchup

½ cup rice wine vinegar

4 tsp yellow mustard

4 tsp thai chili paste

½ cup golden raisins

1 package beyond sausage or meat-alternative

1 package kelp noodles
Flavorful Vegan Breakfast Recipes
This week meal plan includes three recipes to make and spruce up your vegan diet. We included a tofu breakfast hash recipe to substitute for the beyond meat breakfast hash if desired.
NUTRITION: 520 Calories; 30g Protein; 56g Carbohydrates; 21g Fat
Bump up the protein in your meal plan by adding in plant-based protein powder to this tasty Muesli. Make 3 recipes ahead of time for 3 days worth of breakfast. You can also stick to a classic overnight oats recipe for a quick grab-and-go breakfast.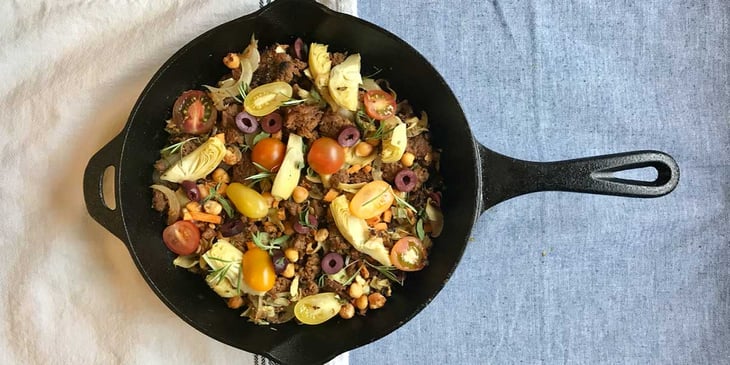 NUTRITION: 360 Calories; 22g Protein; 28g Carbohydrates; 18g Fat.
Prepare 1 recipe of either the Mediterranean scramble or the tofu recipe below, as each recipe will provide 4 days' worth of breakfast, the other 3 enjoy the protein muesli.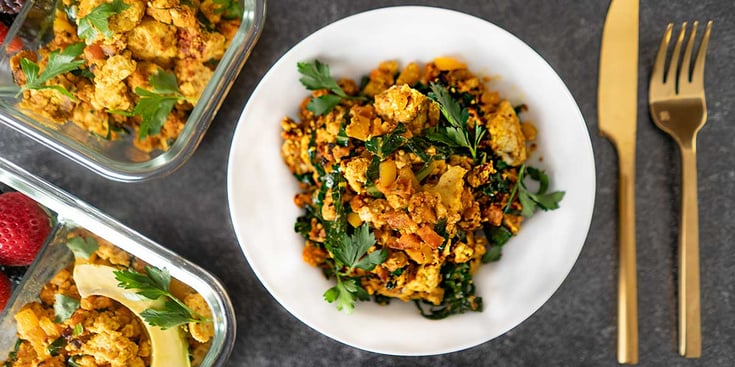 NUTRITION: 220 Calories; 14g Protein; 13g Carbohydrates; 13g Fat.
Achieve Your Goals Today!

Vegan Lunch Recipes


Nutrition: 390 Calories; 25g Protein; 41g Carbohydrates; 14g Fat.
Served over a bed of quinoa, this bbq tofu-stir fry can use some of the same ingredients as the stir-fry recipe for dinner. Prepare a 4x batch of sauce to have extra for the week.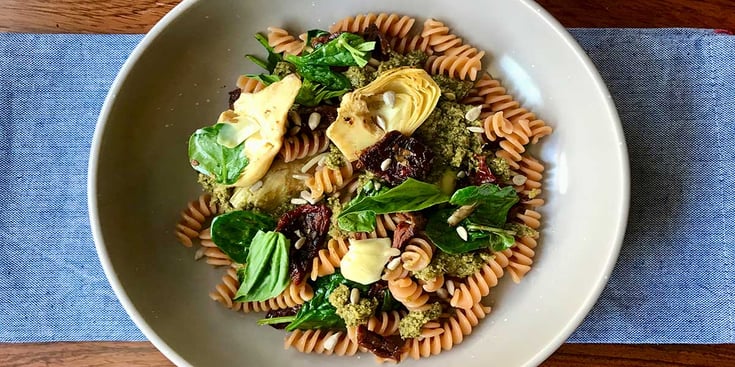 Nutrition: 420 Calories; 20g Protein; 49g Carbohydrates; 18g Fat.
This vegan spinach & artichoke spirulina pesto recipe is functional and flavorful! Make a double batch of the spirulina pesto or vegan pistachio pesto to use on roasted vegetables or mix in with your quinoa in other recipes for extra flavor.
Vegan Dinner Recipes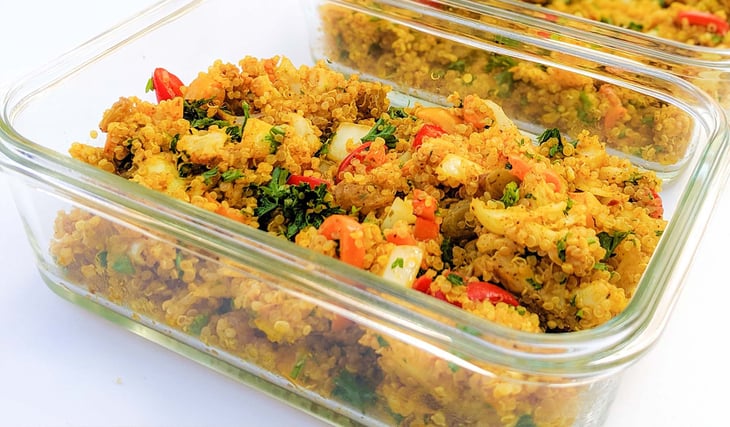 Nutrition: 300 Calories; 9g Protein; 49g Carbohydrates; 9 g Fat
Turn this side dish into dinner by adding some cooked Beyond Sausage packed with 16 grams of protein or source your plant-based protein of choice.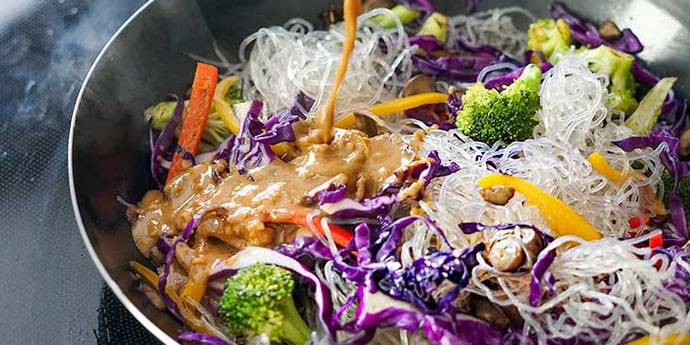 NUTRITION: 290 Calories; 18g Protein; 16g Carbohydrates; 19g Fat.
Stir-Fry is one of our favorite additions to any meal plan because they incorporate a variety of colorful vegetables into your diet. This dinner recipe can be prepared with the almond-thai sauce in the recipe or your favorite store-bought stir-fry sauce.
---
Extra Meal Plan-Friendly Tips
Each week's menu will cost you roughly $180 to $275 in groceries depending on whether or not you choose organic, chop sales, buy some items prepped, location, etc.
Don't Like the Breakfast Recipes? Choose from these other High-Protein Vegan Breakfast Recipes
Want to skip the vegan meal prep altogether? For roughly the same cost, and none of the shopping, cooking, and clean-up time, you can get a perfectly macro-balanced vegan meal delivered right to your door. Enjoy more variety and hit your vegan macro goals with ease.