With 30 grams of protein per serving, this 100% plant-based and gluten-free vegan burrito bowl recipe is the perfect meal-prep dish that you can prepare ahead of time to get ready for those busy weeks and keep your macros on point.
Building any kind of cuisine inspired bowl is an easy way to increase your consumption of phytonutrient dense foods and utilize flavorful herbs and spices. Meal prepping 'bowls' will also help you maximize flavor while minimizing effort and cost by preparing proteins, starches, and vegetables in bulk.
How to Prepare Your High-Protein Vegan Burrito Bowl Recipe
Prep Time: 10 minutes
Cook Time: 8 minutes
Servings: 4 servings

Ingredients
16 oz Beyond Meat or 4 Trifecta Beyond Burger Patties
1 can black beans, drained and rinsed from canned
1 cup cherry tomatoes, sliced
1 red or yellow bell pepper, sliced
2 cups red cabbage, shredded
1/4 cup cilantro leaves, chopped
1/4 cup shredded carrots
1 teaspoon chia seed
2 tablespoons lime juice
1 cup corn kernels
1 tablespoon apple cider vinegar
- Garnish
Store bought pico de gallo or your favorite salsa
Vegan sour cream, optional
Vegan cheddar cheese, optional
1 avocado or garlic guacamole
- Cilantro Cauliflower Rice
Tools:
Knife & cutting board
Small bowl
Medium Skillet
Meal Prep Containers
Step 1: Prepare Your Slaw, Cauliflower Rice and Garnishes
To make the slaw, combine the shredded red cabbage, carrots, chia seed, lime juice, cilantro, and apple cider vinegar; massage thoroughly to tenderize the cabbage and then set aside to let marinade while moving on to step 2.
Feel free to add other ingredients to this slaw such as: fresh parsley or green onion, corn kernels, a dash of maple or coconut sugar for sweetness, and dried spices such as coriander, cumin, or oregano.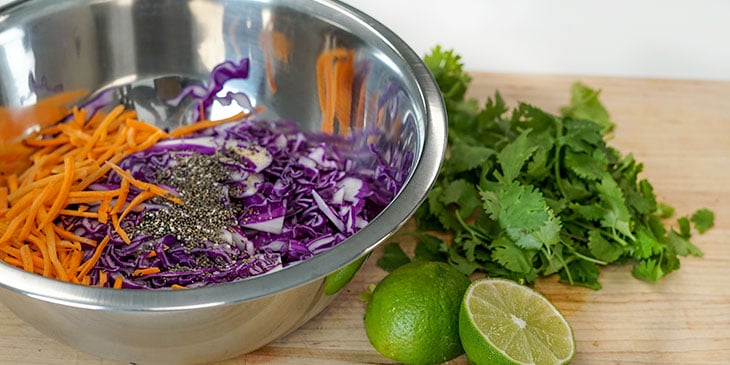 To prepare the cauliflower rice, purchase frozen or fresh pre-prepared cauliflower rice and microwave for 2-3 minutes to cook. Then combine with chopped cilantro, lime juice, cumin, a pinch of salt and any other herbs and spices you'd like!
Cauliflower rice is a nutritious low-carbohydrate alternative that can be used in place of starchy rice or vegetables and is a good source of vitamin C (1).

To make your own cauliflower rice use a food processor to 'grate' the cauliflower florets into small pieces or use a box grater; you can do the same with broccoli! Use it for a low-carb stir-fries, rice bowls, or keep on hand to add more nutrient-dense vegetables into your weekly vegan meal prep.
I enjoy swapping out high-carbohydrate items such as grains, breads, and starchy vegetables with low-carbohydrate ones when eating plant-based to reach my protein goals without going over my calorie and carbohydrate macro goals. It is also a great way to maximize the variety of fruits and colorful vegetables I am enjoying in my meals!
Tracking your daily intake using a nutrition app, is the easiest way to ensure you are staying on top of your calories consistently.
One you have prepared the slaw and cauliflower rice, gather and cut all the other garnishes and toppings.
Here are some fresh ideas to spice this vegan recipe up even more:
Add 1 cup of sautéd mixed vegetables or cooked mushrooms
Use quinoa instead of cauliflower rice (this will bump up the protein and the carbohydrates)
Add poblano or jalapeno peppers to spice it up
Serve with a gluten-free wrap or tortilla chips

Step 2: Prepare Your Beyond Meat Filling
Here are three ways to prepare your Beyond Meat for your vegan burrito bowl:
Add in any aromatics for extra flavor such as diced onion, minced garlic or ginger, or any dried herbs and spices you'd like.
Step 3: Serve or Store!

For a macro balance plant-based meal, portion out the following into your meal prep containers:
1 cup cilantro-lime cauliflower rice
1/3 cup black beans
4 ounces cooked Beyond Meat
1/4 avocado, sliced
1/4-1/2 cup of red cabbage slaw
2 tablespoons of sliced cherry tomatoes
2 tablespoons sliced red peppers
Meal Prep Tips
Having homemade meals made in advance is a big time saver! Use this recipe for your vegan meal prep. Just portion out as desired and reheat in the microwave for 2 to 3 minutes.
Here are a few other tips to master this meal prep recipe:
Use a food scale to portion out your proteins, extra vegetables and any carbohydrates you may use instead of cauliflower as accurately as possible.
Use small containers to portion out garnishes on the side such as guacamole, salsa,
Garnish with fresh herbs like cilantro, parsley, or green onion
Use a bed of lettuce to make a vegan taco salad instead of a rice bowl.
Use this dish and other high protein vegan recipes, in your weekly vegan meal prep or utilize it for a protein packed dinner in this 14-day vegan meal plan.
---
Want to load up on more amazing plant based recipes like this? Perfect your vegan meal plan with this free meal prep toolkit. A step by step guide that includes meal planning templates, plant based whole food lists, and RD advice for a healthy vegan lifestyle.