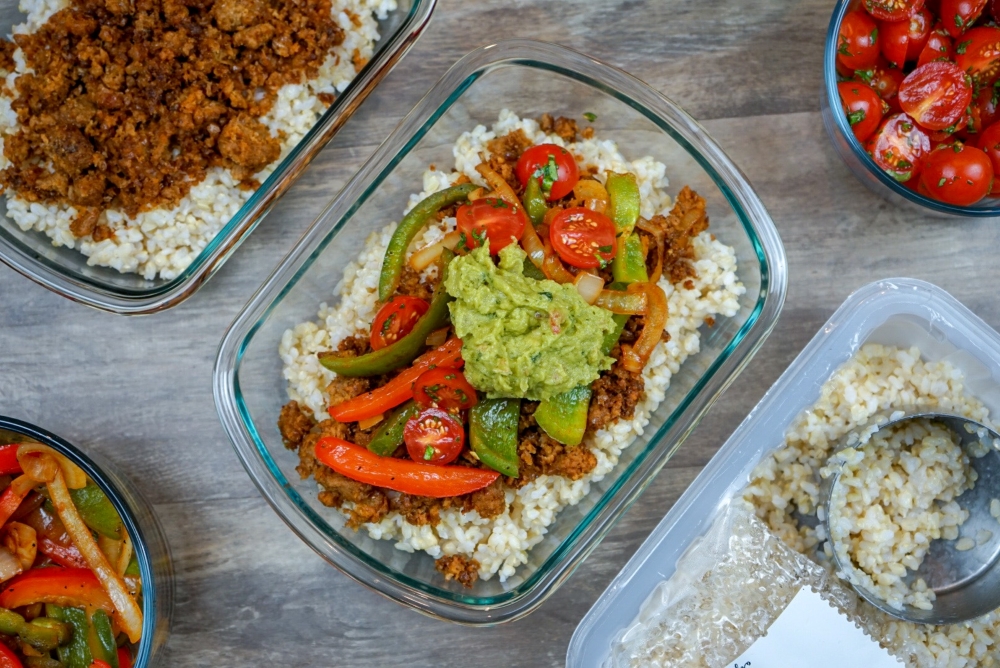 If you're looking for a simple but delicious burrito bowl recipe, this is your new go-to! Made with beyond meat burger patties, Trifecta à la carte menu items, and some fresh ingredients, this meal is something mouth-watering. With 25 grams of protein per serving and 100% vegan and gluten-free ingredients, it is the perfect meal-prep dish that you can prepare ahead of time to get ready for those busy weeks and keep your macros on point.
Put this recipe to good use with this free meal prep toolkit for vegan diets. This RD written guide is complete with custom vegan macros, food lists and menu planning templates to keep your diet on track and help you achieve your health fitness goals!
Easy Meal Prep Vegan Burrito Bowls
For this recipe you're going to need the following:
4 Trifecta Beyond Meat patties
16 ounces Trifecta brown rice
2 teaspoons avocado oil
2 bell peppers, any color, sliced
1 tablespoon taco seasoning
1 medium yellow onion, sliced
1/4 teaspoon smoked paprika
1/4 teaspoon cumin powder
1 cup cherry tomatoes
1 tablespoon mint leaves, chopped
Garnish:

Minted cherry tomatoes
Store bought guacamole
Vegan cheddar cheese, optional
Start by prepping your ingredients:
Start by washing and slicing the bell peppers.
Peel and slice your onion.
Cut the cherry tomatoes in half and add chopped mint leaves. Set aside to marinate.
Warm brown rice in the microwave 1-1/2 minutes.
In a frying pan on medium heat, warm half of the avocado oil. Add sliced peppers and onion to the pan. Season with smoked paprika, cumin, and add salt and pepper to taste. Sauté for 6 to 8 minutes until veggies begin to soften and brown. Remove from the pan and set aside in a small bowl.
Tip: To spice things up, add half of a de-seeded and diced poblano pepper to the vegetable mixture.
In the same frying pan, add the remaining avocado oil. Crumble the beyond meat into the pan, and add the taco seasoning. Cook for 2 to 3 minutes, or until lightly browned. Remove from the heat and get ready to prepare your bowl.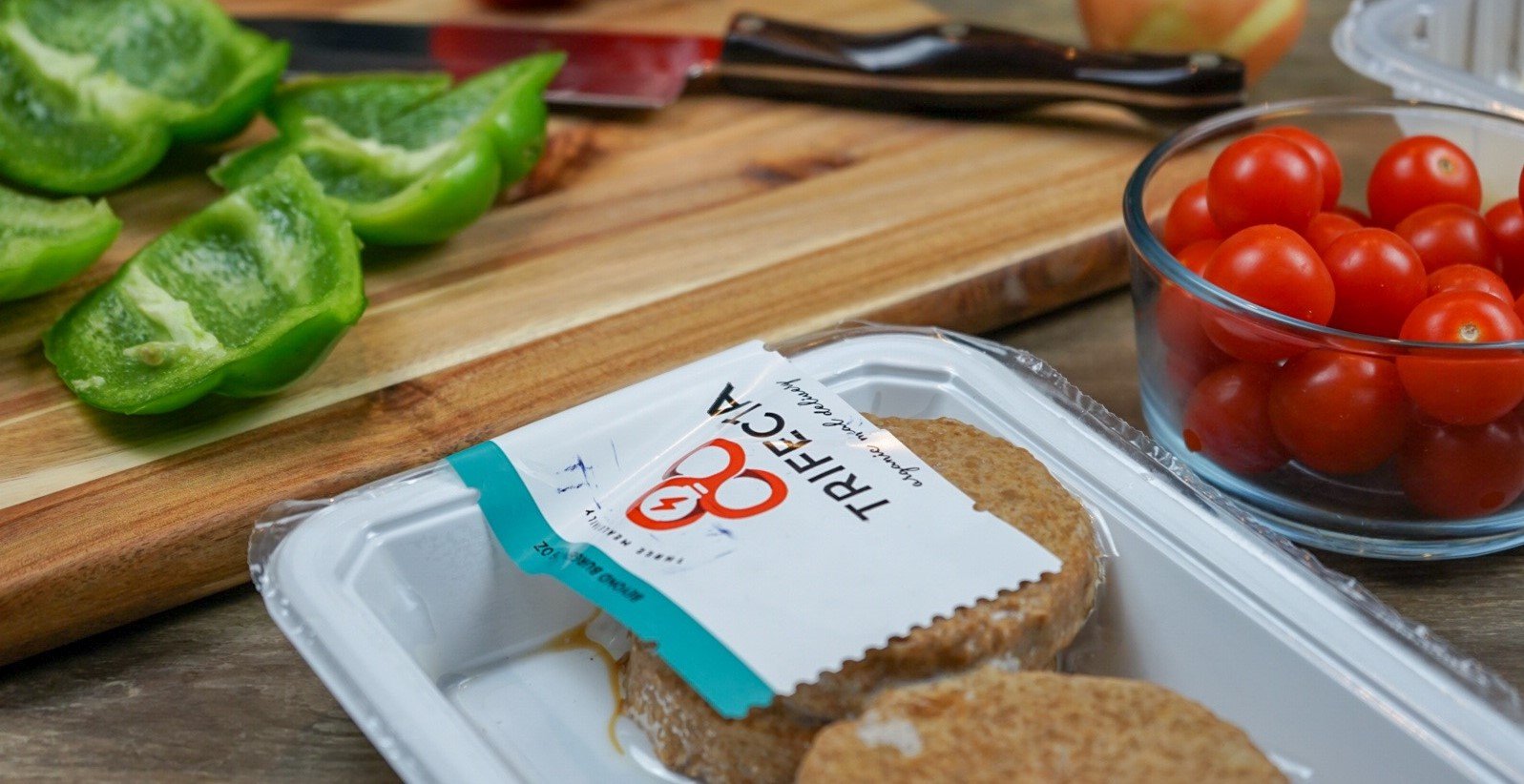 Tip: Feel free to add some greens or swap out the brown rice for Trifecta's Quinoa.
In your bowl, add 4 ounces (~1/2 cup) brown rice, a quarter of the beyond taco "meat" mixture, a quarter of the bell pepper with onions and the cherry minted tomato's. Add guacamole and any other desired toppings.
Eat right away or store in the fridge for easy reheating.
Meal Prep Tips
Having homemade meals made in advance is a big time saver! Use this recipe for your vegan meal prep. Just portion out as desired and reheat in the microwave for 2 to 3 minutes.
Here are a few other tips to master this meal prep recipe:
Use a food scale to portion out your brown rice as accurately as possible.
Use small containers to portion out your minted tomato's, guacamole, and vegan cheese and keep them separate for garnish.
Garnish with fresh herbs like cilantro to make it taste freshly made.
Need to cut back on carbs? Use a bed of lettuce to make a vegan taco salad instead of a rice bowl.
Use this dish and my other high protein vegan recipes, in your weekly vegan meal prep!
Serve this With:
Whenever I make burrito bowls, I always enjoy eating it with tortilla chips or with a tortilla wrap. Here are some other ideas to consider:
Top it with a dollop of vegan coconut or cashew yogurt topping.
Use quinoa instead of brown rice.
Add poblano or jalapeno peppers to spice it up.
Get more recipes like this from Ryan Shepard, the Vegan Rhino.