Chocolate, check. Gooey-fudgy center, check. Vegan and healthy, check and check! This vegan protein brownie recipe contains just a few ingredients, and is decadently fudgy while packing 13 grams of protein per brownie.
This simple plant-based brownie recipe is made with cacao powder and your plant-based protein powder of choice in less than 30 minutes. This is a great recipe to add to your list of macro-friendly desserts.
This gluten-free vegan brownie recipe can also be individualized based on your brownie preferences! Some additional ingredients to experiment with could be 1 cup of toasted nuts, coconut flakes, colorful sprinkles, or vegan chocolate chips (be aware this will alter the nutritional information provided below slightly).
I also encourage you to add in some ground spices such as: ginger, nutmeg, allspice, cinnamon, or cardamom. Start off with ½ teaspoon of one or more of these ingredients, and simply taste the raw batter and decide if you'd like more.
A perk of vegan baking is getting to eat the raw batter and 'taste-test' to make sure it's to your liking.
How to Prepare Chocolate Vegan Protein Brownies
Prep Time: 10 minutes
Cook Time: 22 minutes
Servings: 12
Ingredients
4 tablespoon coconut oil
1 ¼ cup cocoa powder
1 ¼ cup protein powder (vanilla or chocolate)
1/2 cup almond flour
1/2 cup maple syrup
½ teaspoon sea salt
2 teaspoon vanilla extract or almond extract
1 ½ teaspoon baking powder
1 teaspoon cinnamon
2 cup dairy-free milk
Chocolate Ganache
½ cup cacao powder
1 tablespoon coconut oil
1 teaspoon vanilla extract (optional)
½ teaspoon salt
2 tablespoons maple syrup
3 tablespoons dairy-free milk
Tools
Baking Pan or Muffin Pan
Cooking Spray or muffin liners
Food processor
1 large bowl and 1 small bowl
Spatula
Measuring Cups and Spoons
Step 1 : Preheat Oven 375 degrees and Mix all Dry Ingredients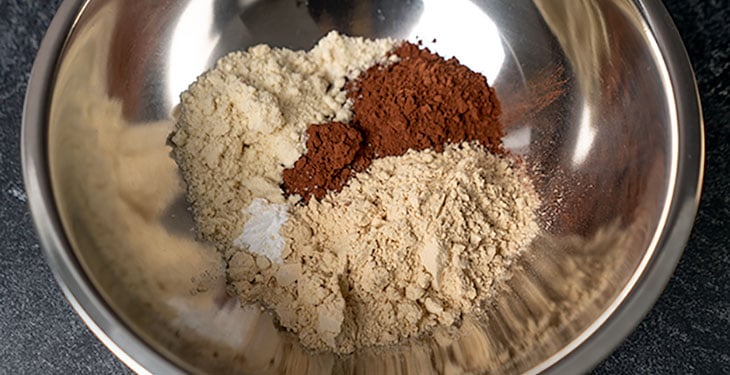 In a large bowl mix cacao powder, protein powder, almond flour, baking powder, and salt. You can use a vanilla or chocolate protein powder depending on how chocolatey you like your brownies.
Whatever flavor of protein powder you choose, make sure you purchase a brand that contains high-quality ingredients and little to no added sweeteners. We recommend Momentous Essential Plant-Based Protein, it is non-GMO and NSF sport certified.
Pro-Tip: Use natural and unsweetened cocoa powder to achieve fudgey goodness in any baked good.
Step 2: Mix all Wet Ingredients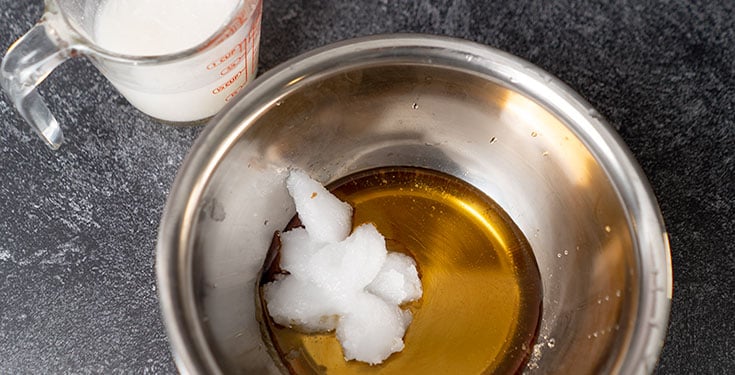 In a small bowl combine the maple syrup, coconut oil, vanilla extract and dairy free milk until combined. To make things simpler, you can also melt the coconut oil ahead of time or purchase a liquid coconut oil. It'll make mixing the wet ingredients simpler.
Step 3: Combine Wet and Dry Ingredients, Then Portion Batter into a Muffin Pan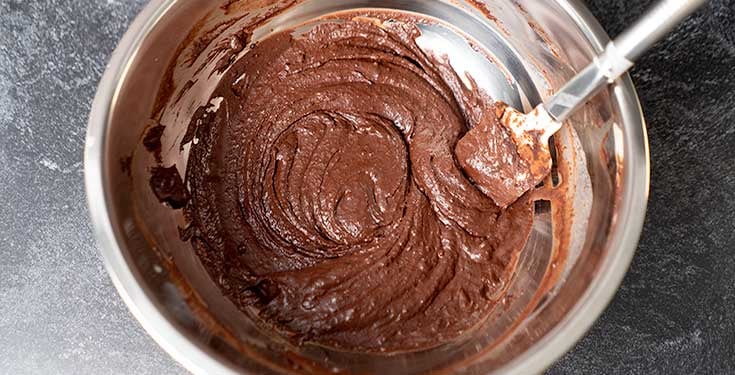 Blend together the wet and dry ingredients with a whisk or spatula until uniformly mixed. Divide batter evenly into a muffin tin sprayed with non-stick cooking spray.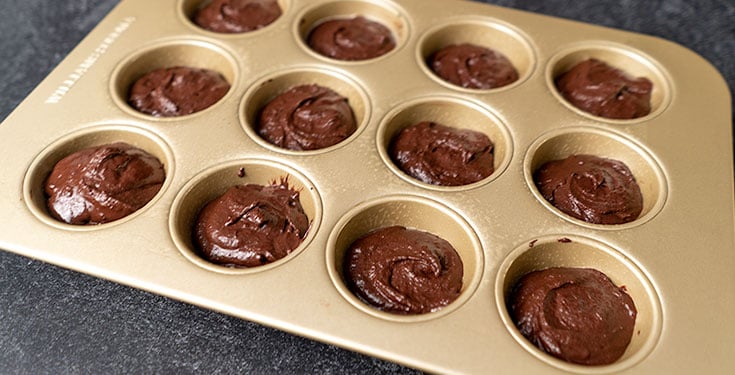 Step 4: Bake for 22 Minutes and Prepare Chocolate Ganache
To prepare a quick vegan chocolate ganache, combine the cacao powder, coconut oil, vanilla extract, salt, maple syrup and dairy-free milk in a small bowl until smooth.
Typically to test if a baked good is done, you can gently press a toothpick into the center and if the toothpick is clean when pulled out, the baked good is done. With fudgy brownies, we want the center to be gooey, so the toothpick may come out a slightly sticky but should not look 'wet' or runny. Bake these for 22 minutes then remove them from the oven.
Cool completely, remove from the pan and finish with the chocolate ganache.
Top with a tiny pinch of extra sea salt and toasted walnut for extra flavor.
Don't remove the brownies from the pan right out of the oven; they need to cool so their fudgy centers set.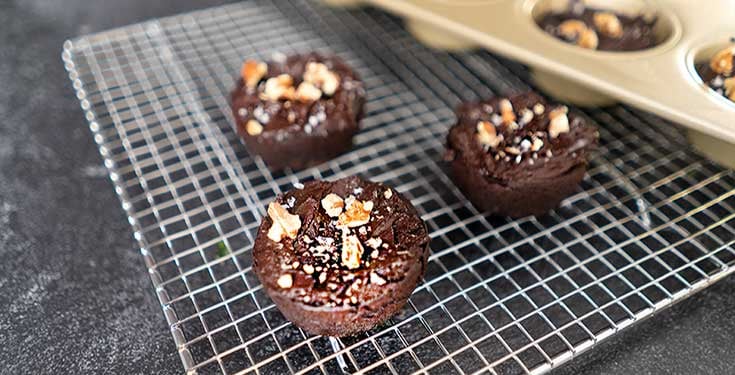 Pro-tip: we opted to cook these in a muffin pan to save time but this recipe can also be baked in a 7 x 11 cake pan; this will increase the baking time to 40 minutes.
Storing Your Protein Brownies
Store these brownies covered in the refrigerator for up to 5 days or freeze them for later.
---
Having trouble hitting your protein goals on a plant based diet? Crush your vegan macros with ease using the free meal prep toolkit for vegan diets. A step by step RD written guide for meal planning your ultimate vegan menu.