If you love traditional tacos, you're going to enjoy this 100% plant-based Beyond "Beef" Taco recipe! This simple dish is savory, spicy and vibrant, and will take you back to the flavors of your childhood. With the help of beyond meat burgers and Trifecta à la carte menu items, this meal packs a over 20 grams of vegan protein, without making you work too hard on those busy weekday nights!
Put this recipe to good use with this free meal prep toolkit for vegan diets. This RD written guide is complete with custom vegan macros, food lists and menu planning templates to keep your diet on track and help you achieve your health fitness goals!
How to Make Vegan Tacos
This dish is super simple and can easily be customized to include any of your favorite taco ingredients. Make is extra spicy or mix and match with your favorite veggies.
For this recipe you're going to need the following:
4 Trifecta Beyond Meat patties
2 tablespoons avocado oil
1/2 cup yellow onion, diced
1 package taco seasoning mix
2/3 cup water
1/4 cup whole corn
1 cup cherry tomato
1 minced garlic clove
1 cup shredded lettuce
3 tablespoons vegan cheese
8 Taco shells
Garnish:

Cherry tomatoes
Vegan cheddar cheese
Shredded lettuce
Corn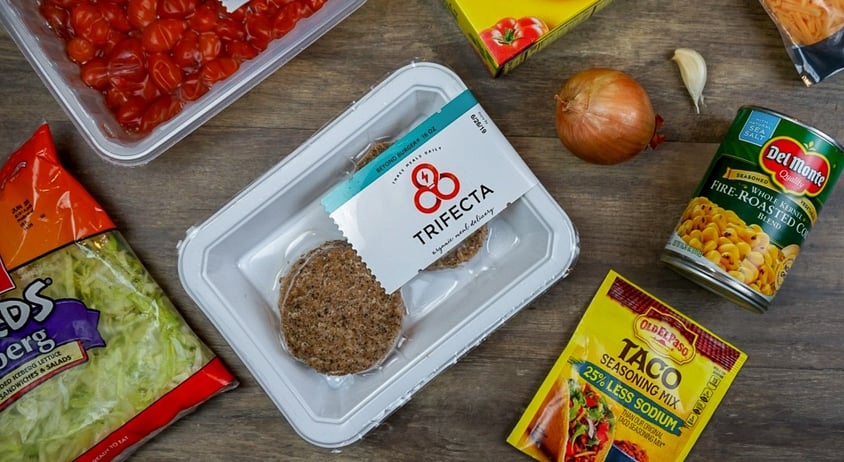 Start by prepping your ingredients:
Dice the yellow onion
Drain corn from the can or derail corn off the cob
Slice cherry tomatoes into quarter pieces
Mince garlic
Warm skillet over medium-high heat. Add in oil and the diced onion. Saute onion for 4 to 7 minutes until it begins to cook through. Add garlic and cook for a minute longer.
Tip: Add diced Trifecta green bell peppers to the onions for added vegetables!
Add the beyond meat burger patties to the pan, breaking them up with a spatula until you're left with bite-sized pieces/crumbles. Cook burgers and onion for 3 to 5 minutes or until browned and crumbly.
Sprinkle seasoning packet over the crumbles. Then add in the water and seasoning mix until evenly coated and thickened; roughly 1 minute.
Tip: Instead of using water, use low sodium vegetable broth to add more flavor.
Now you're ready to plate your tacos or package it up for lunches throughout the week!
When ready to eat, spoon the warm taco "meat" and corn into the shells and top with the chopped tomatoes, lettuce, and cheese.
Serve immediately.
Best Taco Toppings
Get creative with added toppings to make these tacos your own. Try any of the following options for different flavor twist on these tacos:
Vegan cheese
Guacamole
Vegan sour cream
Cilantro
Black beans
Corn
Jalapeños
Olives
Avocado Slices
Minced red onion
Shredded lettuce
Hot Sauce
Meal Prep Tips
Meal prepping tacos doesn't work well if you plate the tacos in advance. To make this recipe work for weekly meal planning try the following:
Evenly divide the Beyond "Beef" and desired toppings into meal prep containers. Keep fresh ingredients like tomato, lettuce and any garnishes separate.
Wrap the shells and keep on the side.
When ready to eat, re heat the "beef" mixture and make your tacos.
Use this dish and my other high protein vegan recipes, in your weekly vegan meal prep!
Serve this With:
This taco dish is a classic recipe that is also incredible versatile. Use your taco ingredients a number of ways to keep this recipe interesting.
Looking to cut calories? Swap out the corn shells for butter leaf or romaine lettuce.

Skip the taco and serve over Trifecta quinoa or brown rice.

Use whole grain tortilla wraps to make this a tasty burrito.

Make it a taco salad over a bed of lettuce and fresh veggies.
Get more recipes like this from Ryan Shepard, the Vegan Rhino.