This refreshing almond and walnut tabbouleh recipe is a vegan, keto, paleo, and clean-eating friendly twist on the classic Lebanese tabbouleh salad. This tabbouleh is prepared with parsley and basil tossed with nutmeg, sumac, and freshly minced garlic and ginger.
Tabbou...what?
Classic Tabbouleh (also called tabouli) is a Lebanese favorite prepared with finely minced parsley, tomatoes, mint, bulgur wheat (par-boiled wheat kernels), seasoned with olive oil and lemon juice. Skip the bulgur, tomato, and cucumber, and instead add toasted nuts for a crunch factor and a bump of extra nutrition.
Tabbouleh is heavenly on its own, but can also be used as flavorful salad dressing, on-top of a variety of proteins, or tossed with roasted vegetables.
This functional recipe was developed while on the road cooking for athletes, and is utilized during fight week for its gut-soothing properties and nutritiously packed ingredients. Herb-centric recipes are full of unique flavors, and don't require the addition of any salt or pepper because of the naturally pungent and aromatic constituents in fresh herbs.
What's in your spice cabinet?
This recipe includes two unique and underutilized spices: nutmeg and sumac.
Nutmeg, the seed pod of the evergreen tree Myristica fragrans indigenous to Indonesia, has an effervescent and sweet flavor perfect for savory dishes, tomato sauces, and fall inspired recipes.
You'll often see nutmeg next to mace in the grocery store; mace is the outer coating of the shell that is removed and processed separately as it has a stronger, spicier flavor. Use them interchangeably depending on if you are feeling sweet or spicy!
Sumac is the dried and ground berry of the middle eastern sumac bush and has been utilized in European cooking for centuries; it is a staple spice in Middle Eastern and Mediterranean cooking.
Sumacs tangy and tart lemony taste make it a versatile spice for dressings, marinades, dry rubs, and seasoning for rice, meats, and vegetables. Sumac brightens up any dish and brings out an abundance of flavor, try it out instead of using salt.
How to Prepare Your Almond and Walnut Tabbouleh Recipe
This recipe takes 10 minutes to prepare. The cooking time doesn't take longer than 5 minutes, and the recipe yields 4 cups.
Ingredients
3 cups parsley, with stems, minced
1 cup basil, minced
1/2 cup mint leaves, minced (optional)
1/4 cup lemon juice
¼ cup olive oil or avocado oil
2 tablespoons ginger, minced
2 tablespoons garlic, minced
½ teaspoon nutmeg
2 tablespoons sumac
2 tablespoons apple cider vinegar
1 tablespoon honey
¼ cup walnuts, toasted and crushed
¼ cup almonds, toasted and crushed
Tools
Knife and cutting board
One large bowl
Tongs or spatula
Microplane or zester
Measuring Cup
Oven and small sheet tray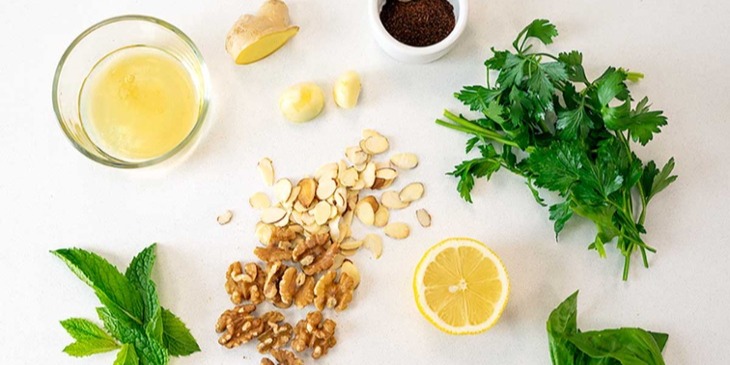 Step 1: Toast Your Almonds and Walnuts, then Crush
Preheat your oven to 375 degrees and place your almonds and walnuts onto separate oven-safe trays. Toast the nuts for 7-8 minutes, to deepen their nutty flavor and crisp their texture, until slightly golden and fragrant.
Remove from the oven and let cool. Using a food processor, pulse the nuts into a crumble; not super fine, just enough to chop them up. Place nuts into a large bowl. If you don't have a food processor, zip-lock the nuts into 2 ziplock baggies and use a rolling pin or meat tenderize to crush the nuts while releasing any pent-up anger at the same time!
Meal prep tip: Certain kitchen activities can be deeply therapeutic; smashing nuts in a ziplock baggie with a rolling pin can release negative energy.
Step 2: Mince the Herbs and Aromatics
Gently rinse your parsley, mint, and basil and pat dry to remove any unwanted dirt or impurities. Chop the parsley with the stems, that's right I said WITH the stems, as the stems contain an exceptional amount of flavor and are not as fibrous as the stems of basil and mint.
Fresh herbs contain micro amounts of phytochemicals and potentially beneficial nutrients; incorporating them into your daily meals can help boost flavor and replace excess salt.
Remove the basil leaves from the fibrous stem, then repeat the process with the mint. Combine all of the herbs with the nuts in the large bowl.
Always use a sharp knife when cutting herbs, a dull knife will crush the herbs and damage their flavor while dying your cutting board green.
To prepare the ginger, remove the outer skin by scraping it away with a spoon or carefully cutting it away with a knife. Use a microplane (grater) to mince the ginger finely, repeat this process with the garlic. Mix into the bowl with the nuts and herbs.
Step 3: Add Your Spices and Wet Ingredients
Measure out your nutmeg, sumac, olive oil, vinegar, honey, and lemon juice then combine with the rest of the ingredients. There is no salt in this recipe because of the enormous amount of flavor from the fresh herbs and spices. Season this recipe by adjusting the level of acidity by adding more lemon juice if the taste of olive oil is too overpowering or vice versa.
The addition of nutmeg and sumac adds a slightly sweet and tangy kick to this plant-based tabbouleh recipe.
Storing and Serving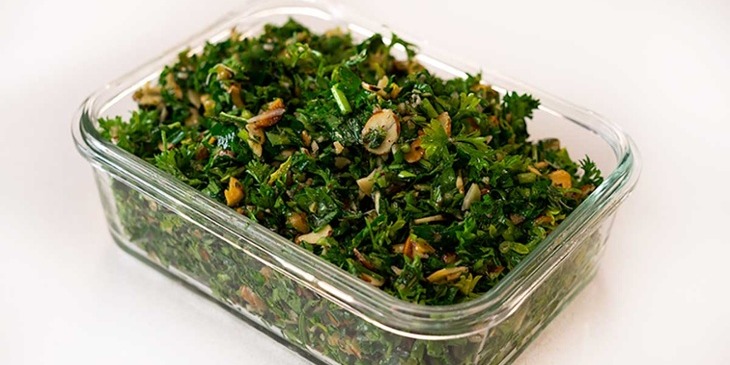 The olive oil and acidity in the recipe give it a longer-shelf life, meaning it keeps fresh in the fridge all week long! This tabbouleh will stay fresh for up to 7 days in the refrigerator and can be utilized in a variety of recipes.
Here is a list of creative recipes to pair with tabbouleh:
---
Want to get more out of your weekly meal prep efforts?
Stick to your calorie goals and maximize results with this free meal prep toolkit for weight loss. An RD-written guide complete with macro meal planner, food lists, and expert advice to help you lose weight quickly.