Sometimes simple is better, which is certainly the case with this salmon grain bowl. Not only is it pretty impossible to screw up, it's also insanely delicious. This easy meal prep recipe will liven up your week with a healthy dose of fresh herbs, crunchy veggies, and savory salmon. Plus, it's high in healthy fats, protein, and vitamins A and C.

How to Make This Recipe
For this recipe, you're going to need the following:
Scallion

Kale or Swiss Chard

Parsley

Lemon

Olive Oil

Salt and Pepper

Pistachios
Start by prepping your ingredients:
Wash and chop scallions into large bite-sized pieces, including the white ends.
Wash, de-stem, and roughly chop kale.
Wash and dice parsley leaves and small stems.
Zest and juice lemon.
Heat a large skillet over medium-high heat, add a small amount of oil followed by the chopped scallions. Cook scallions on one side for a few minutes until they start to brown. Then toss to cook for a few more minutes. They should still be slightly crunchy. Remove and set aside.
Add a little more oil to the pan and add kale. Cook for a few minutes, then add a couple of tablespoons of water. Continue to cook until the kale is soft and cooked through. Add to bowl with scallions.
Toss pistachios in a dry skillet for a few minutes until warm and slightly toasted. Set aside.
End with cooking the salmon and brown rice. If using Trifecta a la carte ingredients, warm the rice in the microwave for 90 seconds and toss in the mixing bowl to break up the pieces.
Then add a small amount of oil to a hot pan and sear the Trifecta salmon for a couple of minutes on each side - just enough to brown it. Don't worry about cooking it through, since it is already cooked and ready to eat. Cooking it too long will dry it out and cause it to break apart.
Toss together rice, kale, scallion, parsley, and lemon zest in a large bowl. Add oil, lemon juice, and salt, and stir to coat. (Pssst... if looking to cut back on sodium, wait to add salt once plated)
When ready to eat, toss in pistachios and top with warm salmon. An extra squeeze of lemon and some finishing salt will go a long way when serving!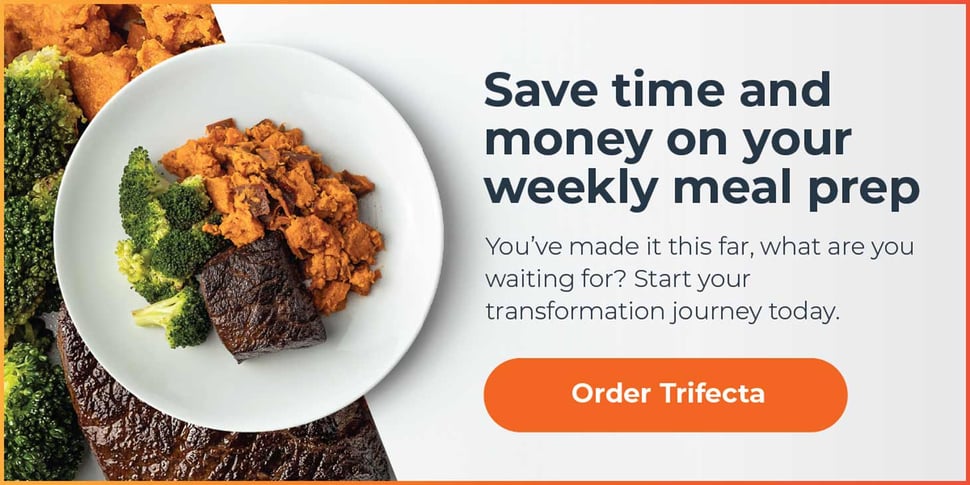 Mix and match with your favorite grains like quinoa, farro, or even cauliflower rice for a low carb version!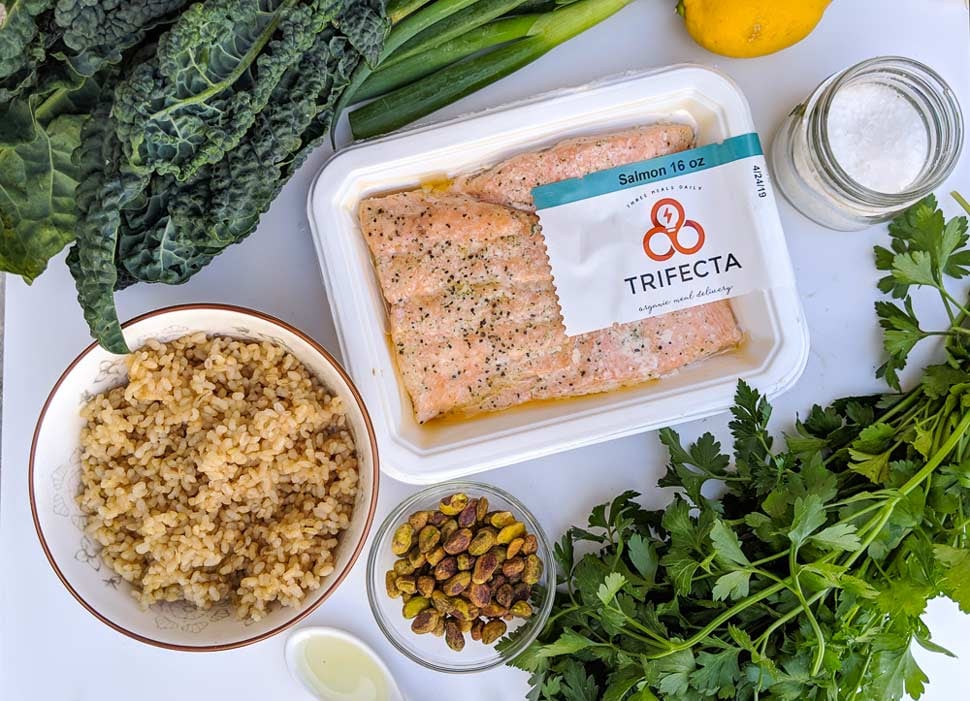 Want to make this in less than 10 minutes? Cut out all the salmon and rice prep time, with Trifecta a la carte proteins and grains.
Tips for Reheating
If making this in advance for your weekly meal prep, it can be eaten cold or slightly warmed up when it's meal time. Just cook in the microwave for about a minute and a half and enjoy!
Here are a few more tips to get the most out of this meal prep dish:
keep the pistachios separate until you're ready to eat. This will help them stay crunchy.

You can also omit the salt until you're ready to serve. Adding a finishing salt helps open up the flavors and make the dish taste fresher.

Don't cook the salmon in advance. This will help prevent it from drying out when you reheat it later. If you have a skillet available, sear your salmon fillet when you're ready to eat, or just lightly warm it in the microwave.
Serve this With

This recipe is super versatile and can be made with a variety of veggies, grains, and even proteins. While this feels like the perfect combo to me, feel free to try this with other leafy greens and herbs, swap in your favorite vinaigrette, or change up the protein to chicken or steak.
Healthy pairings:
Add feta for more fat and flavor

Enjoy a calorie free sparkling lemon water