Step up your high-protein vegan meal prep with this simple, yet delightful recipe that will have you out of the kitchen and chowing down in less than 15 minutes. Organic tofu seasoned with nutty and savory nutritional yeast grilled to perfection and served atop a bed of brown rice, black beans, and fresh veggies, all tossed in a simple vinaigrette. Plus, with 29 grams of protein and a whopping 15 grams of fiber, this dish has some serious staying power - keeping you fuller, longer!

How to Make This Recipe
For this recipe you're going to need the following:
24 ounces tofu, extra firm
16 ounces Trifecta brown rice
4 cups Trifecta broccoli
1 can of black beans
4 tablespoons nutritional yeast
1/2 teaspoon salt
1/2 teaspoon black pepper
2 tablespoons olive oil
Equipment:
George Foreman or any non-stick grill pan
Spray oil
Grilling Your Tofu
Start by drying and seasoning your tofu. Remove the tofu blocks from the package and drain well. You may also want to pat dry with a paper towel to remove as much moisture as possible.
Then, slice into thin strips (about 2 ounces each), until you have six slices per block. You can also use a food scale to portion out exactly 2-ounce strips.
Season each piece of tofu with half of the nutritional yeast and black pepper, coating each side. Pat the seasoning onto the tofu to help it stick.
Coat your grill pan with cooking spray and warm to medium-high heat. Once ready, add the tofu and let grill for about 3 minutes on each side.
Try not to mess with it, to allow your tofu to get nice grill marks and crisp up on each side!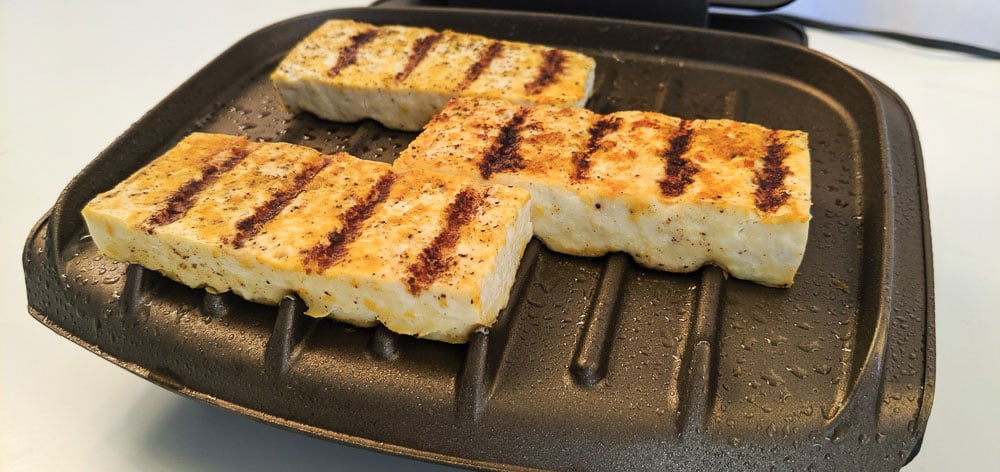 Prepping Your Rice Bowl
Warm your brown rice in the microwave until it begins to break apart easily when stirred - about 2 minutes. Then add to a large mixing bowl, along with your broccoli.
Drain and rinse your beans and add to the rice mixture.
Tip: Rinsing canned beans helps remove some of the sodium as well as certain sugars that can cause gas and bloating.
Add your oil, remaining nutritional yeast, salt, and pepper to the bowl and stir until all of the flavors combine.
Once your tofu is ready, portion out your rice mixture into four even servings and top with 3 slices (6 ounces) of grilled tofu. Garnish with extra salt and fresh herbs and enjoy!

Meal Prep Tips
This recipe is super simple and uses mild flavors - making it easy to transform with additional toppings and seasonings if you desire.
Here are some options to try:
Add in fresh herbs like cilantro or parsley.
Switch up the veggies or add even more flavor with scallions, cherry tomatoes, or roasted carrots.
Sprinkle in some chili flakes or smoked paprika for a slight kick.
Add a squeeze of lemon juice for a finishing touch.
Reheating
If using this recipe for meal prep, cook everything ahead of time, portion out into four microwave-safe containers, and then reheat in the microwave for 2 to 3 minutes or warm in the oven for 5 to 10 minutes.
Tip: Save some fresh herbs or finishing salt for serving. This will help keep this dish tasting fresh!
Want to save on cooking time with all of your favorite vegan recipes? Check out Trifecta a la carte vegan proteins, veggies, and grains.