Arguably, one of the most restricting diets to follow is vegan. And, while, the benefits of switching to a vegan diet can be substantial, it can be challenging to feel like you are getting everything you need out of your diet. Finding high protein, vegan alternatives is difficult since most solid protein sources come from animal products. However, we wanted to make some fun high-protein vegan recipes that you can enjoy!
Our Top 4 High Protein Vegan Recipes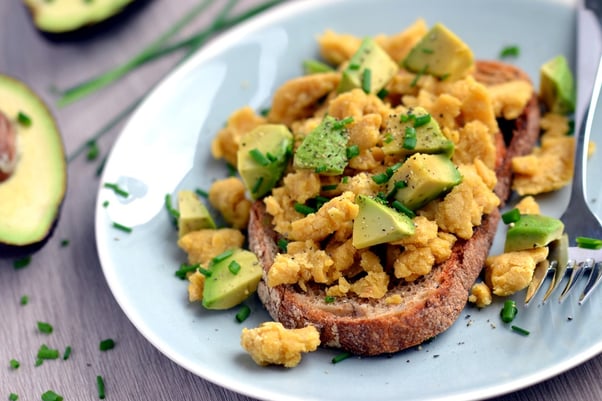 Chickpea Vegan Scramble
Serves 1! Calories: 428 (P: 19g, F: 13g, C: 64g)
Ingredients:
1 Can of Chickpeas
1 Tsp Turmeric
1/2 Tsp Salt
1/2 Tsp Pepper
1/4 White Onion diced
2 Cloves Garlic minced
Drizzle Extra Virgin Olive Oil
First, mince the onion and garlic. Then heat a pan with the olive oil. Next add the onions and garlic and saute. Then, open the chickpeas and place them in a bowl with some of the water that came in the can. Start to mash the chickpeas with a fork, but do not mash completely (for texture). Then, mix in the other seasonings to the chickpeas. Then, add the chickpea mixture to the garlic and onions being sauteed and continue cooking until lightly brown.
Then, add toppings to the bowl such as avocado, tomatoes, and cilantro!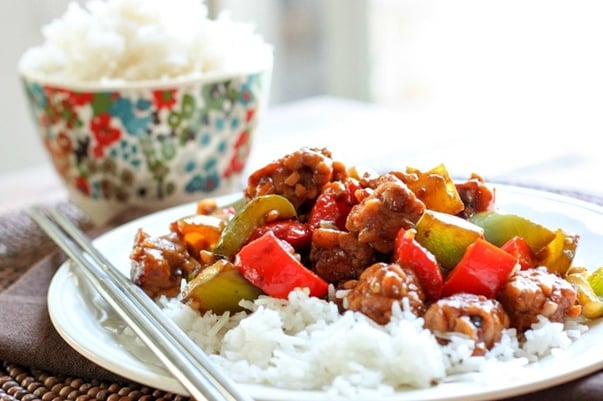 Sweet and Sour Vegan Tempeh
Serves 3! Calories: 287 (P: 16g, F: 12g, C: 29g)
Ingredients:
1 Package Tempeh, Cut into 1 inch cubes
1 Can of Vegetable Broth
2 Tbsp Soy Sauce
2 Tbsp Olive Oil
1 Can of Pineapple
1 Red Bell Pepper, cut
1 Onion, chopped
First spray a pan with non stick spray, then put the tempeh into the pan and cook for a few minutes. Add in the olive oil. Then cook for a few minutes. In a sauce pan, cook the broth, soy sauce, juice from the pineapple, corn starch, vinegar, and brown sugar and simmer. Add the veggies and pineapple to the tempeh. Once sauce is thick, reduce heat and add to tempeh and veggies. Enjoy!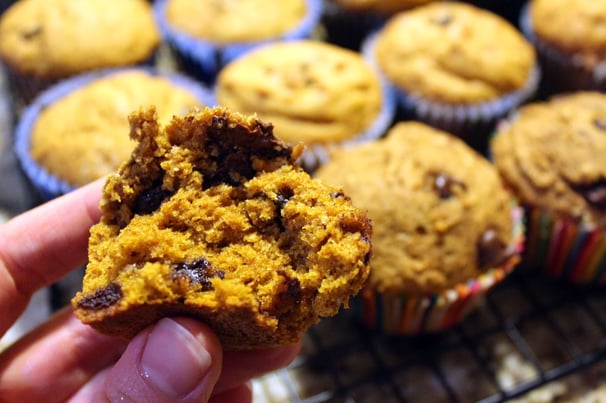 Protein Packed Pumpkin Chocolate Chip Muffins
Serves 6! Calories per muffin: 168 (P: 11g, F: 7g, C: 16g)
Ingredients:
2 Scoops of Vegan Vanilla Protein Powder
1/2 Cup of Pumpkin Puree
1 Tsp of Baking Powder
1/2 Cup of Almond Flour
1 Tsp of Cinnamon
1/4 Cup of Chocolate Chips
1 Cup of Unsweetened Applesauce
First, preheat your oven to 350 degrees. Then, line a muffin pan with paper muffin liners. In a bowl, mix all of the dry ingredients and then slowly add in the almond butter, applesauce, and pumpkin. Mix in the chocolate chips. Spoon muffin mixture into the muffin tins. Bake for 10-12 minutes, or until golden brown. Test by putting a toothpick in the center of the muffin, if dry- Enjoy!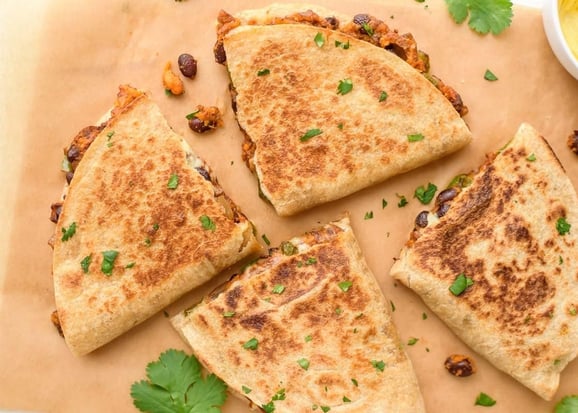 Sweet Potato & Black Bean Quesadillas
Serves one! Calories: 402 (P: 10g, F: 13g, C: 74g)
Ingredients:
2 Tortillas
1 1/2 oz of Vegan Cheese
1/2 cup of Mashed Sweet Potato
1/4 cup of Black Beans
Salsa
First, heat up a skillet. Then, add the mashed sweet potatoes and beans to the top of one tortilla. Sprinkle the cheese on top. Place second tortilla on top. Then, spray the grill and heat the quesadillas until golden brown on each side. Enjoy with salsa on the side!
Don't have time to cook yourself?
Let us do it for you! Check our our Vegan Meal Plans here: