If you are looking for a simple keto snack to make for your keto meal prep efforts, look no further. Fat bombs are easily the most delicious way to add healthy fats into your keto diet, and these nut butter, matcha fat bombs are no exception!
If you find yourself mid-afternoon with a pesky sweet tooth, reach for one of these creamy, flavor-packed, bites that fit your Keto macros perfectly (only two grams of net carbs per ball). Did I mention, I originally used these fat bombs to feed MMA athletes? Yep, this recipe was a secret for a while, and now it's here to be shared with you.
How to Make this Recipe
The essence of this recipe comes from mixing protein powder and almond butter. This mix creates a dough-like texture that can be formed into small round balls. The coating is a mix of coconut oil, tapioca maltodextrin, and matcha powder. Matcha provides a hit of caffeine and some sweet flavor. The coconut oil powder creates a beautiful mouthfeel and adds a necessary layer of moisture to make these snacks very palatable,
For this recipe, you're going to need the following:
Ingredients:
3/4 cup Almond Butter, unsweetened

2/3 cup Protein powder (We use Thorne Vanilla)

3 Tbsp Coconut oil, + 2 Tsp separated

1.5 Tbsp Tapioca Maltodextrin (50% of coconut oil)

2 Tsp. Matcha powder
Kitchen Needs:
Two kitchen bowls
A sheet pan
Weight scale
Tablespoons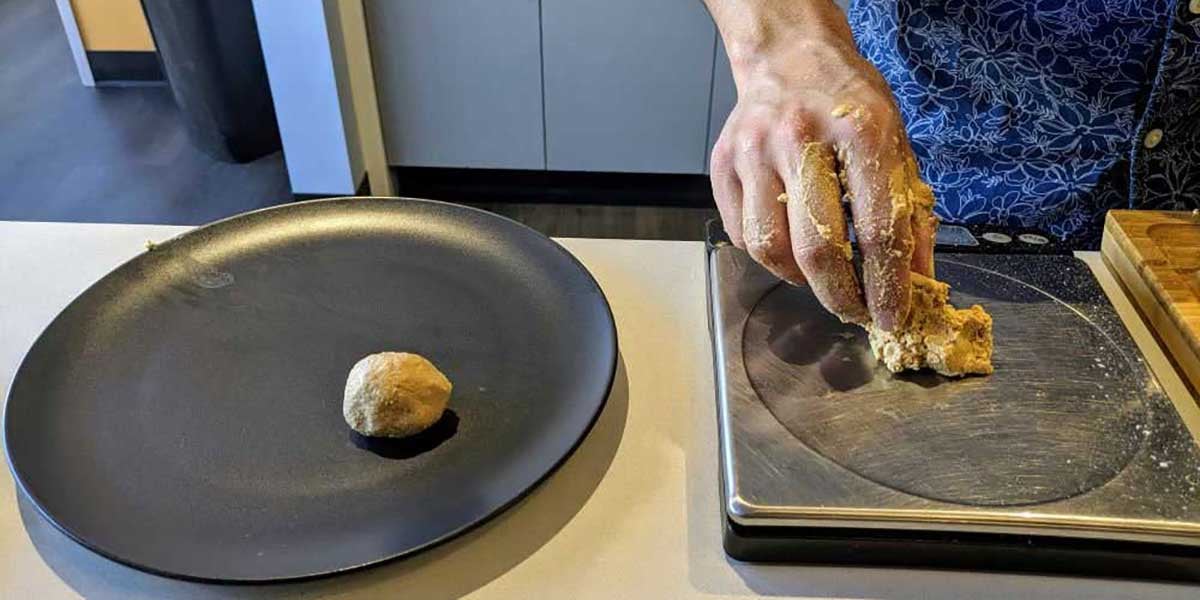 Step One: Create the Matcha Coating
Start by taking your coconut oil from a solid to a liquid - basically all you need to do is heat it up (but don't hit it up too much)! This is best accomplished using a double boiler or a heat safe bowl placed over a pot of boiling water. Add the coconut oil to the top bowl and heat until it becomes a clear liquid. Then set about two teaspoons of oil aside for a later step. Set the oil aside somewhere warm, like on a warm stove, where it will stay liquid at room temperature. If the oil starts to reset, pass it through a heat source one more time.
Using a spoon, add your maltodextrin to the remaining coconut oil until fully incorporated. (You can find Tapioca Maltodextrin here). Mix with a whisk and with your hands to break it all into a small powder-like consistency. The oil mixture should turn into a powder. For a finer powder texture, add in small amounts of maltodextrin at a time. Set aside.
Tapioca maltodextrin is a natural ingredient derived from Tapioca starch. This modern neutral-tasting ingredient is used to transform any oil into a powder.
Step Two: Mix Protein and Almond Butter
In a separate bowl, mix the almond butter, protein powder, and leftover coconut oil together until smooth. We recommend you use Thorne Vanilla Whey Protein powder (for flavor and safety purposes). Thorne's Vanilla Whey Protein has a slight amount of stevia which makes these bites slightly sweet and delicious.
Tip: For best results, use a nut butter with visible oil separation in the jar to add more moisture and creaminess to the balls.
Step Three: Make 24 gram Balls
Use a food scale to portion out the 'dough' - each ball should be approximately 24 grams. Roll the dough into small balls and set on a sheet tray lined with a silicon pad to prevent them from sticking. Also, if you have gloves, we highly recommend you use them. If not, you'll become Edward-Peanut-Hands.
Step Four: Coat Fat Bombs with Matcha Mix
When ready, roll each ball into the matcha mix to coat evenly with the bright green powder. Fell free to pop one in your mouth, just to taste it (aka baker's dozen). Oh, and one last thing... these have a small amount of caffeine. Yep. Because of the matcha. Caffeine in matcha - unlike coffee - doesn't have the 'crash' effect. Sustained energy galore here!
To let the balls fully set, store them in the fridge for a couple of hours or overnight until you're ready to enjoy them! If storing, make sure they are tightly wrapped or portioned on individual ramekin containers or small Tupperware.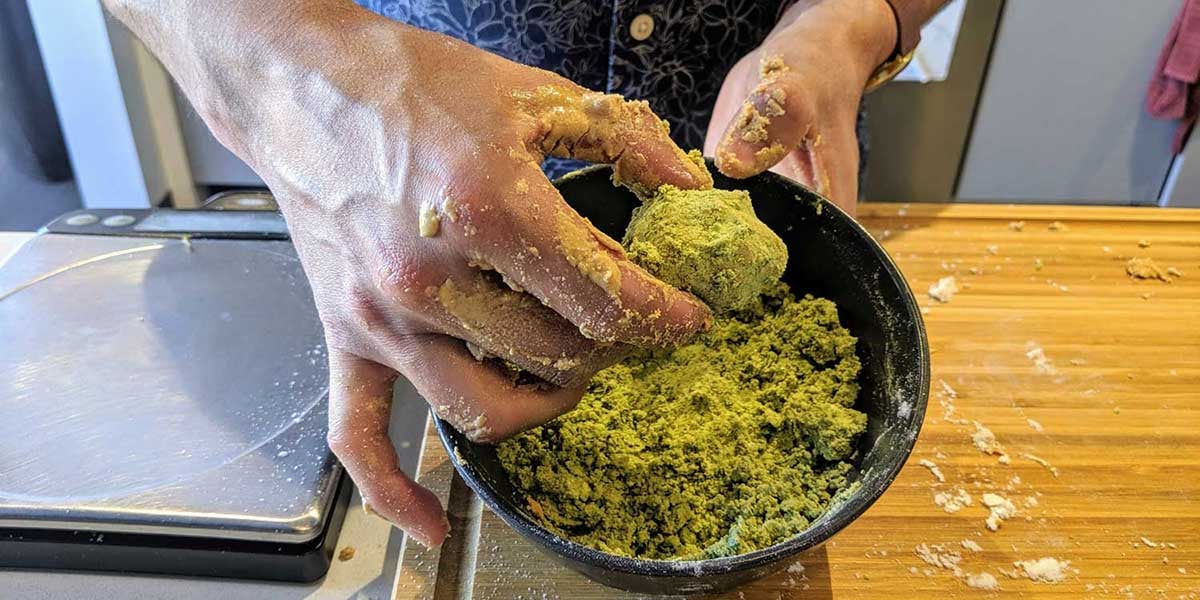 Storing and Serving
If you have small round containers, transfer the coated matcha bombs to them and cover. Refrigerate for up to two weeks. To keep the coconut oil-matcha coating intact, refrigerate and store in a cool place, preferably.
Ready to take your keto meal prep up a notch? Learn how to cut carbs and burn more fat with this free meal prep toolkit for keto. Your new game plan for starting keto, complete with a keto macro meal planner and approved food lists.