There are a lot of plant-based eating guides out there promising to help you thrive on a vegan meal plan, but most of these resources don't consider overall nutrition needs and macro balance to help you achieve your fitness goals.
So here's a vegan meal prep guide that will help you execute your goals and mindset while conquering your health and wellness.
Ready to tackle plant-based eating like a pro? Grab this vegan meal prep toolkit and started on your vegan diet today!
How to Start a Vegan Diet
Starting any new diet begins with identifying your personal health and fitness goals. Your nutrition goal will determine you daily calorie needs and shape the foundation of your food choices. For most, the reason for changing their eating habits falls into one of the following categories:
However, these may not be the only reasons one would start a plant-based style of eating.
Veganism is unique in that it is also associated with sustainability. Regardless, if your main reasons for going vegan fall into less health-oriented goals like these, it is still important to think through how your eating habits impact your personal wellbeing.
Maybe you want to try out a more flexible diet first like a flexitarian or whole-food diet.
Step one is to determine what you want to get out of your meals. From there you can begin to shape your menu to fit your unique nutrition needs.
Customize Your Nutrition
Once you understand the basics principles of vegan eating for your nutrition goal, the next step is to fine-tune your menu with quality options and optimized macro balance.
What Are the Best Vegan Foods?
A vegan style of eating can feel somewhat limited with the removal of large food groups like meat, dairy, and seafood. But it doesn't mean you can get tons of variety and tasty options, there are tons of vegetables, fruits, vegan meat alternatives, and plant-based ingredients to choose from!
The best vegan diet is one full of nutritious options that you enjoy eating. If you don't enjoy the food, there is little chance you are going to stick to and stay consistent.
To keep your nutrition on point, opt for more whole foods like fresh fruits, veggies, whole grains, beans, nuts, and legumes, as well as minimally processed meat and dairy alternatives to fill in the gaps.
Here's a comprehensive vegan food list to get you started.
How to Count Your Vegan Macros
Choosing the right foods is only part of it - getting the right amounts of each type of food is also key.
I'm talking about macronutrients. Macronutrients or "macros" are a way to organize your calories by looking at the main food groups that impact your health, energy, mood, appetite, and fitness.
You can estimate your exact vegan macros and calorie needs using a simple online macro calculator.
Learning how to count your Vegan Macros will help you track your food intake, increase variety in your meal plan, and conquer your health goals.
How to Get Enough Protein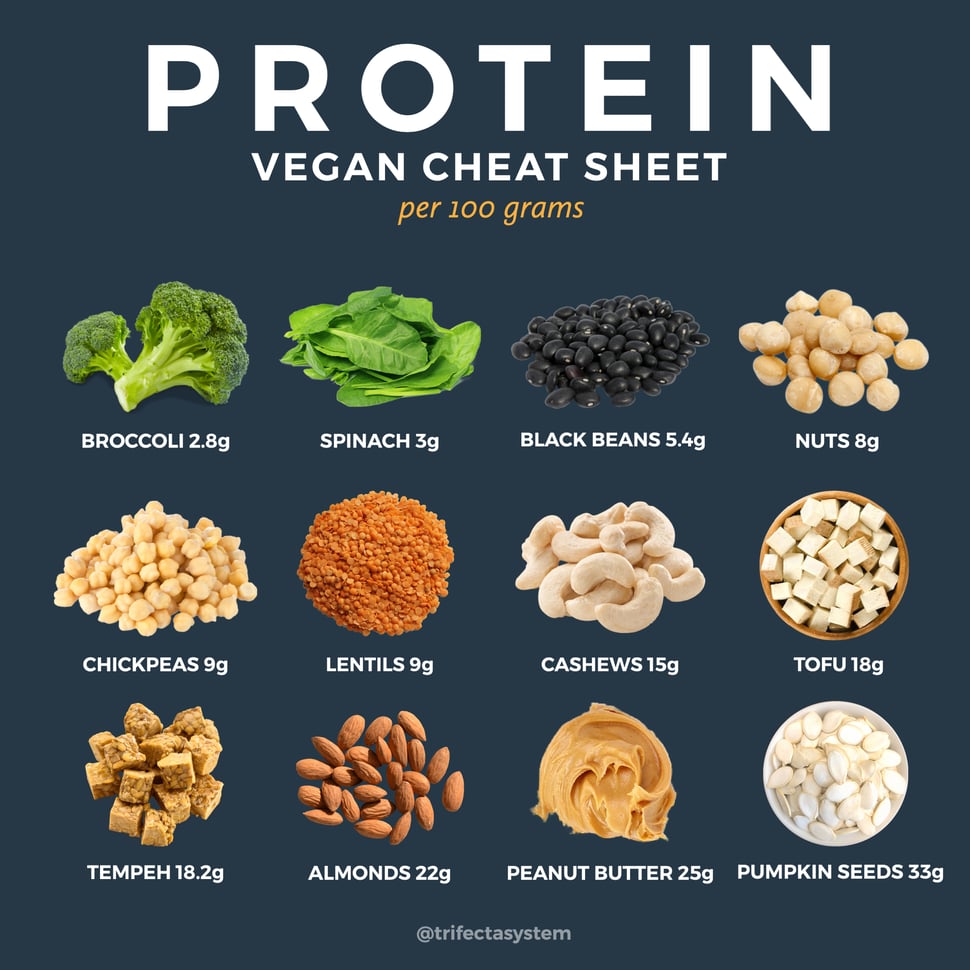 There are two common concerns around protein and vegan eating: getting enough protein and getting complete proteins.
It is entirely possible to eat high protein on a plant-based diet to meet your minimum daily requirements, but getting high amounts of protein-dense foods can be a little trickier than on a meat-based meal plan.
Thus, understanding which foods pack the most protein per calorie (protein density) and serving size is your best bet for achieving a high protein vegan diet.
Higher protein intakes are associated with decreased appetite, reduced food cravings, and better body composition (1,2,3). Not to mention it plays a major role in building and maintaining just about every cell in your body - including your precious lean muscle mass!
"Complete" proteins contain adequate amounts of all essential amino acids you need, whereas "incomplete" proteins are lacking in one or more essential amino acids.
While some may argue that complete proteins are absorbed and utilized more efficiently by your body, research suggests that consuming a diet containing all of your essential amino acids throughout the day may be sufficient enough (1). In other words, Aim to get plenty of variety in your diet and shoot for more complete proteins when you can.
Here are the most high protein vegan foods.
Meal Prep Ideas and Expert Tips
Now you're ready to put it all together and execute your vegan meal prep - which can sound a lot easier than it is. Well-executed meal prep takes dedication and a bit of strategy.
But have no fear, we've got you! Meal prep is nothing more than planning and/or cooking some or all of your meals in advance. And it's also totally scalable to your needs and skill level.
Here are some ways to help you simplify the process, including templates and tips to use:
Meal Prep Planning 101
Be honest with yourself, how much cooking can you do and how much cooking do you want to do? Once you can gauge your response to this question, focus on finding recipes that fit your culinary skillset.
There are two ways to efficiently meal prep no matter what you call your diet:
Recipe Based Meal Prep: using vegan-friendly recipes, then dividing them into containers for the week.
Bulk Ingredient Meal Prep: preparing components of your meal prep separately (i.e. roasting veggies, cooking proteins, preparing grains, starches, and toppings), then portioning out the amount you need for each meal for the week.
Decide whether you'd like to meal prep recipes or meal prep bulk ingredients.
Next, pick which meals you want to prep for. If you're new to meal prep, consider starting with one meal a day - like breakfast - or only meal prepping for a few days of the week at a time. If you go all-in from the beginning, it can be easy to get overwhelmed and give up quickly.
Now pick which day works best to prep. You can prep meals the night or day before you eat them, or do multiple days and meals all in one day. Many people will cook their weekly meals on a Sunday or Monday to enjoy them all week long.
Then, grab a sheet of paper, calendar, or use this handy dandy meal planning template and map out your menu along with your shopping list. And don't forget to plan your snacks too!
Plant-Based Meal Prep Tips to Live By
Take your plant-based diet up notch with these meal prep tips to save time and money and make the experience much more enjoyable overall.
1. Be Precise
Buy yourself a food scale or a good set of measuring cups and spoons. This will save you a big headache when it comes to dividing up your portions accurately and ensure you are sticking to your calorie and macro goals.
Remember, cooking your own food is only half the battle - how much you eat still matters!
2. Be Efficient
Let's be honest, meal prepping can take a ton of time and energy. Save some time and your sanity by using simple tricks to make things a little easier on yourself.
Some go-to's include:
batch cooking staple ingredients (proteins, carbs, vegetables, sauces)
using pre-cooked options when possible. This could include canned and frozen ingredients, or check out your prepared foods section at your local grocery store to pick up bulk cooked veggies. You can also make a trip to your local farmer's market to pick up fresh greens and look for food vendors preparing locally inspired sauces or sides. Pick up a fresh loaf of bread for a vegan avocado toast.
Prepare more one-pot dishes like vegan chili, pot roast, or breakfast hash.
Purchase high-volume foods that require no-cooking, are low in calories but high in nutrition such as kale, spinach, zucchini noodles, cabbage, green beans, snap peans, broccoli, and asparagus.
3. Add Variety
Eating the same thing every day can get really boring. Add some life to your menu with a variety of seasonings and toppings.
Just changing up the spice mixture on the exact same dish can transform the flavor. Become a master at healthy seasonings and sauces to step up your game each week!
This is a simple trick to change up your menu even when preparing simple vegetables for bulk recipe cooking.
For example, if you love sweet potatoes roasted off a whole batch then toss them with any of the following sauces for a pop of flavor, transforming your side of sweet potatoes into a whole new dish:
For a zero-calorie addition to roasted sweet potatoes or root vegetables try out these herb & spice flavor combos:
Rosemary & Thyme Roasted Sweet Potatoes: toss with fresh chopped rosemary and thyme before roasting
Garlic & Dill Roasted Sweet Potatoes: toss with freshly minced garlic and dill before roasting
Curry Roasted Sweet Potatoes: pick up a curry powder blend and toss the sweet potatoes in the spice before roasting
Southwestern Chili Roasted Sweet Potatoes: roast off your sweet potatoes with your favorite taco seasoning for some southwestern flair
You get the point, there are millions of flavor combinations out there to try, and some of them are as simple as adding in some freshly minced herbs such as parsley, cilantro, dill, chervil, or basil to cooked grains and vegetables.
4. Strategize for Reheating
Not all dishes will reheat well - you may have prepped a gorgeous crispy corn cake, but when you pull it out for lunch it's a soggy, mushy mess.
Choose recipes that you know will reheat well and package fresh ingredients (like herbs) and sauces separately until ready to serve. This will keep your dish tasting vibrant.
This is one reason choosing to meal prep in bulk is a bit better than following recipes; preparing ingredients in bulk will hold longer, and reheat better.
Also, think about how you will reheat your meals, this can make or break the flavor of a dish prepared ahead of time:
Microwave: dependable and quick, but depending on the dish may always leave you with a mushy textured meal.
Air-fryer: great for adding a crisp and crunchy to proteins and vegetables, you can easily reheat a whole meal by lining the basket with foil to prevent the food from falling through the grate. The machine may take a moment to heat up but the ending meal is always worth the wait.
Oven or Toaster Oven: will take a bit longer to heat up, and make sure you have an oven-safe container. You can always opt to broil the meal (heat it up from the top) but make sure you watch the heat or else it will burn!
Skillet: Stovetop is a great way to go for reheating a stir-fry or really any vegan one-pot dish.
5. Upgrade Your Meal Prep Containers
Don't make the mistake of just throwing your meal into a bag - you'll end up with a mess of a lunch, Choose a solid meal prep container that will travel well, is heat safe, and easy to clean.
And if you need it, opt for ones with separated compartments to keep your meal intact.
Be sure you choose containers you love and feel good about using. Part of eating is psychological, if our food doesn't look good we are less likely to enjoy eating it!

30 (Animal & Dairy-free) Meal Prep Recipes to Try
To help you plan your menu and crush your macros, here are our favorite vegan meal prep recipes to try.
10 Easy Vegan Breakfast Recipes
Here are ten high-protein breakfast recipes to start your day off right.
Savory and hearty. Mimics the texture and taste of cheesy scrambled eggs.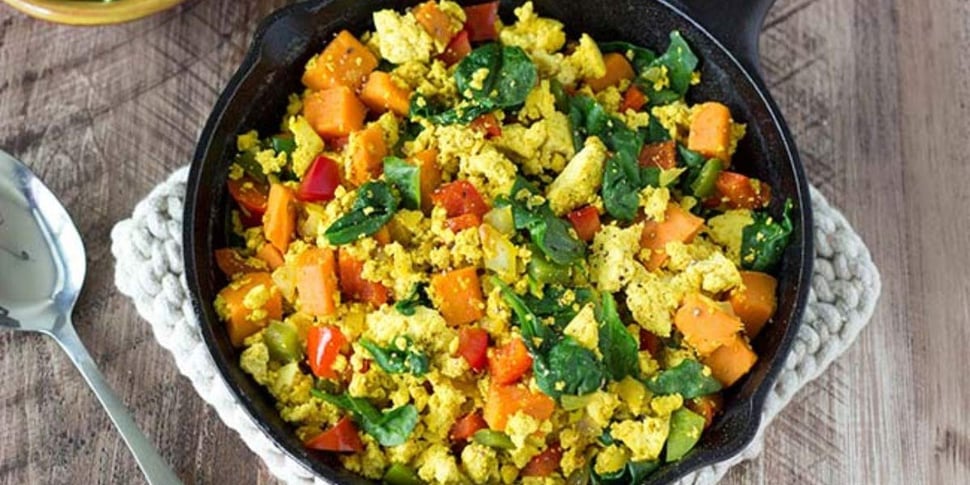 Creamy, sweet, and satisfying feel free to add in your favorite protein powder.


Tastes like Thanksgiving in a cup! A great breakfast, snack, or dessert.


Simple and ready in minutes. A higher protein avocado toast; if you don't like avocados swap it out for hummus!


Dig into these low-carb Vegan Tacos prepared with tofu scramble and crunchy jicama shells.


A delicious breakfast skillet with a Mediterranean flair.


This smoothie can be made the night ahead for a quick grab-and-go in the morning


Enjoy a savory tofu scramble with roasted sweet potato and collard greens.


Both of these recipes can be easily made vegan-friendly, simply swap out any dairy ingredients with a vegan yogurt alternative.


Swap out the dairy-yogurt in this recipe for a dairy-free vegan yogurt and add toppings like pumpkin seeds, hemp seeds, sunflower seeds, and low-sugar granola.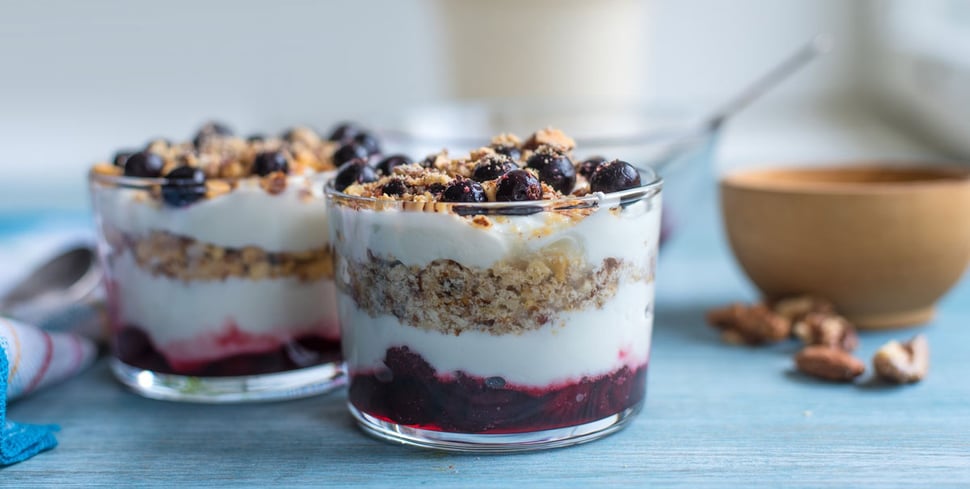 15 Make-Ahead Lunch and Dinner Recipes
Here are fifteen easy meal prep lunch and dinner recipes with at least 20 grams of protein per serving:
Savory and slightly nutty. Made with super simple ingredients.
Thick and filling. Pair with fresh toppings like avocado or vegan cheese.


Creamy with a kick. Toss in tofu or seitan for even more protein.


Vibrant, fresh and perfect for on the go.


Hearty and satisfying. Add more spice to bring up the heat.


Simple and refreshing. Swap in your favorite veggies.


Traditional crowd pleaser. Change up the flavors with toppings; switch it up and try out tempeh instead of beyond meat.


Crunchy, and fresh tasting. A perfect easy meal packed with vegetables.


These comforting and savory low-carb vegan meatballs and spaghetti will leave you feeling satisfied and satiated. Spaghetti Squash is a wonderful low-carb meal prep substitute for pasta.


Take this bowl and top it with your favorite vegan protein alternative or add some fresh edamame.


You'll love this tasty twist on a classic vegan pasta alfredo prepared with roasted red pepper cashew sauce.


You read that right, a homey vegan pot roast prepared with beyond meat sausage


A simple staple for a quick dinner or lunch spiced up with a garlic guacamole mash and kiwi salsa.


A macro balanced dish perfect for bulk meal prep, all you need to do is prepare extra of the main components and add whatever sauce you'd like.


a quick recipe that tastes delicious and can be prepared with beyond meat, soyrizo, or black beans.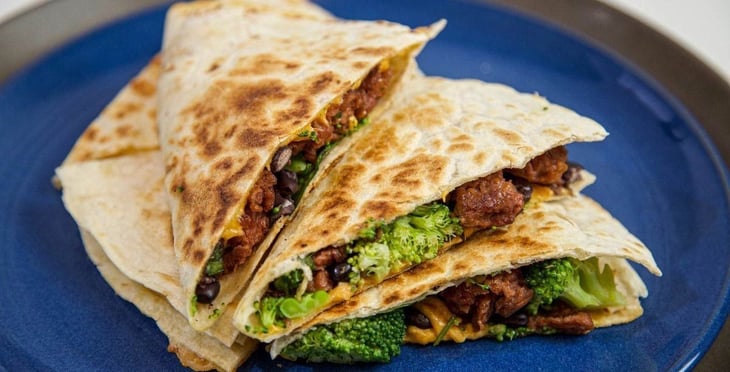 10 Healthy Snacks
Here are incredibly easy, grab-and-go vegan snacks to add to your daily prep with estimated nutrition based on one serving size:
1. Edamame
Grab a bag of frozen edamame (in the shell) for a quick, high-protein snack that will also keep you satisfied. Just defrost and toss in some sea salt.
Each ½ cup serving has:
100 calories
3.5 grams of fat
8 grams of carbs
10 grams of protein
This is also a great addition to any stir-fry or vegan bowl!
2. Almonds
Nuts can be pretty calorie-dense if you're not watching your portions, but a little bit can also be extremely satisfying and serve as a great snack option.
Around 20 almonds (1-ounce serving) will get you:
150 calories
14 grams of fat
5 grams of carbs
5 grams of protein
3. Roasted Chickpeas
If you haven't baked chickpeas till they are crispy and crunchy, here is your sign to turn on your oven and get baking! This is an amazing snack and they double as gluten-free croutons for any veggie bowl or salad.
Roast and toss them with a variety of spices and herbs for endless flavor combinations.
1/2 cup roasted chickpeas have:
134 calories
7 grams protein
2 grams fat
22 grams carbs
4. Sunflower Seeds or Pumpkin Seeds
Sunflower and Pumpkin seed are a great snack option but often skipped over because most people go for the classic 'almond'. There are tons of delicious nuts and seeds to enjoy out there with a variety of nutrition.
A 1/4 cup portion of sunflower seeds, or small handful has
175 calories

6 grams protein

16 grams fat

5 grams carbs
A 1/2 cup portion of pumpkin seeds, or medium handful has
142 calories

6 grams protein

6 grams fat

17 grams carbs
5. Vegan Protein Bars
Obviously, nutrition will vary based on the kind of protein bar you choose, a good rule of thumb is to look for ones under 400 calories, and the fewer ingredients the better.
Try to avoid any bars with ingredients you can't pronounce.
6. Rice Cake + NutButter
Rice cakes are a very friendly snack for most diets, and they tend to come in a variety of flavors like white cheddar, caramel corn, apple spice, etc.
One brown rice cake, unsalted has
60 calories
0.5 grams of fat
14 grams of carbs
1 gram of protein
1 plain rice cake and 2 tablespoons of nut butter has 223 calories; 8 grams of protein; 15 grams of fat.
Rice cakes make a wonderful base for avocado toast as well if you're looking for a gluten-free option and quick breakfast or snack! Try out rice-cake avocado 'toast' sprinkled with toasted pumpkin seeds.
Cut the carbs by swapping out the rice cake for celery sticks!
7. Marinated Artichoke Hearts and Olives
Canned and jarred seasoned veggies, like artichoke hearts, can be an excellent way to satisfy your snack cravings. Mix and match with other low-carb Mediterranean veggies like palm hearts, marinated mushrooms, and sun-dried tomatoes.
Ten kalamata olives with five marinated artichoke heart quarters have only:
114 calories
10 grams of fat
6 grams of carbs
1 gram of protein
The combination of artichoke hearts, chickpeas, and shredded tempeh create a texturally pleasing and hands-down bomb flavor in this high-protein plant-based twist on a classic tuna salad recipe.
1/2 cup of this vegan tuna salad recipe has:
154 calories
11 grams protein
17 grams carbs
6 grams fat
9. Hummus and Vegetable Crudite
Just about any crunchy veggie pairs well with hummus, and it's easy to change up the flavors in this snack with different added seasonings or hummus varieties. And this snack is macro-balanced to keep you feeling fuller longer.
Ten carrot sticks and 1/4 cup of hummus will provide:
140 calories
7 grams of fat
14 grams of carbs
6 grams of protein
10. Roasted Seaweed
Roasted seaweed or nori sheets taste buttery and salty but have hardly any calories to back up their flavor.
Plus, they are already portion-controlled and it's hard to overdo it. They also come in a variety of yummy flavors like teriyaki, wasabi, and sriracha.
1 package (about 20 small sheets) contains:
18 calories
3 grams carbs
0 grams fat
3 grams protein
5 Sweet Desserts
Here are some healthier dessert options to satisfy your sweet tooth!
Rich, decadent, and creamy. Also gluten-free, high protein, and nutritious.

Tastes like cookie dough without the dairy and eggs.
Loaded with healthy grains and topped with crunchy apples and cinnamon, you can't go wrong with this bowl!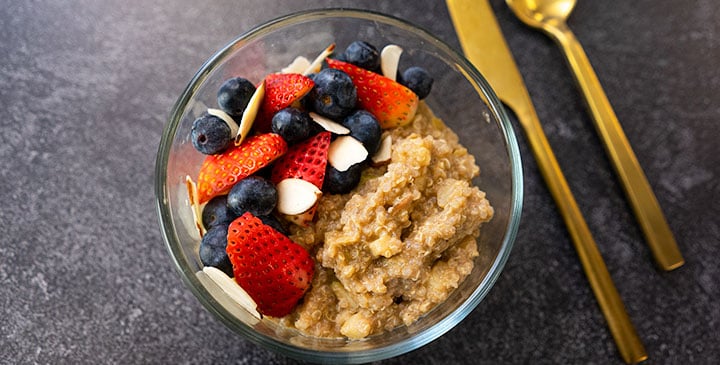 This healthy chocolate pudding recipe is made from a coconut milk base, mixed with some delicious Dutch cocoa powder, and a few simple ingredients.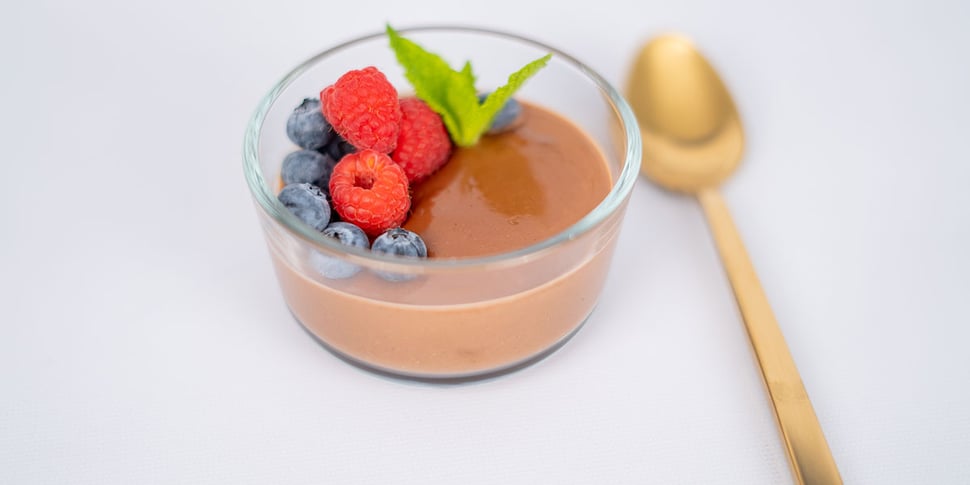 This recipe will work with any fruit you like, a baked crumble is a wonderful dessert that can be prepared in a pinch with only fruit, maple syrup, and some granola.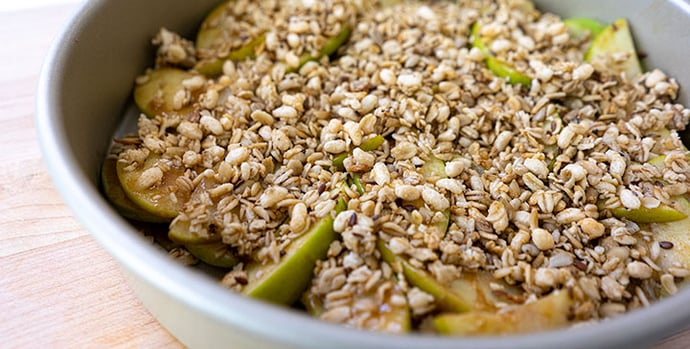 ---
Get Your Vegan Meal Prep Delivered
Feeling overwhelmed with your weekly meal prep and wondering how you can simplify the process? Eliminate nearly all the work with Trifecta's high protein vegan meal plans with meals delivered right to your door - all you need to do is heat and eat them.