Incorporating functional superfoods is an important part of any food protocol whether you're counting your macros or just aiming for better health. This vegan spinach & artichoke spirulina pesto recipe incorporates functionality and flavor!
I chose a chickpea based vegan pasta for added protein and prepared a phytonutrient dense pesto using fresh herbs and spirulina powder.
Make a double batch of this tangy pesto during your meal prep and use it on roasted portobellos or vegetables later in the week!
What Makes This Pesto Super?
Spirulina is a blue green algae that has been used by NASA as a dietary supplement for astronauts! Studies suggest that spirulina contains up to 70% protein along with vitamins and minerals including B12, beta-carotene, and iron - making it a great addition to your high protein vegan meal plan (1).
You can find it powdered in the health-food section of most grocery stores as it is classified as a dietary supplement.
Spirulina blends well with fresh herbs and spices or into smoothies, add it to your vegan meal prep shopping list next time you head to the store.
A classic pesto recipe consists of oil, cheese, nuts, herbs, and garlic. I love to add less oil while increasing more acidic ingredients like apple cider-vinegar and lemon juice, lowering the fat content and giving it a brighter, sharper flavor.
I chose to incorporate the spirulina for added protein and nutrition. If you can't find it, no worries there are plenty of other vegan protein sources and you can create your own pesto recipe or follow Chef Mario's vegan pesto recipe containing pistachios and mint!
There are limitless pesto combinations, experiment blending in various herbs, nuts, spices and greens. Vitamin and mineral packed greens such as dandelion greens, kale, spinach, and arugula create delicious pestos!
Most homemade pestos can be stored up to 7 days in the refrigerator and freeze well!
How to Make Spirulina Pesto Pasta with Spinach & Artichoke
Prep time: 10 minutes
Cook time: 12 minutes
Servings: 4
Ingredients
High Protein pasta made from chickpea, peas, or lentils
1 Can Artichoke hearts, drained
4 Cups Spinach, fresh or baby
½ Cup Sun-dried tomatoes, packed in oil, drained
For the Pesto: (makes about 1 ½ cups)
2 Tablespoons Spirulina powder
¼ Cup Sunflower seeds
1 Cup Packed basil leaves
1 Cup Packed parsley leaves, stems on!
⅓ Cup Olive oil or avocado oil (less bitter)
2 Each, Garlic cloves
3 Tablespoons Apple cider vinegar
6 Tablespoons Lemon juice + Zest (about 2 lemons)
1 Pinch Salt and pepper
Tools
Pot for Pasta and Strainer
Medium Saute Pan
Food Processor
Spatula
Can-Opener
Technique
Step 1: Prepare pasta according to package directions
While you're water is getting hot move on to step two
Remember to reserve about 1/4 cup of the pasta water when you strain the cooked pasta.
Utilizing pasta water is a common chef trick to help the sauce coat the pasta. This technique helps coat the pasta in the pesto sauce and can also help thicken the sauce due to the starch leached from the pasta into the water during the cooking process.
You won't use all of the leftover pasta water, just enough to help - about ¼ cup. That being said, be careful not to over salt your pasta water!
Step 2: Prepare the pesto
In the base of a food processor add all of the ingredients. Pulse until blended thoroughly, add additional lemon juice or apple cider vinegar if needed for consistency.
Step 3: Saute the rest of the ingredients and finish
Preheat a medium saute pan or emptied pot over medium heat. Add the artichokes and sun-dried tomatoes. Cook for 2 minutes, until artichokes have browned slightly.
Add the Spinach and cook about 1-2 minutes, stirring occasionally, until wilted.
Add the cooked pasta, pesto, and pasta water, stir and plate.
Top with vegan parmesan or toasted sunflower seeds for a bit of crunch.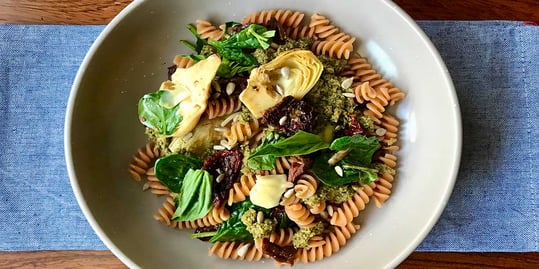 ---
Want to load up on more amazing plant based recipes like this? Become a vegan meal prep pro with this free meal prep toolkit. A step by step guide that includes meal planning templates, plant based whole food lists, and RD advice for a healthy vegan lifestyle.