When it comes to meal prepping, it can be hard to consistently scarf down the same thing day in and day out. Adding some variety to your meal prep and incorporating new flavors will help you avoid diet burnout and will keep your weekly meal prep fun and enjoyable. There's even some additional health benefits to be gained from these additions to your meal prep.
1) Add Some Freshness
An easy way to switch up your meal prep and incorporate some more flavor into your diet is to utilize strong natural flavors. Things like scallions, cilantro, fresh herbs, lemons, limes, and chili flakes, are all great ways to add variety to your diet without adding any additional calories.
We recommend: Using the "Salmon, Sweet Potato, Mixed Vegetable" Trifecta Classic Meal and adding fresh lemon and dill to really enhance the natural flavors!
2) Add Pickled Vegetables
If you are looking for ways to get some additional flavor while also boosting your gut health, adding a few key items may do the trick for you. Items like kimchi, sauerkraut, and pickled vegetables have been proven to boost gut health as most of these items are a solid source of probiotics. Probiotics aid in digestion and keep a healthy balance of bacteria in the gut. Plus, for those of us who love the taste of pickled and fermented vegetables, it's a great way to incorporate some additional flavor into your weekly meal prep!
We recommend: Using the "Beef Patty, Sweet Potato, Mixed Vegetable" Trifecta Classic Meal and adding pickled vegetables to turn this meal into a delicious burger bowl!
3) Add Savory Toppings
To give your meals just a bit more variety and flavor, try adding some additional savory toppings to your meals. For those who love tomatoes, try adding sun-dried tomatoes or a garlic marinara sauce to some of your meals. Sometimes, even just a small amount can make a big difference in the taste! Other great toppings are things like parmesan cheese, or nutritional yeast, which both add a cheesy, creamy taste to food. Nutritional yeast is also a complete protein and great source of B vitamins.
We recommend: Using the "Chicken Tenders, Brown Rice, Mixed Vegetable" Trifecta Classic Meal and adding garlic marinara and sun-dried tomatoes to give it an italian flare!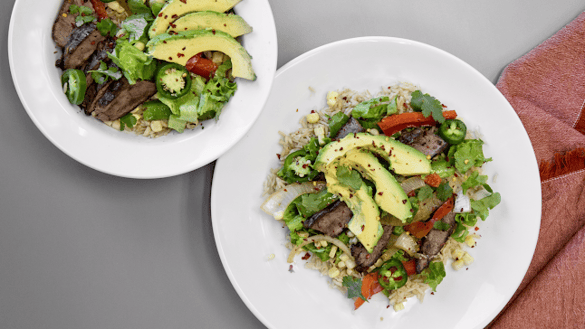 4) Add Some Fats
Arguably some of the greatest natural flavors come from whole fat foods. I mean, really, who doesn't love avocado? Foods like avocados, olives, and various different oils can easily add some crazy flavor to your meals. The best part is, whole fat foods come with a load of health benefits as well. Healthy, monounsaturated fats, not only help keep you full in between meals, but also are crucial to Vitamin A & D absorption, immunity, and a healthy metabolism.
We recommend: Using the "Flat Iron Steak, Brown Rice, Mixed Vegetable" Trifecta Classic Meal and adding avocado and salsa to turn it into a delicious fiesta bowl!
5) Add Something Crunchy
To change up your protein try adding something with texture to give it additional variety. Try pan frying your proteins (chicken or fish work the best for this) after dipping your proteins in olive oil and bread crumbs. This should help you switch up your traditional meal prep proteins and provide you with something new and fun to look forward to! You can also add things like sesame seeds, chopped nuts, pomegranate seeds, and pan fried garlic to your meals.
We recommend: Using the "Basa, Brown Rice, Mixed Vegetable" Trifecta Classic Meal, breading the basa, and pan frying for some additional texture.
6) Add Some Sauce
Probably one of the easiest ways to spice up your meal prep is to add some type of sauce you love. Sauces such as tzatziki, salsa, hot sauce, and sugar-free BBQ sauce are easy things to add to your meal prep and probably something you have in your kitchen already. Another great trick is to use greek yogurt as a substitute to sour cream to top some of your meals and to incorporate some additional protein.
Sauces are a great way to easily change up the flavor in a meal, however, it is important to make sure that the sauces you use aren't high in fat and sugar as that can easily throw off your diet. For example: A fat-free balsamic vinegarette dressing has about 15 calories per serving, whereas a standard balsamic vinegarette dressing can have 160 calories per serving.
We recommend: Using the "Chicken Breast, Sweet Potato, Mixed Vegetable" Trifecta Classic Meal and adding sugar-free BBQ sauce for a yummy sweet and smoky flavor!
Up Your Meal Prep Game
Overall, these tricks are designed to help you avoid diet burnout. We know that eating the same thing over and over again can get boring, but the right additions can make it much easier to stick to your diet! These tricks should help you get creative with your diet and help you incorporate some new flavors into your weekly meal prep. To take your meal prep game to the next level, check out the Trifecta Classic Meals, which are already lightly seasoned and pair great with all of these meal prep tricks!